Last updated on August 31st, 2022
Home rage room cost guide
Feeling stressed and need to let off some steam? Find out the price of letting off pressure with our rage room cost guide.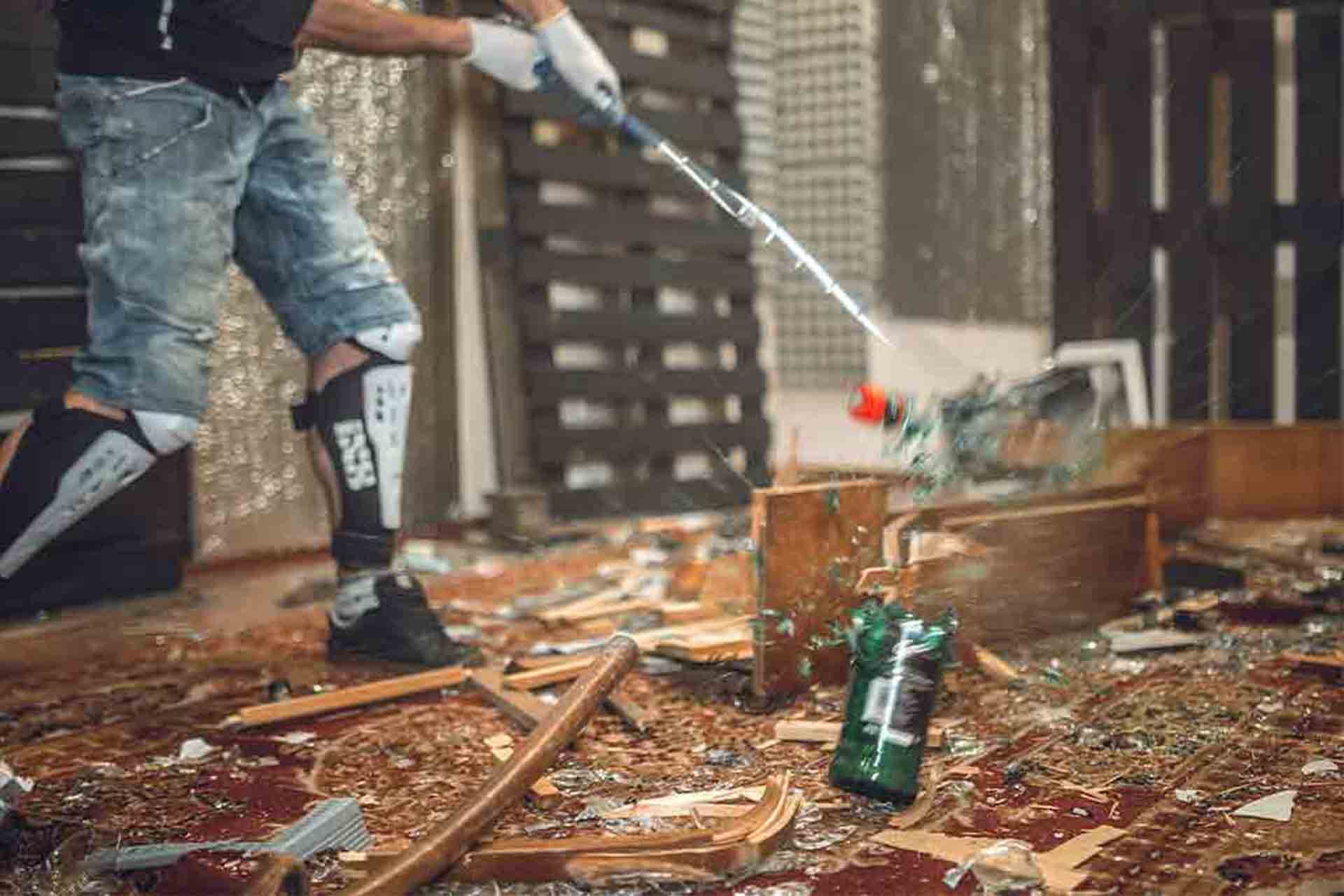 You can let it all out in a rage room, a dedicated space for smashing, destroying and venting your frustration.
Rage rooms have been growing in popularity as a leisure activity for a number of years, especially for work events and stag parties.
Here, we'll look at how much it could cost to build your very own rage room. Remember though, it may feel great to smash stuff up, but there's little evidence for the long-term effectiveness of rage rooms in managing anger.
What is a rage room?
A rage room is essentially an empty shell. So, if you have a garage, outbuilding or a large shed, it can easily be converted to suit your needs. Most of the money you'll need to spend will be on safety measures, such as covering windows and soundproofing.
But to turn an empty room into a rage room, you'll also need things to destroy. On your shopping list should be both breakable and durable targets, plus tools and weapons with which to wreak your stress-relieving havoc on your rage room.
Costs to fit out a rage room at home
The first thing to do once you have a clear, empty room is to board up the windows so that they don't get accidentally damaged or broken. If you're doing it yourself, this should cost around £100 on average, depending on the size of the window and how many you have.
Next, you'll need to get rid of existing light fittings. These could potentially get in the way or get damaged, so they should be replaced by recessed lighting, at a cost of around £75 per light fitting.
To prevent your rage room fun disturbing the neighbours, you'll also need to install soundproofing. This is one of the most expensive elements of the project, as it can cost on average £4,100 to effectively soundproof a room.
Of course, the final cost will depend on the size of the room.
| Cost provided item | Price range - Low | Price range - High | Average UK cost |
| --- | --- | --- | --- |
| Boarding up a window | £60 | £140 | £100 |
| Recessed lighting installation (per fitting) | £70 | £80 | £75 |
| Soundproofing | £3,700 | £4,500 | £4,100 |
| Demolition tools | £12 | £37 | £25 |
| Smashable targets | Free | Free | Free |
| Durable targets | £200 | £3,000 | £1,600 |
| Protective equipment | £10 | £50 | £30 |
| Total | £4,052 | £7,807 | £5,930 |
Cost of rage room essentials
Now, let's turn to the actual contents of your rage room. The essentials you'll need fall into three categories:
Tools and weapons (think hammers, crowbars and baseball bats)
Breakable targets (old TVs, CDs and computer keyboards)
Durable targets (punch bags or a sparring dummy)
Some of these may be free, especially in the case of smashable targets. You could be looking at around £25 for demolition tools and as much as £3,000 for durable targets if you plan on using your rage room regularly.
Alternatives to a rage room
Of course, a rage room isn't the only option if you want to work out anger, stress and frustration. Why not consider installing a home gym instead? You can get fit at the same time as expelling rage, and it's much safer (not to mention far less messy).
It could even cost about the same, as the average home gym cost is around £9,275.
FAQs
Where can I get things to smash in my rage room?
Many of the breakable targets in your rage room can be sourced for free, from scrap, junk or rubbish that would be thrown out anyway. For more durable targets, look for gym and sports equipment suppliers selling things like punchbags and sparring dummies.
When looking for things to smash in your rage room, make sure that safety is your number one priority. Examine everything carefully for safety hazards, and never smash up items containing toxic or dangerous materials.
Do I need to soundproof my rage room?
For the sake of your neighbours, it's absolutely recommended to soundproof your rage room. It could potentially lead to noise pollution or anti-social behaviour complaints with the local authorities if you don't.
What's the difference between a rage room, a smash room and an anger room?
Nothing! These are all terms for the same thing – a space for people to vent anger by destroying objects.
See the tradespeople we've checked and recommend for your job