Last updated on July 5th, 2022
How much does a man cave cost in 2021?
Deciding to create a man cave (or woman cave) is one of the more fun home improvement projects you can do. With this man cave cost guide, we'll help you plan your budget.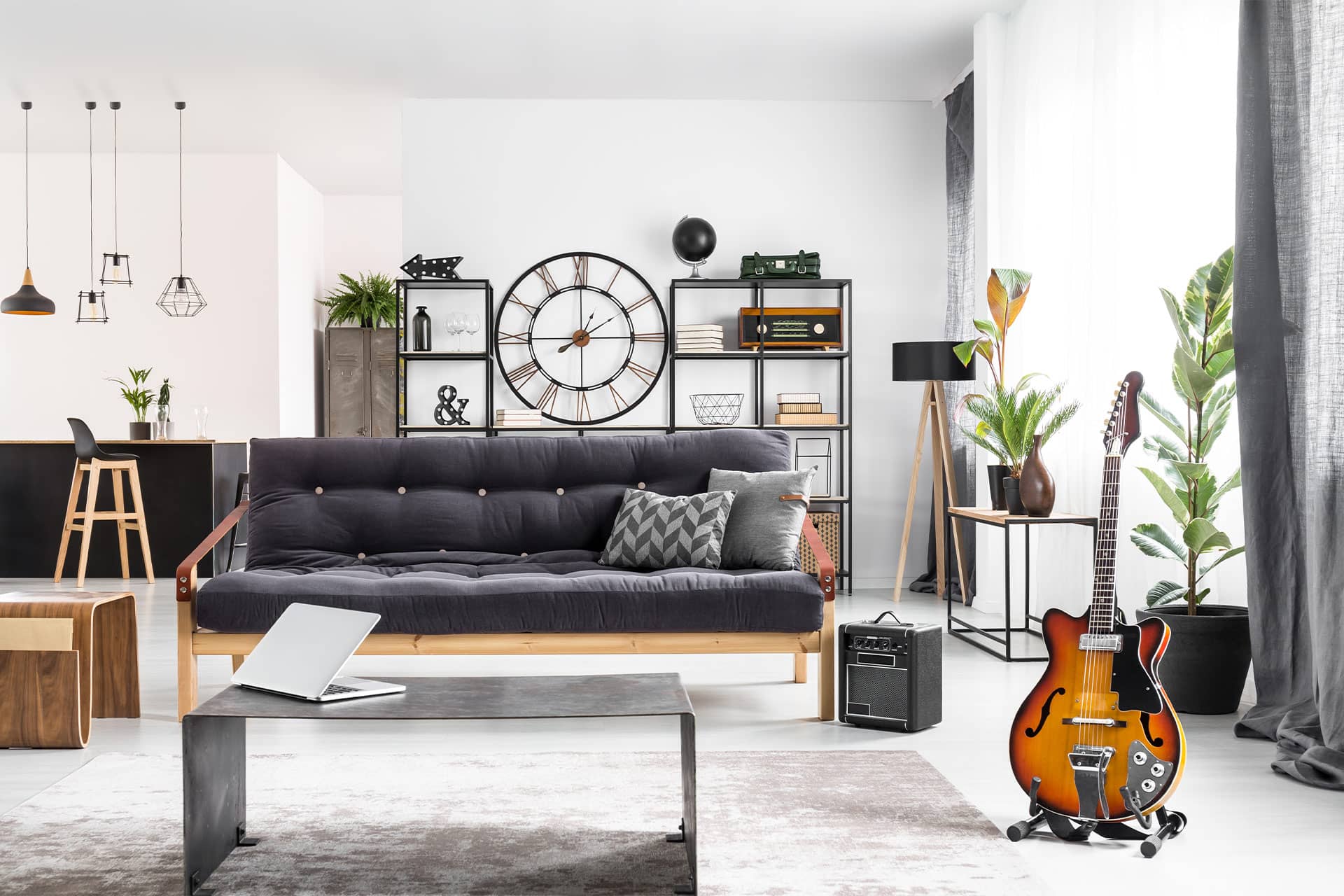 The first thing to note is that creating a man cave is to create a very personalised space for you to enjoy in your home. That means the costs will vary considerably, depending on where and how you use the space.
The first job is to decide where you're going to build your new shrine to happiness and enjoyment. Do you have a garage, shed or loft you're looking to convert? Or will you simply change how you use a spare bedroom or living room?
Once you know the space you're working with, you can then decide on what you want to install to make it the best cave you can think of. And away you go…
| Cost provided item | Unit | Price range - Low | Price range - High | Average cost |
| --- | --- | --- | --- | --- |
| Garden room (delivered for self-assembly) | Ea | £2,500 | £8,000 | £5,250 |
| Assembly labour | Per project | £600 | £1,800 | £1,250 |
| Deck base | Per m2 | £80 | £100 | £90 |
| Electrical works | Per hr | £35 | £45 | £40 |
| Decorating | Per hr | £25 | £35 | £30 |
| Windows/doors (uPVC) | Ea | £600 | £1,200 | £800 |
| Soundproof a man cave | Per room | £2,000 | £4,200 | £3,100 |
| Garage conversion | Ea | £9,500 | £20,000 | £14,500 |
| Loft conversion | Ea | £35,000 | £45,000 | £40,000 |
| Insulating a cavity wall | Per m2 | £13 | £26 | £19.50 |
| Insulating a loft with basic quilt insulation | Per loft | £450 | £550 | £500 |
| Flooring | Per m2 | £25 | £80 | £52.50 |
| Tiling | Per m2 | £80 | £120 | £100 |
| Painting | Per room | | | £400 |
| Home gym installation | Equipment | | | £5,000 |
How much does a man cave cost?
It's hard to give an accurate cost for the average man cave, as each setup will be completely different. But we've put together costs of the various elements to help you get an idea.
Cost to soundproof a man cave
Watch movies with surround sound without disturbing the rest of the house (or your neighbours). If you're looking to soundproof a room in your house for your man cave, that will cost you around £3,100 on average.
For more information read our soundproofing cost guide.
Man cave garage conversion cost
For homeowners who want to use their garage as the space for their man cave, you're looking at an average garage conversion cost of about £14,500.
Man cave insulating
Depending on the type of man cave you're creating, you may need to insulate the space first. This will most often be true of garages, sheds and lofts. The average cost of insulating a man cave is around £19 per m2.
For more information about costs, check out our loft insulation cost guide or cavity wall insulation cost guide.
See the tradespeople we've checked and recommend for your job
Man cave flooring costs
As with insulation, some spaces will need new flooring before you can convert them into a man cave. Depending on the finish you want, you'll need to spend about on average £52.50 per m2 for flooring.
You'll also need to consider the additional cost of new concrete flooring if you're planning on installing heavy equipment, such as gym machines or a pool table.
If you have to install new flooring then check out our wooden flooring cost guide. Or, if tiling is more your style, read more about the cost of tiling.
Man cave home gym costs
Having a home gym is one of the most popular elements of a man cave, and is often one of the priciest. The average home gym costs in the region of £5,000 – though as part of a man cave you'll often have a more modest set up which can be a lot cheaper.
Read more about home gym prices in our home gym cost guide.
Man cave decorating costs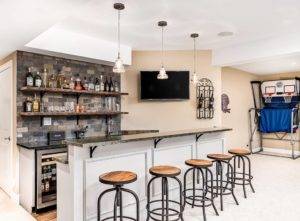 No man cave would be complete without a fresh lick of paint. The average cost of painting a medium-sized room is around £400 (depending on the exact size of the room and paint used).
For more detailed prices for painting and decorating, check out our guide to painter and decorator prices.
What impacts the cost of a man cave?
Given there are so many variables, we thought it would be useful to highlight some of the key factors that will influence how much you need to spend on your man cave.
The space
If you choose a room that's already habitable (e.g. a spare bedroom or second living room), it's going to be a lot cheaper. The main costs will be painting/decorating, furniture and any equipment you want in the man cave. However, converting a shed, garage or loft can drastically increase the overall man cave cost.
Size
This is simple, the bigger the man cave the more it will cost. Converting, decorating and filling a bigger space obviously costs more. Make sure you factor that into your budget.
Purpose
Some homeowners want a simple, quiet space for their man cave – somewhere to read, relax and unwind. This type of man cave is relatively inexpensive as it won't require a lot of expensive equipment.
On the other hand, many man caves feature elaborate entertainment systems, gym equipment, sports tables, and more. All of these items add up quickly and can add thousands to the price tag.
Where you live
As with all home improvement projects, your location will affect how much you pay for your man cave. Tradespeople, labourers and materials are cheaper in some parts of the country than others. That's a simple fact.
Types of man cave
Your man cave is going to be personal to you and your lifestyle, so it's important to choose the space according to your individual needs and features of your property.
See the tradespeople we've checked and recommend for your job
Garage man cave costs
Using an underutilised garage is one of the most common spaces for creating a man cave. It's out of the way, generally a perfect size and often structurally ready to go. The cost of a garage conversion is around £9,500 – £20,000.
A garage is the ideal space for a home gym, a workshop, a home bar or a games room. As long as it's waterproof, well-insulated, has proper flooring and is connected to electricity and water, a garage can be the perfect choice for a man cave.
To read more about converting your garage, check out our Garage conversion: ultimate guide to costing and planning.
Man cave shed costs
Repurposing an existing shed, or building a new one from scratch, is another very popular choice for a man cave. Being out in the garden it provides the perfect oasis away from the hustle and bustle of the main property.
The main costs to consider for a man cave in a shed are:
Damp / waterproofing
Heating and insulation
Concrete flooring (especially if you're planning on having heavy gym equipment or a pool table)
Soundproofing (so you don't disturb the neighbours)
Roof repair / replacement
Power and networking (the ultimate man cave will need electricity and robust Wi-Fi)
Security (particularly important if you have a man cave full of expensive equipment)
A garden man cave delivered for self-assembly will cost in the region of £5,250. If you want a specialist to build it for you, it will cost an additional £1,250 on average.
Man cave loft costs
If you already have a fully converted loft, it's quick and easy to turn it into a man cave. The cost will simply depend on any decorating needed and any furniture and equipment you want to furnish it with.
If you need to loft conversion, however, that's a whole other ball game of costs. The average loft conversion in the UK is around £40,000. If you're planning to convert your loft, read more about the costs in our loft conversion cost guide.
Spare room man cave costs
Similar to a fully converted loft, using a spare room in your home is the cheapest man cave option. If the room is structural sound then it will only cost you the price of redecoration and installing the furniture and equipment you want.
Underground man cave costs
If you're fortunate to have a cellar or basement in your home, you can create your own underground man cave – the cost of which will depend on whether it needs converting or not. Speak to your local basement conversion experts for advice and accurate costs.
Useful man cave checklist
Decide where you want create your man cave, and what you want to use it for.
If you need to convert a space (garage, shed, loft, etc) speak to local tradespeople to get professional advice and find out your options.
Set a realistic budget and plan all your spending before you start – man cave costs can quickly add up.
When hiring tradespeople always shop around for fair and competitive prices.
Always hire professionals with relevant experience and the appropriate qualifications or accreditations.
See the tradespeople we've checked and recommend for your job