Pool decking cost guide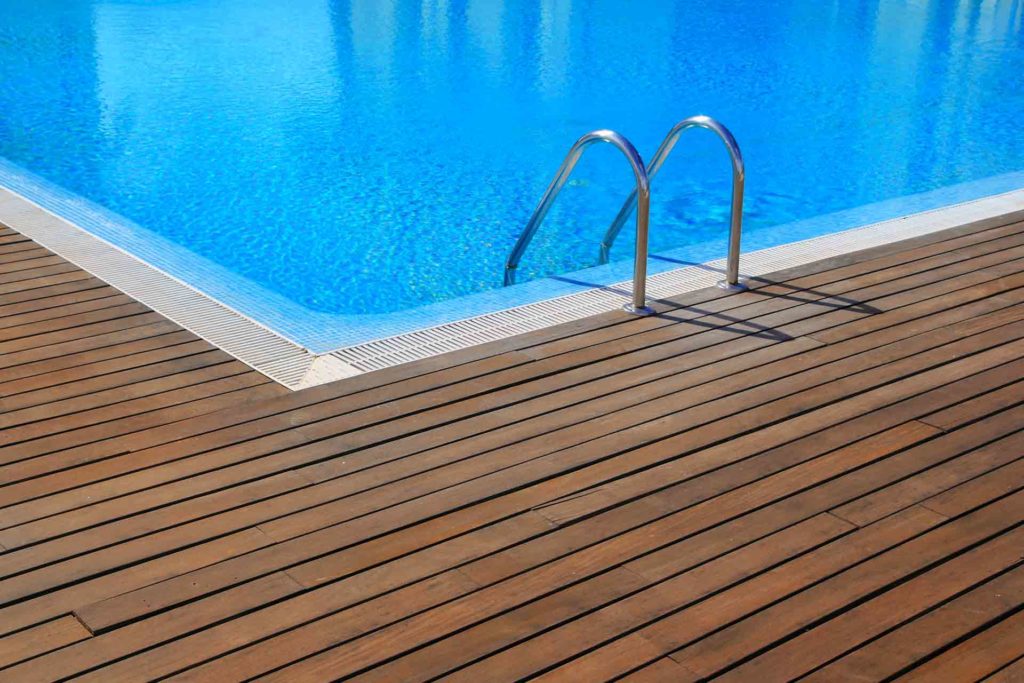 In this article, we'll cover:
There's only one thing better than adding a pool to your home: installing pool decking to relax on between swims! Here, we'll break down the typical pool decking cost to help you budget.
Cost of pool decking
| Item | Unit | Cost - high | Cost - low | Average cost |
| --- | --- | --- | --- | --- |
| Decking installation | Per m2 | £15 | £50 | £32.50 |
| Wood decking materials | Per m2 | £15 | £30 | £22.50 |
| Composite decking materials | Per m2 | £25 | £100 | £62.50 |
| Poured concrete decking | Per m3 | £65 | £85 | £75 |
| Above ground pool with deck | Kit and installation | £1,700 | £14,000 | £7,850 |
The cost of pool decking is generally the same as the cost of garden decking, although there are a few factors that are specific to decking around pools. Ultimately, your total cost will depend on a number of factors, including:
Material (eg. wood, poured concrete or composite)
Size
Quality and brand
Location
The difficulty of the terrain
Style (e.g., splash deck that goes all the way around or side deck which is a singular landing on one side)
Elevated or non-elevated
Extras (eg. railings or stairs)
Average pool decking prices
It's hard to give a precise figure for the cost of pool decking, given all the variable factors mentioned above. However, the average pool deck is approximately 55-85 m2 (it's recommended to have roughly 4 feet of decking on each side of the pool and 8 feet at each end).
With this in mind, an 80 m2 non-elevated softwood deck with no railings or stairs would cost around £4,600. This would rise to £6,900 for a hardwood deck or £9,500 for a composite deck. However, if you were to build an elevated deck that has railings and stairs, you're suddenly looking at around £6,500 for softwood, £9,800 for hardwood or £19,040 for composite.
Find a landscaper to install pool decking
Pool decking cost comparison
Check out our pool deck cost estimator below to compare the prices of pool decking constructed from some of the most popular materials.
Cost to build a wooden deck around a pool
Wooden decking is one of the most popular materials for use around a pool. Not only does it look great, but there's a range of different options available to suit different budgets and tastes.
Cost: £15-£30 per m2 for materials.
Pros:
Cheaper than composite decking
Looks natural and authentic
Durable if adequately maintained
Environmentally friendly (assuming it's taken from sustainable forests)
Cons:
Expensive and time-consuming to maintain (it requires sealing, staining and painting each year)
Slippery
Can splinter (which could cause injuries)
Cost to build a composite pool deck
Composite decking is more expensive than wooden decking upfront, but it requires much less maintenance, which makes it a more cost-effective option in the long run. See our guide to composite decking vs wood cost for a more detailed comparison.
Cost: £25-£100 per m2 for materials
Pros:
Non-slip.
Cheap and easy to maintain.
Durable.
Environmentally friendly (composite decking is made from recycled plastic and wood).
Cons:
Costs more than wood upfront.
Looks less authentic.
Concrete around pool cost
Poured concrete is quick and easy to install, making it a low-cost option for use around a pool. Read our guide to the average concrete pouring cost to learn more.
Cost: £35-£50 per m2
Pros:
Cost-effective
Non-slip
Can be painted
Cons:
Can crack in colder climates
Less aesthetically pleasing than other options
May need patching and resurfacing if it becomes damaged (concrete pool deck resurfacing and repair costs can range from £250 to £3,200)
Find a landscaper to install pool decking
Average cost of above ground pool with deck installed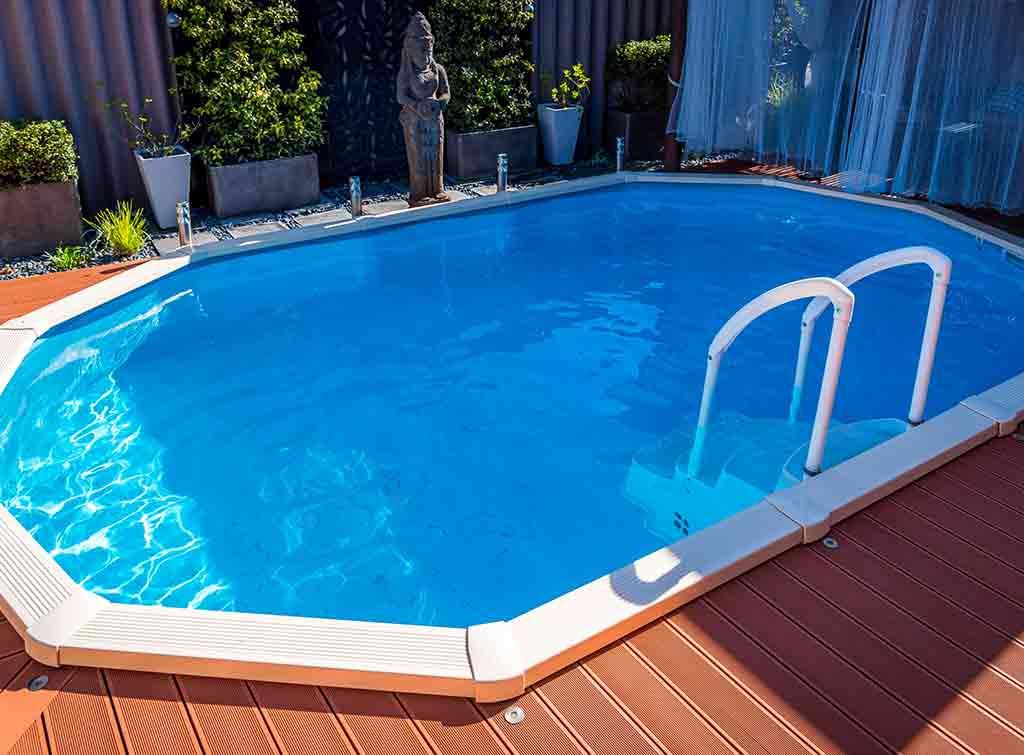 A cost-effective way to install a pool and decking from scratch is to purchase an above ground pool kit that includes decking. These kits tend to be cheaper and quicker to install than a standard pool and deck, mainly because they don't require any excavating. Another big positive is that they allow the pool to be removed if you need to, so that you could even take it with you when you move house.
The price of an above ground pool with deck will vary based on the following factors:
Size
Height (taller pools are more expensive)
Whether or not you opt for installation
Brand
Additional features
The average above ground pool and deck cost is £1,700 to £14,000.
Key takeaways
Your pool decking cost will vary based on the size you need.
Poured concrete pool decking is a cost-effective alternative to wood or composite decking.
Consider purchasing an above ground pool and deck kit and getting a professional to install it.
Find a landscaper to install pool decking
Good jobs, guaranteed
Get covered when you book with Checkatrade.