Last updated on March 31st, 2022
How much does concrete pouring cost in 2022?
Concrete pouring might not be the most glamorous of subjects, but it's a key part of many home improvement projects. Whether you're planning a new driveway, laying new flooring or need foundations for a new house, this concrete pouring cost guide is for you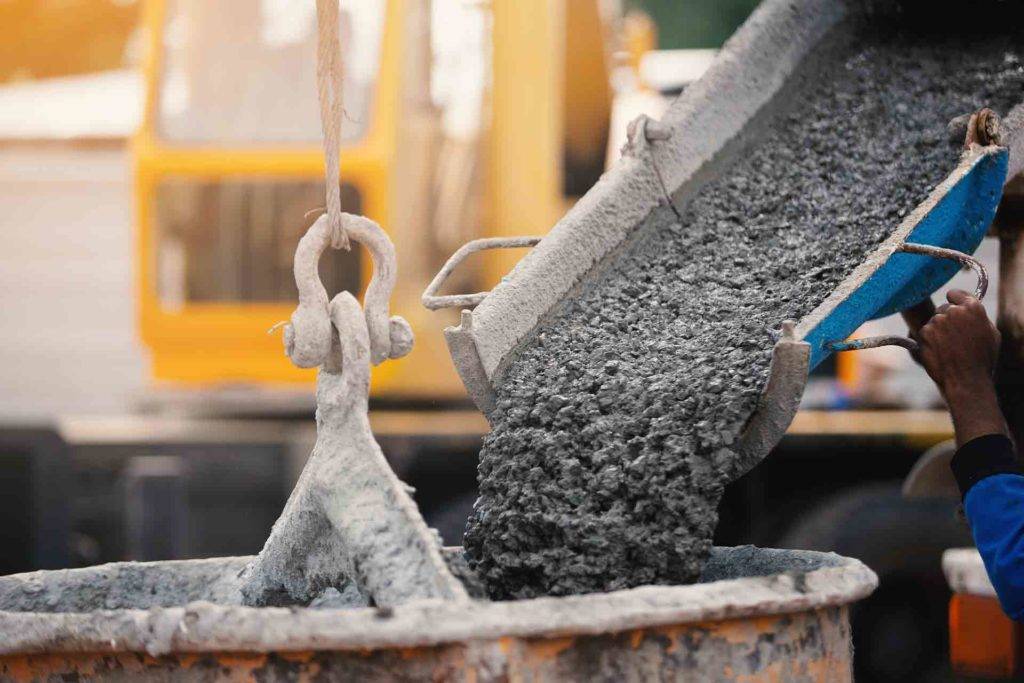 Let's look at the average costs in the UK for pouring concrete slab, pouring an average concrete driveway and pouring a concrete foundations.
It's important to understand the prices of concrete pouring so that you can plan your budget and manage your spending for the project.
Check out our concrete calculator to get an idea of the cost you can expect.
| Concrete calculator for pouring | Range - Low | Range - High | Average cost |
| --- | --- | --- | --- |
| Grade C8/C10/C15 (per m3) | - | - | £90 |
| Grade C20/C25 (per m3) | - | - | £100 |
| Grade C30/C35 (per m3) | - | - | £110 |
| Grade C40/C45 (per m3) | - | - | £130 |
| Semi-dry screed (per m3) | - | - | £125 |
| Concrete driveway | £600 | £8,000 | £4,000 |
| Concrete slab (per m3) | £150 | £200 | £175 |
| Concrete foundations (per m3) | - | - | £190 |
How much does concrete pouring cost?
The average price for concrete pouring is about £100 per m3. The price you'll pay will vary on a number of factors, most notably the quality (or 'grade') of the concrete you use.
The other factors that will affect the cost of pouring concrete are:
Amount of concrete
Access to the site
The complexity of the job
Any prep work needed
Where you live
For accurate prices, speak to your local concrete pouring experts about your project and ask for a quote.
Find concrete pouring experts your neighbours recommend
Pouring concrete cost per square foot
The cost of pouring concrete is actually calculated per cubic metre (m3), rather than the cost per square foot. That's because generally, you need to fill a certain volume rather than just an area, so speaking in terms of square footage (or even weight) doesn't translate easily.
For grades C8/C10/C15 the average concrete pouring cost is around £90 per m3. For grades C20/C25 you're looking at a cost of about £100 per m3. For grades C30/C35 the average price is £110 per m3. Or, if you want grades C40/C45 the average cost of concrete pouring is about £130 per m3.
If you're not sure how much concrete you're going to need, speak to your local concrete pouring specialists for their professional advice. If necessary, they can carry out an inspection of the site in order to give you an accurate quote.
Concrete cost calculator
How is the concrete cost calculated? Whilst all concrete might look the same to the untrained eye, there are in fact a number of contributing factors that can affect the cost of the concrete. These include:
The grade and mix of the raw materials that make the concrete
The amount of concrete needed
How the concrete will be offloaded
The time a concrete supplier needs to spend on site
The distance from the concrete plant
When it comes to offloading the concrete, using a pump is more expensive but it is faster, cleaner and requires less manual work and heavy lifting.
Average cost of a pouring concrete driveway
Concrete driveways used to have a bad name as they tended to be pretty ugly. Thankfully, things have changed and concrete driveways, particularly imprinted concrete, are becoming a more popular choice with British homeowners. The quality and variety of finishes for concrete these days makes them a much more attractive option.
The average cost of pouring a concrete driveway can vary considerably, anywhere from £600 up to £8,000. Two of the most important factors that will influence the total price you pay are the size of the driveway and the quality of concrete used. The larger the driveway and the better quality of the concrete, the higher the cost of concrete pouring.
Find concrete pouring experts your neighbours recommend
Pouring concrete driveway labour costs
The labour costs for pouring a concrete driveway are somewhere in the region of £40 – £50 per m2. That may vary depending on the complexity of the job and the time it takes to pour the concrete. As a guide, you'll be paying around £220 – £450 per day for the labour.
A small driveway can take about two days to complete. Larger driveways can take up to seven days, depending on the size and complexity of the job.
Cost of pouring concrete slab
Concrete slabs are used in modern buildings to provide a flat, horizontal surface. They're most commonly used for floors, ceiling and roof decks. In many domestic buildings, a concrete slab is used on top of the foundations to provide a solid ground floor – this is known as a ground-bearing slab.
The average cost of pouring concrete slab is about £150 – £200 per m3. Like with other types of concrete pouring, that price will vary depending on the quality of the concrete used, the size and complexity of the job, and where you live in the country.
As an example, if you have a floor area of 130m2 and need a concrete slab 300mm thick, then you're looking at a volume of around 40m3. The cost of pouring a concrete slab for that project would be somewhere between £6,000 and £8,500, plus labour.
Cost of pouring concrete foundation
The cost of pouring concrete foundations tends to be more expensive than other concrete pouring jobs. The average price is around £190 per m3.
The challenge with concrete foundations is that it's very difficult to plan accurately until you've started the work. Factors like the ground conditions and specific requirements for the project vary, and you'll only discover the reality once you've started digging.
We always recommend speaking with your construction company for their advice and plan a healthy budget for the foundations. After all, they're the base for your whole project, so they need to be done right.
Concrete shed base price
If you're looking to build a shed on top of a concrete base, you'll want to know the rough price you can expect to pay. The average price for a concrete shed base ranges from £500 to £750 for a 6′ x 4′ base or, for a larger shed it will cost around £1,000 – £1,500 for a 12′ x 8′ base.
The exact concrete shed base price will depend on a number of factors, including the size and shape of the base needed, any prep work before the concrete base can be installed, and the labour costs involved.
For accurate prices in your area, we recommend speaking to your local concrete specialists and ask for a breakdown of costs.
Concrete shed price
Concrete sheds are a solid alternative to a common wooden garden shed, if you're looking for a sturdier outbuilding for your home. The average concrete shed price ranges from £2,000 – £5,000 – depending on the size, style and finishes of the shed.
If you already have a shed that you're thinking of converting to make better use of the space, check our our shed conversion cost guide.
Concrete pouring quotes
Having read through all this information, you're now ready to get a concrete pouring quote. With any project, we always advise getting at least 3 quotes to compare the service and price. Use our handy search feature below and shortlist local recommended tradespeople by typing in your postcode.
If you want 3 quotes to be sent directly to you then you can also use our request a quote service. Simply post the details of your project and we'll send the details to 3 tradespeople for them to supply you with a quote.
Useful concrete pouring checklist
Calculate the volume of concrete that you're going to need. If in doubt, seek the help of a concrete pouring specialist.
Discuss the needs of the project with your local concrete experts to get their professional advice.
Shop around for fair and competitive concrete pouring costs.
Ask for detailed information about what is included in the price of the quote.
Always hire tradespeople with experience and relevant qualifications and/or accreditations.
Find concrete pouring experts your neighbours recommend
Good jobs, guaranteed
Get covered when you book with Checkatrade.