Last updated on March 31st, 2022
Garden decking cost in 2023
The cost of decking will depend on several factors, including the size of your garden, the materials you use, your location and more. The price of your decking will depend on your own budget, although a typical starting cost is £1,100 for a basic small deck.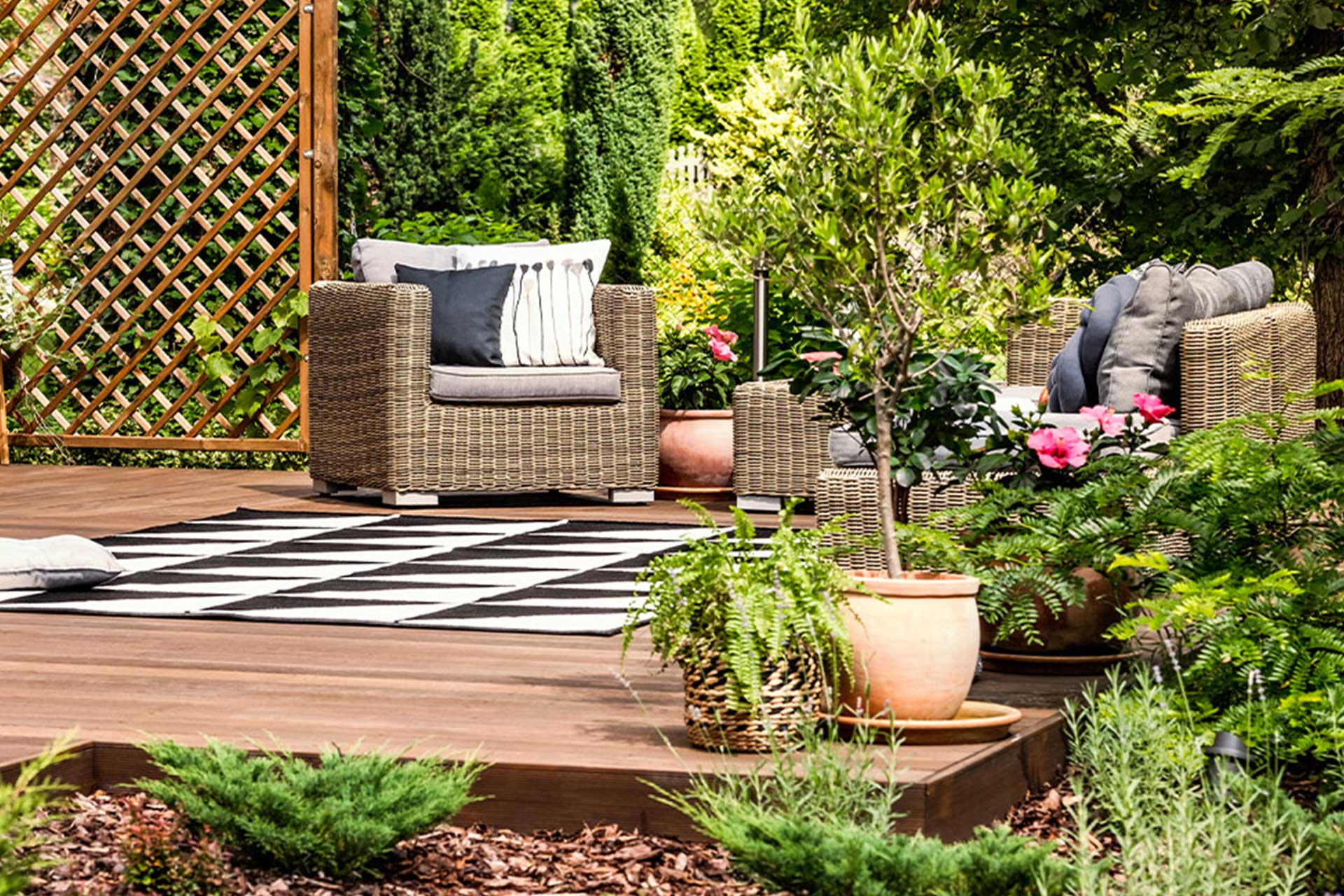 Garden decking is a very popular choice for creating a stylish yet practical solution to access your garden. To help you budget for new garden decking, we've gathered the cost of new decking, the labour cost to get a professional to install it, and the cost of the decking materials available to you.
How much does garden decking cost
| Decking type | Small house (24m2) | Big house (80m2) |
| --- | --- | --- |
| Non-elevated softwood deck no railing/stairs | £2,300 | £7,500 |
| Non-elevated hardwood deck no railing/stairs | £5,700 | £16,00 |
| Non-elevated composite deck no railing/stairs | £3,300 | £11,000 |
| Non-elevated softwood deck with railing/stairs | £2,800 | £9,000 |
| Non-elevated hardwood deck with railing/stairs | £6,200 | £18,00 |
| Non-elevated composite deck with railing/stairs | £3,800 | £13,000 |
| Elevated softwood deck with railing/stairs | £3,800 | £12,000 |
| Elevated hardwood deck with railing/stairs | £ 4,500 | £15,000 |
| Elevated composite deck with railing/stairs | £6,500 | £22,000 |
The cost of your decking will depend on a number of factors. However, as a rough ballpark cost, the decking material and installation could cost anything from £2,300 for a non-elevated softwood deck to £22,000 for an elevated composite decking with railing and stairs.
Your new decking cost will really depend on:
The size of decking required
The design of your decking
The complexity of the installation
The material of the decking
Types of decking and their cost
There has been considerable growth in the choice of different types of decking products available in recent years. The options for most homeowners are the following.
Softwood decking cost
It's the cheapest type of decking board – expect to pay £4 – £6 per meter (M) length boards. The overwhelming majority of decking board is made of softwood timber, which is usually pine or spruce. It's standard and widely available in stock at most suppliers.
Pressure-treating the timber helps to protect it from decay, but it does require some intervention to keep it looking good and safe to use.
Hardwood decking cost
Hardwoods are expensive and while costs vary from type to type, expect to pay in the range of £9 – £15 for M length boards.
If you're after something that looks a little different to the standard decking, then hardwoods are a good option. They can look naturally darker (such as oak) or more classic, such as oak, and can come in smoothed boarding.
Hardwoods tend to have a greater density and therefore tend to be more dimensionally stable but will still need maintenance. Most hardwoods are imported, and it's essential to check that the timber is sustainably sourced – but hardwoods are an excellent solution for those looking for a high-end, 'designer' decking solution.
Composite decking cost
Expect to pay £15 – £25 per M length board. What you lose in 'natural style' you gain in resistance to moisture, decay, rot and warping. Composite boards often come with 25-year guarantees – a real statement of their long lifespan.
Many people when considering their decking material is around how slippery it could be in the wet months, and how it may decay, warp and crack over time. In recent years, several new products have come to the market solving these problems. Composite decking is that innovative material.
The boards are usually a mix of (often recycled) plastics, sawdust and timber with a deep timber-effect grain on top.
Pros and cons of decking
Pros
In most cases, it's quicker and simpler to install than a patio
It's usually cheaper than a patio
It looks excellent
There's different laying and design options to give you flexibility; steps, handrails, ramps to name a few
A great solution for sloping gardens
Cons
Timber decking requires a lot of maintenance
Poorly maintained decking will crack, warp and become unusable
Can become very slippery if not maintained properly
FAQs
Where is decking most effective?
Timber is a natural material, it is neutral from a style perspective and as a result can fit in well with almost any home, new or old. However, there are certain situations where a deck is a particularly good option.
From a building perspective, the most significant advantage that decking has over patios is that it negates the need to level the subfloor before laying the finished floor. This is because the floor sits on raised joists that are secured into the ground adequately as mini piled foundations. This can save massive amounts of material cost and time.
To take this benefit to its natural conclusion, sloping garden decks are by far the best way to create a level outside seating area connected to the home. And in many cases, garden decking is the only practical solution.
Can you DIY new garden decking?
Installing basic decking to replace and sit on top of a simple existing patio is a job not beyond the abilities of a skilled DIYer. But you must be a very capable and experienced DIYer with good handy experience. In most cases, homeowners are best served by using an experienced landscaping contractor.
What to look out for with new decking – whether you install it or you hire a professional
A skilled contractor who regularly fits garden decking doesn't need you to check the quality of their work, but there are some things to look out for. The deck should sit at least 150mm below the damp proof course, and the decking boards should never actually touch the external walls of the house.
The supporting frame itself is crucial – well supported and built to ensure dimensional stability. The use of joist hangers is essential, as is the use of noggins at 400 – 600mm spacings. Additionally, the frame itself should be supported every 500mm (usually with the insertion of timbers between the joist and the old patio on which it sits).
Suitable quality materials are essential. The timber should be pressure treated to maximise its chances of long-term durability and moisture resistance. The fixings should be exterior-grade, so they don't stain or rust.
Lastly, a bit of preparation of the ground surface goes a long way to ensuring the deck looks as good after two years as after two days. Make sure your contractor puts down landscaping fabric and ideally some gravel on top to minimise any chance of weeds coming through.
Who should install decking in the garden?
Installing decking in most situations requires skill and experience to ensure long-term structural integrity but also a smart finish. As a result, it's always best to use an experienced landscaping contractor.
To find a recommended decking installer in your area, search your postcode below.
See the tradespeople we've checked and recommend for your job
Do I need planning permission or building regulations for garden decking?
Adding decking is allowed under your Permitted Development Rights – meaning you won't need to apply for planning permission. This applies to all decks that sit no more than 300mm above the ground level or are going to cover more than half of your garden.
Building regulations also apply to elevated decks and place requirements on balustrading, steps and the deck's loading. Balustrading, for instance, needs to be 900mm high and 1100mm on steps, although there is no need for handrails on the bottom two steps. Spindles need to be positioned at less than 100mm spacings.
How to maintain decking
There are several enemies of the deck. UV from the sun will fade and dry out a timber deck, causing it to split, warp and crack. Too much water in the timber will cause it to decay and allow fungal infection and rot to take over – as will too much dirt. In addition to making your deck look terrible, it will also make it precariously slippy in winter and harsh to walk on in summer.
A maintenance plan aims to protect against these problems. There are three main options:
Decking stains – will weatherproof the deck and provide a finish that changes the appearance of the timber – for example a walnut stain. Stains change the colour of the deck itself, so be sure to test a sample spot first.
Decking oils – will provide a protective finish to the deck without changing the basic colour of the wood. Oils are perfect for enhancing a tired deck.
Decking paint – you can paint decks in the same way you'd paint other garden furniture and fences. Paints are inherently good at improving the appearance of tired or even slightly cracked wood, and some offer a non-slip coating.
While it's tempting to stain your deck as soon as it's down, most manufacturers recommend waiting 3-6 months before that first coat.