Last updated on April 1st, 2022
What are rubbish removal prices in 2023?
Whether you're undertaking building works, replacing your old furniture, or just having a good old clear-out, we all need to get rid of rubbish every now and again. But what's the cost of rubbish removal?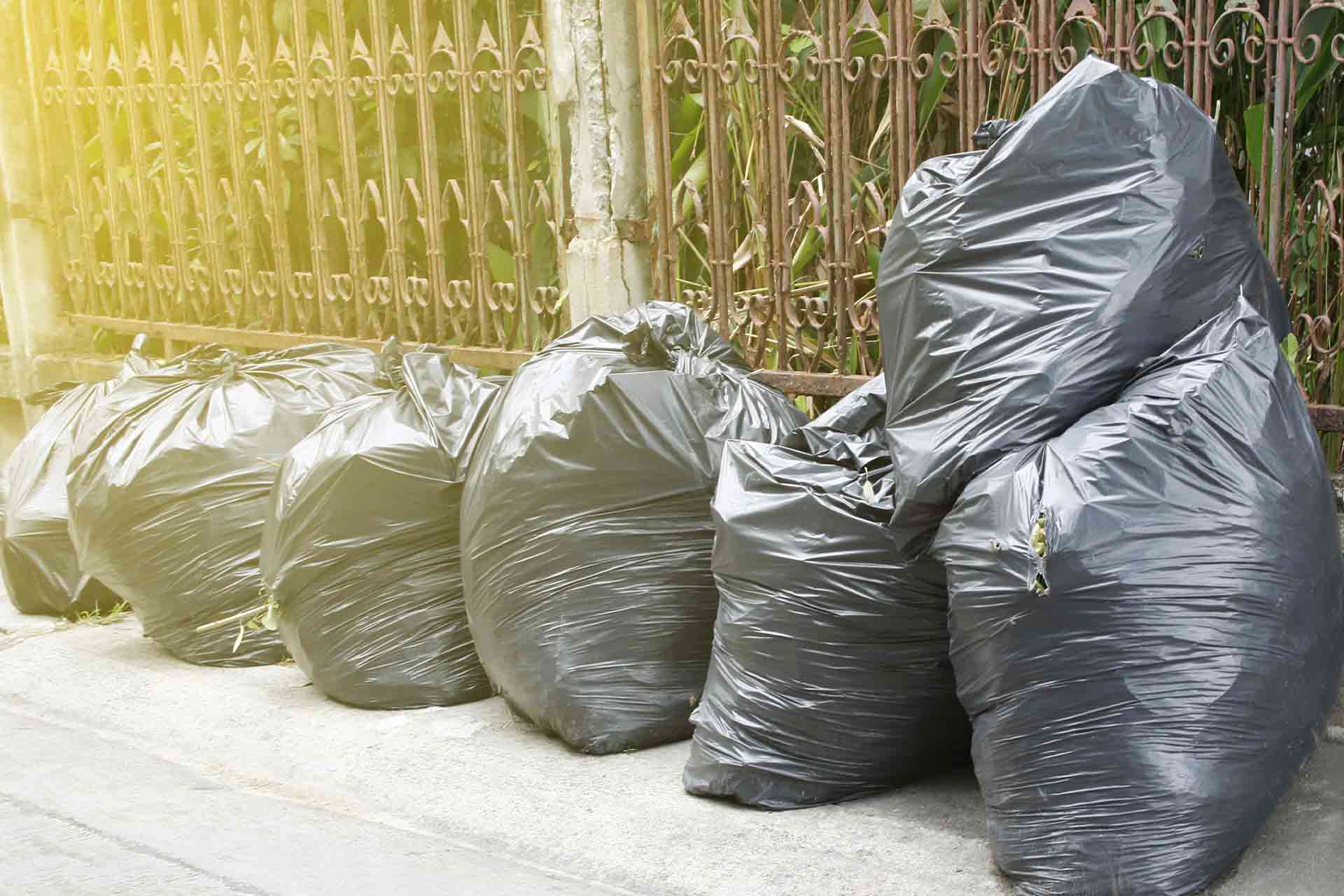 We've taken a look at rubbish removal prices and the different methods available.
How much does rubbish removal cost?
Rubbish clearance services will often charge you based on the number of cubic yards of waste being collected. However, many will also have set fees for certain items. For example, the typical cost of removing a fridge is £75 while removing a mattress can start at as little as £15.
| Item | Unit | Cost - low | Cost - high | Average cost |
| --- | --- | --- | --- | --- |
| Rubbish removal specialist | Per project | £50 | £200 | £125 |
| Fridge removal | Per item | - | - | £75 |
| Rubbish removal labour | Per hour | - | - | £60 |
| Rubbish removal by weight | Per kg | - | - | £30 |
| Skip hire | Per skip | £105 | £295 | £200 |
| Man with a van | Per hour | £64 | £94 | £79 |
Some rubbish removal services will include a set weight allowance and will charge you extra if you go over it. This could come to as much as £30 per kilogram. Similarly, many will include a set amount of labour in their quote. If you go over that, you could be charged extra too. You're looking at an average cost of £60 per hour but this price will vary a lot based on the factors.
Ultimately, the least you can realistically expect to pay for rubbish removal is £50. At the other end of the scale, you're probably looking at roughly £200 for a larger 'man in a van' service that would be able to take around a skip's worth of waste.
Rubbish removal hourly rates
Typically most rubbish removal services are priced based on the type of waste needing to be removed and the size, weight or quantity of the waste. Some services for general house clearance can start from as low as a £27 call-out fee, with an additional charge based on the amount of waste to be removed starting from £45. Rubbish removal hourly rates may also vary depending on your location. Prices tend to be higher in London and the South East but on average you can expect to pay approximately £60 per hour for rubbish removal.
Rubbish removal cost calculator
Rubbish removal costs vary hugely depending on what method you use. For instance, are you looking for a removal specialist who operates a 'man with a van' type service? Or would a skip hire be better suited to your job?
If you opt for a removal specialist, the price will vary based on things like:
How many items need to be removed and their weight.
How awkward the items are to move: For instance, three full bin bags will be easier to handle than one sofa.
What type of waste needs removing: Builders' waste will need to go to a special facility.
How easy your space is to access: For example, are there flights of stairs? And if so, how many?
Your location: Is parking outside your site free and easy?
See the tradespeople we've checked and recommend for your job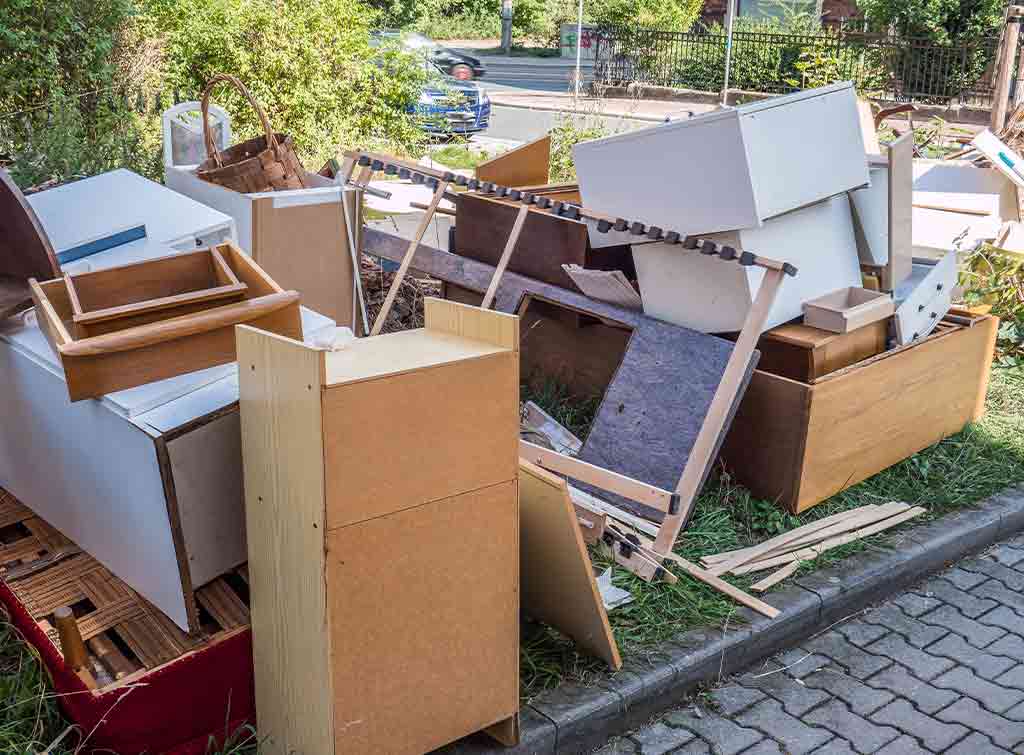 How much does it cost to hire a skip?
Skips, which typically range between 2-8 cubic yards, can cost between £105 and £295 to hire. Just remember that if you opt for this form of rubbish removal, you'll need to fill the skip yourself. In contrast, a rubbish removal service will normally enter your home to pick up your rubbish, saving you a job.
Read our skip hire cost guide for more detailed information about skip prices.
How much does it cost to remove rubble?
The cost of rubble removal will depend on a number of factors, such as what type of rubble it is and its weight. Rubble might include waste such as bricks, stone, rocks, patio slabs, plasterboard, tiles, wood or builders' waste. You'll usually need to pay more for builders' waste to be removed because, as we mentioned above, it will need to be transported to a special facility.
If there's a lot of rubble to remove, it might be cheapest to hire a skip or even a grab lorry (hiring one grab lorry will often be more cost-effective than hiring several skips). However, if you're dealing in smaller amounts, you could consider using a man with a van service. The average cost of a man with a van is between £64 – £94 an hour depending on the number of workers required. Just bear in mind that you may need your man with a van to do several trips depending on both the quantity of rubble and its weight.
See the tradespeople we've checked and recommend for your job
Rubbish removal quotes
If you have some rubbish that you're looking to have taken away, then it's time to get some quotes. With any job or project, we always recommend getting a minimum of 3 quotes. This allows you to compare the different prices and services on offer. This is especially important when it comes to rubbish removal, as rates will vary depending on the items and the volume that needs disposing of.
Finding recommended local tradespeople is as easy as entering your postcode into our search bar below. Getting 3 quotes is also quick and easy if you use our request a quote service. Just submit the details of your project and you'll receive 3 quotes in return.
FAQs
What is the cheapest way to get rid of rubbish?
That depends on what type of waste you need to get rid of and how much you have. We'd recommend getting a number of quotes for both skip hire and rubbish removal to find out what the most cost-effective option is for you.
Should I hire a skip or pay for a rubbish removal specialist?
There's no straightforward answer as everyone's different. A skip might be cheaper if you're moving a lot, but if it's a smaller amount, it could be cheaper to get a rubbish removal specialist. Equally, remember that opting for a rubbish removal specialist will mean less work for you.
See the tradespeople we've checked and recommend for your job