Last updated on August 31st, 2022
Grab hire cost guide
If you have rubble or other debris cluttering your garden or driveway that you need to get rid of, then hiring a grab truck could be the solution. Find out the average grab hire cost in our handy guide.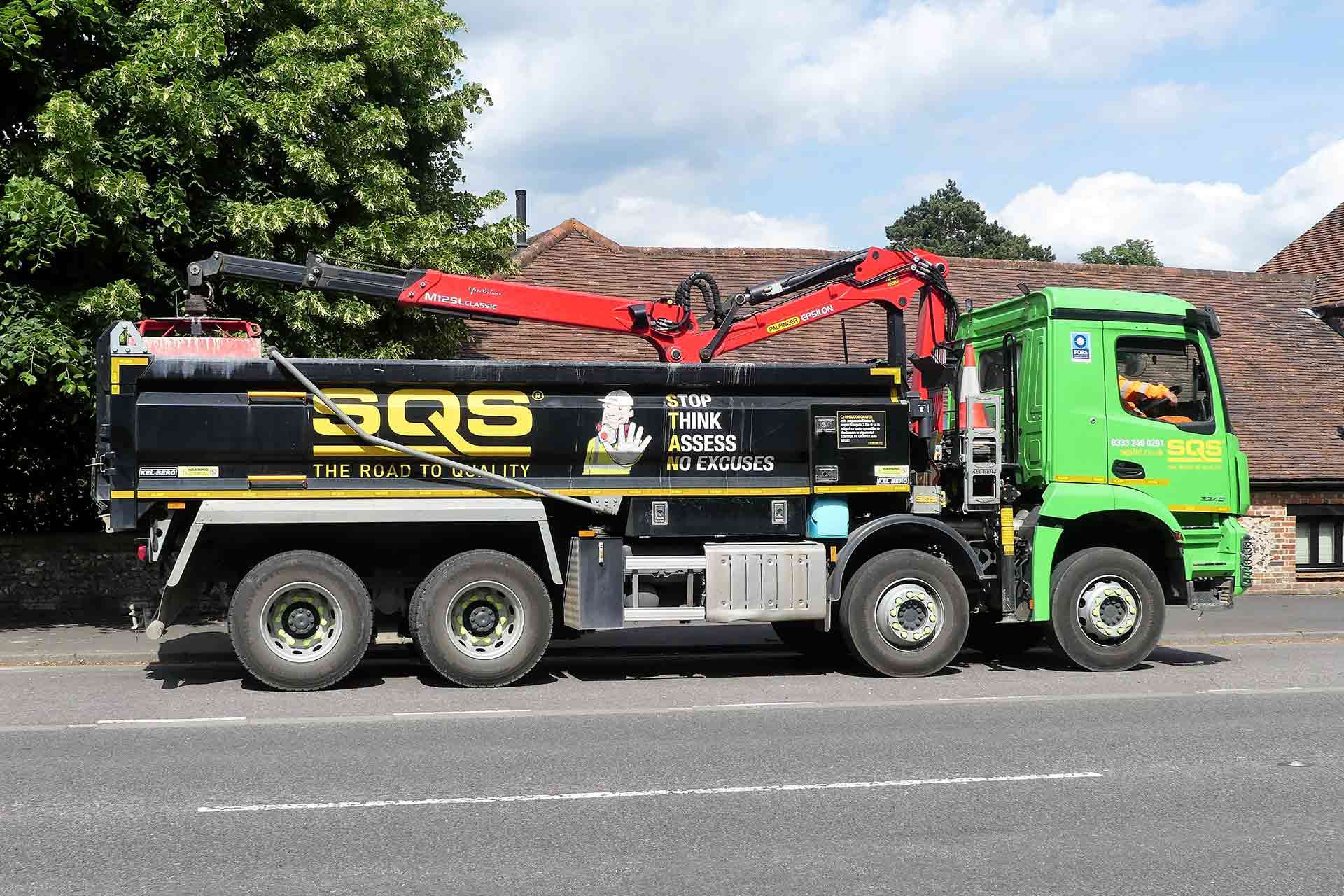 Whether you're demolishing a shed or garage, re-tiling your roof, building an extension, refurbishing your kitchen, or landscaping your back garden, a grab truck can collect it all.
A grab lorry can easily remove soil, bricks, rubble, concrete, building materials and other general waste.
How much does grab lorry hire cost?
Grab truck size
Cost+VAT
(Range low - high)

Average cost
4 wheel grab truck (7-9 tonnes of waste)
£170 - £380
£275
6 wheel grab truck (12.5-14 tonnes of waste)
£190 - £400
£295
8 wheel grab truck (16-18 tonnes of waste)
£260 - £420
£340
Grab trucks can be a very affordable way to remove large quantities of rubbish from your home improvement projects. If you have a mountain of debris outside your home, the cost of grab hire can work out much cheaper than hiring multiple skips.
Because of the swift removal, hiring a grab truck also means you don't have to pay out for permits as you do for a skip.
Grab hire cost starts at around £170.
The hire cost will depend on the size you need, whether that's a four, six, or eight wheel grab truck. Depending on the chosen size, these can remove between 7-18 tonnes of waste.
The hire cost of your grab truck will also be determined by the type of load being taken away, such as green waste, hardcore, bricks and aggregates such as concrete and topsoil.
Grab truck sizes
Grab trucks will vary in tonne capacity depending on the size. A four wheel grab truck can typically carry between 7-9 tonnes, a six wheel grab truck can hold 12.5-14 tonnes, and an eight wheel truck carries 16-18 tonnes.
A grab hire company will be able to advise you on what size is best for your disposal needs.
Inert vs hardcore waste
Inert waste is waste that won't react chemically or biologically. It either decomposes incredibly slowly or not at all. Examples of inert waste include sub-soil, concrete, chalk, clay, rubble and hardcore.
Hardcore waste materials are recyclable and can be used for other purposes. They include concrete, bricks, blockwork, ceramic, tiles, paving slabs and demolition stone.
Your professional grab hire team will be able to take away both inert and hardcore waste – it's worth telling them what projects you are clearing the rubbish from when booking your grab truck.
Benefits of hiring a grab truck
There are lots of benefits to hiring a grab truck.
Firstly, grab hire cost can be less expensive than skip hire. This is because a larger quantity of waste can be removed in one visit as there are different size grab trucks available to hire depending on the quantity of waste you have.
Another benefit of hiring a grab truck is that it can access your property easily by simply reaching over a fence or hedge. The hydraulic arm loads the truck with the waste. It's a quick, easy and flexible choice.
Lastly, with the removal process typically taking between 15-30 minutes, you don't need to pay out for a permit like you would a skip, and there will be minimal disruption. The waste collected will also be sorted, with hardcore materials being recycled.
FAQs
What's cheaper to hire, a grab truck or skip?
It depends how long you'll need the skip to clear the amount of rubbish. Grab lorry cost per load can be less expensive, and your rubbish is taken away immediately. Check out our skip hire cost guide for prices.
What's the difference between a skip and a grab truck?
A skip is placed on or next to your property for you to load, which means you'll also need a permit. A grab truck can collect large loads in less than 30 minutes.
Do I need a permit for a grab truck?
No, because the grab truck doesn't stay on your property.
How does a grab truck pick up the waste?
It's fitted with a flexible, hydraulic arm that picks it up. We recommend contacting a Checkatrade professional to discuss your requirements.
Key takeaways
Grab hire cost can be more cost-effective than skip hire.
It's fast and efficient.
Truck size matches your load.
Hardcore materials are reused and recycled.
See the tradespeople we've checked and recommend for your job