Sunken trampoline cost guide
In this article, we'll cover:
Trampolines are adored by kids and big kids alike, but they're not always the most sightly addition to your garden. That's where sunken trampolines come in. Not only do sunken trampolines make less impact on your view, but they're also easier to access and (arguably) safer. Intrigued? We've broken down the average sunken trampoline cost.
How much does a sunken trampoline cost?
| Item | Unit | Cost - low | Cost - high | Average cost |
| --- | --- | --- | --- | --- |
| Sunken trampoline | Per trampoline | £500 | £1,100 | £800 |
| Sunken trampoline installation | Per trampoline | £150 | £3,000 | £350 |
There are a number of factors that can affect the total cost of a sunken trampoline. Ultimately, the price will depend on factors like:
Purpose-built or existing trampoline: Buying a purpose-built sunken trampoline will be more expensive but will usually cost less to install. If you're digging in an existing trampoline, you'll need to dig a much deeper hole which will usually require adding a retaining wall.
Size of trampoline: Not only do larger trampolines cost more, but they'll also require a larger hole to be dug.
Shape of trampoline: Most sunken trampolines are round but you can also get them in other shapes, such as square or rectangular.
Who is doing the installation: If the company that you buy your sunken trampoline from also offers installation, you may be able to get installation cheaper as part of the overall package.
Additional features: Additional features such a safety nets, lighting, covers and more all come at an additional cost.
Your location: Labour rates can vary hugely depending on where you are in the country. For example, installation costs are likely to be higher in London.
Your garden: The costs we've given assume that the sunken trampoline is being installed on a lawn. If you need a patio removed, costs will climb significantly. Similarly, costs can rise if your garden is on a steep slope or has inadequate drainage.
Sunken trampoline installation cost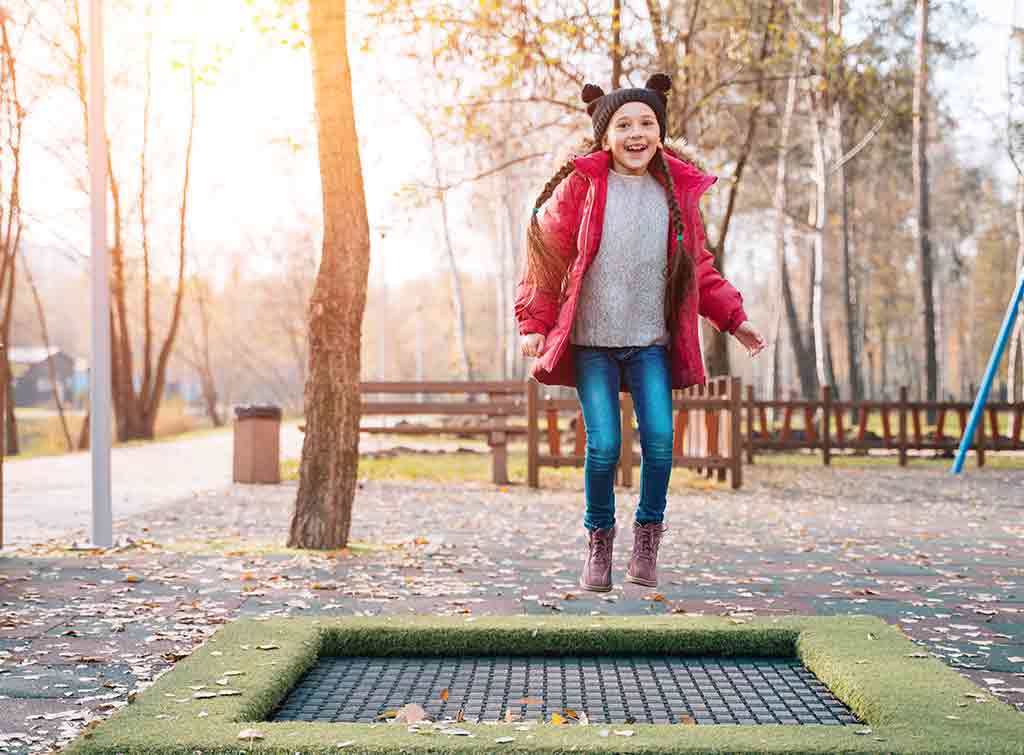 When you're calculating your total sunken trampoline cost, you'll need to factor in both the cost of the trampoline itself and the cost of installation.
A sunken trampoline will usually cost more than a standard one. This is because they need to be more durable so the frame and springs are often made from galvanised steel. They also have additional features such as an airflow system. In general, sunken trampoline costs fall between £500 – £1,100.
Sunken trampoline installation, on the other hand, can cost anywhere from £150 – £3,000. At the cheaper end of the scale tends to be companies that sell sunken trampolines and provide an additional installation service for those who require it.
If you're looking to save on sunken trampoline installation costs, you could consider installing your trampoline yourself. Most sunken trampolines come with clear instructions for self-assembly, and the main part of installation simply involves digging a large hole. However, digging is very hard work and can be time-consuming. Plus, you'll need to dispose of the earth. By getting a professional in to install your sunken trampoline for you, you could save a lot of time and trouble.
Find an expert to install your trampoline
Benefits of a sunken trampoline
Although sunken trampolines are more expensive than standard ones, there are many benefits that make the additional cost worthwhile.
Safer: Sunken trampolines are arguably safer as there's less distance to fall.
More sightly: Because they're lower, they won't cause as much of an impact on your view. Plus, many families don't bother with safety nets on sunken trampolines, which can also be unsightly.
Wind: There won't be any issues with the wind blowing your trampoline away as they may be with a standard trampoline.
Easier to access: There won't be any ladder to climb and, if you don't have a safety net, there won't be a small opening to squeeze through either. This can make a sunken trampoline more appealing to adults in particular.
Key takeaways
Sunken trampolines are more expensive than standard trampolines.
Costs will depend on whether you're adapting a standard trampoline or purchasing a purpose-built sunken one.
The main part of the cost of sunken trampoline installation is digging.
Find an expert to install your trampoline
Good jobs, guaranteed
Get covered when you book with Checkatrade.