A garden den gives your children an outdoor retreat where they can escape from the adult world to imagine, explore and play. So, what better way to spend your summer than by building an outdoor den for your little ones?
Here we share our favourite garden den ideas to inspire you to design your own enchanting outdoor retreat, with practical steps to help you build something special for your children.
Children's garden den ideas
Playhouses
A playhouse is a great way to create an exciting space for your little ones. Once you've built the basic structure, your kids can let their imaginations run wild and create all manner of fun play environments – from a playhouse or shop to a hospital, pirate ship or even a rocket!
A playhouse is also versatile. You can adapt it as your children grow, and their interests change.
If you have an existing shed or decking area, why not convert this into your playhouse? Alternatively, you can call in the professionals. A professionally-built playhouse will typically cost between £430 and £1,300.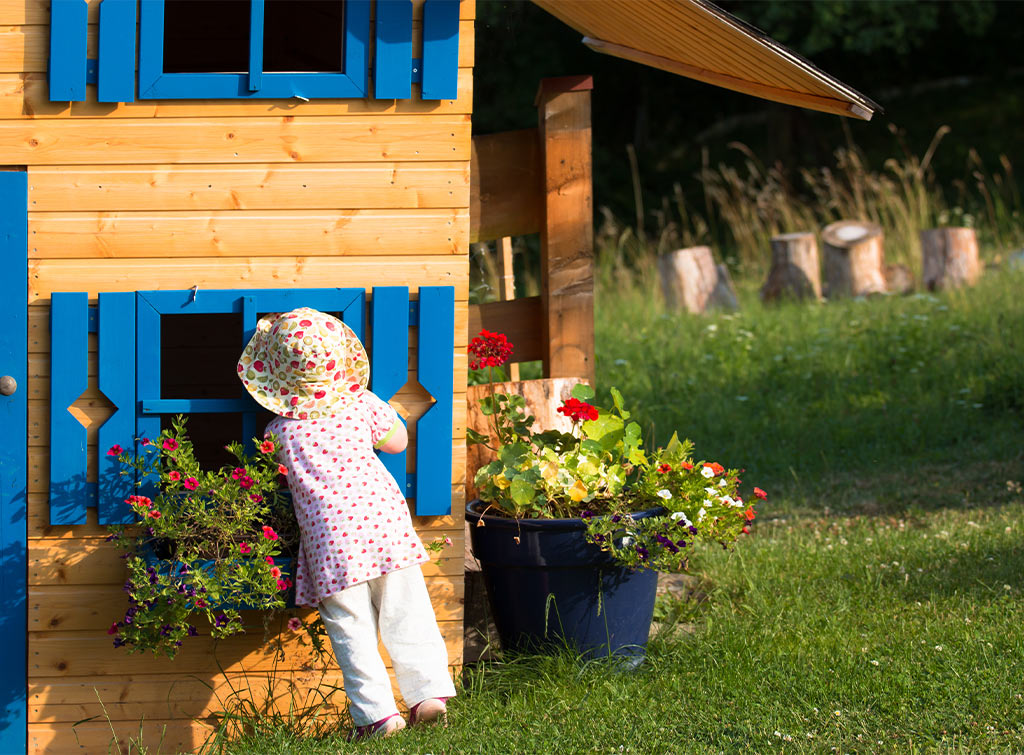 Wicker tepees
Ideal for larger spaces, a tepee will provide a magical, natural den that your kids are sure to love! Not only will a wicker tepee offer a secret hideaway and shade on sunny days, but it will also look impressive in your garden.
Add cushions, blankets and outdoor lights to create the perfect retreat for your children to relax, explore and play.
If you're considering building a wicker tepee, it's often better to call in professional help. A wicker tepee will typically cost around £200.
Treehouses
The classic garden den, a treehouse will make your little ones the envy of all their friends! If you're lucky enough to have a suitable tree in your garden, a treehouse will give your children the perfect secret hideaway.
Whether they transform it into a castle, a pirate ship or a watchtower, there's something truly magical about being able to hide away amongst the branches and watch the world go by.
If you're considering building a treehouse, you might need planning permission. It's worth calling in the professionals to ensure your treehouse is safe and structurally sound. This will typically cost around £2,459 on average.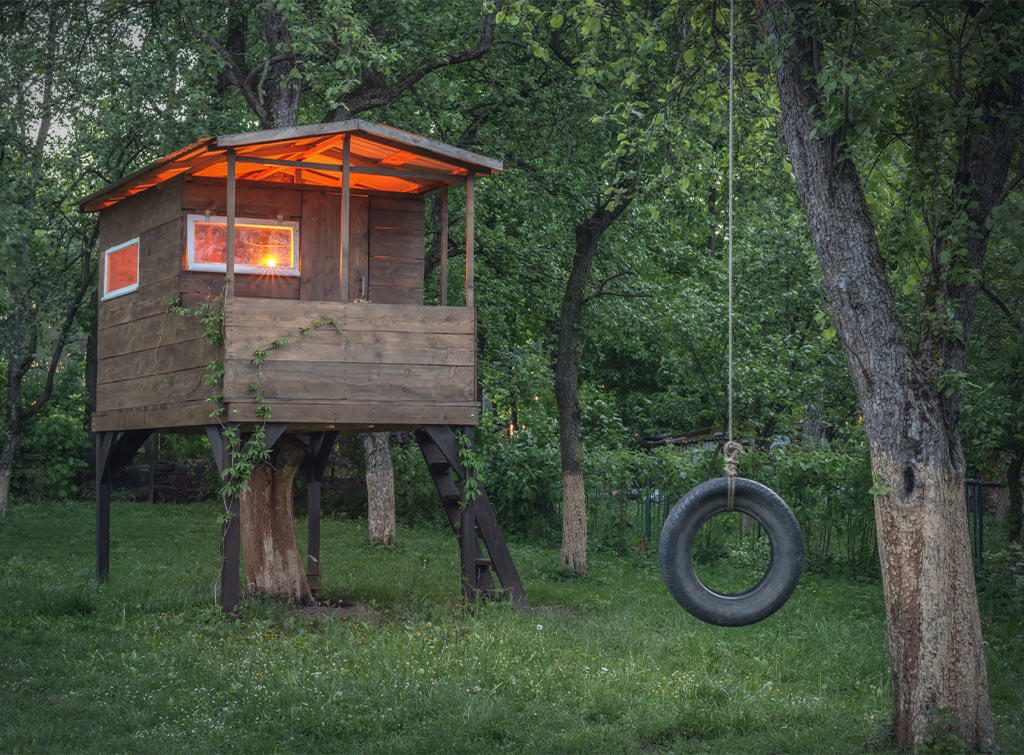 Plan and create a garden den for your little ones
Here are our top tips for creating the perfect raised platform den in your garden – trust us, your kids will love it.
Step One: Set the budget
Firstly, think about how much you want to spend on your outdoor den. This will determine factors such as the size, style and features of your den.
Step Two: Futureproof your design
When planning your garden den, don't limit yourself to thinking only about what your little ones will appreciate now. Consider how you can adapt it to ensure that it provides an enjoyable outdoor space for years to come.
Step Three: Choose the best spot
Think about where the den will fit best in your garden. Try to find a spot that's away from other outdoor sitting or dining areas so that it's a separate area just for kids.
Step Four: Design the concept
This is the fun bit! It's time to design the concept for your outdoor den. Use the inspiration above and let your creativity run wild.
Of course, it's essential to ensure that your plans are achievable, so think about the space and anything you've already got. Do you have a shed you can recycle for example or an area of raised decking?
Step Five: Seek expert advice
If you're building a den from scratch, it might be worthwhile arranging a video call with an outdoor building or shed expert to discuss the practicalities of bringing your ideas to life.
Step Six: Explore your options
Once you've developed your ideas and you understand how to bring your garden den concept to life, it's time to work out which ones will fit in with your outdoor space and your budget.
Step Seven: Share the plan with your kids
Run your plans past your children to see what they think – you're building it for them after all!
Step Eight: Consider your skills
Before you start building your den, you need to consider whether you've got the skills to build it properly and safely. You'll need to create a platform from decking and then assemble a pre-bought shed or build your own – are you confident you can do this, or do you need to call in the professionals?
A pro will be able to suggest the best materials and expert ideas, ensuring that your den is good quality, lasts for years to come and most importantly, is a safe space for your children to play in.
If you're planning children's garden den, search our directory of trusted traders to find a skilled and experienced professional in your local area.
Also in this project
Tell us what you think
What others think of this article:
Need More Information?
Related posts