Last updated on May 25th, 2022
Wet room installation cost guide
This cost guide is going to delve into all the benefits and factors affecting the cost to install a wet room, helping you ask the right questions and make the best decision.
Hiring Advice
Practical measures for preventing scams and choosing reputable trades
Wet room installations are becoming increasingly popular. They add value to your home and are especially attractive for those with mobility issues. As there are no shower steps or baths in wet rooms, houses with limited bathroom space also benefit from their design.
Stylish and spacious, wet rooms are seriously worth considering if you're looking to renovate or move home. As they come in all shapes, sizes and designs, they're a versatile option that suits most budgets and aesthetic requirements.
For this guide, we spoke to Bob Branscombe (MRICS and MCIOB qualified), who has 34 years in the industry with Branscombe Consulting. Together we have put together the average UK prices for various types of wet room costs.
Wet room cost calculator
| Cost provided item | Unit | Price range - Low | Price range - High | Average UK cost |
| --- | --- | --- | --- | --- |
| Average cost of installing a wet room | Per room | £4,000 | £12,000 | £8,000 |
| Installing a wet room - labour only | Per day | £200 | £300 | £250 |
As each wet room installation is specific to the room, any restrictions and your individual requirements, it can be difficult to put a cost on your project. That said, you can use the prices in the table above to give you a ballpark calculation.
What is a wet room?
Essentially, a wet room is an entire waterproofed (tanked) bathroom that stops water from escaping and causing damage. They offer more space than a shower or bath and can be a luxurious option for anyone who likes their aesthetic. They are especially useful for those with mobility issues or a lack of bathroom space.
See the tradespeople we've checked and recommend for your job
Benefits of a wet room
There are several benefits to having a wet room, including:
They are waterproofed and easy to clean
They're great for adding space to smaller bathrooms
They're perfect for those with mobility issues, as there's no need to step in or out of a shower or bath
They offer more room due to the lack of a shower screen and tray
They're safer and more secure
They're stylish and versatile and can increase the value of your home
Factors affecting the cost of a wet room
There are several factors that can affect the cost of your wet room, all of which we discuss below.
The size of the bathroom
The larger your bathroom, the more expensive a wet room will be. This is because you'll need more materials to transform it into a wet room.
The quality of the parts, materials, and fittings
Wet rooms need to be tiled from floor to ceiling. They need to be sealed to avoid accidents, and you'll need to pick materials and showerheads that ensure your wet room is structurally sound.
Fittings like tiling backer boards, underfloor heating and compliant electrics, e.g. waterproof lighting, will affect the final cost massively. Of course, it goes without saying that the better the quality, the higher the price.
The cost of labour
Installing a wet room requires a great deal of effort. There's a lot of grouting and spacers involved, along with dipping the floor to ensure proper water drainage. You'll also need adequate filtration and a ceiling fan to reduce the likelihood of mould forming.
The cost of any prep work required
There are various preparations a bathroom needs before a wet room can be installed. Your old bathroom may need stripping and prepping, as will your floors to ensure proper drainage. You'll also need to check the falls of waste pipework. Wet rooms have lower pipework than traditional bathrooms. That means the connection outside may be too high for the drainage to work, which means it will require pumping as a last resort.
See the tradespeople we've checked and recommend for your job
How long does it take to install a wet room?
Installing a wet room takes around 4 – 7 days, so it's worth working out the time of year you'd like to undertake the build. It's also worth ensuring you have an alternative place to wash if you only have one bathroom.
How much does it cost to install a wet room?
A wet room is a large undertaking that can vary massively in cost, depending on the factors we've previously discussed. You can expect to pay around £4,000 at the lower end of the market, up to £12,000 at the higher end. The benefits of having a wet room installed is often worth the investment.
Average wet room installation cost: £8,000
Average day rate for wet room installation: £250
Take a look at our wet room installation ideas guide for some inspiration.
How much do wet rooms cost?
There are several elements involved in working out how much wet rooms cost.
For example, a wet room shower installation cost alone requires the floor to be dipped and any screens to be taken into consideration, whereas the type of tiles you use can vary the costs considerably.
Because of this, having a list of materials and the estimated number of them that's required, as well as the cost of a tradesperson's time to install your wet room is advised.
How much does a disabled wet room cost?
The average cost of a disabled wet room is around £5,000. If disabled access is one of the key reasons for you installing a wet room, you'll need to plan your wet room carefully. You could also be eligible for financial assistance to cover a proportion of the wet room costs.
As the first port of call, speak to your local authority and find out what help might be available. For those with a disability, some building work is eligible for VAT relief – another reason to speak to your local authority before going ahead with your wet room installation.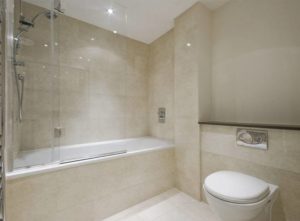 Can I install a wet room myself?
Although we applaud the initiative, we would strongly advise against attempting to install a wet room yourself. As there are various complex health and safety features involved, hiring a professional tradesperson will ensure your wet room is safe, secure and waterproofed. If anything is installed incorrectly, the long-term costs could be catastrophic.
Key insights
Wet rooms are great for those who want more bathroom space, a higher house value, and safer mobility options.
Wet rooms require extensive prep work before installation.
Check your drainage capabilities before committing to a wet room installation.
The average cost of a quality wet room is £8,000.
The average cost of labour for wet room installations is £250 per day.
See the tradespeople we've checked and recommend for your job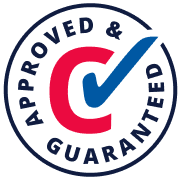 The Checkatrade guarantee
When you contact a trade through Checkatrade, our guarantee could cover you for up to 12 months. You can claim up to £1,000. Exclusions and T&Cs apply.