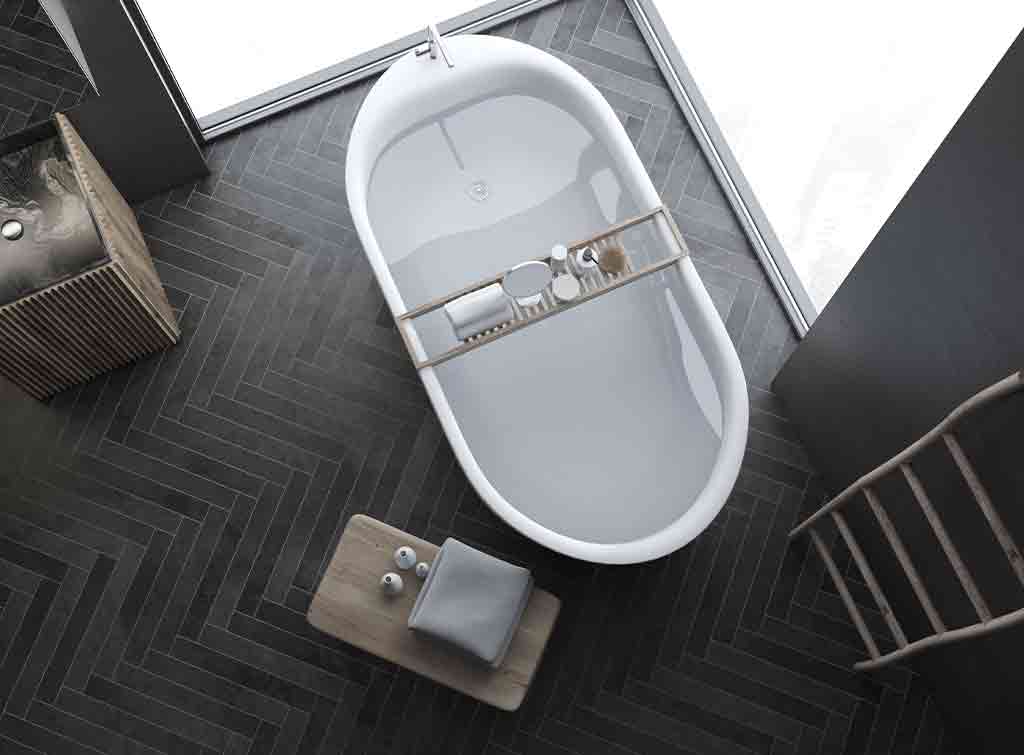 Often overlooked, bathroom flooring is not only functional but also has a significant effect on the aesthetics of your bathroom. This means that old or damaged bathroom flooring can let moisture seep into floorboards and ruin the appearance of your beautiful bathroom. Our bathroom flooring ideas are the perfect solution for those unsure where to begin their search.
This article is jam-packed full of inspiration, with tips and examples of how to use colours, styles, and patterns to enhance your bathroom. We will even look into ways to maximise space in small bathrooms and non-slip bathroom flooring ideas for the elderly and disabled. So, what are you waiting for? Begin your project today!
Types of bathroom flooring
There are endless possible bathroom flooring options, but a good starting point is choosing the right material for your requirements. With durable, non-slip, waterproof and warm choices, below are the most common materials to choose from:
Vinyl
Wood
Tiles
PVC
Rubber
Polished concrete
Stone
Small bathroom flooring ideas
It can be hard to follow the latest small bathroom flooring ideas but, there are a few ways to create a light and spacious room. Even tiny bathrooms can be improved by following these tips:
Using the same tiles on the floor and walls to create a cohesive finish.
Using larger tiles will help your compact bathroom appear to be larger.
Using natural and artificial light to showcase certain areas of your bathroom, like the flooring or the basin.
If you are feeling brave, dark flooring and light walls can also help to improve the feel of your small bathroom.
Vinyl bathroom flooring ideas
Vinyl is an excellent choice for bathroom flooring due to its many benefits. Vinyl flooring is waterproof, warm underfoot, affordable, and durable. Use the below vinyl bathroom flooring ideas to maximise the room's potential:
Choose a natural wood finish for a classy and inviting bathroom. This way you get the impression of a stunning wooden floor that is durable and waterproof.
Consider adding underfloor heating to create a luxuriously, cosy bathroom on colder days.
Vinyl flooring is available in a huge range of colours, styles, and patterns. Choose bright colours and bold patterns to liven up a dull bathroom or stick to monochrome shades for a modern feel.
Non-slip bathroom flooring ideas
According to The New York Times, 235,000 people over the age of 15 seek treatment at the emergency room after bathroom accidents every year. This shows just how dangerous bathrooms can be. After all water and tiles are a scary combination no matter your age and physical abilities.
To protect the elderly, disabled and young children, non-slip flooring promises secure footing and safety in the bathroom. An excellent non-slip bathroom flooring idea is to use vinyl. That way you get a wide variety of colours and styles as well as waterproof, durable and affordable flooring.
See the tradespeople we've checked and recommend for your job
Bathroom flooring extras to consider
In addition to choosing bathroom flooring, there are many ways to improve your bathroom experience. These bathroom flooring ideas include comfortable, practical ways to enhance your bathroom that are well worth your investment.
Why not consider adding:
Underfloor heating: Best suited to firm surfaces including ceramic tiles and stone, underfloor heating can also be used under vinyl flooring and even some wooden floors.
Bathroom mats: Choose from a wide range of material options such as memory foam, wood slats and cork. There are also a variety of styles, colours, and designs, these include catchy slogans, patterns, and pictures.
Warm underfoot flooring: Options like tiles and stone can be cold underfoot and if you cannot afford underfloor heating, this makes for an uncomfortable experience on a cold day. Choose options such as vinyl, cork, and wood to keep your feet happy.
If you have a larger bathroom project in mind, then consider our new bathroom cost guide.
Bathroom flooring ideas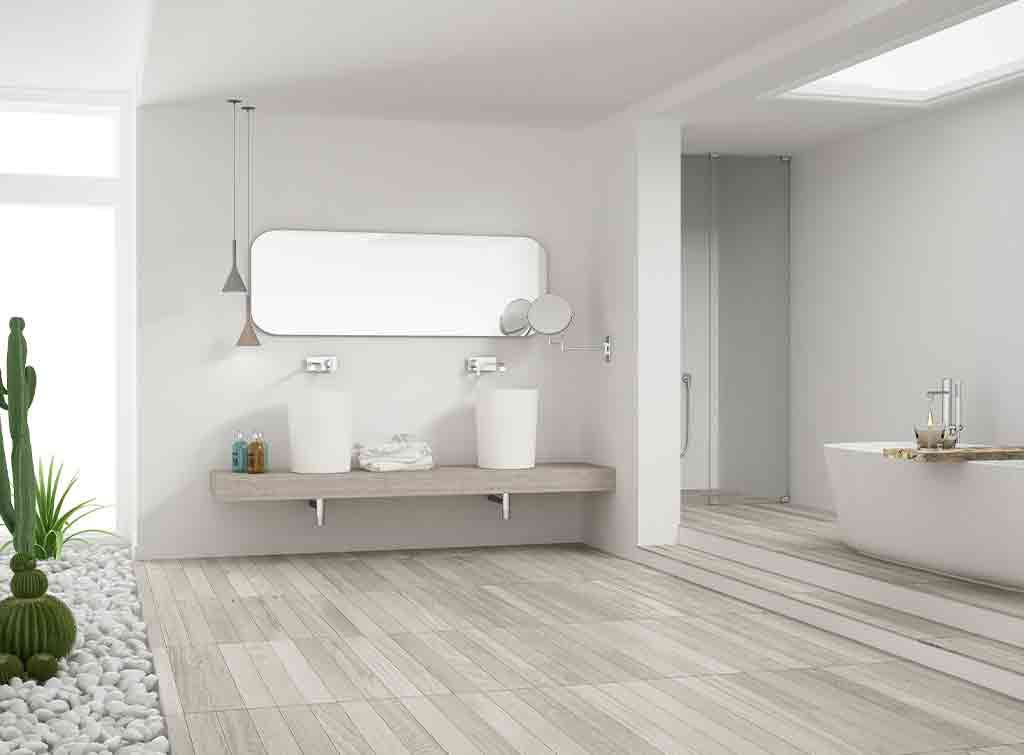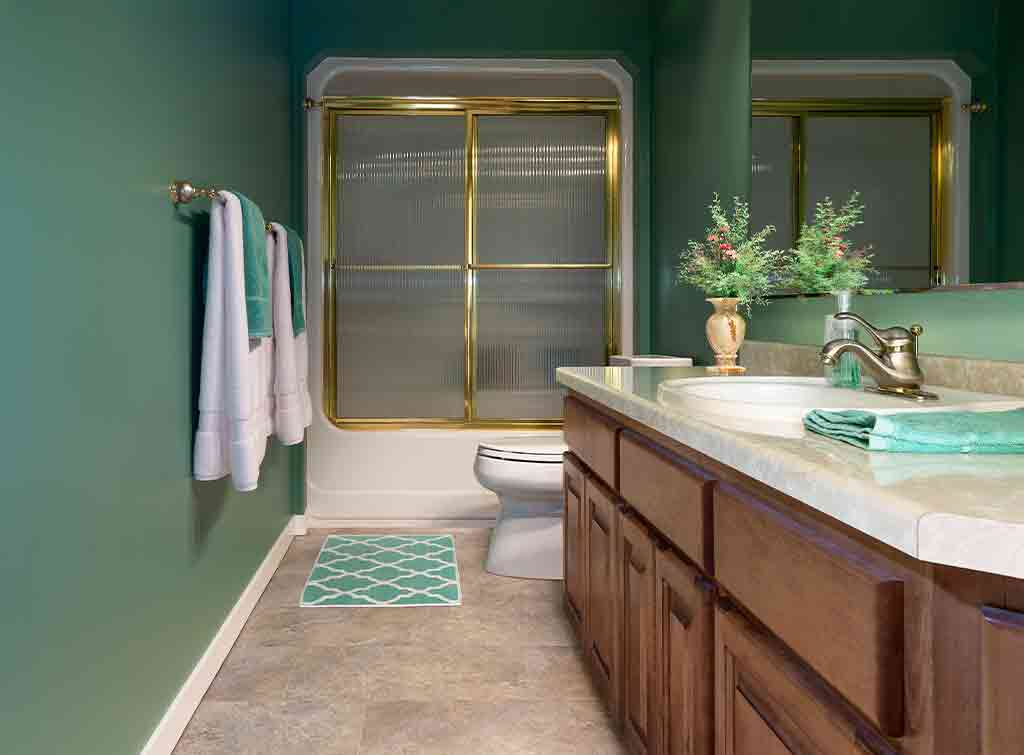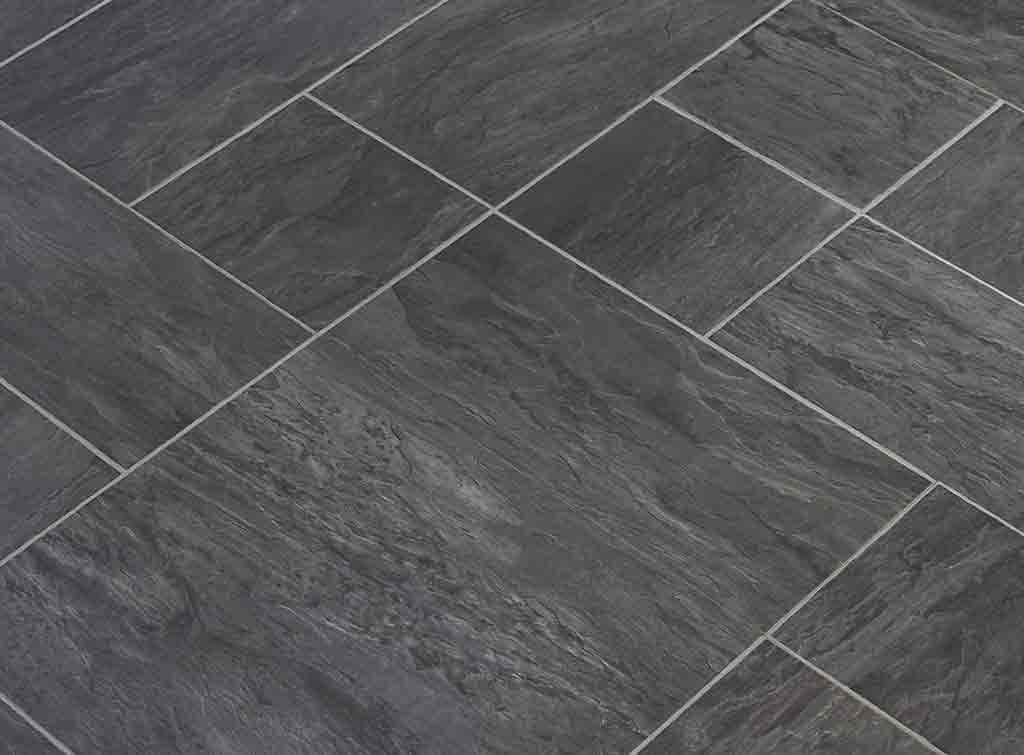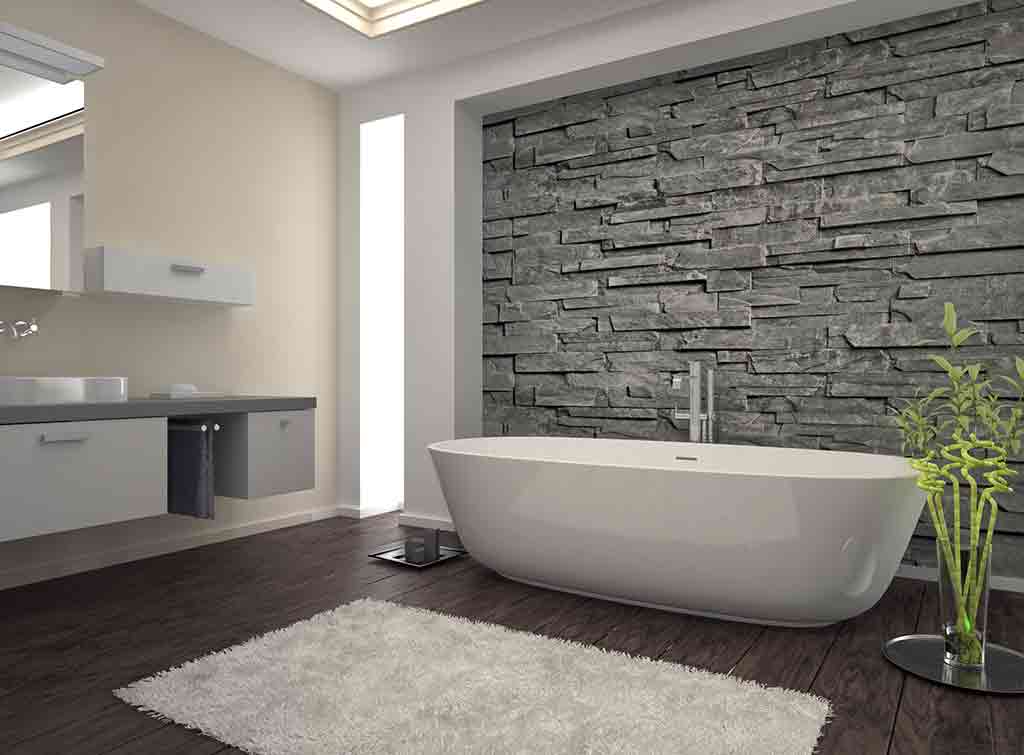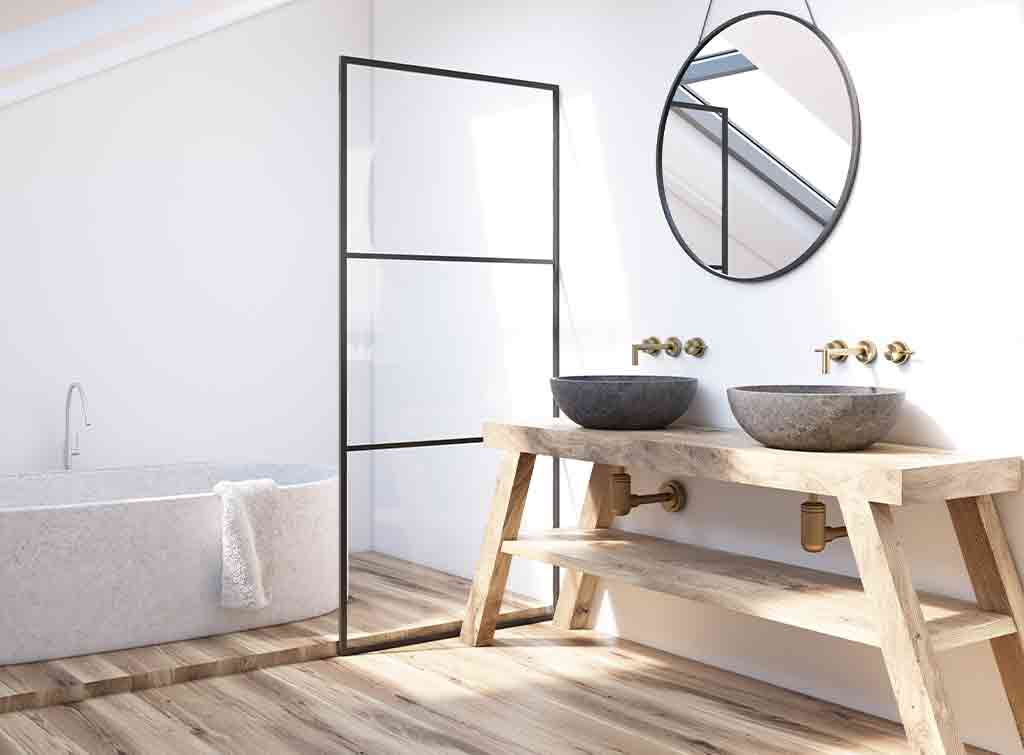 Beautiful light flooring inspiration
Using light flooring can open up a bathroom of any size, especially when combined with white walls. In this image, white and grey wood effect flooring has been used to achieve the look of real wood without the risk of water damage.
This perfectly matches the white walls, sinks and bathtub. An element of nature has also been added with a cactus sitting on smooth, white pebbles.
Cleverly used non-slip bathroom flooring
Installing non-slip flooring is a great way of increasing bathroom safety. However, this needn't mean sacrificing on flooring aesthetics. This stunning bathroom uses grey non-slip flooring to contrast exceptionally well with the turquoise walls.
A matching bright, turquoise bathmat and towels are a fantastic backdrop for the stylish gold and glass shower screen.
Stylish vinyl bathroom floor
There is a common misconception that because vinyl flooring is very affordable, it will look cheap and lack durability. This is simply not true. Vinyl flooring is waterproof and long lasting plus available in a huge range of colours, styles, and textures.
The grey vinyl flooring in this picture perfectly mimics a slate floor with different sized 'tiles' and even imitation grout.
Modern bathroom flooring
This image shows a beautiful modern bathroom, complete with monochromatic shades, clean lines, and no clutter. The flooring has a very dark wooden appearance, which can be achieved with vinyl or laminate. This offers an excellent foundation for the rest of the light bathroom.
An incredible stone wall adds authenticity and style to this otherwise simple room, with a stunning, free standing bath.
Wooden bathroom flooring
Wood is a stylish, natural material to work with, although it can become slippery when wet. This is why using a bathmat is essential. In this image, a light wood has been used to further enhance the white walls. This creates a bright and airy room.
Lovely variances in the wood make for a unique space, and the sinks are also held up by a wooden storage bench.
See the tradespeople we've checked and recommend for your job
Tell us what you think
What others think of this article:
Need More Information?
Related posts