Due to their relative newness, researching wet room ideas doesn't offer much in the way of inspiration. Yet, in the world of interior design, these sought-after renovations are making a big splash. Their wave of popularity can be attributed to their oceans of character and buckets of convenience – not to mention the increased value they add to your home.
That's why we're here to drench your imagination and fill up your creative reservoir.
We've put together a carousel of ideas below with all the latest tips, tricks and trends to help you make the best wet room design decisions.
Wet room installation requirements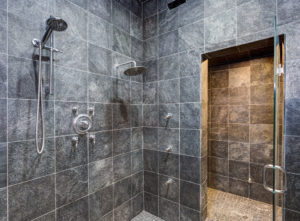 Most wet room installations need three basic things: a shower, sink and toilet. This makes them ideal for small bathrooms or ensuites for two reasons:
One: They're a minimalist's dream due to the small percentage of floor space required, lack of shower tray and open plan vibe.
Two: They're cheaper to install, easier to decorate and remain effortlessly stylish year on year.
The main challenges come from working out where to store your toiletries, towels and toilet roll, as well as whether the door to your wet room opens inwards or outwards. (For smaller designs, we recommend doors that open outwards, although this isn't always practical).
Creating a sense of space with some flawless design ingenuity, depth defying decorating, and smart accessorising will transform your wet room from murky to freshwater in no time.
If you want to know how much a wet room will set you back, check out our wet room installation cost guide.
For now, let's explore some wet room looks below.
Wet room ideas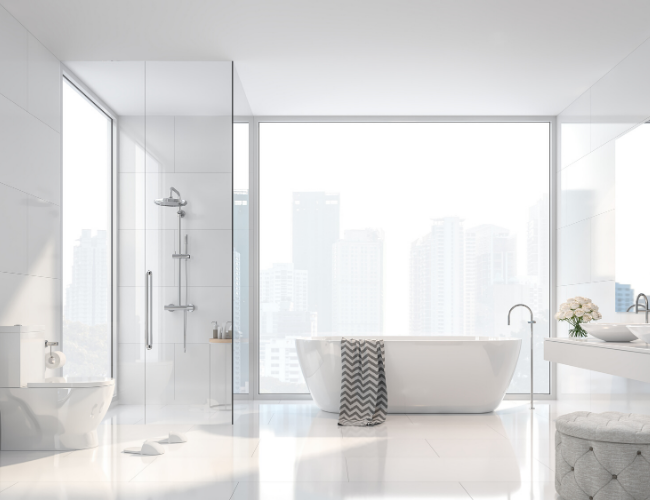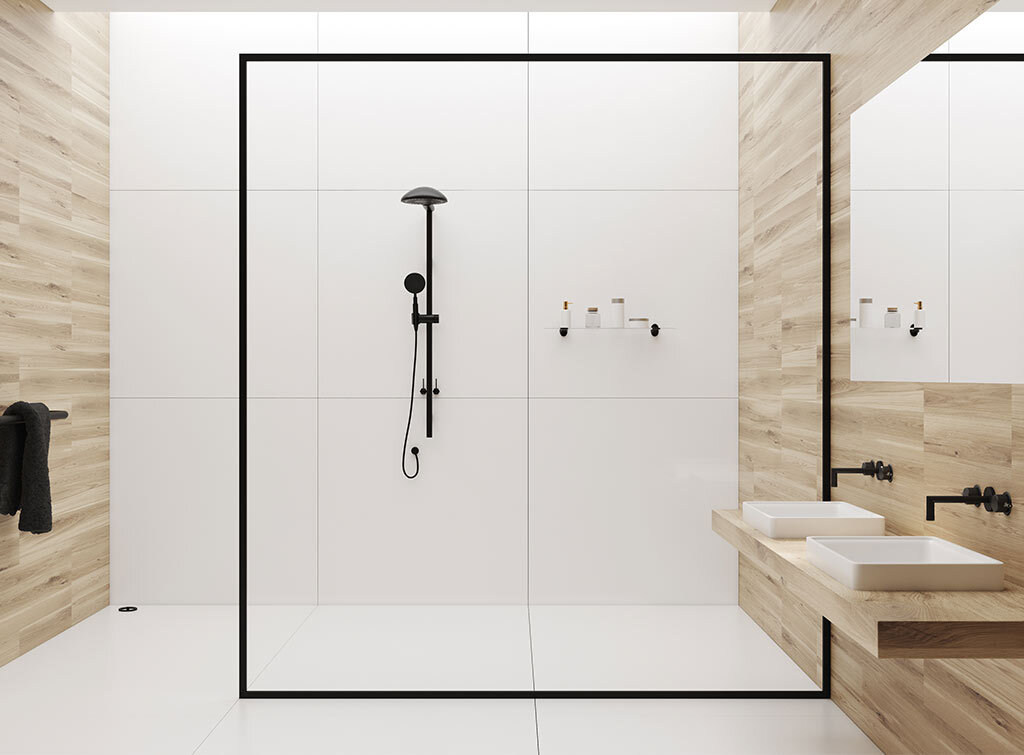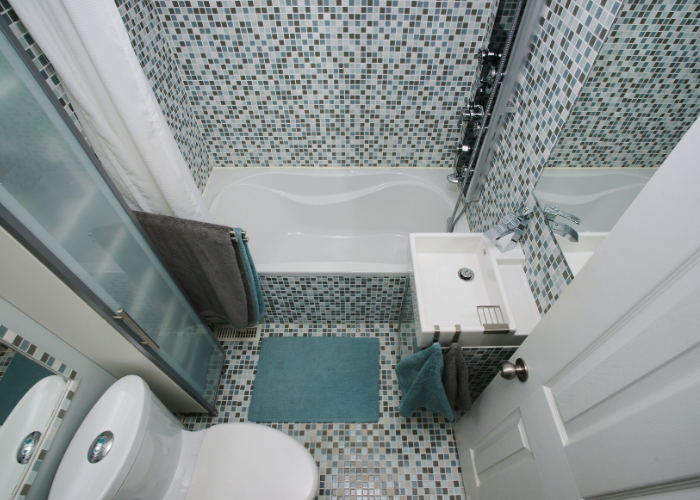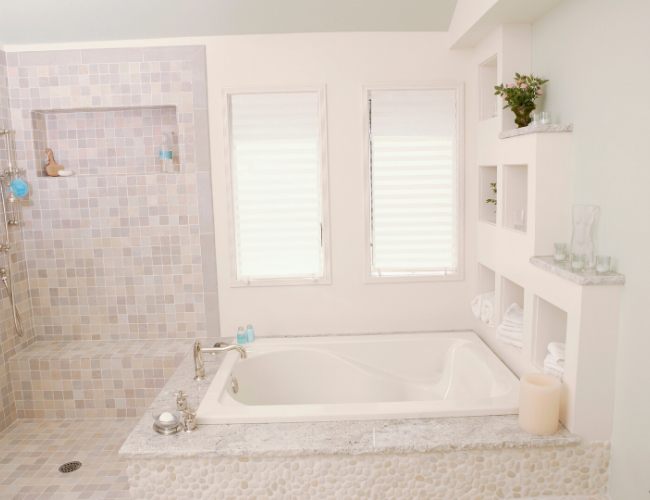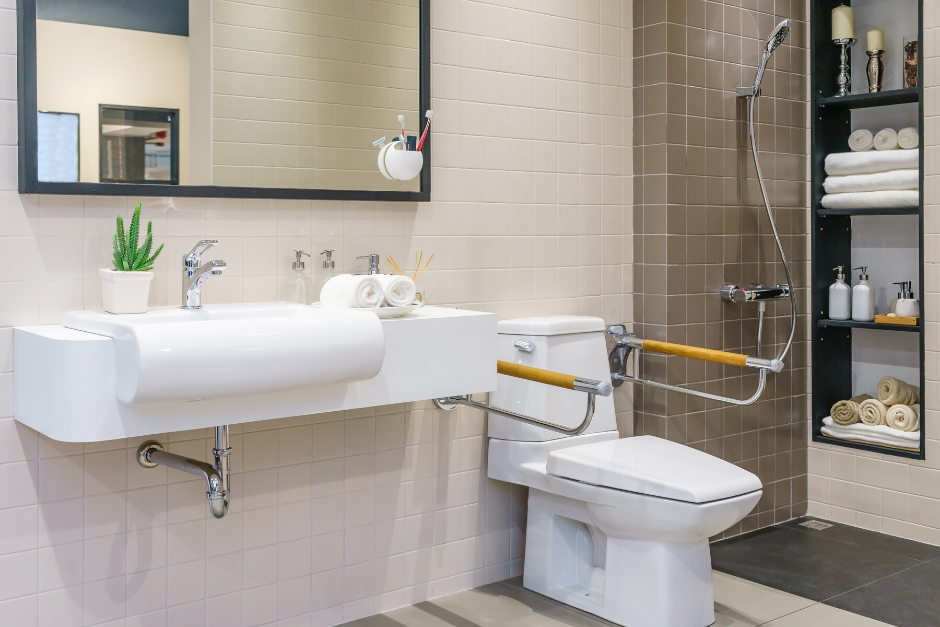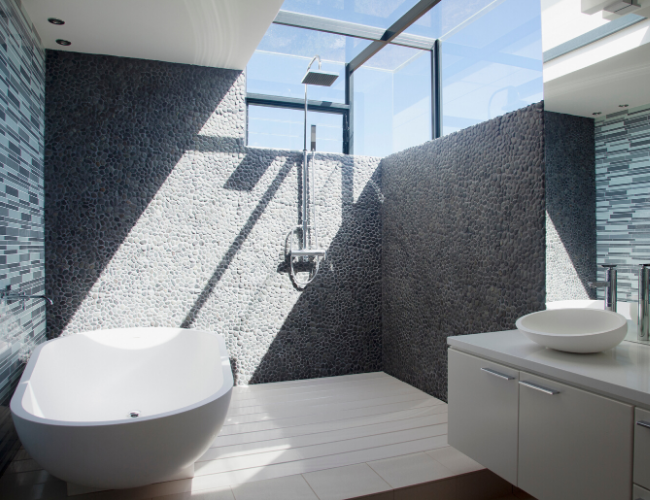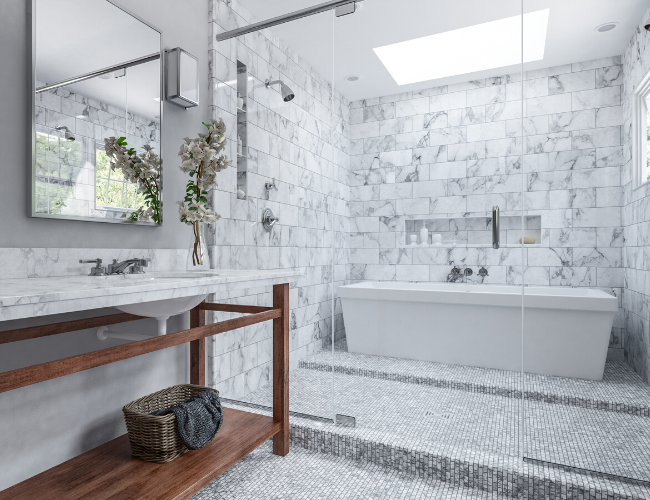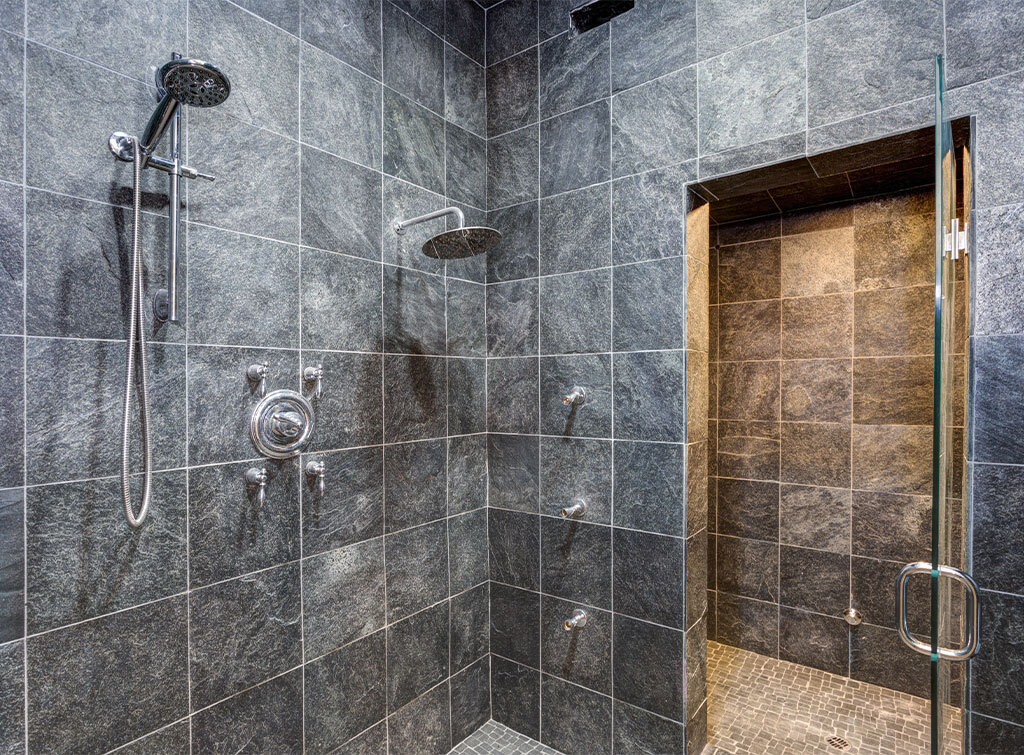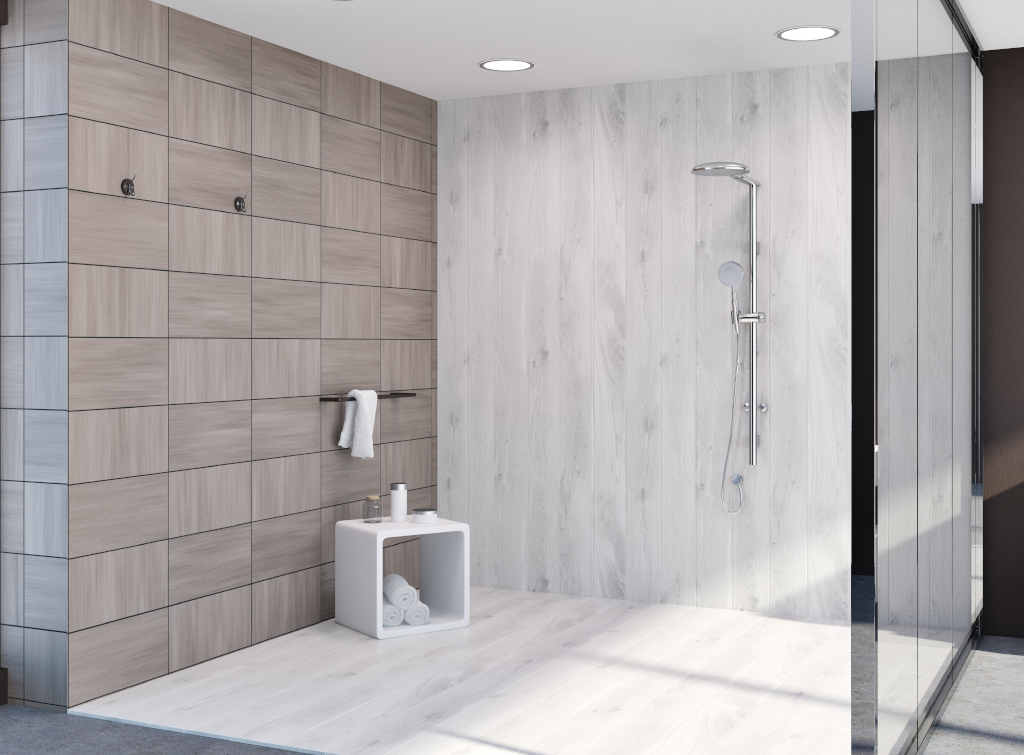 Wet room bathroom ideas
For small or narrow bathrooms, choosing the right layout comes first, followed by your decorating decisions and then your accessorising options.
Layout
Plumbing is an important factor when considering the layout of your small bathroom. For example, to ensure your toilet is usable at all times, you'll want it as far away from your shower as possible.
Deciding where to place your shower also means working out the best spot for dipping your floor to allow proper drainage. The next thing to consider is where your lights, extractor fan, towel racks and storage unit/s need to go.
Advance planning means you'll know exactly what and how much to buy. This stops you wasting money on extra tiles, paint or accessories.
Decorating
Now that you've planned your perfect layout, let's take a deep dive into your decorating options.
This year's bathroom trend is all about simplicity and elegance. When it comes to your design choices, choosing a neutral colour palette is advised, especially for smaller rooms. Not only does it 'open' them and create a 'just stepped into a meadow' feel, but it also keeps your wet room looking stylish all year round.
Accessorising
When choosing accessories, keep in mind your waterproofing needs. For example, untreated wood is likely to warp, whereas composite, metal or plastic accessories are less likely to need replacing.
Toilet roll housing and heated towel racks are great ways to reduce damp and keep your loo roll fresh, so consider where you put these items for greater ease and convenience. In-shower storage racks and corner shelves are also space-saving investments worth considering.
In this design, this grey and white theme is fresh and spacious, creating a modern and clean aesthetic. Think about adding fresh flowers and/or a grey bathmat to bring the space together.
Large white floor tiles throughout add both an opulence and open-plan feel, while the tub in the floor-to-ceiling window is the perfect space to take a dip and watch the world go by.
Small wet room designs
Contemporary meets rustic with this monochrome bathroom idea.
Wood-effect tiles work with the large block white tiles, which run from the floor to the shower area to create a bigger sense of space.
The matte black shower pipes, taps, framed screen and simple mirror give the bathroom an industrial edge, while the clashing wood warms everything up.
Wet room ideas for small rooms
Here's a great example of space utilisation.
A tallboy cabinet, narrow door, simple layout and floating sink maximise this small space. Light and neutral floor to ceiling bathroom tiles keep it looking fresh and simple.
Small ensuite wet room ideas
For those who enjoy a soak in the tub, this small bathroom design with recessed shelves is the perfect example of how neutral colours and clashing textures complement each other. Pebble effect tiles in an inset bathtub make the shower to the left fit seamlessly, while the ample shelf space is perfect for toiletries and towels.
Disabled wet room ideas
Wet rooms are ideal for those who have greater access needs. Due to their lack of shower tray and walk-in/open-plan designs, they're easier to adapt.
Disabled wet room designs
Searching for 'disabled wet room designs' online isn't always the most ingenious. However, decorating wet rooms with access needs is exactly the same as decorating wet rooms without access needs.
Where you place the design elements is the only discernable difference.
Shower screens
Shower screens are often more hassle than they're worth. To simplify the layout, place your shower as far away from your toilet as possible. This avoids undue overspill and offers easier access.
Handrails
Grab bars are great additions to any disabled bathroom.
Available in a range of materials, they can be installed wherever they're needed.
Whether you've opted for white, metal or black bars, think about matching your theme for a more pleasing aesthetic.
Wall hung furniture
Floating and wall-hung furniture is both stylish and practical, whether it's a sink, cabinet or shelving unit. Leave enough space beneath these items to give those in a wheelchair greater access to the faucets and items they need.
Shower seat
Sitting on a shower seat while your rain shower drenches you is both relaxing and invigorating. Shower seats come in a variety of designs and styles such as removable, wall-mounted or fixed.
Whatever shower option you choose, we also recommend at least one removable shower head for getting to those harder-to-reach areas.
Anti-slip flooring
Vinyl bathroom flooring is both versatile and stylish. It also comes in a wide range of colours and designs to suit any taste and theme.
We advise that you choose an anti-slip vinyl floor for your wet room. This reduces the potential safety hazards that come from falling on a wet surface.
Wet room ideas for a small room
This wet room keeps the natural slate tiles to the shower area, with mosaic blue and white tiles used to brighten up the rest of the space.
White panelled floor tiles match the ceiling and skylight, creating height, while the floating cabinets and matching ceramic bath and washbasin keep the design fresh and modern.
Decorating ideas for modern wet rooms
Floor-to-ceiling freshness
Flood your bathroom with light and bright decor for an airy and spacious vibe.
Whether it's large block-tiles that run across your floors and walls, neutral stone tiles that interlace and pixilate, or white brick tiles edged with black grouting, keep it easy, breezy, and beautiful.
Two-tone textures
When dealing with small bathrooms and limited colour options, one way to create depth and height is to mix up your textures.
An easy way to do this is to use different shower tiles to the ones you use in the rest of your bathroom.
Marvel at marble
We've seen marble (or marble-effects) storming back into fashion.
When kept to a feature wall or floor, their striking design makes an impressive first impression. Perhaps because marble mimics the ocean with its wavey mottling, or maybe because it's associated with opulence, incorporating white marble with wisps of grey into your wet room design ideas is an easy win.
Rest and recess
Recessed shelves are perfect for small spaces.
When seamlessly built into your walls, they're compact, stylish and perfect for adding candles, mirrors, toiletry holders, powder room boxes, air fresheners or rolled-up towels.
Mirrors and glass
To avoid undue shower spray, installing a glass shower screen is the perfect way to prevent unnecessary flooding. Being able to see the entire square footage of your room also helps trick the eye into believing there's more floor space than there actually is.
Another great trick to promote the illusion of space is to add a mirror. Place it above your sink, stretched along an entire wall or slipped between the gaps of your shelves.
Contemporary wet room ideas
Mosiac floor tiles, marble wall tiles and recessed shelves give this wet room an airy and capacious aesthetic. You barely notice the glass shower screen cutting the room in half, nor the shower area that separates the bathing area via one shallow step.
A large mirror overlooking a bunch of wildflowers sat on a wooden cabinet with an incorporated sunken sink make this bathroom design unique and interesting.
Wet room tiling ideas
As tiles are the defining feature of most wet rooms, it can get a little overwhelming choosing which ones to install.
Before you get started, it might help to know what options are available.
Porcelain: Long-lasting, durable and highly water-resistant.
Marble: Luxurious, beautiful and textured, marble tiles are more costly but highly waterproof and stylish.
Ceramic: Similar to porcelain tiles, ceramic tiles are durable and cost-effective options used on both floors and walls.
Limestone: Perfect for a more natural-toned aesthetic, limestone tiles come in various neutral shades such as beige, grey and brown.
Glass: Practical, naturally water-resistant and low maintenance, glass tiles come in a variety of colours and customisable options.
Slate: Hardy and durable, slate grey bathroom tiles are a darker and sleeker option for those looking for a more natural opulence.
Vinyl: Cost-effective, low maintenance, and able to endure a lot of wear and tear, vinyl tiles are perfect for those on a budget. That's not to say they look cheap.
Pebble: One for the nature lovers, river rock tiles are perfect if you're looking to introduce a coastal vibe to your bathroom.
Mosaic: One of the top wet room bathroom trends due to their design versatility, mosaic tiles come in various materials (as above), colours and patterns.
Tiled wet room design ideas
Consider your square footage and whether your aesthetic is contemporary, modern, classic, art deco, nordic (or anything in between). Then work out how much you're willing to spend.
Small bathrooms
If you have little to no floor space, keeping your tiles the same colour is a good design choice. Opt for light, medium-sized tiles that match your walls and ceiling, and only switch your textures when it comes to your shower area.
Large bathroom tile ideas
If you've got more space to play with, then you can opt for bolder colours, darker tiles and clashing textures. Monochrome is seeing a huge spike in popularity in the interior design world, which literally means two colours that work well together or clash effectively.
Luxury wet room design ideas
When it comes to opulence, there are various luxury wet room design ideas to choose from.
Types of shower fitting
Unless your shower room is big enough, we recommend thick and sturdy glass screens. This also lets you choose mightier showerheads that are less likely to turn your bathroom into Poseidon's playground.
Shower towers
Boasting all-in-one features built into elongated panels that curve at the top, they offer a seamless and futuristic look. Fixed flat to the wall, the pipework is hidden and the shower controls are found on the flat part of the panel, making them a neat and simple design option for most contemporary bathrooms.
Rain showers
Particularly suitable for those with a natural theme or spa aesthetic, rain shower designs should make you feel like you're standing beneath a rainforest waterfall. Bliss.
Mixed shower sets
Why have one shower when you can have two? Mixed shower sets offer all the convenience of rainfall, plus an extra removable showerhead (or two) to rinse off the soap suds or ease your aching muscles after a long day.
Traditional showers
Sometimes futuristic towers and nature's lifeblood isn't our vibe. That's why, when we look for a shower to fit our theme, traditional designs can offer what we need.
Industrial and chromatic showers are making a comeback in the world of interior design.
Bath showers
For those with a bigger bathroom (and budget) and who enjoy soaking in a tub after a long day, a 'shower bath' might be right up your coral reef.
Just remember to add it to your bathroom planner when choosing your wet room layout.
See the tradespeople we've checked and recommend for your job
Tell us what you think
What others think of this article:
Need More Information?
Related posts