What should I do when there is no electricity in my house?
Experiencing a power cut and losing power to your home can be a scary experience, especially if it happens at night time. Let's take a look at things you can do and how to stay safe.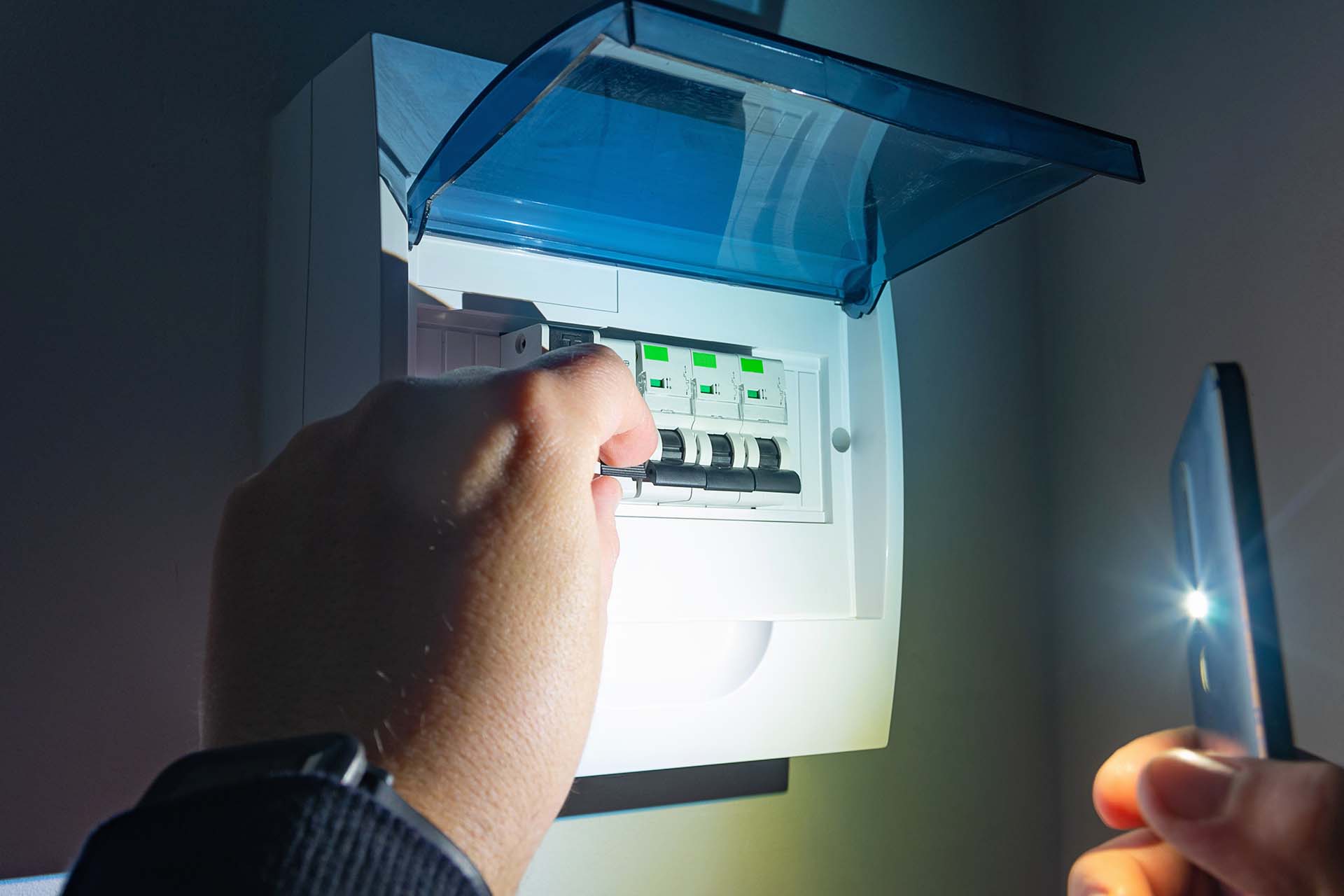 Help – I've got no electricity in my house! Experiencing a power cut and losing power to your home can be a scary experience, especially if it happens at night. Let's take a look at things you can do and how to stay safe.
What should I do if my electricity has gone off?
Check your consumer unit. Sometimes known as the fuse box, it is often located by your front door, in your entry hallway, or inside an understairs cupboard. Check to see if one of the switches has tripped and is in the off position. If so, either a fuse, circuit breaker, or your RCD has likely tripped due to a faulty appliance. Check if any light bulbs have blown and unplug appliances, plug them in one at a time and try the trip switch again.
Establish if it's just your house with no electricity. At night time look outside, and it should be easy to tell if it is just you with no electricity in the house. In daylight, ask your neighbours and others in your street.
Check if there are any lights or movements visible on your electricity meter.  If a light or display is flashing, electricity is coming into your home from the mains cable outside.
If you have a pre-payment meter, you may have run out of credit, so you will need to need to top it up.
What if there is no electricity in my area?
No electricity in your house could be due to a fault in your area, and not just your home. If you have discovered that your whole street has lost power, then get in touch with The National Grid. You can report it to The National Grid by calling 105.
What to do if there's no electricity in the house?
If you establish that it is just your home that has no electricity, and you have checked there are no issues with fuses or circuit breakers, it's time to call an electrician to help you.
See the tradespeople we've checked and recommend for your job
If other people in your street are affected, use this list below to help stay safe until power to your home is restored.
Turn everything off, except for one light. If or when it gets dark, this will help you to know when power has been restored.
Report a power cut to The National Grid if it's affecting your whole street. Follow instructions from your energy provider or The National Grid if they contact you.
Avoid use your gas appliances to heat your home – doing that can lead to carbon monoxide poisoning. Be careful with other kinds of heating and lighting, like paraffin heaters and candles. In an unfamiliar situation, accidents can easily happen.
Find a battery-operated or wind-up torch to use.
Make a simple cold meal or order a takeaway – don't try and cook with other heat sources indoors, as this may cause an accident or injury.
Check security alarms and smoke alarms. Security alarms should automatically disarm in a powercut for safety reasons, and smoke alarms should fall back to the battery backup power. Make sure to test these systems when the power comes back on.
FAQ's
What causes a power cut at home?
There are a few things that cause loss of power at home. These are often minor, such as faulty appliances that cause fuses to blow and circuit breakers to trip, and these are easy to fix.
A disruption to The National Grid usually causes an actual power cut. This could be due to bad weather damaging pylons or equipment at your local substation. Excessive heat or high demand on the electricity network can also cause a loss of power.