Last updated on November 15th, 2022
How much does it cost to renovate a house?
Does your home need a new lease of life? Or are you buying a new property to renovate? To help you start budgeting, here's an estimated cost of renovating a house.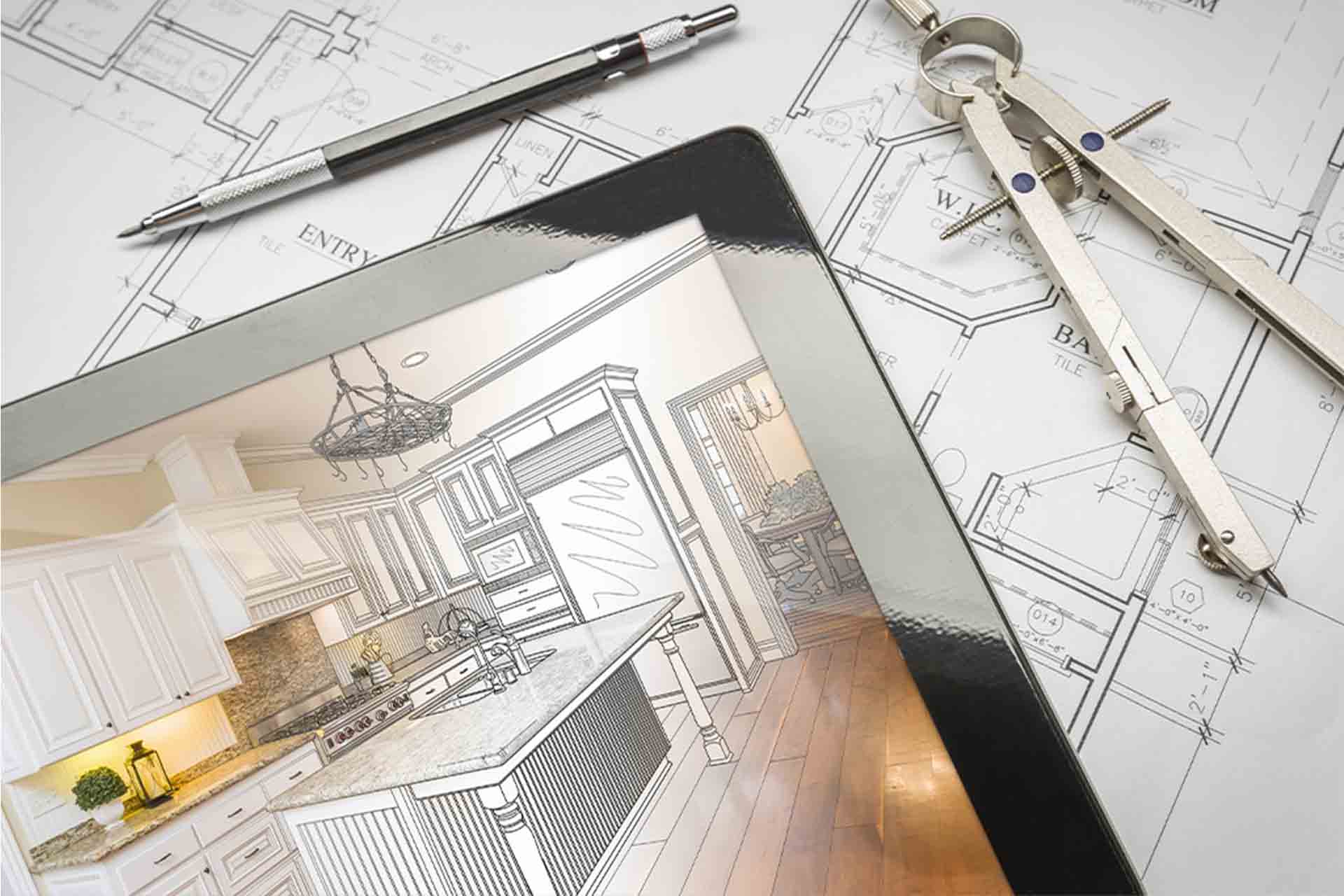 Fast Facts
Average renovation cost for 3 bed house is £76,900
Add 10-15% contingency to your budget for unexpected issues
For the purpose of this guide, we'll be focusing on the average cost of renovating a 3-bedroom house.
To get a better idea of accurate prices and professional advice for your project, we recommend speaking to local house renovation experts.
How much does it cost to renovate a house?
Every house renovation project is unique, with its own set of components that make up the project. As a result, the total cost of renovating a house can vary considerably.
| Item (for an average 3-bed house) | Cost range (+VAT) | Average cost (+VAT) |
| --- | --- | --- |
| New gas supply | £500 - £2,500 | £1,500 |
| New heating system | £2,500 - £8,500 | £5,500 |
| Rewiring | £4,000 - £7,500 | £5,750 |
| Windows | £2,500 - £6,000 | £4,250 |
| Replaster walls | £1,500 - £3,500 | £2,500 |
| Replaster walls & ceilings (re-skim existing) | £10,000 - £15,000 | £12,000 |
| Replaster walls & ceilings (hack off existing) | £20,000 - £28,000 | £24,000 |
| Replace skirting throughout | £2,200 - £3,800 | £3,000 |
| Paint walls & ceilings | £5,000 - £7,000 | £6,000 |
| New cloakroom w/c (including tiling) | £1,000 - £1,500 | £1,250 |
| New kitchen | £10,000 - £25,000 | £17,500 |
| French doors | £1,500 - £3,500 | £2,500 |
| Kitchen extension (12 m2) | £15,000 - £24,000 | £19,500 |
| Skirtings for new extension | £200 - £500 | £350 |
| Knock down walls | £1,000 - £2,500 | £1,750 |
| TOTAL | £76,900 - £138,800 | £107,350 |
Although it's hard to give a price for renovating a house, as a guide you can expect to pay between £76,900 - £138,800 for renovating a 3-bed house.
There are so many potential costs to consider so it's important to start by making a list of the jobs you think need doing on your property. From there, you can calculate the renovation costs and start planning your budget accordingly.
Find checked house renovators near you
Factors affecting the house renovation costs
As mentioned, the list of jobs and costs for a house renovation can be long and be influenced by many factors. Some of the main ones are:
Size of the property
Age and condition of the property
Complexity of renovation
Any structural work
Building extension work
Quality of materials, fixtures and finishings
Decoration
Where you live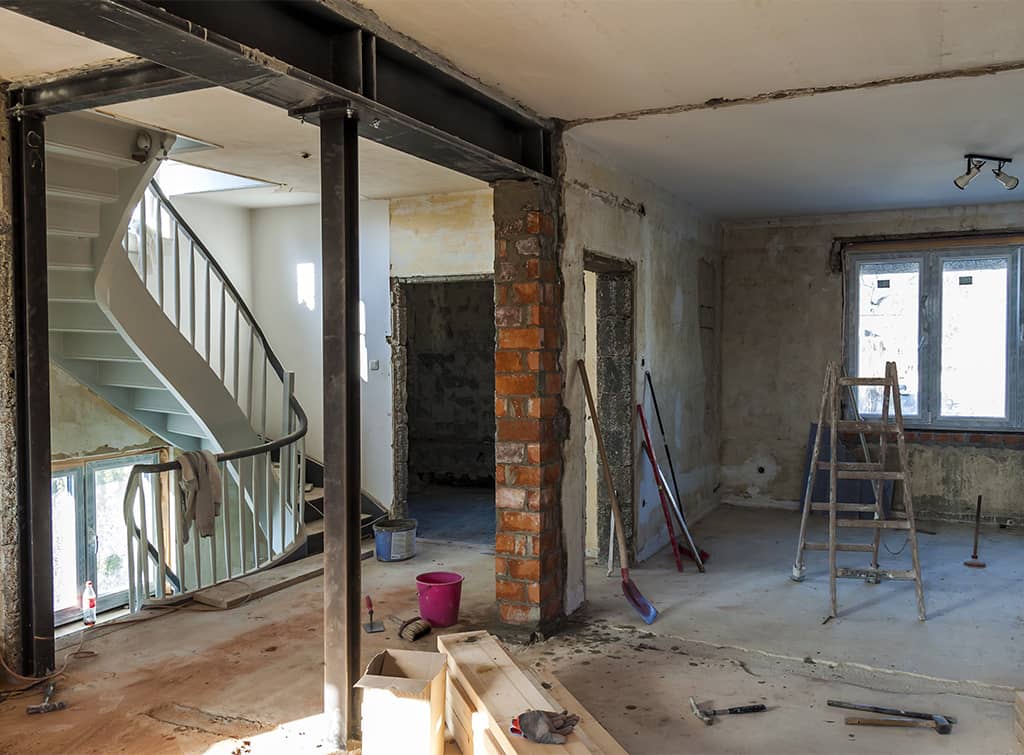 The average cost of renovating a 3-bedroom house
The average total cost of renovating a 3-bedroom house is around £76,900. Below we've broken down that cost into various elements, to help you see which costs you might want to mix and match for your project:
A new heating system could cost about £5,500, which includes a combi boiler and radiators.
The average cost of a new gas supply will cost around £1,500, depending on the route of the supply. There may be additional costs if you need to do any major work to extend the gas supply line.
The cost of rewiring a house is in the region of £5,750. That price will depend on the complexity of the electrical system and the size of the property.
Installing a new set of windows can range from £2,500 - £6,000, with an average cost of about £4,250.
Replastering walls will add a cost of between  to the total renovation budget.
Installing a new toilet (including tiling for the floor and distribution pipework and waste) will cost around £1,250. That cost will be lower if the tiling isn't disturbed. If you need a new room to be built, you'll need to factor in additional costs for creating the stud walls, a door, painting costs, as well as any other fixtures such as a radiator.
A new kitchen will cost between £10,000 - £25,000. That often includes the cost of design, the supply of materials and installation. For more details on the cost of fitting a new kitchen, take a look at our new kitchen cost guide.
Most renovations will need a new bathroom. The average cost of installing a new bathroom is around £5,000. To find out more, check out our new bathroom cost guide.
If you're looking to install French doors, you'll need to factor in a cost of about £2,500, including the doors, lintels, brickwork and plasterwork.
Many homeowners incorporate a kitchen extension into their renovation plans. A 4-metre kitchen extension with floor space of roughly 12 m2 and a flat roof comes at an average cost of £17,500.
As part of the kitchen extension, if you need to add matching skirtings they'll cost around £350. For more detailed costs about extensions in general, read our house extension cost guide.
If you're renovating a house the likelihood is you'll want to knock down walls. The average cost of knocking down walls is about £1,750.
House renovation cost calculator
To calculate the cost of your house renovation in the UK, you'll need to consider all the key factors that will add up and affect the total price of the project. The best place to start is with a full survey of the property to make sure you know all the issues that will need to be dealt with.
Once you have a to-do list of everything that needs to be changed, repaired or replaced, you can speak to local tradespeople to start calculating an accurate budget for those jobs. In addition to the issues identified in the survey, you'll also need to consider any additional work that you're choosing to do, e.g. creating an open plan kitchen or building an extension.
House renovation costs spreadsheet
A handy way to keep track of all the home renovation costs is to create a spreadsheet for the project. That way, you can note all the quotes and cost estimates you receive from tradespeople to plan your budget.
You can also use the same spreadsheet once the renovation work starts to track your spending throughout the lifecycle of the project.
One of the keys to keeping costs down in a house renovation project is knowing what you're spending, where and when. Avoid going over budget by managing all your costs in one place with your own house renovation spreadsheet.
Find checked house renovators near you
Labour costs
| Tradesperson | Range - Low (per day) | Range - High (per day) | Average cost (per day) |
| --- | --- | --- | --- |
| Plumber | £250 | £400 | £325 |
| Electrician | £250 | £400 | £325 |
| Roofer | £200 | £250 | £225 |
| Double glazing installer | £200 | £250 | £225 |
| Plasterer | £200 | £250 | £225 |
| Carpenter | £200 | £250 | £225 |
| Tiler | £200 | £250 | £225 |
| Painter and decorator | £150 | £250 | £200 |
| General builder | £200 | £250 | £225 |
| Labourers | £150 | £180 | £165 |
| Apprentice | £120 | £150 | £135 |
When you're renovating a house you're going to need to hire a number of different tradespeople, who'll each come at a different cost. Most tradespeople will charge a daily rate, but it's worth confirming with each one how much they charge and whether it's based on an hourly or daily rate.
The average rate for plumbers and electricians are around £325. General labourers and trainees are between £135 - £165 per day. Many of the other tradespeople (including roofers, plasterers, carpenters, painters and general builders) generally tend to cost a similar amount – around £200 - £225 per day.
Each job will vary in time and therefore affect the total labour cost. For example, installing a new central heating system and boiler will take between one to two weeks and so you will need to factor in the labour of around £3000 upwards.
Fully rewiring a house will take, on average, between 6-15 days, so it's worth factoring in a minimum of £1800 for an electrician. The time taken will depend on how much work is needed and the size of the property.
House renovation quotes
We always recommend obtaining at least three quotes from our trusted tradespeople. Our request a quote feature is perfect for getting quotes – you post details about the job you want doing and we'll send it out to local tradespeople in your area. Try it out!
How long does it take to renovate a house?
The time you'll need to complete your renovation project will vary, depending on the extent and complexity of your renovation. Some properties can be renovated in a couple of weeks, if they only require superficial work, e.g. minor plastering, painting and decorating, and no structural work.
On the other hand, more extensive renovations can take between three and six months (or even longer) to complete. To get a clearer idea of a realistic timeline for your renovation project, we recommend you speak to local renovation experts.
Should I renovate my house or move?
If you're a homeowner considering a house renovation project, chances are you've asked yourself: should I renovate my house or move?
Whether you need more space or a better layout for your home, renovating your existing house and moving home can both offer good solutions. Here are some of the pros and cons of renovating vs moving.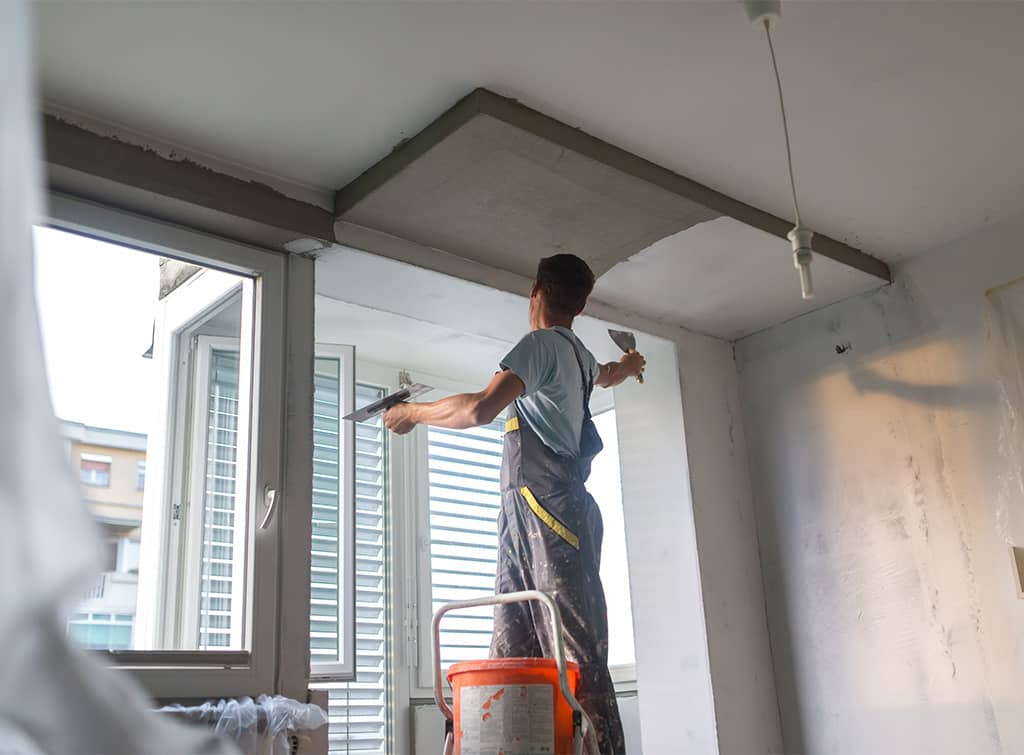 Benefits of renovating your house
Renovations often cost less. A well-planned renovation project can cost a lot less than upgrading to a new home. You can also renovate in stages, so the financial outlay can be spread over a longer period of time.
Achieve your perfect look. There's nearly always some kind of compromise when buying a new home, whereas renovating means you can personalise everything. You'll be able to achieve all the special touches and home improvements to make your ideal home.
Keep enjoying your home and neighbourhood. Renovating means you can keep living in the home and area that you know and love. There'll be no adjusting to a new house, new commute or new neighbours.
Benefits of moving house
Enjoy a fresh start. Moving to a beautiful new house can give you a fresh lease of life. You can choose somewhere in a better location, a nicer neighbourhood, closer to work and/or schools.
Avoid stressful building work. Moving house means avoiding months of living on a building site. It also means you won't have to coordinate all the different tradespeople involved in a renovation.
Benefit from downsizing. If you don't need more space, moving house offers the perfect opportunity to move to a smaller house and potentially save money. Choose wisely and you could have a lovely new home and reduce your mortgage at the same time.
Additional costs of renovating a house
As well as the obvious costs of structural work, installations and decorating, there are some other costs that can quickly add up.
Surveys & planning application costs
If your renovation project involves structural work or building extensions you'll need to have surveys done and pay for planning applications. The more extensive the work, the higher the cost.
Stamp duty & legal costs
If you're buying a property to renovate, don't forget to factor in stamp duty and solicitor costs. If it's a second property then stamp duty will be charged at a higher rate. (If you sell your first property within 36 months you'll be eligible for a refund.)
Rent costs
If you're renting before moving into your renovated home, or if you need to find temporary accommodation, you'll need to pay rent during the renovation process.
Contingency
With any large project, it's important to factor in a contingency to cover unexpected costs. Discoveries like asbestos, dangerous wiring or rotting beams can all add hefty costs to your project. It's sensible to add an additional 10-15% on top of your total budget for contingency.
Useful house renovation checklist
Plan, plan, plan – it's important to think about all the details for your renovation and make a list of what you want to include in the project.
Calculate a total budget and add 10-15% contingency.
Speak to local renovation experts to get professional advice and understand renovation options.
Contact your local council to discuss any planning requirements.
When hiring tradespeople always choose qualified professionals with the appropriate experience and accreditations.
Always shop around for fair and competitive prices.