Last updated on March 31st, 2022
How much does concrete edging cost?
Accentuate your garden's best features with our guide to concrete edging costs. Including continuous, poured and pre-formed edging.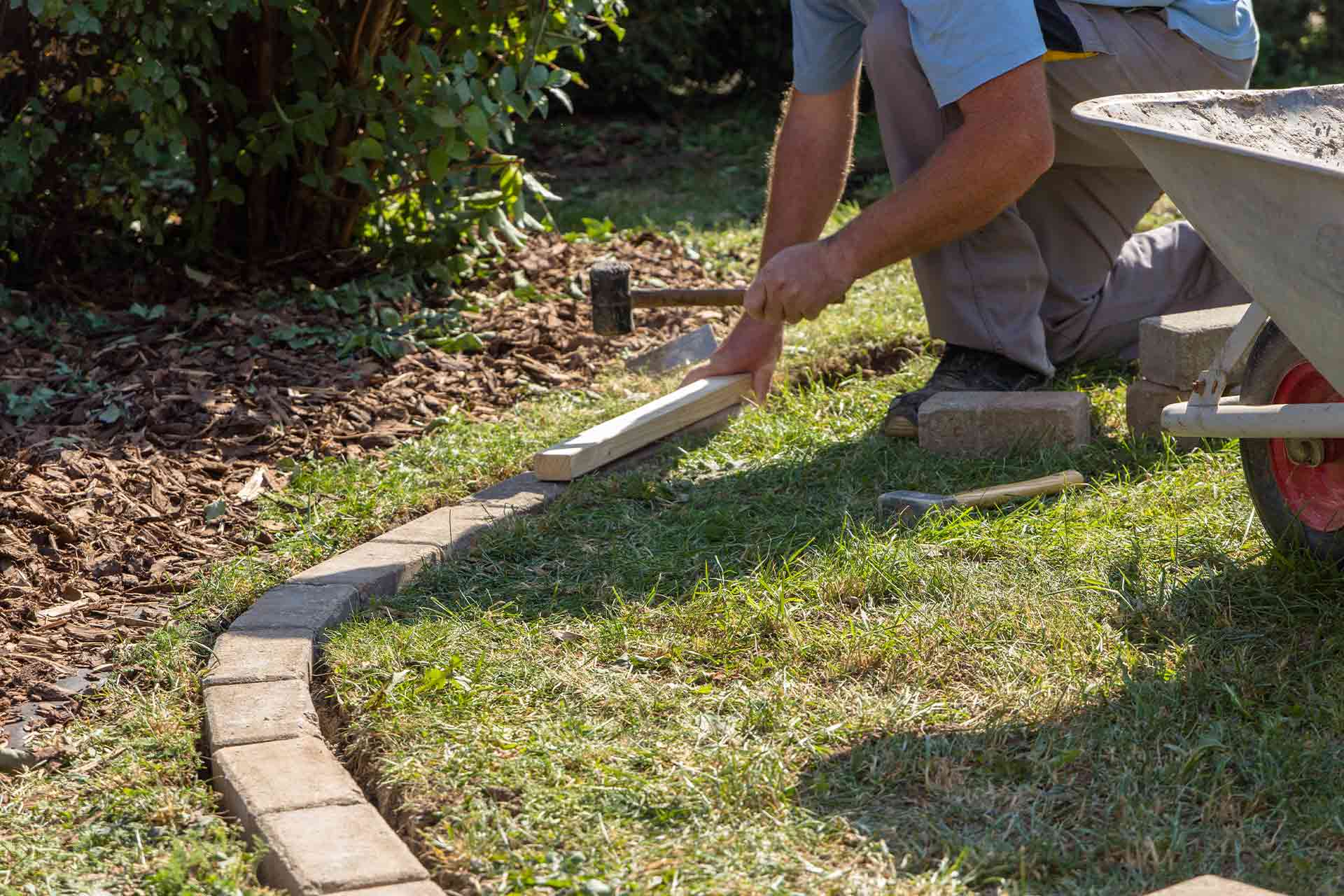 Why install concrete edging?
One of the best ways to make a garden look complete is to use edging. This landscaping flourish is also known as 'curbing' and involves adding a solid edge around flower beds, a lawn or a garden pond. Traditionally done in brick or concrete, in this guide we specifically answer the question "how much does concrete edging cost?".
Concrete edging is both visually stunning and a cost-effective way to add style to any garden. It can be used to direct the eye to key features, showcase beautiful flowers or shrubbery and make a garden feel truly personalised. Not bad for a few slabs of concrete.
As well as giving your garden a polished look, edging also helps to protect it. By using edging to separate flower beds from the lawn, you can keep lawn treatments (such as weed killer) in the key areas, and also avoid running over flowers with your mower.
How much does concrete edging cost?
Type of edging
Cost + VAT
(Range low - high)

Average cost
Pre-formed concrete edging cost
£20-£30 per metre
£25 per metre
Continuous / poured concrete edging cost
£50-£60 per metre
£55 per metre
Labourer hourly rate
£15-£25 per hour
£20 per hour
Mini-fence edging cost
£4 per metre
Metal edging cost
£50-£100 per metre
£75 per metre
Timber edging cost
£5-8 per metre
£6.50 per metre
Brick edging cost (end to end)
£25-£35 per metre
£30 per metre
Brick edging cost (side by side)
£65-£85 per metre
£75 per metre
For a breakdown of each cost, we spoke to the online estimators at B3 Cost Consulting – a team of professional Estimators and Quantity Surveyors. This guide features the estimated concrete edging costs they provided.
The concrete lawn edging cost you pay will be based on the type of edging you choose and the labour costs. We cover each of these areas in more detail below so you can get a good understanding of how your garden and chosen style will affect the cost.
As a ballpark figure to get you started, we estimate that the average pre-formed concrete edging cost is £25 per linear metre. This includes a cost of around £20 per hour of labour.
Many tradespeople will have a minimum order commitment, so it's best to budget around £250 – £300 as a minimum. Continuous or poured concrete edging costs are higher, as we'll show below.
Alternative edging choices
Concrete is durable, hardwearing and cheap, making it an excellent choice. But, if you like the idea of edging and don't want it in concrete, then there are other great choices available.
Brick is the most popular alternative as it's also durable and long-lasting. Brick edging costs on average, £30 per metre for end to end and £75 per metre for side by side brick edging.
You could also consider plastic, metal or wood as alternates, although they can be expensive and less-hard wearing. Here's how they compare:
Plastic: Can come in a variety of styles and colours but it is prone to fading and may be easily damaged. Therefore, we'd recommend the below options instead.
Wood or mini fencing: Adds a nice visual touch, with lots of unique styles, but is vulnerable to rotting if not treated. Mini fences cost around £4 per metre, whilst timber costs an average of £6.50 per metre.
Metal: As with wood, treatment is essential. Whilst metal has many ornate and intricate styles, it will rust if not treated. Metal edging costs an average of £75 per metre. It's expensive but is often used in Stately homes and Royal Parks so adds a real touch of class.
You can also opt for gravel borders, boulder borders and curved stone.
See the tradespeople we've checked and recommend for your job
Factors affecting concrete garden edging costs
Style of edging: Along with choosing the material you'd like, you should also consider the style of concrete edging. Depending on the colour, size and shape of your concrete, the cost will vary. You can even have patterns imprinted in the concrete.
Pre-formed or moulded concrete: Concrete edging can be applied in two main ways: With pre-formed concrete blocks or poured concrete. We cover the key differences below so you can understand how they affect concrete garden edging costs.
Size and length of edging: The longer your edging, and the more difficult the shape, the more materials and labour time will be required. A word of warning too, a 1m edging is often only 915mm long! So, you should always over order and keep some spares in case any get damaged.
Height of edging: It costs more to have edging that is 'proud' (raised) than edging that is flush with the grass or a path. Although you should consider that proud edging can be a trip hazard.
Difficulty of installation: Similarly, the difficulty of the job will push up the labour time. If your garden is on a slope, there are any drainage issues, or your garden is in a poor condition this will increase the workload.
Skip hire: Placing edging can create a surprising amount of waste, so consider hiring a skip to make sure you're prepared.
Ease of access: If your garden is difficult to access, or garden furniture needs to be removed, this will increase the labour costs. You could even consider using a garden waste removal service first.
Concrete edging cost by type
Unsure which type of concrete lawn edging is right for you? Your main choices are between pre-formed concrete blocks and poured concrete.
Below we've covered the key differences and costs of concrete edging for landscaping.
Pre-formed concrete edging cost
Pre-formed concrete is available in the form of bricks and blocks in specific sizes. Whilst not as strong as poured concrete, it's much cheaper and easy to replace too, as you only need to replace specific bricks. And, if you ever want to remove pre-formed concrete edging, it's easier than poured concrete to remove.
Pre-formed concrete edging costs £25 per linear metre on average.
Poured concrete edging cost
As you might expect, this type of edging is poured into place, for example, around flowerbeds. You can achieve a fantastic look with this approach, but it comes at a cost. Poured concrete costs are higher than for pre-formed concrete edging due to extra labour and providing the mould for the concrete.
Concrete costs are fairly low, but you may be hit with a minimum order cost known as a 'part load fee'. Due to this, you can also pair concrete edging with imprinted concrete driveways and paths to use the extra concrete. You'll reduce the cost of concrete edging for landscaping if the work is done at the same time.
Whilst it's harder to repair than moulded concrete, you can fix sections with concrete patching products without having to replace the entire area. However, you should be absolutely sure on the location and design, as breaking up poured concrete is a big job if you change your mind.
You can also expect higher labour costs for installation. This is due to the extra time needed to prepare and finish the area.
Poured concrete edging costs £55 per linear metre on average.
Continuous concrete edging cost
You can even take poured concrete edging a step further with continuous concrete edging. This is when poured concrete is applied in a long continuous strip. This approach looks fantastic for curved edging and slopes, as well as stopping weeds coming through. But, it does carry additional labour costs to get it just right.
Continuous concrete edging costs are the same as poured concrete edging costs. This is on average, £55 per linear metre.
Concrete edging cost per foot
If you prefer to calculate the concrete edging cost per foot, then the costs are as follows:
Pre-formed concrete edging cost: £1.55 – £2.33 per foot
Poured concrete edging cost: £3.10 – £3.88 per foot
Continuous concrete edging cost: £3.49 – £8.53 per foot
See the tradespeople we've checked and recommend for your job
Concrete edging cost calculator
To get an idea of the cost of your concrete edging project before requesting professional quotes, you need to consider a number of factors.
The bulk of the cost will come from the materials and labour involved, and when it comes to costing the edging, it's all about linear metres – the more linear metres required, the higher the price of the project.
To establish a cost for the edging alone, measure the distance that needs edging, around a lawn for example. When you have this, you can find out the cost of a metre of concrete edging and multiply it accordingly to give you a total cost.
After this, you need to factor in the cost of materials such as cement and of course the labour involved in the installation. This can vary depending on the complexity, lay of the land and even access to the site, so it's always advisable to get actual quotes.
Concrete edging quotes
The best way to get quotes for concrete edging work on your property is to contact landscaping professionals. Typically they will both supply the edging and install it for you for one price, which makes the whole project easier and more convenient for you.
Alternatively, you can buy the edging yourself and request quotes just to install the concrete edging.
Either way, you can find locally recommended edging specialists and get a personalised concrete edging cost using our free search tool. Simply enter your postcode in the box below to receive prices from multiple local edging specialists.
See the tradespeople we've checked and recommend for your job
Can I install concrete edging myself?
Installing concrete lawn edging may seem simple but it's easy to end up with your own shoddy Stonehenge if it's done poorly. This is especially true if using poured concrete which is much harder to work with and repair than pre-formed concrete.
To ensure a professional finish, we would recommend you hire an expert, such as a builder, driveway contractor or bricklayer. For larger quantities, a groundworks contractor would be the right choice.
Concrete edging key takeaways
Lawn edging gives a garden a defined shape and helps accentuate key features.
Concrete doesn't just mean grey. Concrete lawn edging comes in a variety of styles and colours.
If concrete lawn edging costs are too high, consider plastic, metal or wood instead.
Pre-formed concrete edging costs are lower than continuous concrete edging costs.
By hiring a professional you can ensure a high quality job.