If the mention of storage solutions bring to mind bland boxes, it's time to broaden your horizons. We've put together a guide packed with stylish shelving ideas to enhance the look and feel of your home.
Although their primary function is storage, shelving can tie the interior design of a room together. The right shelving can even stand out as a star feature – you just have to think outside the box. Shelving comes in a myriad of shapes, styles and sizes to suit your needs. From custom-made unique storage units to off-the-shelf (excuse the pun) solutions, you won't be short on choice.
We recommend pairing your shelving with the aesthetic of your room: if you're looking to make a statement with your storage, search for unusual shelving shapes that catch the eye. If you prefer to keep your decor peaceful, try transparent shelving solutions such as floating glass shelves to keep the room feeling light and airy.
From the floating corner shelves that maximise space in a small bedroom to the wall-to-wall kitchen shelves that keep clutter off the surfaces, we've pulled together some of the top design trends and shelving ideas to give you inspiration.
Like what you see? We have plenty more where this came from. Check out Checkatrade's blog for more home inspiration, how-to's and project ideas.
Shelving ideas for your home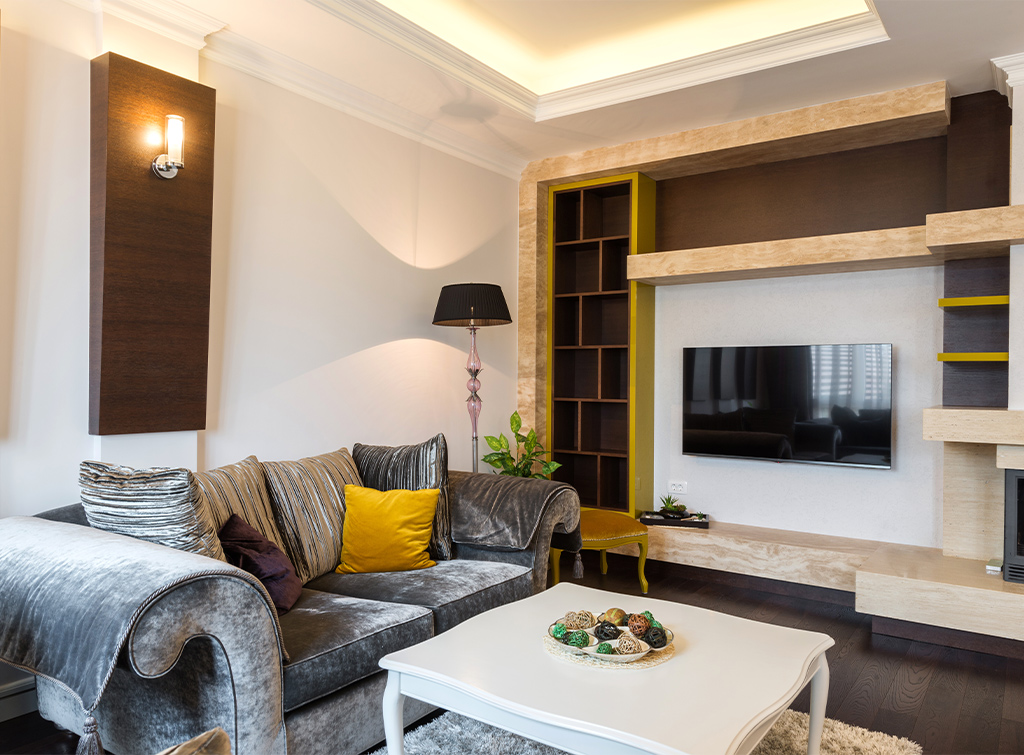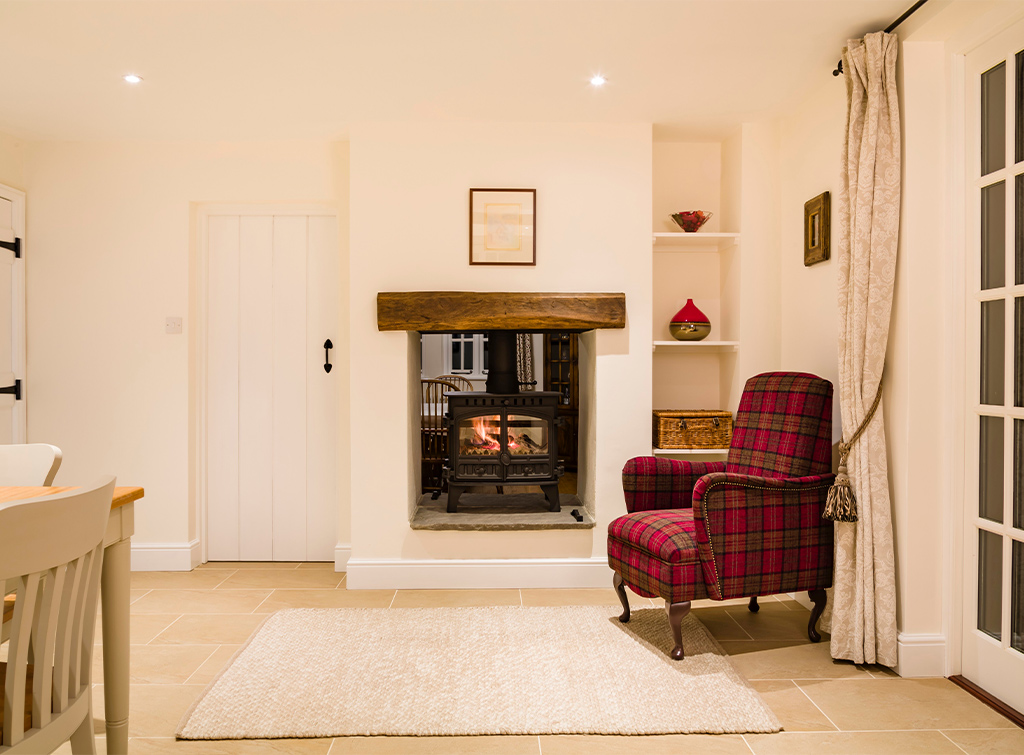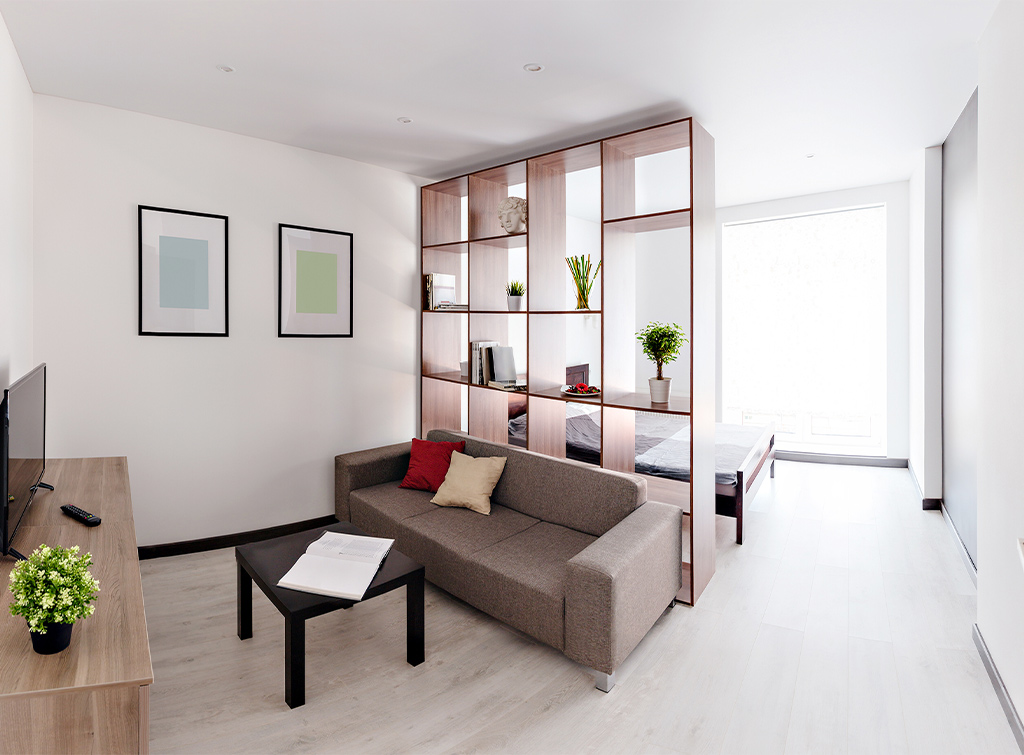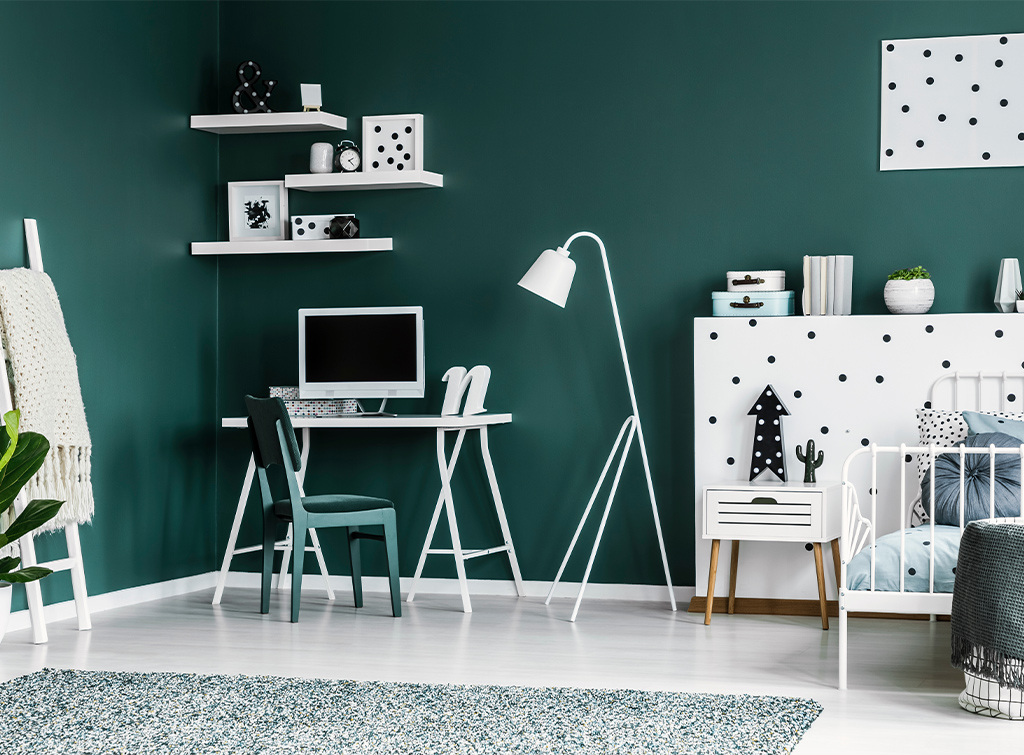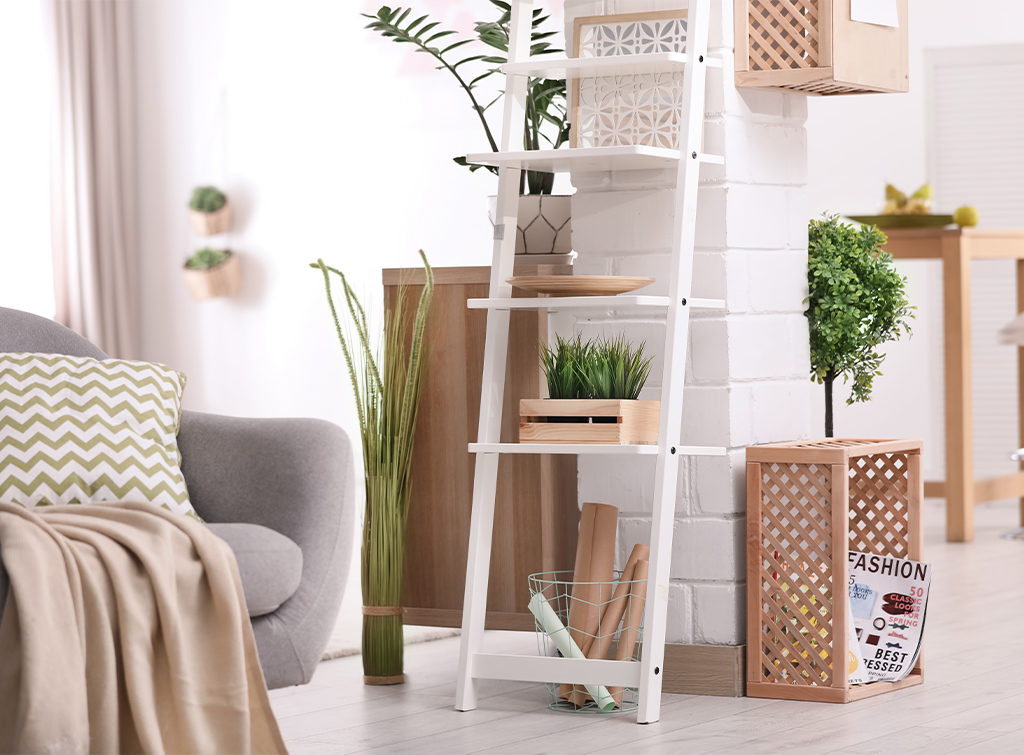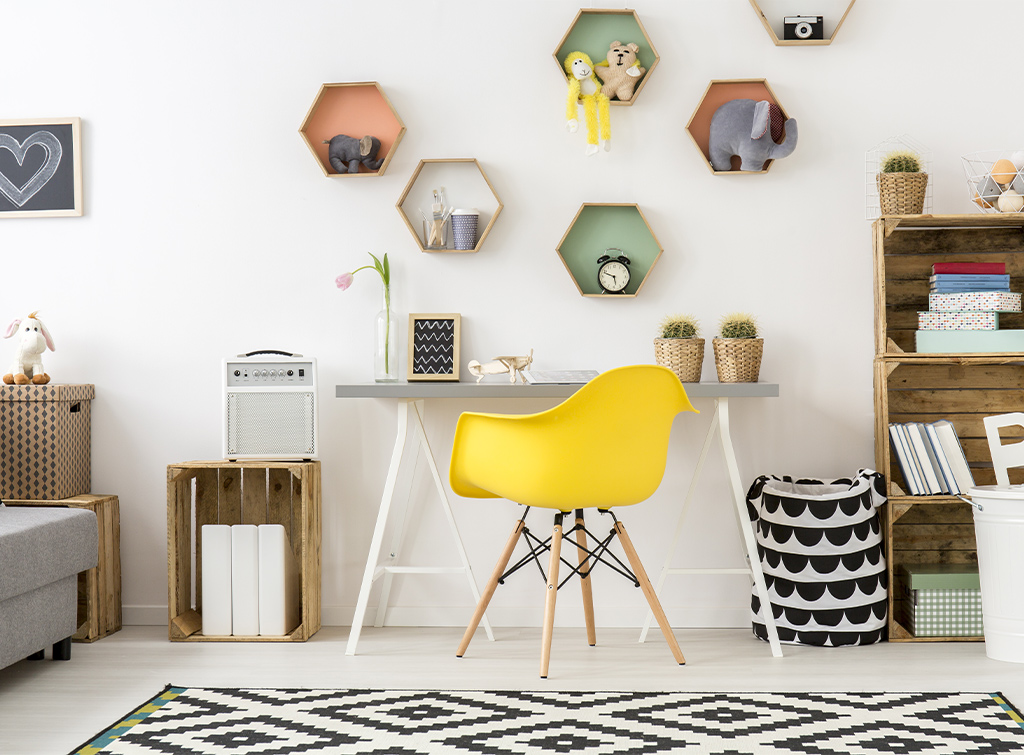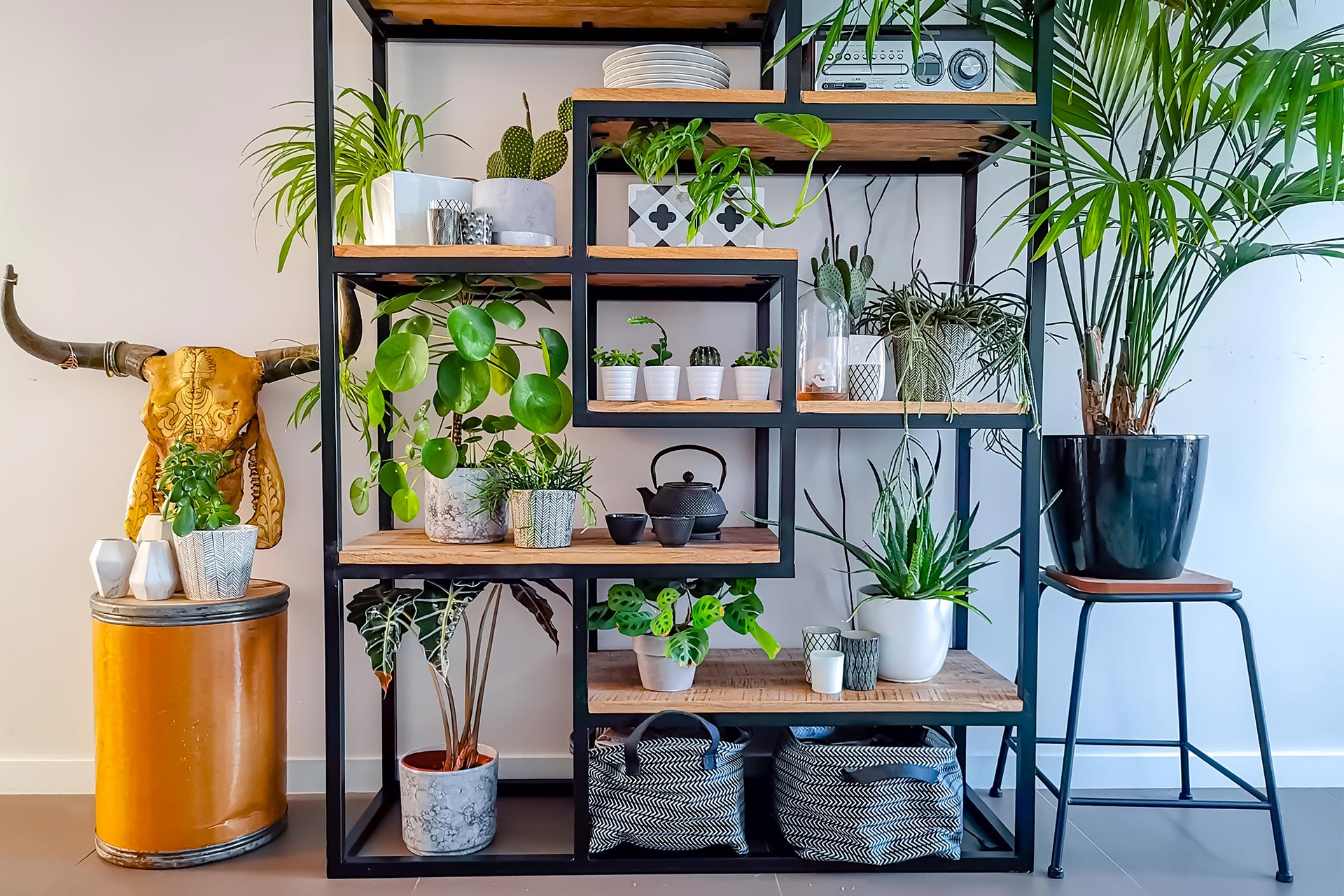 Living room ideas
Clutter is the enemy of calm. If your living room symbolises peace and relaxation, save your floor space from the unnecessary mess by getting creative with wallspace. For example, installing a shelving unit to stack your books, games and consoles around a mounted television is a great way to add character to an otherwise flat wall.
Alcove shelving ideas
An alcove can seem like an awkward area until it's completed with a beautiful bookshelf filled with your favourite literature. Try adding rows of custom-sized shelves on either side of a chimney breast to add character and create a cosy feel in your living room.
During the festive period, alcove shelving will make for the perfect place to display greeting cards and decorations. Even as the seasons change, refreshing the items on your alcove shelving will keep your living area or front room looking fresh – think bowls of potpourri and decorative acorns in Autumn or bunting and bunnies in Spring.
If you're worried that wall-to-wall shelving will look busy or overcrowded, staggered floating shelves can give these nooks some space and make for a striking design feature.
Divider shelving ideas
If your kitchen and lounge are both incorporated into one room, divider shelves can do a great job of creating separation between both areas to give the illusion of a larger home. A freestanding shelving unit stacked with plants, recipe books and decorative ornaments can frame a kitchen, allowing your guests to relax in your lounge as you prepare the feast.
Think carefully about sizing, shapes and style when browsing the market for shelving ideas. For example, adding a divider shelving unit of a certain width could be overbearing in a small living room. Modestly sized rooms are best suited to slim-line divider shelves or those fitted against the wall to free up floor space.
Divider shelf units can also range from the modular, sharp-edged square blocks of equal sizing to polygon shelving units designed to add personality to your living room.
Build a library in your lounge
If you've always dreamed about living inside of a library and have boxes brimming with books, put them on display with custom wall-to-wall shelving in your living room.
Picture the scene: it's a crisp Winters day and you're snuggled up in an armchair surrounded by shelf after shelf of books, stacked up to the ceiling: you can't beat it (save for maybe adding a mug of hot cocoa in your hands.)
If the traditional style library with "barrister" bookshelves isn't your vibe, opt for something a little more contemporary such as modular shelving units or 'S' shaped tiered bookcases to create a stylish reading lounge. These modern designs work particularly well with ash wood flooring coupled with a statement rug and slender linen sofas.
Bedroom shelving ideas
Make the most of awkward space with shelves that fit neatly into the corners of your room.
Rounded oak and pine corner shelves continue to be a popular choice amongst homeowners, but the options for corner shelving extend beyond the standard to the bespoke bedroom shelves that grab your attention from the moment you walk through the door.
Before you buy your corner shelving, we recommend drawing a rough sketch of how you want the shelves to look in your room.
Measure the wall to ensure you pick out the right sizes when making your purchase and make sure to leave enough space above and below to keep the room from looking less cluttered.
Ladder shelving ideas
Minimalist interior designs call for lightweight ladder shelves that add style and practicality to a peaceful bedroom or living room. Eye-catching design meets functional storage with this type of shelving, making for the perfect place to house your plants or showcase objects of art.
Highly versatile and visually pleasing, ladder shelves give bedrooms a spacious feel and come in a range of styles, heights and materials. Narrow ladder shelves made from light pine could be the ideal storage solution for a zen space with neutral-coloured walls, while storage units that combine walnut panels with iron frames would fit the more urban-style bedroom.
These shelves come as either a standalone unit or are designed to lean against a wall. The former is more practical and is created from a step ladder, while the latter is ideal for smaller rooms in maximising space. Use the rungs of the ladder to display your favourite photographs, cute collectables and top it off with stylish table lamps to add a calming glow in the evenings.
Floating hexagonal wall shelves
If you're searching for more unusual shelving ideas to add character to your bedroom, mix it up with hexagonal honeycomb shelves. These charming shelves add substance to an otherwise empty back wall. What's more, they provide the perfect space for you to showcase those little ornaments that are being wasted on windowsills.
This bedroom shelving idea has been creeping up into the top design trends for years – some choose to go DIY and make their own, while others purchase individual units to play around with patterns on the wall.
Dark oak units filled with plant-life on a pastel green wall make for a charming feature wall, but those looking to make a statement may prefer the contrast that black oak against a white wall creates.
If your bedroom colour palette falls within the range of slate to shadow greys, use rose gold hexagonal shelving to store your items in style.
Looking for something bespoke but not sure where to start? Call in a professional to help you bring a bedroom shelving idea to life by using our handy search bar below.
Kitchen shelving ideas
A kitchen can quickly get cluttered when not enough storage solutions are available. Counters should be for chopping, baking, spreading and slicing: free them up by introducing shelving for kitchen utensils, recipe books, herbs, spices and more.
The design options are many, and your choice will depend on the aesthetic and size of your kitchen.
In a large, farmhouse style kitchen, rustic wooden shelves help to elevate the beauty of the room. Atop an oak shelf with metal brackets, place your traditional tea-pots and complete the look with matching cups hanging on wall-mounted hooks below.
Stack up small rustic shelves in an alcove in your kitchen for a place to pop jars of coffee, sugar and tea-bags, preventing those pesky spillages when preparing drinks on the countertop.
Alternatively, use this decorative kitchen shelving idea as an opportunity to keep your best crockery on display.
Small kitchen shelving ideas
In a small kitchen, your goal is to keep the room from feeling claustrophobic. As well as keeping mess to a minimum, we recommend creating the illusion of space by opting for camouflage shelving.
The design planning should be fairly straightforward: if you have a white-tiled backsplash, paint your shelves white to match.
When stored on these shelves, your best dining set is turned into artistic decoration and becomes a focal point in the room. This is ideal for homeowners eager to keep a small kitchen feeling super light and stylish without taking up space.
Unique wrought iron shelving
If you have more than a few heavy utensils that cupboard space doesn't allow for, you need sturdy shelving units that can support the weight.
Sitting at the intersection of style and practicality, wrought iron shelving systems are ideal for homeowners looking to put wall shelving to the test with crockery and cooking utensils. The combination of iron and wood are particularly pleasing when contrasted against a rustic brick wall in factory or warehouse conversion homes, but equally make a statement against a white wall.
See the tradespeople we've checked and recommend for your job
Tell us what you think
What others think of this article:
Need More Information?
Related posts