For years UK homeowners, interior designers and property developers have been taking advantage of wardrobes to optimise space and style in properties. If you're considering installing wardrobes in your home, this fitted wardrobes cost guide is for you.
Whether you're moving into a new house or doing up your current property, making the most of space is key in every home. Built-in wardrobes may cost more than many standard stand-alone wardrobes, but they're a brilliant way to fill awkward spaces whilst adding value and style to a property.
For this guide, we spoke to Bob Branscombe (MRICS and MCIOB qualified), who has 34 years in the industry with Branscombe Consulting. Together we have put together the average UK prices for various types of fitted wardrobes.
| Item | Range - Low | Range - High | Average cost |
| --- | --- | --- | --- |
| 3-door standard fitted wardrobe | £2,800 | £3,600 | £3,200 |
| 3-door sliding door fitted wardrobe | £2,500 | £2,800 | £2,650 |
| 6-door wide fitted wardrobe | - | - | £4,800 |
| 2-section custom built fitted wardrobe | - | - | £3,200 |
| Carpenter labour (per day) | £200 | £250 | £225 |
How much do fitted wardrobes cost?
The very nature of fitted wardrobes means there is a huge variety of shapes, sizes and styles available. Each room will have a unique fitted wardrobe due to dimensions, materials and internal unit designs, all of which will affect the cost.
The most common factors that will determine the price you pay for installing fitted wardrobes are:
Size
Quality
Materials used
Additional fittings (such as integrated lighting, shelving, shoe racks, etc)
Average 3-door standard fitted wardrobe cost: £2,650
Average 3-section sliding door fitted wardrobe cost: £3,200
Average fitted wardrobe carpenter cost (labour only): £225 per day
Find a local fitted wardrobe expert
What are the benefits of fitted wardrobes?
Fitted wardrobes are one of the best space-saving solutions for your home that come with a whole host of benefits:
Maximise space, particularly in awkward spaces where traditional shop-bought wardrobes wouldn't fit or would waste space.
Fully customisable designs mean your fitted wardrobe will be perfectly tailored to the space and your storage needs.
Keep your home tidy and organised with bespoke units, such as shoe racks, extra shelves and longer rails.
No more awkward cleaning because fitted wardrobes don't have nuisance gaps or awkward ledges where dust collects.
Add value to your home whilst simultaneously improving the usability of your property.
Stylish and streamlined finishes in a wide range of designs make fitted wardrobes suitable for every home.
Different types of fitted wardrobes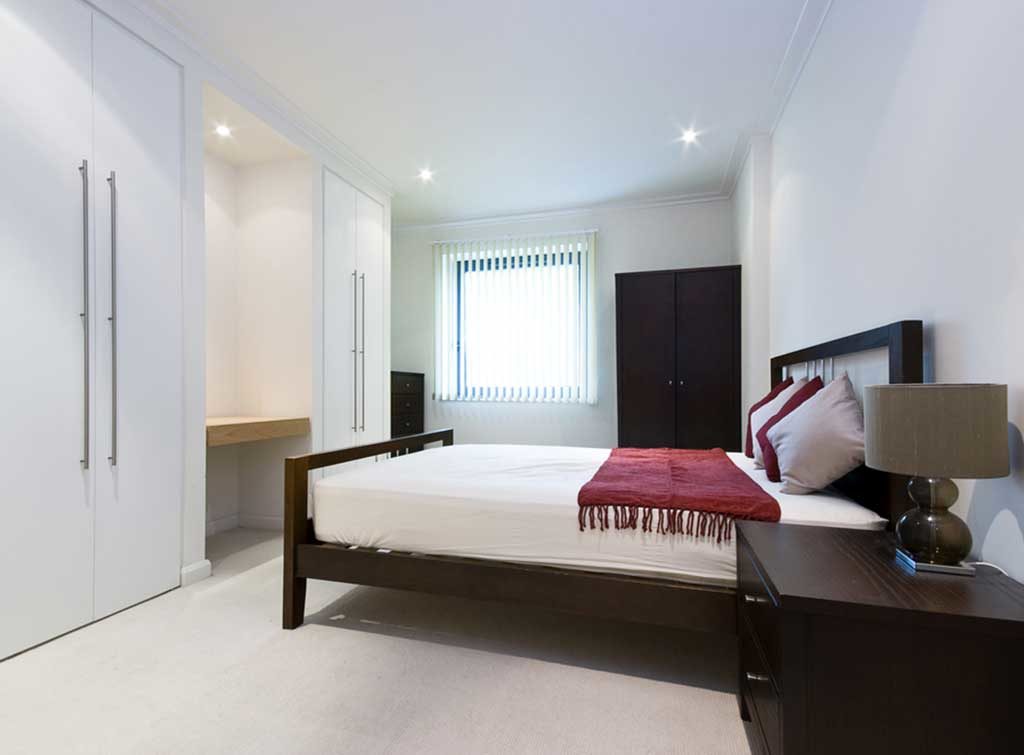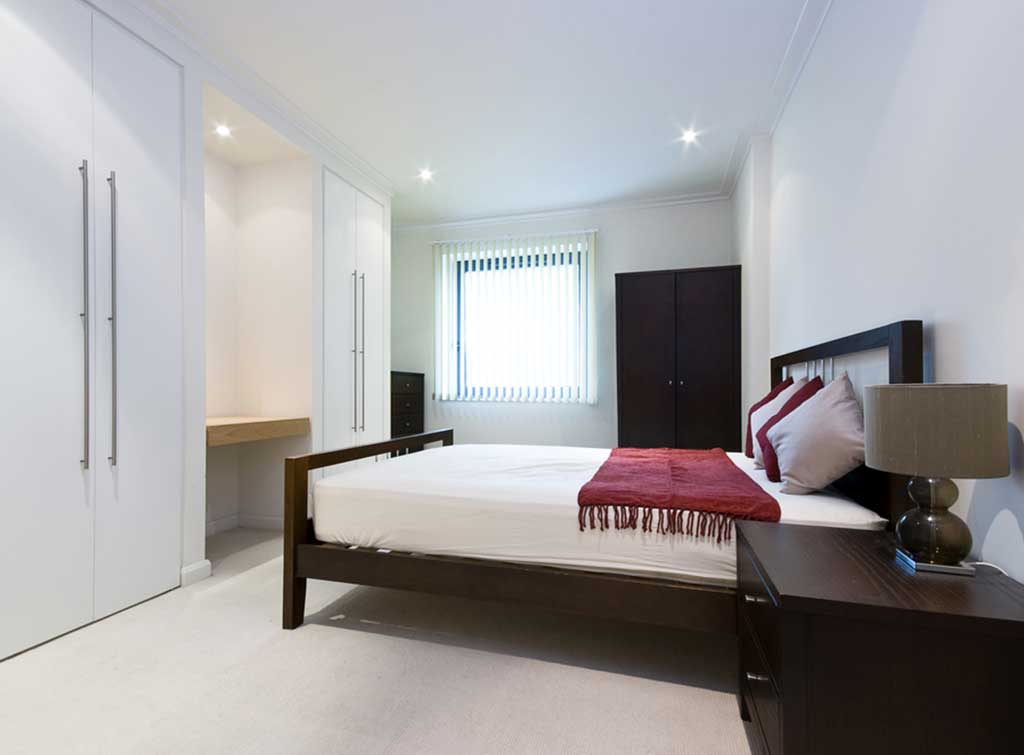 One of the greatest features of fitted wardrobes is that they can be fully customised both inside and out. Built-in wardrobes will cater for your personal style and fit in any space, no matter how big, small or awkward it might seem.
Below are the most popular types of fitted wardrobe for British homeowners.
Standard fitted wardrobes
Average 3-door fitted wardrobe cost: £2,650
A standard fitted wardrobe comes with hinged doors that open outwards, like a standard wardrobe. They will be divided into different sections, depending on the space they're filling and the internal units you choose.
The doors themselves are available in a range of materials, including MDF, wood, glass and metal. And there is a wide variety of door styles, such as plain, grooved, panelled, mirrored, handle-less, and with windows.
Sliding door fitted wardrobes
Average 3-section sliding fitted wardrobe cost: £3,200
If space is sparse in your home, you might want to go for fitted wardrobes with sliding doors. Instead of hinges, these wardrobes make use of doors that move by sliding on a runner.
As with standard fitted wardrobes, there are a lot of options for the style of doors and the features of the internal storage. Mirrored glass doors tend to be very popular as they help make smaller spaces look larger, and provide a full-length mirror at the same time.
Find a local fitted wardrobe expert
Extra-wide fitted wardrobes
Average 6-door wide fitted wardrobe cost: £4,800
If you have a very large bedroom or the luxury of a walk-in wardrobe, then you'll need an extra-wide fitted wardrobe. Put simply, it's a wider version of a standard or sliding door fitted wardrobe.
Being much larger, the prices of extra-wide fitted wardrobes are higher but then you're literally getting much more for your money.
Custom-built fitted wardrobes
Average 2-section custom built fitted wardrobe cost: £3,200
By definition, fitted wardrobes are adapted to create a bespoke wardrobe for your home. However, if you're looking for something very specific you also have the option to have custom-built wardrobes made.
Like other fitted wardrobes, they allow you to fit around sloped ceilings, wonky walls and recesses, but the materials and/or internal units will be designed and built to meet your exact needs.
Find a local fitted wardrobe expert
Fitted wardrobes internal storage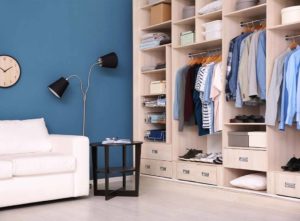 One of the factors that will affect the price of your fitted wardrobes is your choice of internal storage units. Generally, you can 'mix and match' different types of storage so that they're configured exactly how you want them.
As well as standard rails, drawers and shelves, you can also have more specialised features, including:
Pull-out shoe racks
Double-hanging clothes rails
Pull-down rails (for higher, hard-to-reach sections)
Jewellery tray
Cosmetics unit
Laundry baskets
Pigeon holes
Trouser rails
Integrated lighting
How long does it take to install fitted wardrobes?
Usually between one and two days, however, the time needed for installing your fitted wardrobes will depend on the size and complexity of the space and wardrobe units themselves.
Can I fit my built-in wardrobes myself?
If you're a strong and confident DIY enthusiast, you might want to fit the wardrobes yourself. However, fitting a built-in wardrobe can be tricky and is at least a two-man job if you're attempting yourself. We would highly recommend hiring a professional tradesperson to give you peace of mind that the work has been done safely and to a high standard.
Useful fitted wardrobe checklist
Plan ahead by taking time to consider what clothing and other items you use regularly and make sure the internal design of your wardrobe accommodates them.
Make the most of shelving by using baskets or shelf dividers to partition the space.
Speak to local fitted wardrobe experts for advice and accurate prices for your space.
Ask for a full list of the options for internal and external designs, there are a lot of cool storage solutions out there.
Choose a style and materials for your fitted wardrobes that will match the space they're filling.
Always shop around for fair and competitive prices.
When planning your budget for your fitted wardrobes make sure you include the cost of the materials and labour, as carpenter and installation labour costs can quickly add up.
When hiring a professional tradesperson, always choose someone with proven experience and relevant accreditations.
Find a local fitted wardrobe expert
Tell us what you think
What others think of this article:
Need More Information?
Related posts