Lofts are synonymous with storage, but that doesn't mean they have to be cluttered. With the right approach, you can transform a loft or attic into the perfect nook where possessions and clothing are tucked away or on display through creative loft storage ideas.
Whether you're working to a budget or want inspiration for an upcoming loft conversion project, the following ideas can help you maximise space and make for a loft you're proud to show off.
Loft eaves storage ideas
Sloped ceilings and angled alcoves can make for the perfect foundation for clever storage. From retractable beds to bespoke built-in wardrobes, a pitched roof is an opportunity to get creative with loft storage ideas to build a cosy and clutter-free room.
Custom made storage solutions
Make optimum use of your loft eaves with made-to-measure closets and drawers fitted under your roofline. Custom wardrobes can be designed to fit snugly under a pitched roof, allowing you to take advantage of the space to put your things, and the design possibilities are endless.
Sliding doors, mirrored panels and pull-out hangers are just a few of the loft storage ideas you might consider when shopping around for built-in wardrobes. You might want a freestanding open wall-to-wall wardrobe staggered to fit perfectly under a sloped ceiling. To truly maximise on loft storage, you might want to use the space under the eaves to build custom cupboards, drawers and shelving.
Make storage stylish
Storage solutions come in all shapes and sizes, so think outside the (literal) box when reorganising your room.
Banish the storage containers that don't match the design of your room and install an angled chest of drawers to transform awkward loft space into a sleek and mess-free space.
These can sit under your loft eaves and make the most of the space for storage while giving the room a sharp, modern edge.
Looking for attic hacks and clever loft storage ideas to handle an ever-growing clothes pile?
From work clothes and occasional wear to those items you like yet will never wear, keep your smart suits and stylish dresses on display on a clothing rail that sits along your roofline.
Creative loft storage ideas to build character
There's no reason why your loft can't be eye-catching and practical. Look through the items you have or want to store: could they be highlighted as part of a display case?
If you're feeling adventurous, you might want to consider adding different levels in your loft where drawers can be slotted into. Here are a few of the latest trends in loft design for inspiration.
Build an old-fashioned library loft
Good books don't belong in cardboard boxes. They deserve to be on display, and your loft is the perfect place to build a mini-library. Simply install shelving symmetrically across the wall and place your books in alphabetical order, by genre or colour co-ordinated, the choice is yours. As well as clearing floor space, this will turn your loft into a cosy spot under the rooftops for reading those books you never got round to.
Stylish loft shelving ideas
Say goodbye to clutter and enhance the aesthetic of your loft with elegant wall storage solutions. Modular wall shelving is a popular choice for homeowners in need of space to organise their trinkets, ornaments and collectables. These types of shelves can often be bought by block, allowing you to fit them into lofts of all shape and size.
A storage wall could also come in the form of a wardrobe that stretches across the length of your wall. We recommend opting for a modular wardrobe system that can be easily reconfigured to fit into your room and storage requirements.
Use colourful storage solutions
If you simply have more clutter than you have space to display it, boxes are inevitable – but they don't have to be an eye-sore.
Linen foldable storage boxes come in a variety of colours and patterns, adding charm to your loft while keeping everything from stationery to Christmas decorations hidden from sight.
If you've got a lot of different things that need storing, try colour-coding boxes to find what you need much faster.
Loft bedroom storage ideas
A loft bedroom can quickly become cluttered without the right storage solutions. If objects, ornaments and items of clothing keep finding their way to your loft, we've got some creative loft storage ideas to re-organise your stuff and help you reclaim your room.
Save space with a hidden bed
If more space is what you need, a bed that can be hidden into the wall when not in use could be the perfect storage solution for your loft bedroom. A pull-down bed offers a comfortable bed to sleep at night and can be tucked away to open up floor space during the day. These can be custom-made to accommodate the room shape and fitted with screens to match your loft bedroom furniture.
If you have a pitched roof, use the space under a sloping roofline to incorporate a hidden knee wall bed. A retractable bed is the king of space-saving solutions, tucking away neatly into a panelled wall for maximum floor space. However, a single bed slotted inside a knee wall can make for a cosy children's loft bedroom or guest room.
Create a mezzanine area for extra space
Instead of building in, build up and add an extra level to your loft with a mezzanine for your bed. This design is elegant, timeless and offers plenty of room underneath for creative storage, be it an in-built wardrobe to keep your bedclothes or a snug desk tucked away under the bed.
For the ultimate in smart storage, invest in a bed that comes with storage space underneath the slats. That way, you can tuck away your sheets, pyjamas and pillowcases and free up your loft bedroom for activities.
Make your loft work for you
Whether you've recently moved in, are planning a loft conversion or simply need clever solutions for loft storage, there are plenty of ways you can take advantage of this space and reduce the amount of clutter in your home. By using the loft as a dedicated room such as an office, bedroom or gym, you can free up space throughout your house.

Turn your loft into a home office
Important documents, stationery, loose cables and to-do lists can spill out onto surfaces throughout the house when you're working from home.
If you've got loft or attic space to spare, why not take advantage of this room to build a dedicated work station?
A desk may fit nicely under your roofline, with a skylight to keep the room bright and airy.
Complete your office with cabinets and shelving to store pens, pads and paperwork at your convenience.
Make a dedicated workout space
For those of us who prefer to work out at home, finding storage for exercise equipment can be a challenge. From yoga mats thrown over doors to kettlebells sitting on bookshelves, gym equipment can quietly build-up clutter throughout the home.
Sound familiar? It might be time to transform your attic into a dedicated home gym, allowing you to store your workout gear and equipment in one place.
Create a special space for your pets
Looking for loft storage ideas to clear away the clutter that life as a pet owner can bring? A dedicated room for their toys, food, bedding, cleaning tools and products can keep the mess they cause to a minimum.
Beyond well-organised boxes, though, why not take advantage of loft space to give them a room of their own? Scratching posts, climbing shelves and wall-hanging beds are ideal for cats, while an indoor kennel complete with cushions under your roofline will be perfect for your pooch.
Loft storage ideas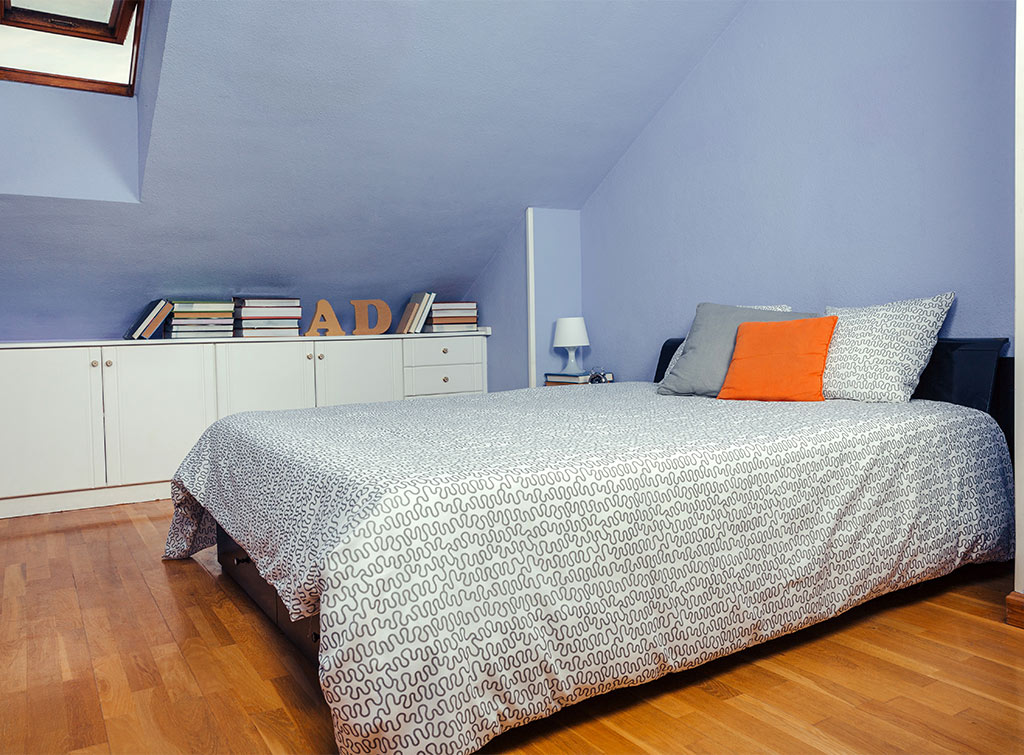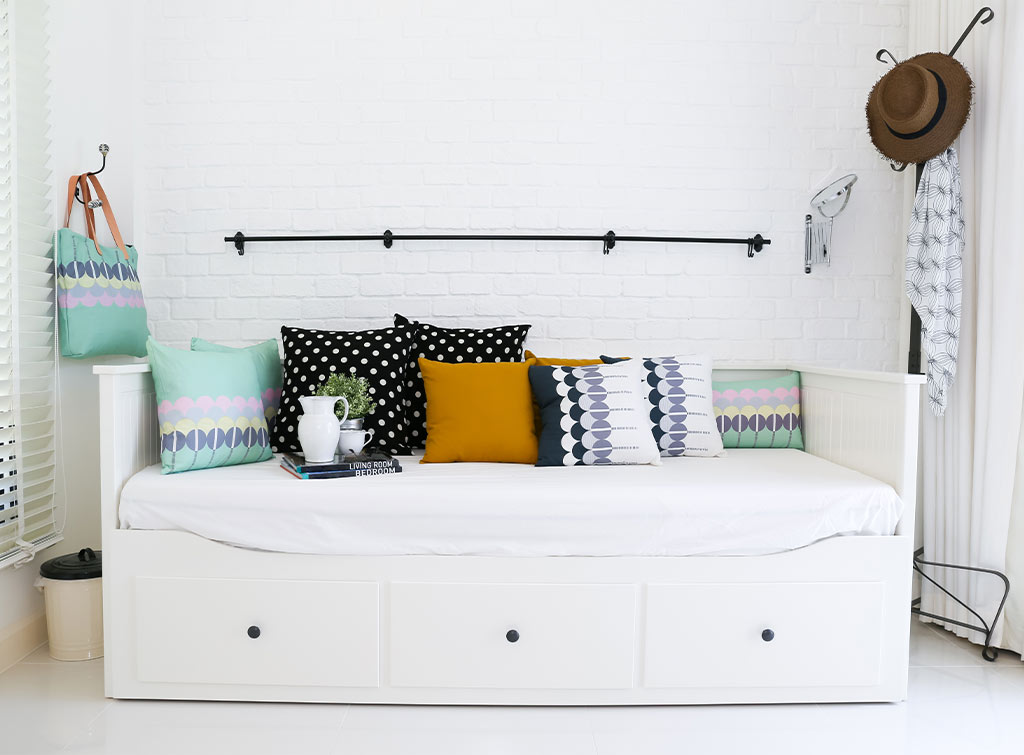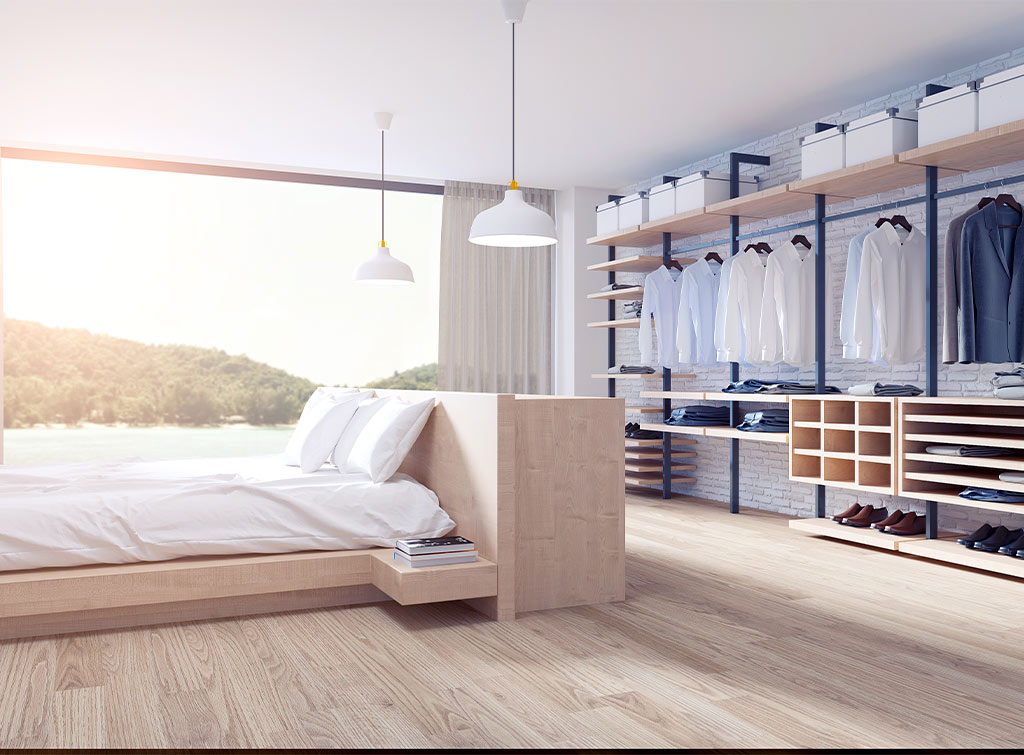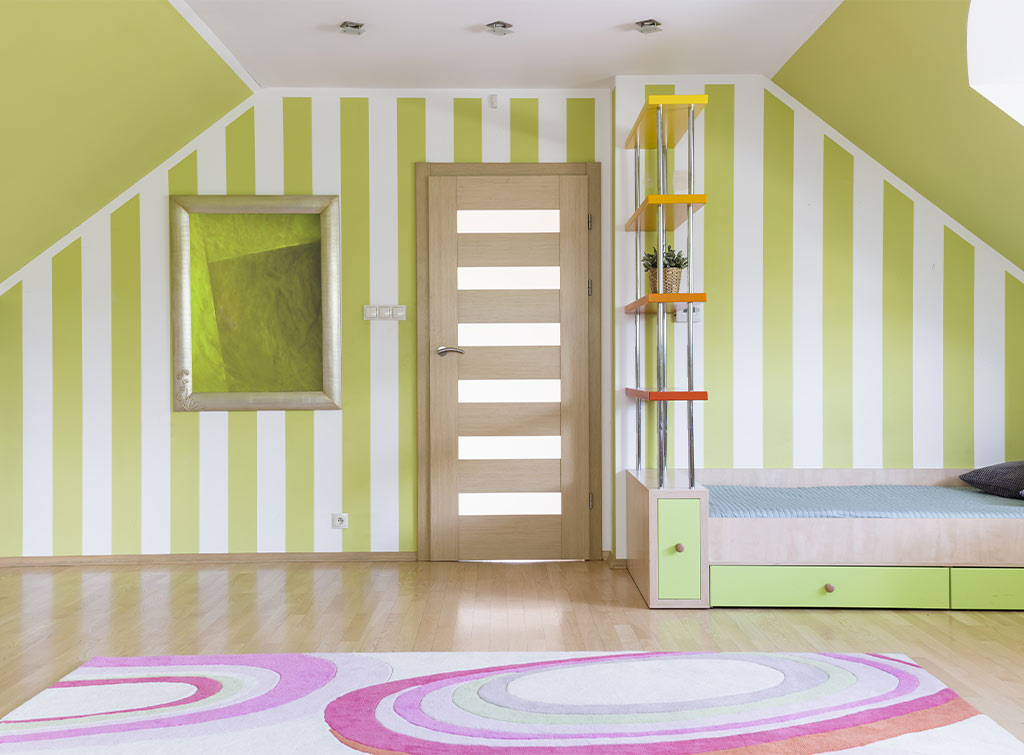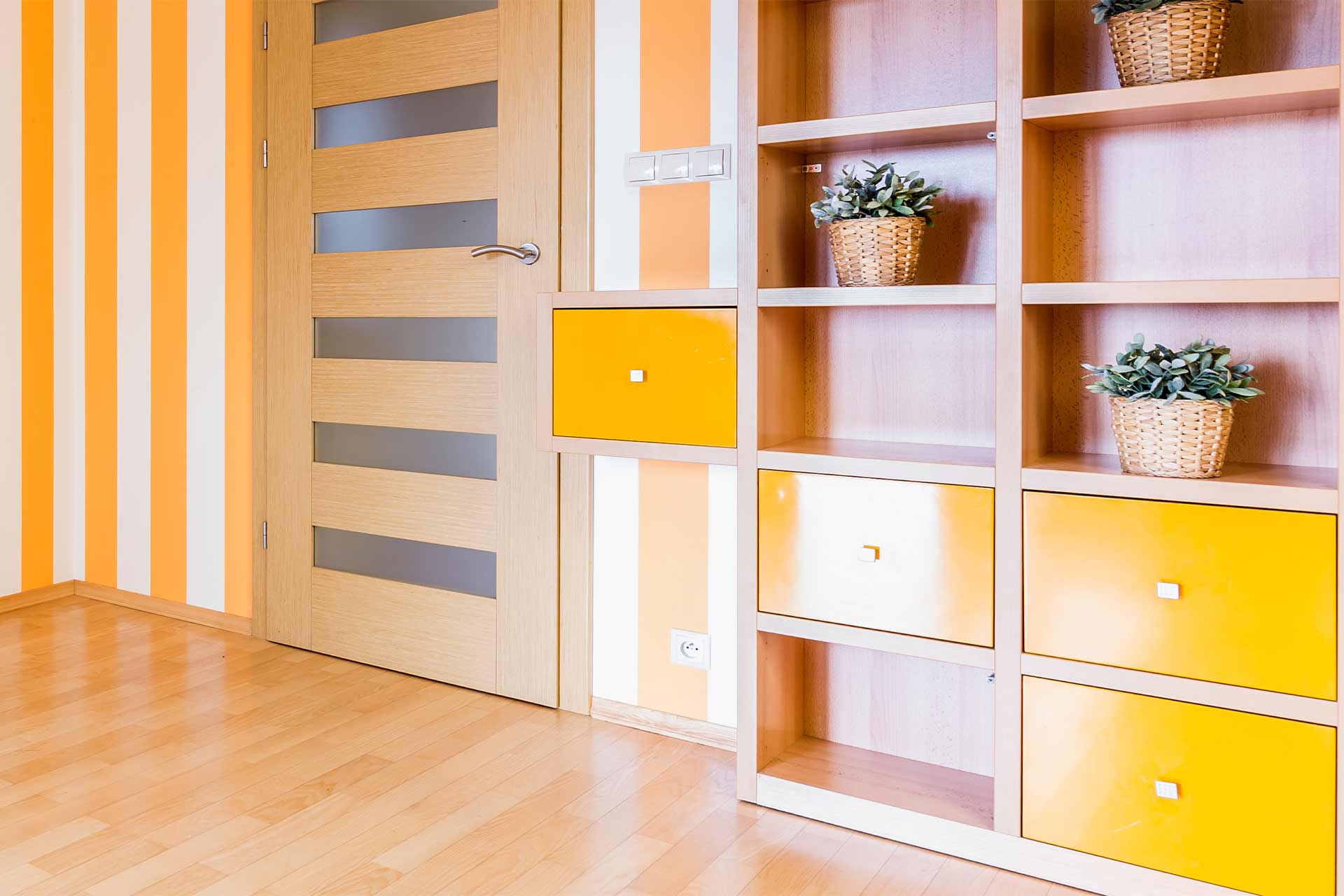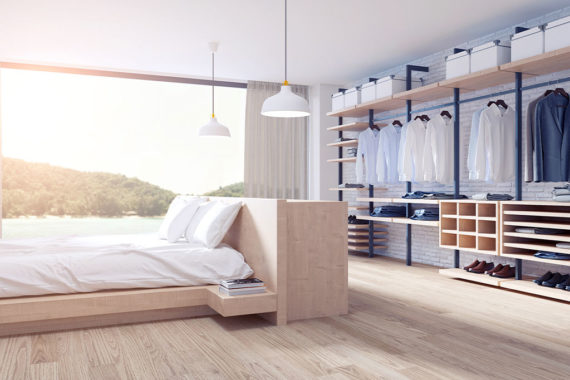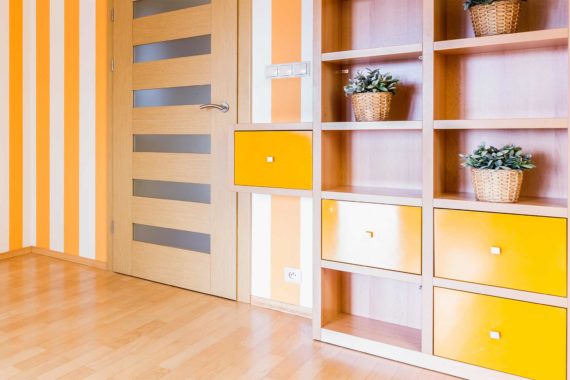 Add a clothing rail to the roof line
Don't leave clothes crumpled up in a pile – make the most of a pitched roof to add a rail where you can hang all your best items, preserving their quality and giving your loft a stylish feel.
Add built-in drawers under your loft eaves
Don't let the awkward space under your loft eaves go to waste – this is the perfect place to add built-in drawers and cupboards to keep a loft bedroom clutter-free.
Create a library loft
Always dreamed of living inside a library? Transform your loft by adding shelf after shelf of those books you never got round to, stacked right up to the ceiling. It's possible that you would never run out of reading material!
Create a mezzanine area
As well as adding character to your loft, building a mezzanine means a whole other level for your storage needs.
Get a pull out bed for more floor space
With a pull out bed that folds up when not in use, you can maximise the floor space you have for activities and storage solutions.
Build a storage wall
A loft bedroom can quickly become packed with boxes and piles of possessions with no place to go. A storage wall transforms your loft into a well-organised, stylish room you can be proud of.
Use your loft for storing gym equipment
If your exercise equipment has a way of getting all over the house, try using your loft as a dedicated home-gym complete with storage to pack away your dumbbells, yoga blocks and resistance bands.
Use your bed for storage
Already got shelves and drawers full to the brim? Find yourself a bed that comes with storage built-in to really maximise the space in your loft bedroom.
Build the perfect pet haven
Pet stuff always taking up space in your house? Use your loft as a dedicated space for your furry friends to reduce the clutter they cause throughout the rest of your house.
Get creative with shelving
Loft shelving that's made-to-measure can add style to any loft space, allowing you to keep your clutter hidden and your loft looking it's best.
See the tradespeople we've checked and recommend for your job
Tell us what you think
What others think of this article:
Need More Information?
Related posts