Why lease an electric van?
The idea of switching from a diesel van to an electric van might feel daunting. But to really understand whether an EV is right for you and your business, there are a few things to bear in mind. So, read this article before taking the leap and swapping to an eco-friendly transport alternative.
We're going to take a look at the pros and cons so you can work out whether an electric van is right for you.
Will electric vans work for you and your business?
Before you switch to electric modes of transport, you need to work out the pros and cons by answering a few questions.
How far do you travel in a day?
If you travel less than 100 miles a day in your van, then an electric model will likely work for you. However, if you travel further than that, you need to charge it up at some point during the day, which comprises your time.
Sadly, fully charged electric vans can't travel as far as a full tank of petrol or diesel. However, if you're not a high-mileage driver or you typically base yourself in a single location during the working day (within a 50-mile radius from home or workplace), then having an EV with tons of range becomes irrelevant because you don't need it.
What type of journeys are you doing?
Working out the types of journeys you're regularly taking is just as important as working out your mileage.
For example, if you mostly drive on motorways or A-roads, this will impact how far you can travel in an EV.  As there are fewer opportunities to power the battery through regenerative braking, you'll run out of power quicker.
On the contrary, if your regular journeys are in urban areas with lots of stop-start driving, an electric van fulfils its potential and lets you squeeze every last mile out of the battery through regenerative braking (if you need it, of course!)
Where, when and how will you charge your electric van?
This is an important question. If you have access to a driveway or garage at home, this will become your day-to-day fuelling station. By installing a dedicated EV home charge point, you'll start the day with a fully-charged battery, which is the equivalent of a full tank of fuel.
However, even if you can't charge from your van from your home or workplace, it doesn't automatically rule out an EV being viable for you and your business. There are thousands of public charge points across the UK.
A van like the Vauxhall Vivaro-e with a 50kWh battery can be recharged in an hour from a rapid charge point, which is the perfect amount of time for a lunch break!
What's your typical payload?
Because electric vans are fitted with large lithium-ion batteries, they're typically heavier than a traditional van.
The additional weight slightly reduces the payload capacity; however, it's only worth considering if you need it. Most fully-electric vans can carry up to a 700-800kg payload, which is why it's worth finding out how much you need on a day-to-day basis.
Fellow trades are getting money off their van leases
Find out how
What are the best electric vans to lease in 2023?
We've taken a look at the best vans that you can lease from Vanarama.
Small vans: Vauxhall Combo-E, Citroen E-Berlingo, Peugeot E-Partner & Toyota Proace City Electric. Best Range – 175 miles
These vans benefit from an efficient electric powertrain and are some of the most popular light vans on the market.
The Stellantis brands and Toyota simply can't manufacture enough of these little vans, which are technically identical, bar some brand-specific trim and spec differences (which really will influence the one you choose, so do check out what each one offers).
With payloads of up to 800kg and a towing capacity of up to 750kgs (a rare thing on an electric van), these vehicles are top of the pile right now. Their charging performance is pretty good too. You can go from 0 to 80% in just 30 minutes using a 100kW public DC charger.
Alternatively, an overnight charge in your home 7.4kw wallbox will take just 7.5 hours.
Medium vans: Toyota Proace Electric, Vauxhall Vivaro-E, Peugeot E-Expert & Citroen E-Dispatch. Best Range – 205 miles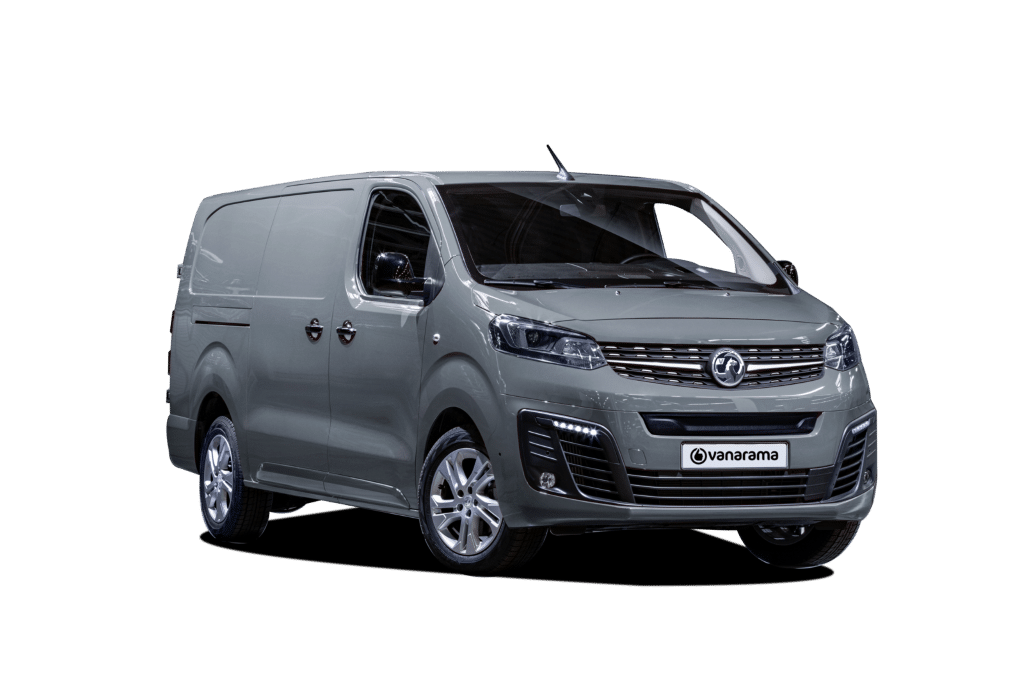 These similar medium-sized vans from the Stellantis group and Toyota boast an exceptional range between charges. Also, with payloads of up to 1,226kg (depending on the model chosen), they can carry considerably more than some larger electric vans. The 136PS electric motor won't see you struggling up those long motorway inclines either.
They also come with a choice of 2 battery packs – 50kWh and 75kWh – with fast DC charges to 80% in as little as 30 minutes. Depending on the brand you choose, there's a long list of standard equipment on top of the various trim levels.
Medium van: Mercedes-Benz eVito. Best Range – 162 miles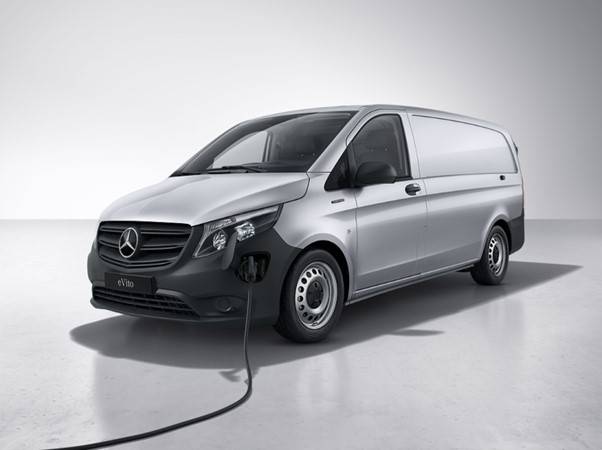 A few months ago, the eVito would've joined its bigger brother, the eSprinter, outside this list due to its uncompetitive range. However, the eVito's 2nd generation has received a huge boost. It went from a previously underwhelming 93-mile range to around 160 miles. This has been achieved by increasing the size of the battery pack from 41kWh to 66kWh.
When it comes to UK sales in the medium van sector, the Vito is always beaten by Ford and Volkswagen. However, as Ford doesn't have a fully-electric Custom (yet) and VW's ABT-e Transporter offers the same range as the 1st gen eVito (for now), Mercedes-Benz will likely take some of the market share with the new and improved eVito.
Small/medium van: Maxus eDeliver 3. Best Range – 151 miles
Chinese firm SAIC, who markets its vans under the MAXUS brand in the UK, has been an early pioneer in the electric vehicle industry.
The eDeliver 3 is best compared to the now discontinued Nissan e-NV200. It's kind of a 'large light van,' which isn't as big as a medium van. However, it's got an impressive 1,000kg payload and a load volume of 6.3 cubic metres. This isn't bad for a van from a relatively unknown brand.
Interested in leasing one of these vans?
Then your best bet would be to lease them through Vanarama.
Before you lease – you could bag yourself a great deal by being a part of a community where there are van lease deals lurking. That community is the Checkatrade community of 50,000 members – where all of them can use their membership to get better van lease deals!
Interested? Here's everything you need to know about our partnership with Vanarama.
Where to get the best electric van lease deals in the UK
Leasing an electric van with Vanarama is the smartest choice
It's often nerve-wracking switching from a traditional petrol or diesel van to one powered by electricity. New technology often raises questions and doubts. That's why leasing a van is the perfect way to eradicate concerns around vehicle depreciation or battery life.
The leasing company takes on these risks for you, allowing you to enjoy peace of mind while motoring. Leasing a brand new electric van from Vanarama alleviates several concerns about going electric.
Fellow trades are getting money off their van leases
Find out how
You're offered tailored packages in a one-stop-shop
Leasing an electric van through Vanarama provides drivers with a "one-stop-shop" for transitioning to electric. Drivers can tailor their lease package to their needs.
For example, by incorporating the cost of the van, servicing and insurance into a fixed monthly payment without huge upfront costs. All you need to do is select a term between 2 and 5 years, input your estimated annual mileage, and receive a brand new electric van at a fixed cost.
Also, to ensure you're fully geared up for the switch to electric, Vanarama gives those who take out an EV lease a Free Home Charge Point worth £1,049. This is like having a fuel pump fitted on the side of your house!
You can save money on fuel in the long term
There's an obvious cost-saving benefit associated with driving electric, especially with the current prices for petrol and diesel. So, whilst there's no hiding an electric van might have a higher price point than a traditional van, the running costs typically offset higher monthly rentals.
In some cases, hiring electric vehicles even save drivers money. This is because charging your van exclusively at home is typically 50-65% cheaper than fueling petrol or diesel vans.
For every £100 you'd normally spend on fuel, it equates to around £35-£50 in electricity. Even if you need to occasionally charge your van in public, where chargers are quicker but more expensive to use, you still wouldn't pay anything near what you'd spend on fuel.
Other cost benefits that come with driving electric include:
Tax exemptions – Zero-emission vehicles are exempt from road tax. However, this saving is factored into the cost of your lease to keep the rental charges lower.
Potential grants – Depending on the size of the van, the UK Government is offering a grant of up to £5,000 to those going electric.
No more congestion charge!
Fully electric vans are exempt from the congestion charge in central London, which is great for those who regularly drive there. You'll save £15 each time you drive inside the zone for that day. As more Clean Air Zones pop up in major cities, it won't be long before vehicles emitting CO2 are charged to enter these highly populated urban areas.
Electric vans are better for the environment
Another key benefit to switching to an electric van is their lack of tailpipe emissions, which are present in conventional vans. This enhances the sustainability credentials of a company and contributes to cleaner air everywhere you travel.
Thought about joining Checkatrade?
Find out what all the fuss is about
About joining