Last updated on May 31st, 2022
Cost of a new banister and spindles
The staircase in your multi-storey home doesn't have to be purely functional. With a little thought given to banister design, you can transform a flight of stairs into a centrepiece to be proud of. Replacing your banister can even add value to your property, giving the entrance a grand appearance. But what is the cost of new banister and spindles?

If this is a project you're planning to take on, we recommend sourcing a professional to help you with the installation. Before sourcing quotes, read the following guide to familiarise yourself with the average UK cost of a new banister?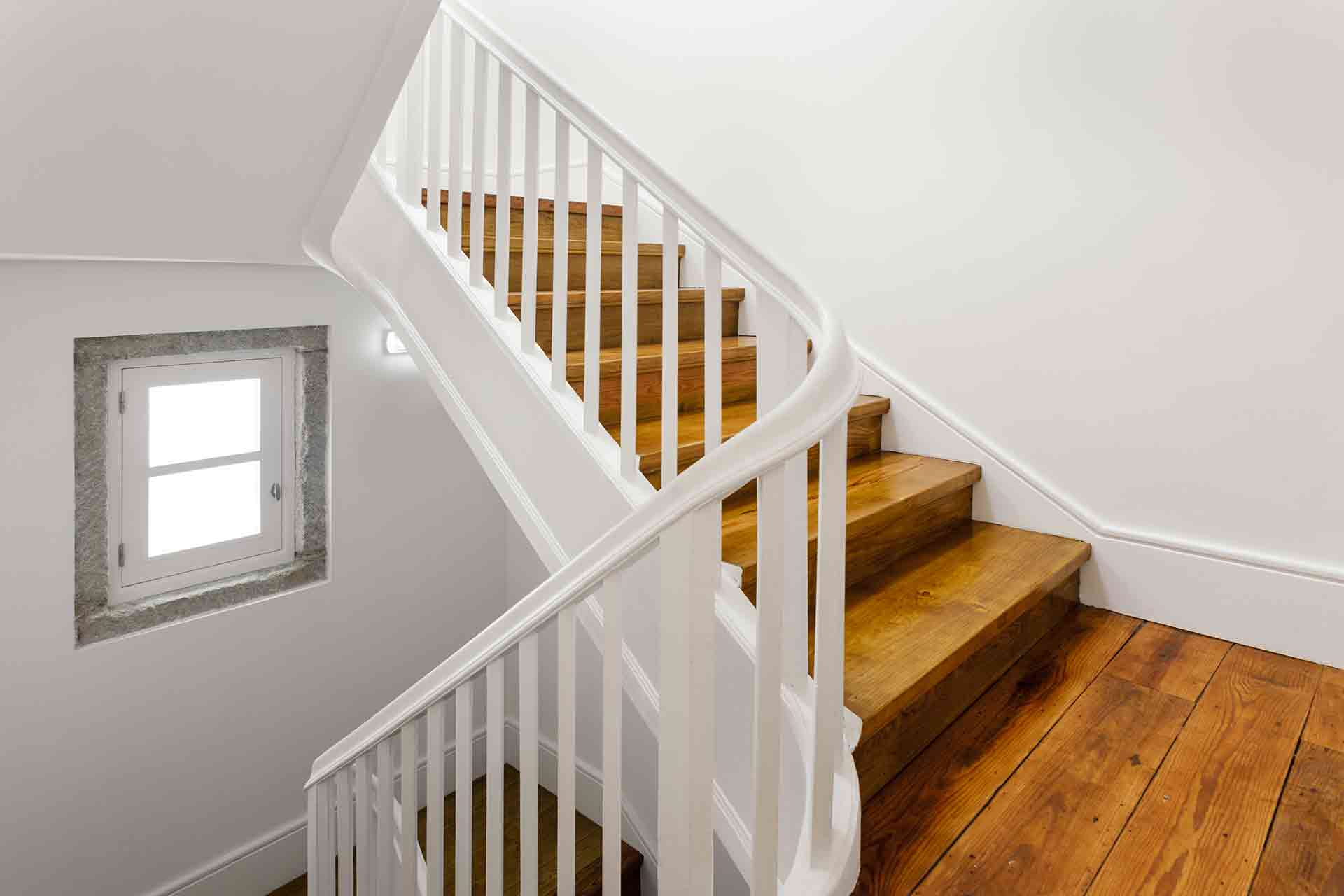 New banister cost
| Material | Staircase component | Cost+VAT (Range low- high) | Average cost |
| --- | --- | --- | --- |
| White oak | Bannister | £11-£200 | £105 |
| | Spindles | £4-£23 | £13.50 |
| | Baserail | £11-£180 | £95.50 |
| Pine | Bannister | £8-£62 | £35 |
| | Spindles | £1-£13 | £7 |
| | Baserail | £8-£55 | £31.50 |
| Primed wood | Bannister | £9-£53 | £31 |
| | Spindles | £2-£34 | £18 |
| | Baserail | £9-£48 | £28.50 |
| Metal | Bannister | £20-£200 | £110 |
| | Spindles | £4-£8 | £6 |
| Glass | Panels | £120-£170 | £145 |
| | Panel brackets | £5-£20 | £12.50 |
Also known as a handrail, the banister is the length of wood or metal that lines your staircase. They are supported by balustrades or spindles – a row of pillars that enhance the safety of the staircase and contribute towards the overall look and feel. Over time, banisters and spindles can look tired or worn from use. Whether you're renovating your entire home or eager to give your staircase a facelift, this could certainly do the trick. On average, how much does it cost to install a new stair railing?
The cost of new banisters and spindles will vary depending on the material. The cost of a new banister tends to start at around £40 for softwood, £90 for hardwood and £120 for a metal handrail.
The price for new spindles will also factor into the total cost if you are renovating the entire staircase, with prices sitting between £30 per metre and £150 per metre for more high-end materials or custom-made solutions.
Depending on the material you will also need to factor in the cost of a baserail which costs on average £25-£35 for primed wood and pine and £95 for white oak.
How much does a new staircase banister cost?
To properly install a new banister, you will need to hire a professional tradesperson with the expertise and awareness of safety compliance. Carpenters, blacksmiths and general builders will be able to help fit your new banister depending on your requirements.
The average cost for a carpenter in the UK typically ranges between £60-80 per hour, but this does not include materials. 
Wooden banister cost
Diverse, durable and easily customisable, wood is a common choice for homeowners installing new banisters. The type of wood you choose will inevitably determine the cost of a new banister.
For example, a highly sought-after white oak can create a luxurious, contemporary look and typically costs around £105. White oak spindles will be charged at an average of £13.50 per spindle.
Although much cheaper, pine can make your staircase stand out and is particularly suited for homes with matching pine furnishings. An average price of £35 can be expected for a new banister, while pine spindles will cost £7 on average per spindle.
Metal banister cost
Metal and composite handrails are highly popular as they are durable, stylish and eye-catching. More intricate designs benefit from the use of metal, as do homes with an industrial aesthetic. On average, you can expect to pay around £120 for a new metal banister and £6 per spindle. This doesn't take into account bespoke ironwork. For more information on handrail installation costs, read our dedicated guide. 
See the tradespeople we've checked and recommend for your job
Cost to replace banister and spindles
If you are looking to change your current staircase, replacing your banister and spindles is a good, cost-effective option. So, how much does it cost to replace spindles and banisters?
If you're looking to replace your stair banister and spindles, you'll face the same costs as we've outlined above. However, you'll also need to factor in the cost of removing your old banister and spindles. This will usually mean additional labour costs as well as a fee for waste removal.
Usually, the cost of replacing your stair spindles and banister will be included in any quotes you receive but it's always worth checking to be certain. And of course, we'd always recommend getting several quotes so that you can be sure you're getting the best price for the work.
Factors affecting the cost of new banister and spindles
The average cost for labour will be £60-£80 per hour. However, the quote you receive will depend on the scope of the work Other factors affecting the cost of banister and spindles include:
The overall size of the staircase
The complexity of the fitting
Type of banister and spindles requested (custom designs will cost more.)
Any prep or finishing work required
Access to the staircase
Any waste removal required
How to calculate the cost of a new banister and spindles?
If you know which material you want to use, then you can calculate the cost of your specific new banister and spindles, including the materials and labour. Let's start with the materials and assume you have an average UK staircase of 4m from bottom to top.
If you want a hardwood such as White Oak, you add the average cost of the banister (£105) to the cost of the spindles (£150 per metre) spaced at under the regulation 100cm apart, which is £600. This brings us to a total of £705 for the materials. You then need to add on the labour cost of a professional taking, on average 3 hours to complete the job at an average cost of £80 an hour, which is £240.
This brings us to an average cost, for this example, of £945 to install a new banister and spindles, including materials and labour.
Consider the cost factors
The size of your staircase is only one aspect that will determine the cost of your new banister and spindles, another large factor is the complexity of the fitting. If there are corners to consider or awkward angles to navigate, then you'll need to pay more for the tradesperson's time, as well as specialised brackets.
When you get a quote from a professional staircase fitter, they will give you a price based on a full assessment of your staircase, so you should be clear on the impact of complexity on your project before you agree for the work to go ahead. Beyond the difficulty of the job, poor access can increase cost in the form of extra hours, or the need to bring in long sections of banister through windows.
Finally, you should factor in any prep or finishing work that the tradesperson will need to do to ensure your banister and spindles are fitted safely. This is also an important consideration if surface damage to plaster will be required in order to securely fit the banister.
Once you have full consideration of all these factors, you should be able to get an accurate quote from a locally recommended staircase installation expert.
Banister and spindles cost example: two story, metal finish
Taking the average 4m staircase, heading up two stories gives us 8m of banister and spindles required. You'll pay on average £120 for a 4m metal banister, so that's £240. You'll pay on average around  £6 per spindle and you'll need 80 for the job, spaced at under the regulation 100cm apart, so that's  £480. Bringing us to a materials total of £720. Add on labour at  £80 an hour for the average 3 hour installation time,  £240, and you come to a total average cost for the installation of a two story metal banister and spindles of [table "284" does not have that cell /]
.
It'd be wise to factor in an additional 10-15% for any bespoke ironwork that's needed when the tradesperson is installing your new banister and spindles.
Can I install new banister and spindles myself?
Although it is possible to install a new banister and spindles, it isn't recommended unless you have considerable carpentry experience. Work of this nature tends to be complex and requires an understanding of safety regulations. We suggest you find a professional tradesperson who can fit your new banister and spindles correctly. This will prevent further costs from catching you out in the future.
Depending on your requirements and budget, you may want to replace the entire staircase. If so, head on over to our new staircase cost guide for average UK prices.
FAQs

How long does it take to install a handrail?
It takes a professional tradesperson an average of 2-3 hours to install a new handrail. Problems with access or custom requirements will naturally increase the time taken, as will the need for prepping the staircase. All in all, the duration of the job will rarely exceed a day.
How do I change the spindles on my banister?
Spindle replacement is fairly straightforward for a specialist. First, the old spindles will need to be removed with a lever. If you are only replacing the spindles, it's critical that you do not damage the handrail in the process. Spindles will be cut at the correct angle before being glued and nailed into grooves about 6mm deep. If you need to replace the fillets (the pieces of wood between spindles), they will also need to be cut to size to fit neatly between each spindle, before they glued and nailed in to place.
How far apart should banister spindles be?
UK building regulations state that the spacing between spindles must be less than 4 inches or 100mm apart at their widest point to avoid potential accidents.
Whether you want to install new banister and spindles or have certain components replaced, use our search tool to connect with a professional tradesperson in your area.