Last updated on November 15th, 2022
New staircase cost guide
Whether you've just bought a new property that needs renovating or the stairs in your current home need an update, a new staircase can help transform a home. We've put together this new staircase cost guide to help you plan your budget.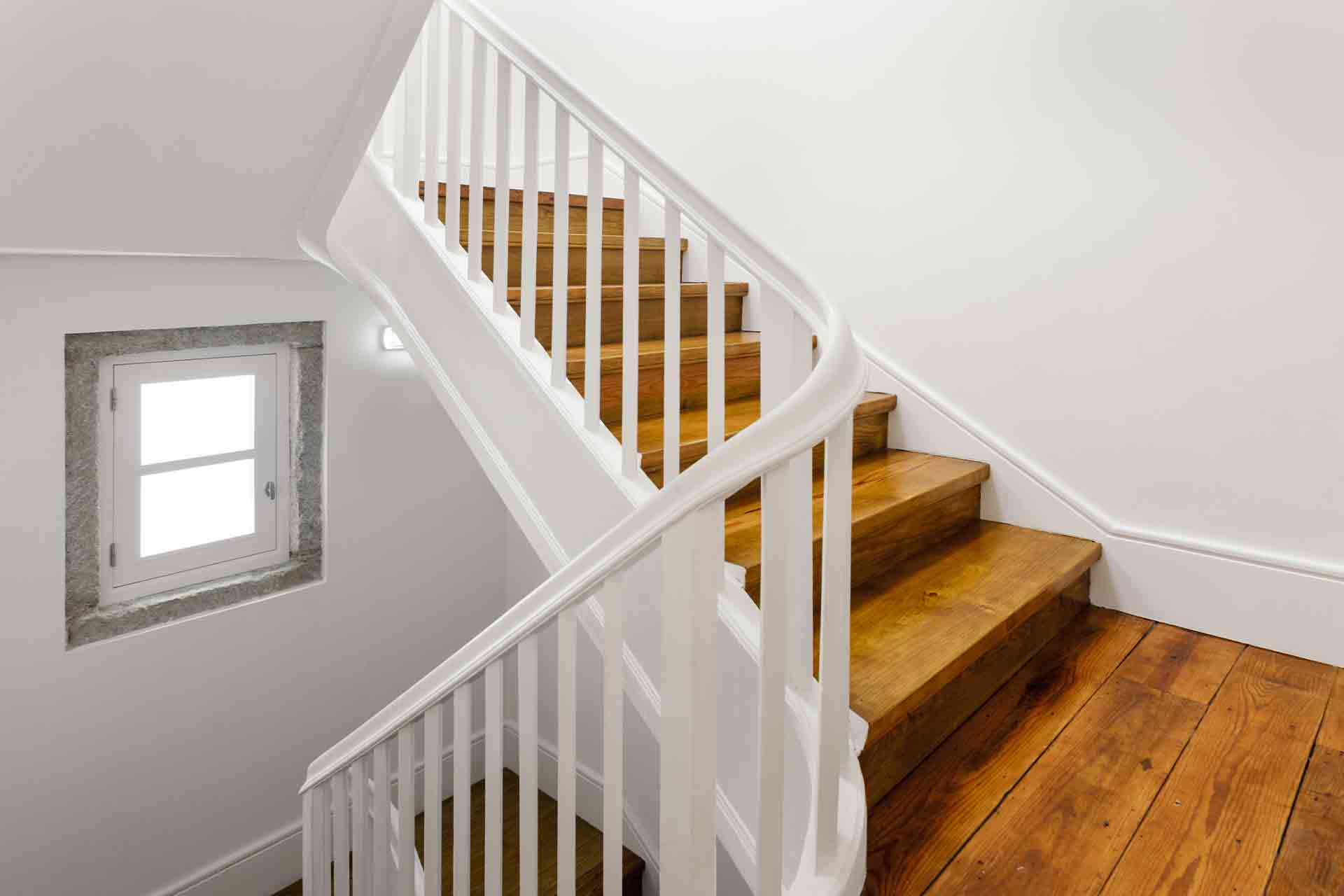 You may need to replace a damaged and unsafe staircase, or need access to a newly created mezzanine or loft conversion. Whatever the reason, the options for your new staircase are endless.
With a huge range of staircases that differ in size, shape, material and design – both standard and bespoke – you should be able to get exactly the staircase you want. But at what cost? Keep reading to find out much a new staircase could cost in the UK.
We spoke to the online estimators at My Build Estimate – a professional estimating company monitored by the Royal Institution of Chartered Surveyors (RICS). This guide features their estimated average prices for a new staircase.
How much does a new staircase cost?
The average cost for a new standard staircase in the UK is between £1,500 – £4,000. That includes the cost of building the staircase structure and installing it in your home.
| Staircase type (supply and install) | Range - Low | Range - High | Average UK cost |
| --- | --- | --- | --- |
| Average new staircase | £1,500 | £4,000 | £2,750 |
| Straight | £750 | £1,500 | £1,125 |
| Glass staircase (straight) | £5,000 | £25,000 | £15,000 |
| Half landing | £1,500 | £1,950 | £1,750 |
| Double winding staircase | £2,500 | £4,500 | £3,500 |
| Metal staircase | £2,500 | £9,500 | £6,000 |
| Spiral staircase (wood) | £2,500 | £15,000 | £7,500 |
| Spiral staircase (metal) | £4,000 | £17,500 | £10,000 |
| Oak staircase | £1,450 | £1,950 | £1,700 |
| Bespoke staircase high quality | £5,000 | £50,000 | £27,500 |
| Floating staircase | £20,000 | £80,000 | £50,000 |
The costs quoted in this guide do not include removing your old staircase, so remember to discuss this with your local staircase experts.
If you want a new bespoke staircase, you could be looking at a cost of anything from £5,000 – £50,000+. Due to the nature of bespoke staircases, the costs can vary massively. We always recommend discussing your new staircase project with a local tradesperson to get accurate prices.
See the tradespeople we've checked and recommend for your job
Factors affecting the cost of a new staircase
The build and installation of a new staircase is a common job, but the cost can vary quite considerably due to a number of reasons. Some of the most influential factors are:
Size and shape of the staircase
Type and quality of materials used
Overall complexity of the staircase design (specialist tradespeople cost more)
Access to the site
Any structural alterations needed
Removal of existing staircases
Decoration and staircase accessories
See the tradespeople we've checked and recommend for your job
Types of staircase
The type of staircase you choose will directly impact the price you pay, so it's worth considering style in advance to plan your budget.
Straight staircase prices
The most common type of staircase in UK homes is a standard straight staircase, which will cost an average of £750 – £1,500. It's generally considered the most straightforward to build and install, hence the price being at the lower end compared to other types of staircase.
Glass staircase cost
If you love clean lines and a modern aesthetic in your home, you might want to use glass for your stairs. It's a pricier option, with the average glass staircase cost ranging from £5,000 – £25,000.
Glass is often used in combination with wood or metal to provide a striking result. It also comes with the added bonus of letting light shine through, so can be a good option for homes with limited light.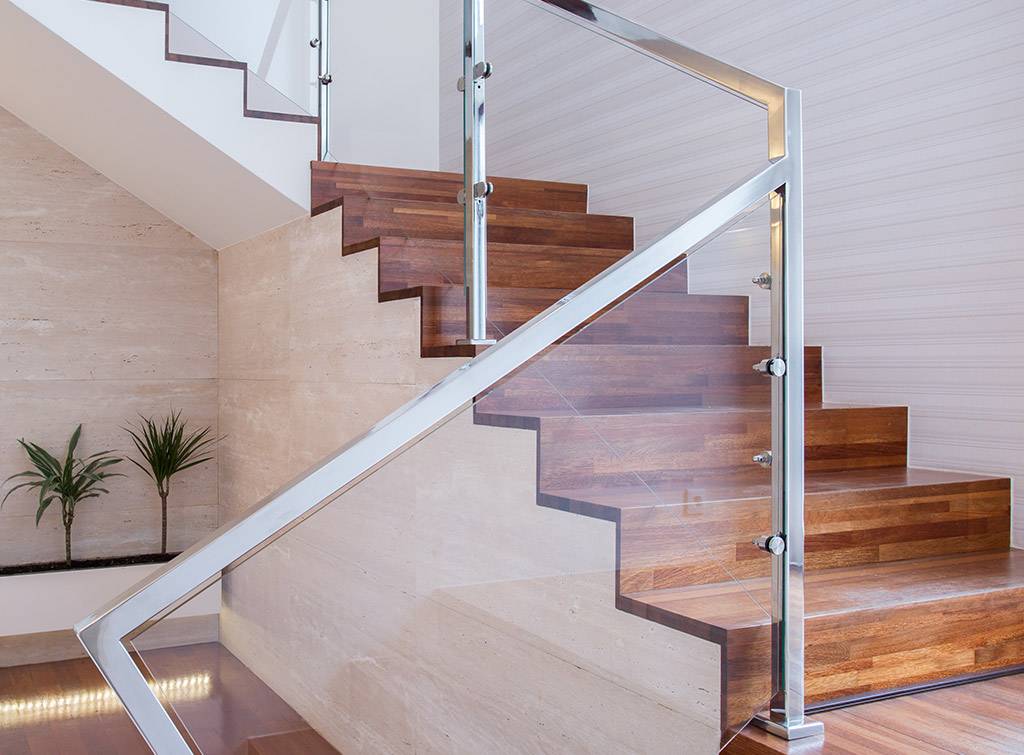 Oak staircase cost
Wooden staircases are hugely popular with British homeowners, and oak is up there as one of the top materials used for stairs. Depending on the size and shape of the stairs, you're looking at an average oak staircase cost of around £1,450 for a straight one-storey staircase. If you add a half landing that takes the cost up to about £1,950.
Floating staircase cost
A floating staircase, otherwise known as a cantilever staircase, is one of the more expensive options for your stairs. They're generally a bespoke design and the price will vary greatly depending on your individual design and fittings. The average floating staircase cost can range from £20,000 – £80,000.
One thing to note with a floating staircase is that there are certain criteria to adhere to in the UK. The rise for each step must be between 150mm and 220mm and the width must be between 220mm and 300mm.
Metal staircase prices
For homes with a more industrial aesthetic, a metal staircase can be a great option. The average metal staircase cost ranges from about £2,500 – £9,500. If you're planning a metal spiral staircase then the cost is higher at around £4,000 – £17,500.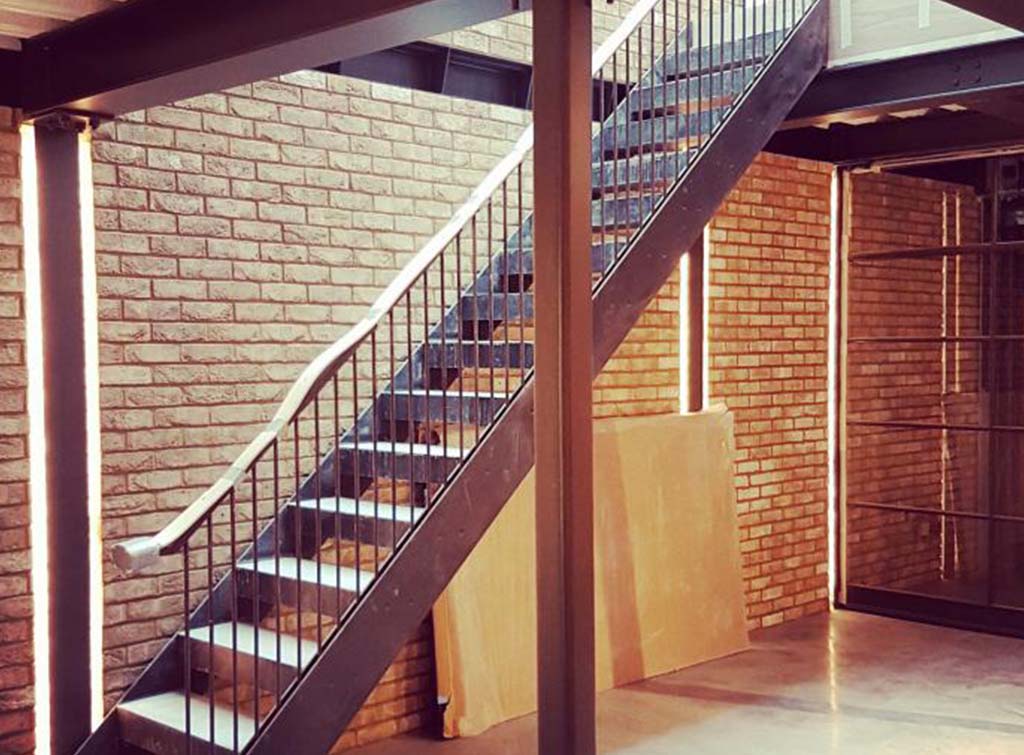 Spiral staircase prices
For homeowners who want to create a bit of a wow factor, or have mezzanine levels in their home, spiral staircases have become increasingly popular. Due to the range of styles and designs available the prices tend to range, but an average wooden spiral staircase can cost £2,500 – £15,000.
If you want a metal spiral staircase, the cost ranges from £4,000 – £17,500. To find out more about spiral staircases, check out our spiral staircase cost guide.
See the tradespeople we've checked and recommend for your job
Staircase installation cost
The installation cost for your new staircase will depend on the structure and design of the staircase itself. Specialist staircase fitters for more complex installations will naturally cost more. Also, you may need to factor in other tradespeople such as carpet fitters and general labourers.
| Cost provided item | Unit | Range - Low | Range - High | Average UK cost |
| --- | --- | --- | --- | --- |
| Carpenter | Per day | £125 | £375 | £250 |
| General builder | Per day | £140 | £340 | £240 |
| Carpet fitter | Per day | £140 | £340 | £240 |
| Labourer | Per day | £100 | £200 | £150 |
A carpenter will charge an average of £250 per day. General builders generally charge around £240 per day. If you need to hire a carpet fitter, they'll cost about £240 per day. If you need any general labourers, this will cost you in the region of £150 per day.
Can I install a new staircase myself?
Fitting a staircase is one of the more advanced home improvement jobs, so is generally not suitable for DIY enthusiasts. Having a safe and securely fitted staircase is extremely important so we recommend hiring a professional staircase fitter to do the work.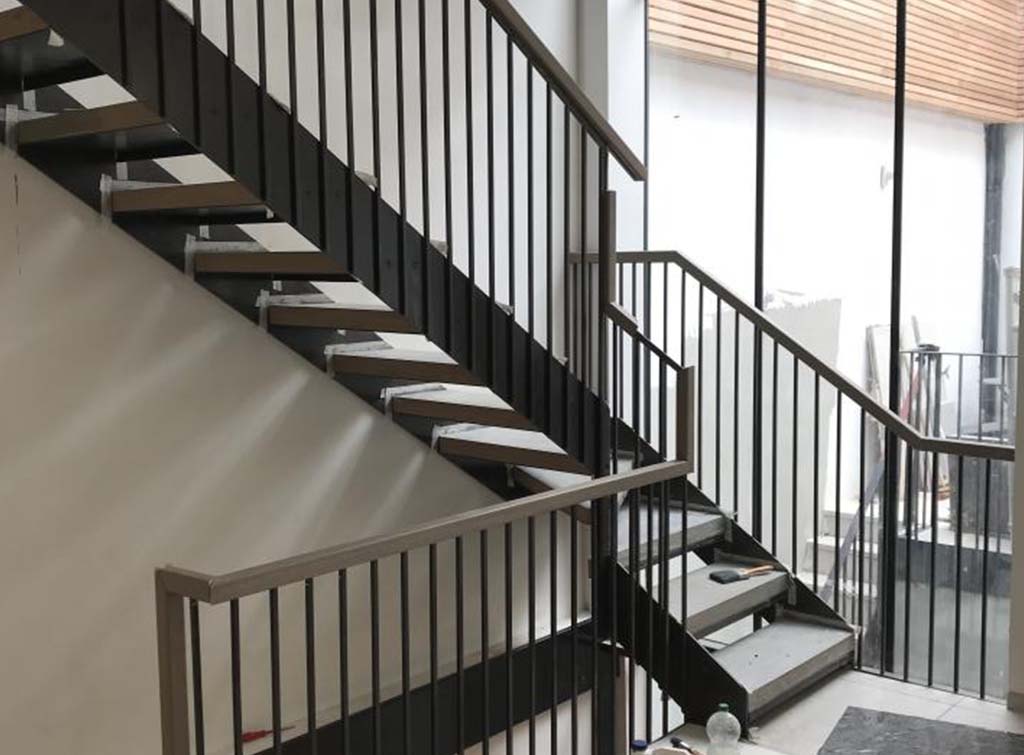 Are there special regulations for new staircases?
Yes. New stairs in the UK are subject to Building Regulations, which outline a number of specifications that the staircase must adhere to. And that's a great thing, as it's for our own safety that staircases are of a certain quality and structure.
The regulations govern the following:
Tread size and the distance between each step
Width of each tread
Distance between the balustrades
Minimum headroom
Angle of the stairs
The maximum length of the staircase without having a landing.
The fee for a Building Control Officer to inspect and approve your staircase is around £200. When planning your staircase project, it's worth checking with your local authority to discuss your plans and organise an inspection.
Useful staircase checklist
Check the space you have and research the options you have.
Speak to your local council to check regulations and fees for staircase inspection.
Contact local staircase experts for accurate prices.
Shop around for fair and competitive costs.
Always hire tradespeople who have experience building and installing staircase, and ideally with relevant qualifications or accreditations.