Last updated on July 6th, 2022
Cost to move stairs
Looking to switch up the layout of your home? You may be considering moving your stairs. Find out how much to budget for the project.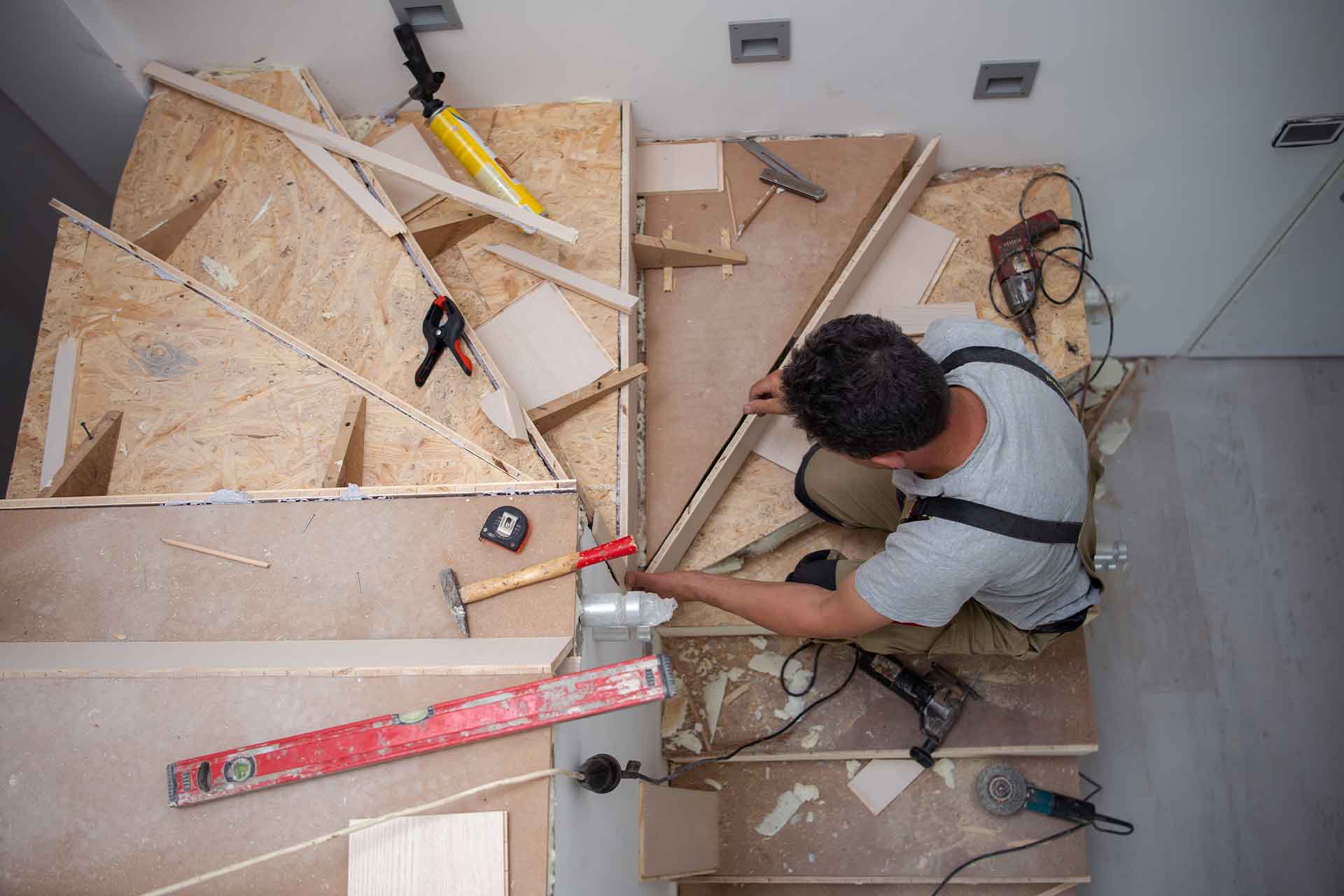 Moving your stairs can create a more open living space and if done well can mean extra light flow to your rooms. Incorporating a beautifully finished staircase can also be an eye-catching feature to increase the aesthetics and value of your home. But how much does it cost to move stairs?
For a breakdown of typical prices we spoke to the online estimators at My Build Estimate – a professional estimating company monitored by the Royal Institute of Chartered Surveyors (RICS). This guide features the estimated stair moving costs they provided.
Staircase moving costs
Cost + VAT
(Range low - high)
Average cost
Moving a staircase
£2,050 - £4,050
£3,050
New staircase (assumed softwood)
£250 - £4,850
£2,350
Labour to install a new staircase
£300 - £500
£400
Removing old staircase (labour and skip hire)
£200 - £400
£300
Handrail
£100 - £200
£150
Carpet for stairs (per m2)
£36 - £60
£48
Laminate for stairs (per m2)
£50 - £85
£67.50
Carpenter or joiner (per day)
£200 - £300
£250
General builder (per day)
£200 - £280
£240
Hire a 1.8m folding working platform
-
£39 per week
When estimating the cost of moving stairs, we have considered the following:
New staircases are assumed to be softwood. Other types of staircases will be more expensive.
No allowance for structural works.
No allowance for structural alterations.
No allowance for skimming, decorating, skirting or making good.
With the above in mind, the cost to move stairs can be broken down into three parts; the cost to remove the old stairs (£300), the cost of new stairs (£2,350) and the labour costs involved (£400). Please note if you are reusing the old stairs in a new location this will likely reduce the overall price.
The average cost to move stairs is £2,950.
Different materials used for staircases
Whether you are looking to change the layout in your home or are adding an extension, choosing the right material is a key step. Popular materials include:
Softwood: Often used for straight staircases, softwood is affordable and simple to work with.
Hardwood: More expensive than softwood, hardwood is strong but does require maintenance.
Metal: Metal is strong and durable. It is most commonly used with spiral staircases but can be quite noisy.
Glass: This material gives a modern finish and fantastic aesthetics but can be expensive.
Types of staircase
One of the best things about choosing a new staircase is the wide variety available, from decorative to practical. Depending on the new location, you'll need to choose a design that best fits the room. There are options to fit most spaces including:
Straight: By far the simplest and most common type of staircase, straight stairs are very popular and are usually quite affordable.
Quarter turn: A good option if you are looking to save space, quarter turn stairs are more visually appealing than straight stairs and increase privacy between floors.
Half turn: With a landing and resting space halfway up, half turn staircases fit well into structural designs and are popular in care homes.
Winding: Aesthetically stunning, winding staircases take up less space than other varieties and can be used throughout several floors.
Spiral: Usually constructed with metal, spiral stairs fit perfectly in small spaces and can incorporate complex designs.
See the tradespeople we've checked and recommend for your job
New vs replacement staircase
When moving a staircase, you have the option of transferring the old staircase materials or investing in a completely new staircase. When deciding whether to keep your current stairs or not, it is useful to consider the following:
Condition: If your current staircase is in poor condition it may not be structurally sound once it has been moved.
Style & size: Depending on the current style of your staircase and the shape of the new space you may have no choice but to choose a different style and size of staircase.
Updating: It may be possible to move your old staircase to the new location and give it an update with decoration and support so that it fits seamlessly into your new design.
If you do want a change, you should read our new staircase cost guide.
How long will it take to move stairs?
It is difficult to estimate the time required to move stairs, as simple straight designs will likely take 3 – 4 days but complex designs could take months.
Depending on the complexity of your new staircase you may need an architect to draw up plans, which will increase the time required. Another important consideration is the manufacturing time of a new staircase.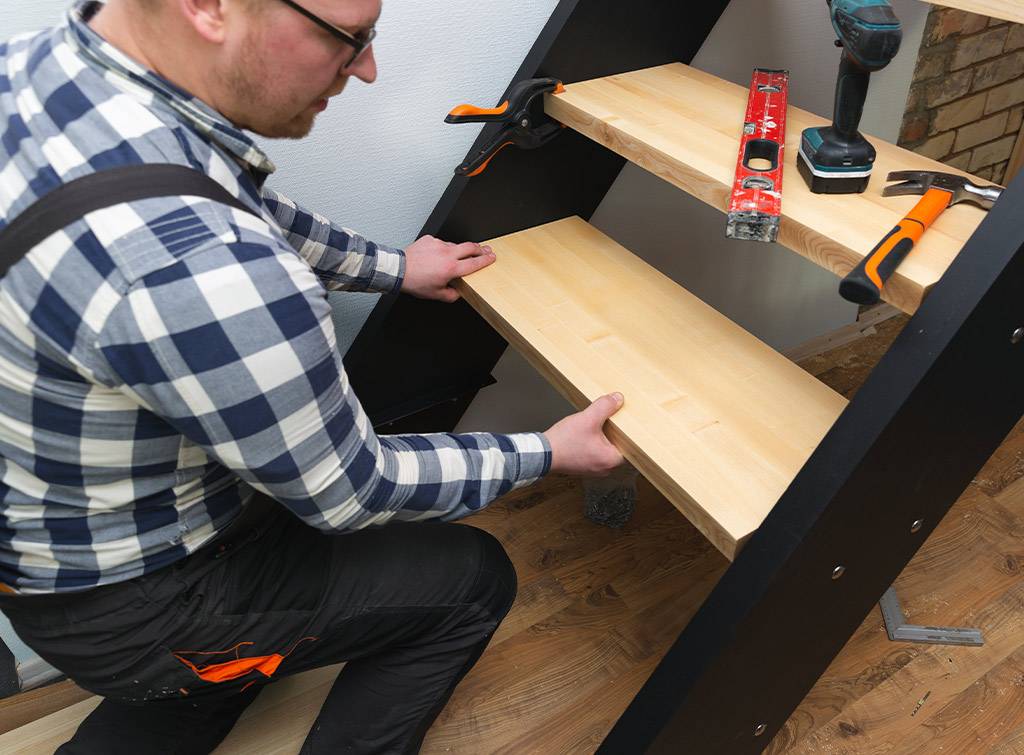 Factors affecting the cost of moving a staircase
Finish: Once the stairs have been moved, unless they are in pristine condition, you will likely need to pay for decoration which may include flooring, plastering and painting.
Style of new staircase: Each style or type of staircase will be priced differently.
Extra design features: Adding on extra features such as spindles, handrails, caps or turned posts can increase the overall cost of moving stairs in a house by up to 10%.
Ease of access: More difficult to access staircases will take longer to install and increase labour costs.
Scale of new staircase: Larger and more complex staircases will be more expensive than simple, small staircases.
Inspection by local building authority: This may be necessary with an average cost of £200.
Cost of changing staircase direction
Although you might think that changing the staircase direction would be easier than moving a staircase to a completely new spot in the house, this isn't necessarily the case.
Changing the direction of your staircase will undoubtedly require alterations to the floor the staircase is leading to. So, assuming it's a timber floor, it's best to hire a carpenter who'll have the knowledge and experience required to change the arrangement of the floor. A good carpenter or joiner will generally cost around £250 per day.
If your floor is made of a beam and block construction, you'll also need a competent builder for the work. You can expect to pay between £240 per day for a builder. You may also need to pay for a safety platform as changing the direction of your staircase will involve working at height. It's likely to cost around £39 per week per week to hire a 1.8m folding working platform.
Just remember: the cost of changing your staircase direction will vary depending on all the same factors as the cost of moving a staircase entirely. So, make sure you get a number of quotes before committing yourself to the work.
See the tradespeople we've checked and recommend for your job
FAQs
Do I need planning permission to move a staircase?
This depends on where you are moving the staircase to and what magnitude of structural work needs to be done. If you are simply replacing an old staircase you are much less likely to need planning permission than if you are installing a completely new staircase.
What are the building regulations for moving stairs?
There are strict regulations for staircases, and you should speak to a professional to ensure these are adhered to. In general, they cover areas such as dimensions, headroom, number of stairs before a landing is required and the angle of the stairs.
What extras will I need to pay for?
Once your new staircase has been installed you will need to pay for design extras such as flooring, painting and decorative touches. For example, the average cost of carpeting for stairs is £48 per m2, the average cost of laminate flooring for stairs is £67.50 per m2 and the average cost for a handrail is £150.
Can I move a staircase myself?
While it is certainly possible, it is not recommended you move a staircase yourself. If you are considering this, please read the following before proceeding:
When moving a staircase, measurements must be exact, even a tiny error will ruin the look and fit of your new staircase.
Moving a staircase can be complex and hard work.
No matter what type, style and size of staircase you choose, you must comply with building regulations as a legal requirement.
Kits are available online at a cost of £250 - £700.
It is very unlikely, unless you have training, that you will achieve a professional finish when moving a staircase.
If the staircase is not structurally sound and safe you are putting yourself and your family at risk of falling or worse.
To find a local, reputable, tradesperson in your area and get a personalised stair moving quote use our free search feature.
Useful stair moving checklist
Moving a staircase can completely transform and open up your living space.
There are many styles of staircase such as straight and spiral.
You may need to budget for extras in addition to the cost of moving stairs, such as flooring, plastering and decorating.
You may need planning permission and you must comply with building regulations.
It is not advised you move a staircase yourself, but kits are available to purchase.
See the tradespeople we've checked and recommend for your job