Spiral staircases can create a real feature in a home, as well as saving space. In this guide find out more about the average spiral staircase cost and start planning your budget today.
Whether you're replacing an old staircase, extending your property or you want to create a stylish focal point in a room, a spiral staircase can be a great addition to your home.
We spoke to the online estimators at My Build Estimate – a professional estimating company monitored by the Royal Institute of Chartered Surveyors (RICS). This guide features estimated average costs from them for spiral staircase installations.
How much does a spiral staircase cost?
Pricing for a spiral staircase varies depending on a number of factors, including:
| Spiral staircase costs | Range - Low | Range - High | Average |
| --- | --- | --- | --- |
| Wood spiral staircase (materials) | £1,000 | £7,500 | £4,000 |
| Metal spiral staircase (materials) | £1,250 | £9,500 | £5,000 |
| Labour | £1,000 | £2,000 | £1,500 |
Size of the staircase
Complexity of the structure (prices for bespoke curved/spiral staircase prices can be considerably higher)
Type and quality of materials
Access to the space
Region (spiral staircase installations cost more in some parts of the UK than others)
An average metal spiral staircase will cost you about £5,000. While a wood spiral staircase costs around £4,000.
In addition to the price of the spiral staircase itself (which can vary from £1,000 to over £9,500), you also need to factor in labour costs for the installation on top. Average labour for installing a spiral staircase is around £1,500.
In general, the prices at the lower end of the spectrum are for spiral staircases that are pre-made and can be bought off the shelf.
Find a staircase expert near you
Spiral staircase cost calculator
To calculate the cost of a spiral staircase, you'll first need to decide the size, style and material of the spiral staircase you want for your home. Once you know that you can find out the material costs of the staircase itself. On top of that, you then need to add the labour cost of both removing your existing staircase (if necessary) and then installing your spiral staircase.
To get accurate costs for your spiral staircase project, speak to local staircase specialists for quotes and a detailed breakdown of the costs involved.
Spiral staircase installation quote
We recommend obtaining at least three quotes from our trusted tradespeople. Our request a quote feature is perfect for getting quotes – you post details about the job you want doing and we'll send it out to local tradespeople in your area. Try it out!
Spiral staircase installation hourly rates
The cost of a spiral case is often quoted for the project as a whole, rather than with an hourly rate. You can expect to pay somewhere in the region of £1,000 to £2,000 for the labour of installing a spiral staircase, depending on the nature and complexity of the project.
Benefits of a spiral staircase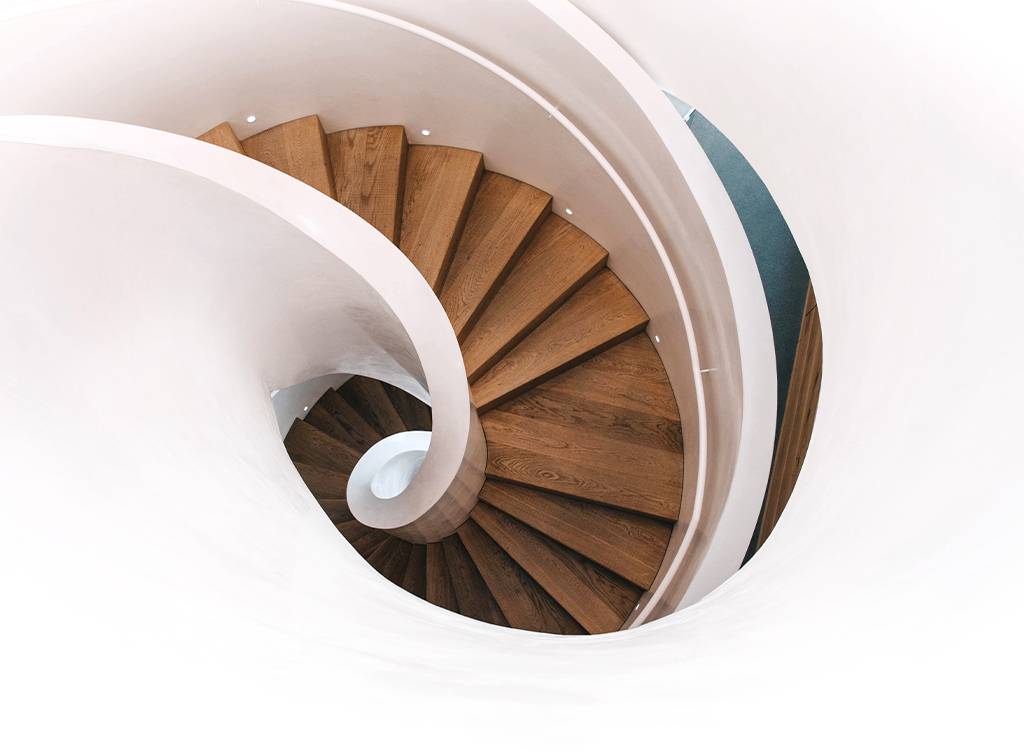 As well as being an affordable alternative to regular staircases, there are a whole host of other benefits of having a spiral staircase:
Saving space
Thanks to their steeper incline, spiral staircases generally take up a lot less space than traditional staircases.
More light in the room
With a less dense structure, most spiral staircases are designed in a way that means you can let in more light.
Can be installed (almost) anywhere
Spiral staircases are a freestanding structure built around a central column, so they don't rely on needing a wall for their positioning.
A stylish focal point
Who doesn't love the look of a spiral staircase? They look great and come in so many different styles that you can find a design to fit almost any home.
Types of spiral staircase
Once you've decided on a spiral staircase, you need to choose the type that suits the style of your home and your budget. The lo
Metal spiral staircases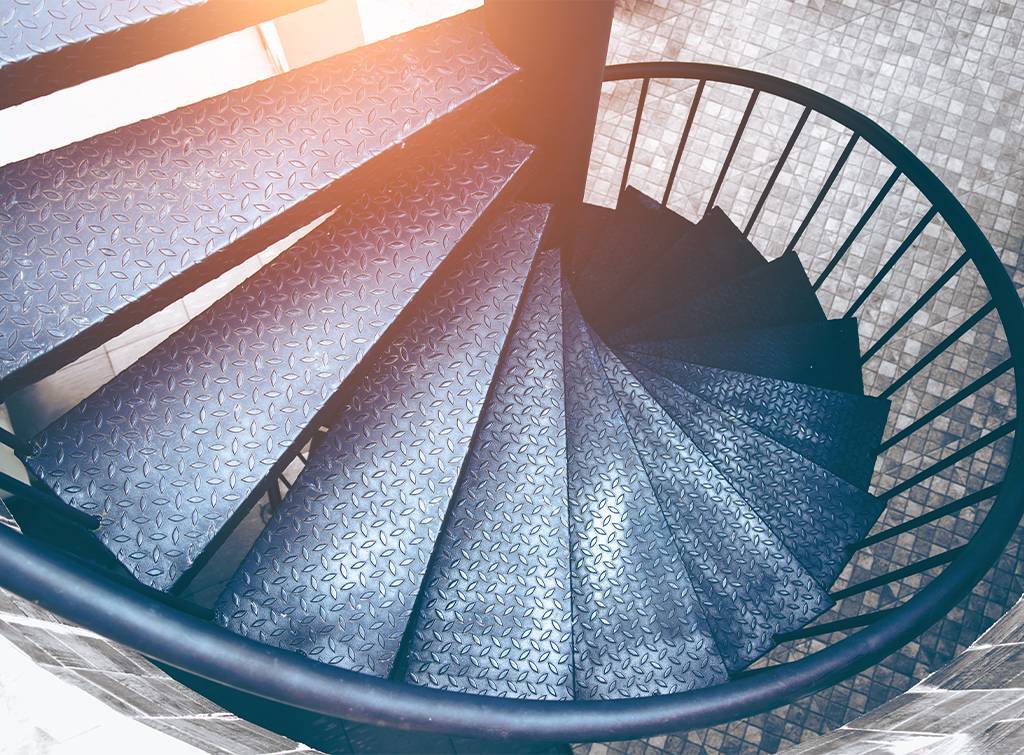 Metal spiral staircases tend to be the most popular style with British homeowners. Stainless steel and wrought iron are among the most common types you'll find.
Stainless steel spiral staircases
Generally a cost-effective option that also has lots of flexibility in the design, including decorative spindles and various handrail options.
Wrought iron spiral staircases
Wrought iron spiral staircases are the perfect addition to traditional or Victorian style homes. They are well-known for their ornate details and decorative balusters. They're often paired with wooden tread covers and a handrail to create a stylish effect.
Average metal spiral staircase cost: £5,000
Wood spiral staircases
Wooden spiral staircases come in a variety of styles, and generally give a more traditional look to your home; inside and out.
Average wood spiral staircase cost: £4,000
Glass spiral staircases
Glass spiral staircases can add an impressive wow factor to your home. Completely transparent steps will offer the most amount of light you'll get with any spiral staircase.
Outdoor spiral staircases
Spiral staircases aren't just suitable for indoors, you can also have specially designed outdoor spiral staircases. To withstand the elements of being outside, outdoor versions tend to be made from galvanized steel or are aluminum powder coated to avoid corrosion. Timber staircases are also popular for the garden.
Find a staircase expert near you
How long does it take to install a spiral staircase?
The time it takes to install a spiral staircase will depend on the size and complexity of the staircase itself. On average it should take 2 to 3 days. If the space is difficult to access or the staircase is complex to install then installation may take longer.
Additional costs to consider
In addition to materials and labour for the spiral staircase installation, there are other costs that you'll need to factor in:
Cost of removing your existing staircase (if there is one)
Finishing and decorating
Can I fit a spiral staircase myself?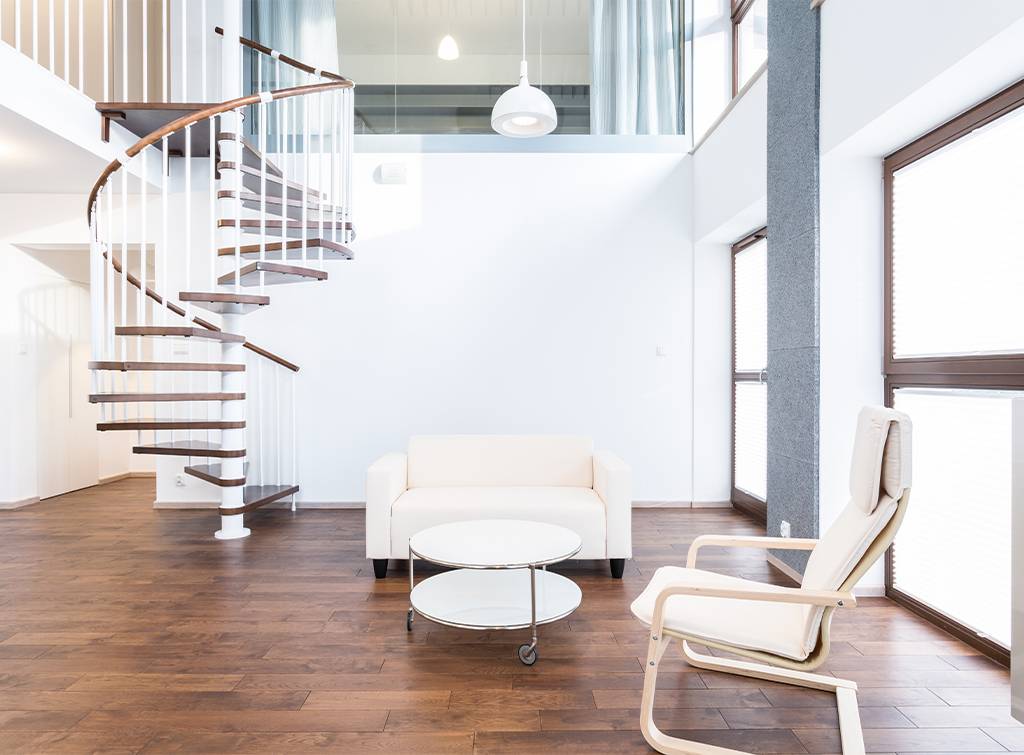 If you're a confident and accomplished DIY enthusiast you might want to save money by installing the spiral staircase yourself. You'll avoid labour costs but we'd always recommend consulting with a professional staircase installer first.
Ensuring the spiral staircase is installed safely and securely is extremely important. If in doubt, we highly recommend hiring a local staircase expert.
Useful spiral staircase checklist
Do your research and decide if a spiral staircase is the right choice for you and your home.
Speak with local spiral staircase experts to get advice and accurate pricing.
When choosing the style, make sure you choose a design that is in keeping with the rest of the space that it will be in.
When hiring a local spiral staircase expert, remember to shop around for fair and competitive prices, and always choose a tradesperson with proven experience and accreditations.
Find a staircase expert near you
Tell us what you think
What others think of this article:
Need More Information?
Related posts