Last updated on May 30th, 2022
How much does handrail installation cost in 2021?
Whether you're having a new staircase installed or you're replacing a damaged or old handrail, use this stair rail installation cost guide to help you make an informed decision.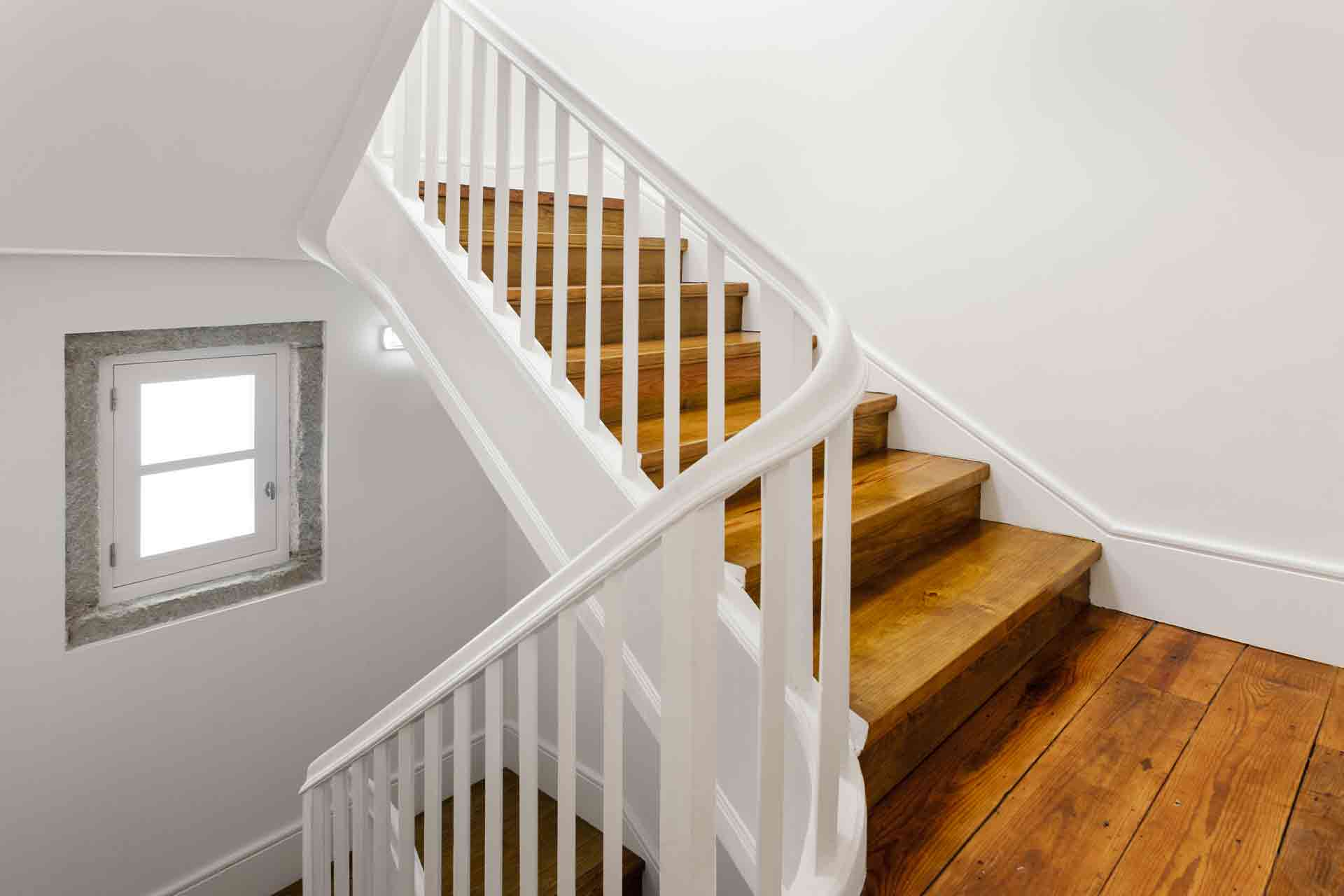 Handrails are handy safety features designed to offer stability and support while ascending and descending stairs. Most building regulations require a handrail to be fitted on at least one side of the stairs if they're less than a metre wide, but not on the bottom two steps.
The different types of handrail to choose from
Wooden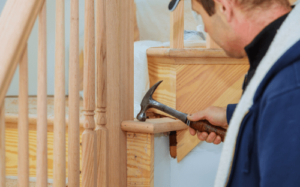 There are various types of wooden handrails available on the market. Some include softwoods like pine, cedar and redwood, or hardwoods like oak, maple or beech.
Metal
Metal handrails are most often seen on spiral staircases, where extra support is often needed. They can be made from iron, stainless steel, brass, copper or aluminium.
Composite
Designed to look like wood but with greater durability and lower maintenance, composite handrails are a popular cheap alternative made from a blend of PVS and recycled wood flour.
Factors affecting stair rail installation costs
| Cost provided item | Unit | Price range - Low | Price range - High | Average UK cost |
| --- | --- | --- | --- | --- |
| Installation of handrail (labour only) | Per day | £200 | £300 | £250 |
| Handrail for a standard 4m straight staircase (softwood) | Per project | £150 | £200 | £175 |
| Handrail for standard 4m straight staircase (hardwood) | Per project | £200 | £260 | £230 |
| Metal or composite handrail | Per lm | - | - | £200 |
There are various factors that affect the cost of stair rail installations, which include:
The overall size of the staircase
The complexity of the fitting, i.e. the number of corners or turns
The type of handrail requested
Any prep or finishing work required
Cost of handrail installations
To properly install a handrail and ensure its safety compliance, you will need to hire a professional tradesperson.
Carpenters, general builders, carpet fitters and labourers will all be able to offer their services, and you can expect to pay their day rates of around £200+ depending on your location. Note that the cost of the handrail isn't included in that cost.
See the tradespeople we've checked and recommend for your job
Cost of wooden handrail installation
Softwoods are the most commonly used material in staircase construction. They are often lower in price and work well for people on a budget looking for a simple design.
The cost of a 4m straight softwood handrail starts at around £150. And the stair railing installation cost will start at around £200.
Hardwoods are more durable and last longer than their softwood counterparts, although tend to sit at the pricier end of the handrail options. They're also better for more complex designs.
The starting cost of a 4m straight hardwood handrail is around £200. And the average hardwood stair railing installation cost starts at £200.
The cost is really dependent on your location and the complexity of the installation. So it's always best to get three quotes from our members, this way you can get an accurate installation price.
Cost of metal or composite handrail installation
Metal and composite handrails are the most popular choices due to their hardwearing natures. They can also be used for more elaborate and intricate designs, although don't share the same aesthetic appeal as hardwoods.
The cost of a metal or composite handrail starts from £200 per linear metre.
The stair railing installation cost will be anything from £200.
How long does it take to install a handrail?
Most handrail installations will take around two to three hours. However, if the job is more complex or the staircase is larger and needs prepping, the job can take a little longer (although shouldn't exceed a day).
Can I fit my own handrail?
Due to the need to adhere to building safety regulations, as well as the complexity of a lot of fittings, we don't recommend you install a handrail yourself. Instead, we suggest you find a professional tradesperson who can ensure your handrails are fitted safely and correctly. This will ensure your peace of mind and prevent further costs later on.
What are the benefits of installing a handrail?
Safety
Stair handrail installation is important to help prevent or stop a loss of balance that can result in a serious fall. Handrails also help you ascend and descend stairs more comfortably due to how we are naturally inclined to look for something to hold onto when going up or down steep inclines. In short, they put us at ease.
Aesthetic
There is an important aesthetic element to handrails when it comes to designing staircases and rooms. Having a handrail that fits with a theme or decoration can transform a living space. For example, winding or spiral staircases with matching handrails are very popular.
Key insights
Your handrail installation cost will depend on the time it'll take a professional to install. A typical day rate starts at £200, so this is the minimum you can expect to pay.
The average time to install most handrails is three hours.
Composite handrails offer more complex designs and are longer-wearing.
Always hire a professional to fit your handrails due to safety regulations.
See the tradespeople we've checked and recommend for your job