Last updated on March 31st, 2022
Cost to remove and replace a radiator
In the height of winter, we rely on our radiators to heat our homes. When the worst happens and they stop working, getting it replaced will be a matter of urgency. But how much will it cost?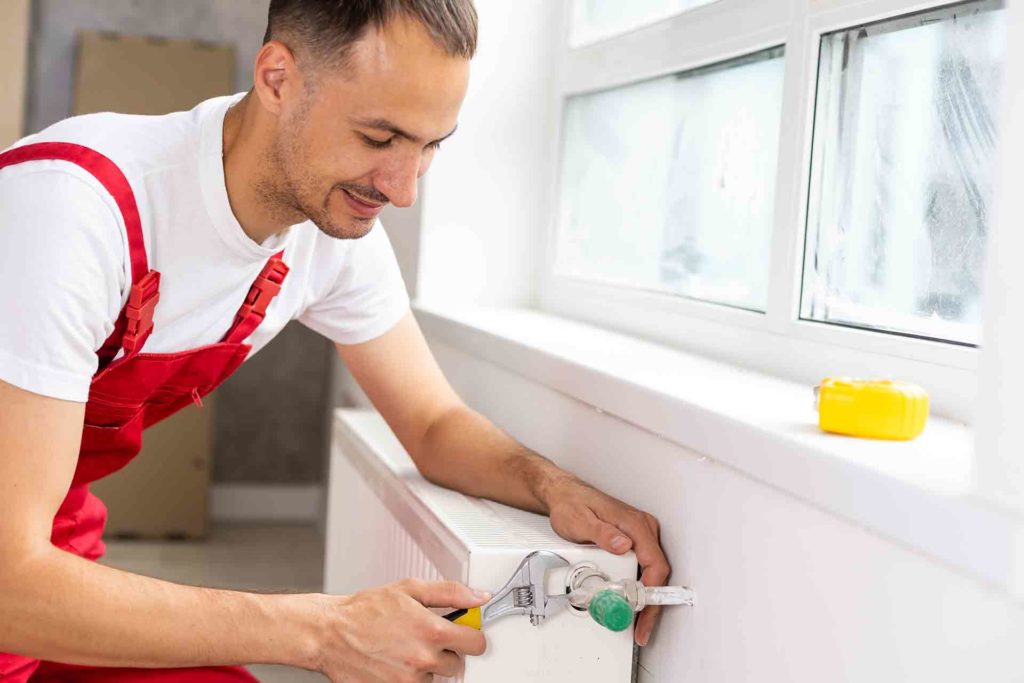 In this article, we'll cover:
For a plumber or heating engineer, replacing a radiator is a fairly straightforward task. For those with less experience in this field, DIY is not recommended. But what is the cost to remove and replace a radiator?
To help you budget, we've put together the following price guide packed with tips and advice to get you started. To get quotes from heating engineers recommended by your neighbours, use our free search tool.
Costs to remove and replace a radiator
Labour cost
The average cost to replace a radiator will typically sit at around £200 for a double panel radiator.
This price is based on the labour cost for a single engineer charging a day rate for their services. Inevitably, prices will depend on the size of the radiator and the complexity of the task. For example, if a considerable amount of pipework is involved or the job requires more than one tradesperson, the cost will usually be closer to £300.
| Job description | Timescale | Average cost |
| --- | --- | --- |
| Remove a small radiator | 1 hour | £80 |
| Remove and repair radiator | 1-2 hours | £125 |
| Remove and replace a double panel radiator | 1-2 hours | £200 |
| Replace a large radiator | 2 hours | £300 |
| Move a radiator | 2 hours | £275 |
What is the cost to remove a radiator?
A plumber will be able to remove a radiator for a cost of between £100-£150 and fix any leaks that may arise or identify any other issues if present.
If you need to paint behind your radiator while redecorating, you may be able to remove the radiator yourself. However, keep in mind that the older the radiator, the more likely you will need minor repairs as taking it off the wall could cause it to leak.
If you simply want to remove the radiator altogether, a plumber will usually charge around £80 for removal alone.
If you need to remove the radiator to flush the central heating system, your plumber will package up the costs into one quote, usually sitting at around £350 for six radiators.
Need to relocate a radiator?
The average price for this task tends to sit around £275.
Find a plumber your neighbours recommend
FAQs
Can I remove a radiator permanently?
Yes, but you will require the help of a professional. While they won't usually have to drain the central heating system, the pipes may need to be capped.
A plumber will typically close the valves at both ends and drain the water from the radiator before removing it from the wall.
Can I change a radiator without draining the system?
If you need to change valves on several radiators, your plumber will usually recommend draining the whole system first. If it's just the one radiator, this won't be necessary.
Should I replace 40-year-old radiators?
Over time, water in the pipes can start to cause the pipes to rust. After 40 years of use, there's a good chance your boiler has accumulated considerable debris known as 'sludge', which may be costing you in energy bills. The more rust, the harder your central heating system has to work to distribute heat.
If you suspect your radiators aren't working as well as they used to, it may be time to call in help from a professional heating engineer to take a look.
Can I remove and replace a radiator by myself?
For radiator replacement and removal, we do not recommend attempting this project by yourself. If you have significant experience or work in the trade yourself, you may be able to save costs on a DIY replacement or removal. If you have no relevant experience, a botched install could be a serious health and safety risk. Therefore, it is best practice to ask a professional tradesperson for help on radiator removal and replacements.
Use our search tool below to find professionals in your area.
Find a plumber your neighbours recommend
Good jobs, guaranteed
Get covered when you book with Checkatrade.