Whether you're looking to decorate behind it, removing a load bearing wall, or adding a door, there are many reasons to move a radiator. You can even improve the energy efficiency of your room by changing its location.
For a breakdown of each cost, we spoke to the online estimators at My Build Estimate – a professional estimating company. This guide features the average costs to move a radiator.
| Radiator moving costs | Unit | Cost+VAT (Range low - high) | Average cost |
| --- | --- | --- | --- |
| Move a central heating radiator | Materials and labour | £150 - £400 | £275 |
| Move an electric radiator | Per hour | - | £40 |
| Add a radiator | Materials and labour | £250 - £450 | £350 |
| Bleed a radiator | Materials and labour | £50 - £75 | £62.50 |
| Drop a radiator | Materials and labour | £100 - £150 | £125 |
If you're looking to remove and replace your radiator instead, then check out our guide to find out more about the costs involved.
How much does it cost to move a radiator?
The cost to move a radiator to another wall starts at £275.
If you're only moving the radiator a few inches this will bring the cost down as less new pipework will be needed.
Cost of moving an electric radiator
Electric radiators are far simpler to move, especially if they are plugged into a wall socket. Often moving them is as simple as unplugging them, choosing a location that isn't close to home furnishings and attaching them.
If the electric radiator is hardwired into the wall, or you'd like it to be hardwired in the new location, then it's recommended you hire an engineer.
Moving an electric radiator costs around £40 per hour.
Find a plumber to move your radiator
Cost of adding a radiator
If you cannot fit the old radiator in the new location then you can replace it with two smaller radiators in different places. Or, if your radiator is older and no longer efficient this may be a good opportunity to install a new radiator instead.
This will depend on whether your boiler has sufficient capacity and your heating system is suitable to cater for the additional radiator.
This occasion may also be the perfect opportunity to try the many new radiator designs and styles, such as using a vertical radiator to make better use of the space.
Adding a new radiator will cost around £350. This is based on a cost of £100 – £150 for the radiator.
Cost of dropping a radiator
If you only want the radiator to be removed temporarily and then put back in place, this can be done by 'dropping the radiator'. This is commonly done for painting and decorating jobs in order to paint or wallpaper behind the radiator.
There are two approaches to this. The first is to use rotating radiator systems, such as Rotarad, and safety wires to gently lower the radiator to floor level. This way it doesn't have to be completely removed but you can still access behind it for decorating. You will incur the extra one-off installation cost of the rotating radiator system but it makes any future decorating or dusting jobs much easier.
Alternatively, you can follow the same steps as in the 'cost of moving a radiator section' above and simply reinstall the radiator in the original location when you're done.
Temporarily removing (dropping) a radiator costs around £125 on average.
Find a plumber to move your radiator
Things to consider when moving a radiator
Type of radiator: Electric radiators are usually easier to move than central heating radiators, especially if they are plugged into a wall socket.
Radiator size: Be sure to measure your existing radiator so you have adequate space in any new location.
New position: Once you know the size of your radiator, you can find a suitable new location. Ideally, this should be in the coldest part of the room, usually under a window, and not be obstructed by furniture.
Check where water pipes are located: The further away you locate the radiator from the existing pipework, the longer installation will take and the more it will cost. This is because adding new pipework through floorboards or the ceiling is a time-consuming process.
Bleed the system: To bleed the existing system costs £50 – £75 and will remove trapped air to ensure it runs smoothly and that heat is distributed evenly.
Additional costs to consider
When the system is being emptied you may also consider the use of a magnetic filter trap. This is a great way to clean the system by removing sludge and debris to increase efficiency and reduce the risk of future malfunctions.
The condition of the walls in your existing and new locations should also be checked. There is the potential for damage to the existing wall, whilst the new wall location must be strong enough to support the radiator.
For example, attaching a radiator to a stud wall is very tricky and often requires adding additional timber battens to the vertical studs for support. This extra work adds to the time and material costs to move a radiator.
Lastly, you'll need to make good the walls and floor following completion of the work if adding or moving a radiator. If you've hired a professional there should be very little work needed for the floor, and in term of the walls, the holes will need to be filled and painted over.
Calculate the cost of moving a radiator
In order to calculate the cost of moving a radiator you'll need to factor in the size and type of radiator (the larger the radiator, the more it will cost to move) and where you're moving it to. If new pipework and additional installation work are needed to move the radiator, this will add to the cost. You also need to remember to include the cost of repairing the old location of the radiator – such as plastering and painting.
To get accurate prices for the job, speak to your local plumbers and ask for quotes with a breakdown of the costs involved.
Quotes for moving a radiator
We always recommend obtaining at least three quotes from our trusted tradespeople. Our request a quote feature is perfect for getting quotes – you post details about the job you want doing and we'll send it out to local tradespeople in your area. Try it out!
Hourly rates for moving a radiator
On average, a plumber charges £40 – £60 per hour – depending on the work involved. The rate you pay will also depend on the individual plumber, their experience, and where you live in the country. To find out more, check out our guide to plumber costs.
Find a plumber to move your radiator
FAQs
How long does it take to move a radiator?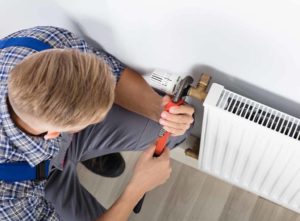 Moving a radiator takes around 1-4 hours, depending on the complexity of the job and the amount of extra pipework required.
Should I move a radiator myself?
It is highly recommended that a professional plumber be hired to move a radiator. If done incorrectly you run the risk of water damage or flooding, as well as damaging the radiator, heating system and walls.
What's the process of moving a central heating radiator?
Most radiators in homes are central heating radiators paired with standard or combi boilers. If this is the case in your home, then there is a tried and tested process for moving them:
Shut off the water and drain the radiator.
Protect the floor with cloths and towels in case of any residual water.
Loosen pipe connections and cap the pipework
Unbolt the radiator and remove the wall brackets (replace brackets in poor condition).
Install the brackets in the new location.
Attach the radiator in the new location, ensuring it is securely in place.
Install the new pipework or connect to the existing pipes.
Refill the system then check for leaks and correct pressure throughout the system. Use bleed plugs to get rid of any trapped air.
How do I choose a professional to move my radiator?
To find a local, reputable, tradesperson in your area and get a personalised cost to move your radiators use our free search feature.
Find a plumber to move your radiator
Key takeaways for radiator installation
Moving a radiator costs less for electric radiators than for central heating radiators.
The cost of moving a radiator to another wall is higher than moving it a few inches due to additional pipework being needed.
Adding a new radiator costs almost twice as much as moving an old one.
Jobs to temporarily remove a radiator for decorating work are priced lower than work to move radiators.
Tell us what you think
What others think of this article:
Need More Information?
Related posts