Last updated on October 4th, 2022
Central heating installation cost guide
A new central heating system is a big investment for any homeowner or landlord, and the price of installing central heating can vary depending on the type of boiler or heater, the number of radiators and other key components. It can cost anything between £3,000 - £7,500 to have central heating installed, depending on fuel source, boiler location and property characteristics.
Hiring Advice
Practical measures for preventing scams and choosing reputable trades
It's important to compare prices for heating systems and get a number of different quotes. It's also crucial to ensure you get a reputable, trained tradesperson to carry out the installation work.
Here, we'll look at the average costs of central heating installation for oil, electric and gas systems – so that you can choose the option that works for you and your budget.
| Cost of installing central heating | Lowest | Highest | Average |
| --- | --- | --- | --- |
| Oil system | £5,000 | £7,300 | £6,150 |
| Electric system | £3,230 | £4,350 | £3,790 |
| Gas system | £4,500 | £6,000 | £5,250 |
Central heating installation costs
The costs of fitting your new central heating system in your UK home will vary depending on the size of your property and the number of bedrooms, as well as how many heaters or radiators you need. You will also need to factor in the cost for any distribution pipework, which you can expect to pay £790 for a small house (100 m2) and £1,650 for a medium sized house (150 m2).
Central heating installation cost for a two-bed bungalow
For a two-bed bungalow, you'd be spending around £5,200 to install gas central heating. A gas boiler will cost around £1,000 - £1,800 for supply and installation. For the radiators, you could expect to spend around £900+ on parts and labour and pipework around £250+ for material and installation. We recommend allowing extra budget for any other costs that could crop up.
Central heating installation price for a four-bed two storey house
For a four-bed house, you can expect to spend around £5,000 for central heating installation. For a boiler and installation, you can expect to pay around £1,300 - £2,000. For a house this size, you'd need around ten radiators, which would cost you around £1,500 to install (including parts). You'd also need your pipework, which costs around £1,000 for supply and installation. For the water tank, you should expect to pay around £220. It's always best to keep extra budget for any extra parts that are needed and any extra work your engineer comes across.
See the tradespeople we've checked and recommend for your job
Oil central heating installation cost
Oil central heating systems are a suitable option for people whose properties aren't connected to the main gas grid. The fuel is heating oil, used to power the boiler which then heats the water for your radiators and the hot water for your taps.
The benefits of installing oil central heating include:
High efficiency of fuel
The opportunity to stock up on oil when prices are lower
A heating option for homes not connected to mains gas
However, there are also potential drawbacks to consider:
Oil prices can fluctuate
Modern condensing boilers are much more efficient
The fitting of oil heating systems can be expensive
A chance of running out of oil if delivery is impossible (i.e. due to bad weather)
Oil fired central heating cost calculator
Taking the average size of property – a three bedroom semi-detached house in the UK – that has 10 radiators of varying sizes, it can cost on average £6,150 to completely install an oil fired central heating system.
This cost includes a new boiler at £2,000, all pipework and radiators at £2,000, and labour at £1,000. If you only need a new oil fired boiler, then the average cost of oil fired central heating installation will be around £3,000.
It goes without saying that each oil fired central heating installation will be different, so it's wise to get an accurate quote for your property from a professional tradesperson.
Electric central heating installation prices
Electric heating is another option for properties without access to the mains gas network. The most popular system involves night storage heaters, which store electricity obtained at night-time when prices are cheaper. The stored heat is then used to heat the property throughout the day.
Modern storage heaters now come with thermostats and features such as remote wi-fi controls and programmable timers. You can also buy high heat-retention storage heaters, which are designed to be more efficient than previous kinds.
The pros of electric heating systems include:
Storage heaters are cheap to install
Heaters require little maintenance
A heating option for homes without access to mains gas
But like other systems, there are disadvantages to consider too:
Electricity can be much more expensive than gas
You could face delays and a cold house if your heating hasn't been switched on
Gas central heating installation cost
This is the most common heating system in the UK. Gas from the mains network is the fuel that powers your condensing boiler, which then heats water for your radiators and hot taps.
There are quite a few advantages of installing a gas central heating system, including:
A high level of fuel and boiler efficiency, making it cheaper to run
It's straightforward to replace a boiler if you need to
There's no need to store gas if you're connected to the main network.
But there are drawbacks too, such as:
Expensive to install a full gas heating system from scratch
Boilers need regular servicing
Gas prices are affected by global market fluctuations
Gas is a fossil fuel – so it isn't the most eco-friendly option
See the tradespeople we've checked and recommend for your job
Central heating installation cost calculator
When calculating your central heating installation costs, there are several factors that you need to consider. The most important is the size of the house and the number of rooms. This will affect the size and capacity of the boiler. That, in turn, will affect its price. You will also need to take into account the boiler brand and make, as that will also have an impact on the price.
You will also need more radiators for a larger number of rooms. In fact, you may need more than one radiator in very large rooms. The more radiators you buy and install, the more you would need to pay.
Finally, you will also need to install pipework for heat distribution. You'll need less pipework for a smaller property.
As a result, you'll pay less in central heating installation costs for a smaller house.
Central heating installation quotes
If you're planning to get central heating installed in your home, you need to get installation quotes. For the most competitive rates, you should get quotes from at least three different companies. This way, you'd be able to get competitive prices along with the service you need.
To get your central heating installation quotes, you could also use our request a quote feature. Simply enter details about your job and we'll send it to tradespeople near you.
See the tradespeople we've checked and recommend for your job
FAQs about central heating installation cost
Which heating system is the cheapest to run?
Gas is usually considered to be the most cost-effective heating system compared to oil and electricity. However, it may not be an option for properties not connected to the mains network.
Who should install my new heating system?

It's essential to use a fully qualified, registered central heating engineer, no matter which heating system you choose.
What other central heating options are available?
Oil, electricity and gas aren't the only heating options out there. You can also look into renewable sources of energy to heat your home, such as solar panels, biomass heating and ground/air source heat pumps.
See the tradespeople we've checked and recommend for your job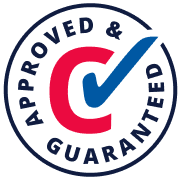 The Checkatrade guarantee
When you contact a trade through Checkatrade, our guarantee could cover you for up to 12 months. You can claim up to £1,000. Exclusions and T&Cs apply.