Making the most of awkward spaces and creating a stylish look and feel are just two of the benefits of installing fitted bedroom furniture in your home. To help you plan your budget we've put together this guide to show you the average cost of fitted bedroom furniture.
The beauty of any fitted furniture is that there is a wide variety of styles and designs available, with options for all tastes and budgets. In this guide, you'll find average fitted bedroom prices in the UK, as well as information about the factors that will affect the cost of your fitted bedroom.
Whether you're planning a bedroom makeover to enjoy a fresh new look, or you're renovating to sell your home, planning your fitted bedroom is important in order to understand what you want and how much it will cost.
| Item | Range - Low | Range - High | Average cost |
| --- | --- | --- | --- |
| 3-door standard fitted wardrobe | £2,800 | £3,600 | £3,200 |
| 3-door sliding door fitted wardrobe | £2,500 | £2,800 | £2,650 |
| 6-door wide fitted wardrobe | - | - | £4,800 |
| 2-section custom built fitted wardrobe | - | - | £3,200 |
| Carpenter labour (per day) | £200 | £250 | £225 |
What's the average cost of a fitted bedroom?
The cost of fitted bedrooms can vary considerably as they're made to measure to provide you with a set of built-in furniture that perfectly fits your home. That said, an average fitted bedroom will cost you around £2,500 – £3,000.
Obviously the larger the bedroom and the more fitted furniture you want, the higher the price you'll pay. In general, the main factors that will affect the cost of your fitted bedroom are:
Size of the room
Amount of fitted furniture
Materials and quality of the finish
The complexity of the room layout
Additional fixtures and fittings (e.g. special mouldings, integrated lighting, etc).
Average labour cost for a fitted bedroom
The cost of materials for the fitted bedroom units will be the main cost of the project. However, it's important to remember that you'll have labour costs on top of that.
The average cost of labour for the installation of a new fitted bedroom is about £225 per day.
The amount of time it takes to carry out the installation will depend on the size and complexity of the built-in furniture you choose.
You'll also need to check with the professional fitted bedroom installer whether they will dispose of any old furniture as part of the price, or if that comes as an additional cost.
Find a bedroom fitter near you
What are the benefits of a fitted bedroom?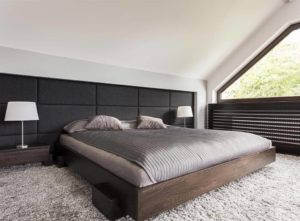 Installing fitted bedroom furniture can bring a string of benefits that make the project more than worth the price you'll pay.
Fitted bedrooms make use of all space, especially in homes with particularly small or large rooms that can often provide challenges for furnishings. Benefits include:
Organise your belongings with ease by installing internal storage units that suit your style and cater for your needs.
Add value to your home with quality fitted bedroom furniture that both looks good and improves day-to-day life in the house.
A cohesive look and feel is easily achieved in rooms of any size, creating a more elegant, well-designed effect.
Styles available for all tastes and budgets so you can always find fitted bedroom furniture to suit your home.
Types of fitted bedroom furniture
The main item that people think of when they discuss fitted bedroom furniture is the built-in wardrobe. As the largest, and often most expensive, element it's the one that will most affect the overall cost of your fitted bedroom.
In addition to fitted wardrobes, there are also a number of other pieces of built-in furniture that you might want to consider the prices of your fitted bedroom:
Over-bed storage
Corner units
End tables
Dressing table
Desk
Bookshelves
Bedside units
Find a bedroom fitter near you
Types of fitted wardrobe
As fitted wardrobes make up the majority of most fitted bedrooms, it's important to know the costs of the different types of wardrobe available to you.
As with all costs in this guide, the prices shown are average for fitted bedroom wardrobes in the UK and can vary depending on size, style and supplier.
Hinged door wardrobes
Many British homeowners opt for the traditional hinged door style for their fitted bedroom wardrobes. One of the main attractions of fitted wardrobes with standard hinged doors is the range of options available for their door designs, mouldings, drawers, and columns.
On average, a standard 3-door fitted bedroom wardrobe will cost in the region of £2,500 – £2,800.
Average 3-door fitted bedroom wardrobe cost: £2,650
Sliding door wardrobes
Fitted wardrobes with sliding doors are perfect for any bedroom, but particularly those short on space. Not only do they save space by not opening outwards, but also many come with full-fronted mirrored doors that create a visual effect of increasing the size of the room.
Depending on the size, layout, material and finish, fitted bedroom wardrobes with sliding doors will cost around £2,800 – £6,600.
Average 3-section sliding fitted bedroom wardrobe cost: £3,200
Extra wide wardrobes
For homeowners lucky enough to have space in large bedrooms, you'll need to install extra-wide fitted wardrobes. Most commonly those will be 6-door built-in wardrobes that range in price, usually around £4,800.
The overall cost will depend on the height and width of the wardrobe, as well as the internal layout and the exact style and quality of finish that you choose.
Average 6-door wide fitted bedroom wardrobe cost: £4,800
Useful fitted bedroom checklist
Before you start planning, decide roughly how much money you want to spend as this will affect the style and quality of finishes you can afford.
Speak to local fitted wardrobe experts for professional advice and ideas for your space.
Clearly identify the bedroom characteristics (size, shape, layout, quirky features and irregular spaces, etc) so that you know what you're dealing with.
Consider using units that make the most of every space, such as over-the-bed unit or corner wardrobes.
Think outside the box when it comes to storage and consider options that will work for you and your belongings, e.g. long hanging space for full-length garments or built-in shoe racks.
When hiring a professional tradesperson, always shop around for fair and competitive prices.
Always choose a local professional with experience in installing fitted bedroom furniture.
When asking for quotes remember to clarify if removing old furniture is included in the price, if necessary.
Find a bedroom fitter near you
Tell us what you think
What others think of this article:
Need More Information?
Related posts