Last updated on March 31st, 2022
Walk-in wardrobe cost guide
Design your dream wardrobe with our handy walk-in wardrobe cost guide. Discover the benefits, costs, and fantastic features available.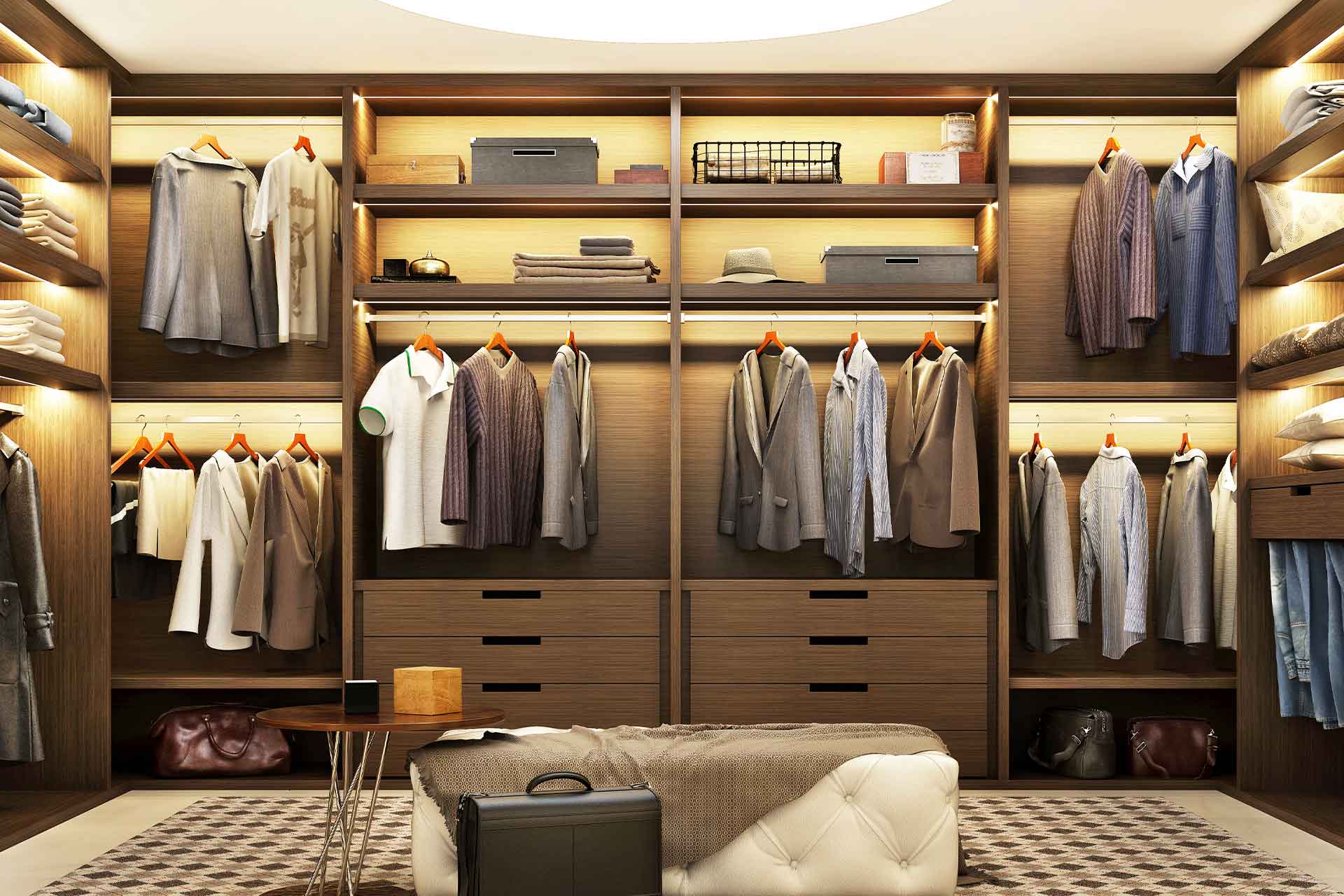 A great way to organise your clothing and accessories is to install a walk-in wardrobe (or closet if you prefer). Not only will this keep your belongings looking their best, but every item will be visible and easy to quickly access.
A dream for organisation lovers, walk-in wardrobes can be customised to your exact needs and can be fitted into surprisingly small spaces. As well as having the wow factor, these small wardrobes can maximise storage and even increase property values.
If you are considering embarking on this exciting journey, read on to discover benefits, essential considerations, walk-in wardrobe space, costs and other key information.
How much does a walk-in wardrobe cost?
Walk-in wardrobe costs
Cost + VAT
(Range low - high)

Average cost
Walk-in wardrobe price
£5,600 - £11,500
£8,550
Labour - per hour
£20 - £25
£22.50
Removing an old walk-in wardrobe
£200 per day
If you have a large collection of clothing and accessories with little storage, it may be time to invest in a walk-in wardrobe (or closet if you prefer). These wardrobes take up less space than you think and are an excellent option as long as you have a space that exceeds 1.5m by 2.5m.
The cost to fit out a walk-in wardrobe ranges from £5,600 – £11,500 with an average price of £8,550.
Cost to fit out a walk-in wardrobe
If you are unable to install a walk-in wardrobe in one go, it may be more cost-effective to take it in stages. Starting with the removal of your old wardrobe with an average price of £200, then you may choose to pay for your walk-in wardrobe piece by piece.
As well as the cost of materials for each component of your wardrobe you should expect to pay an average of £22.50 per hour for labour.
Common walk-in wardrobe features
In order to create the perfect walk-in wardrobe suited to your needs, it is essential to carefully plan how you will fill every inch of space. The following are the most popular storage solutions:
Hanging space: You should leave plenty of space to hang clothing, so it does not drag on the floor.
Drawers: Perfect for any items you do not want to be on show, such as expensive jewellery, underwear or ties.
Shelves: A great opportunity to display accessories and clothing, shelves are perfect for bags, shoes or even knitwear.
Vanities: If you have the space you may wish to dedicate a portion of your walk-in wardrobe to a dressing table and chair or stool.
Lighting: When properly installed, lighting can enhance a walk-in wardrobe and illuminate your belongings. Lighting is also useful if your walk-in wardrobe will be used as a separate dressing room from your bedroom, so you are still able to see when the door is closed.
Safes: Any valuable or personal items should be properly protected. Safes offer security and peace of mind when installed in a walk-in wardrobe. If you are considering installing a safe, please read our safe installation cost guide.
Space and other benefits of adding a walk-in wardrobe
Not only do walk-in wardrobes add value to your home, but they offer a wealth of other benefits too:
Extra storage space: With the addition of extra features (as detailed above), your walk-in wardrobe can neatly and efficiently store all your belongings.
Custom organisation: If you are lucky enough to have a large space, it is worth investing in a custom-built walk-in wardrobe. This gives you the freedom to create the perfect organisation system for your requirements.
Privacy: Walk-in wardrobes make excellent private spaces for changing and help to hide your valuables from potential thieves.
Ease of access: With all your belongings beautifully displayed it is quick and easy to select what you need. You may even rediscover clothing you'd forgotten all about.
Keeping clothes and accessories looking their best: When your clothing and accessories are properly stored, they will remain in great condition for much longer than if they were shoved into a crowded chest of drawers.
Factors affecting the cost of walk-in wardrobes
Taking into account all the options available to create your perfect wardrobe, it is not surprising that walk-in wardrobe prices can vary widely. The following factors will impact the amount you pay:
Materials: Common materials used are MDF, oak or other types of hardwood, each of which will be priced differently.
Size of wardrobe: Larger wardrobes take longer to build and require more materials, as such will cost more overall than smaller wardrobes.
Layout of the wardrobe: Depending on the layout you need, e.g. drawers, shelves or hanging space, the walk-in wardrobe cost you pay may be at the lower or higher end.
Shape of the space: Awkwardly shaped spaces require more custom-built elements, so will be more expensive than standard sizes.
Added ventilation or heating: Although adding ventilation or heating will cost extra it can be important to ensure your items stay in perfect condition.
Added features: Lighting, safes, vanities, ladders and other features will enhance your walk-in wardrobe but will be charged at a premium.
Finish: Once your wardrobe has been installed you may wish to plaster, paint or add flooring to the new space.
The condition of the current space: If the current space is in poor condition and needs to be renovated before installing the wardrobe, this will incur extra costs.
See the tradespeople we've checked and recommend for your job
Walk-in wardrobe installation: can I do it myself?
Although it is possible to install a walk-in wardrobe yourself (especially using flat-pack kits), it's not a recommended job for the following reasons:
All measurements must be accurate otherwise the wardrobe and its fittings will not properly fill the space.
It may be hard to fit wardrobes in awkward spaces without professional help.
It is not wise to work with electrics (for lighting etc.) without the assistance of an electrician.
If the wardrobe is not installed carefully and correctly it could be a safety hazard, causing injury to yourself and damage to your belongings.
We would recommend hiring a professional. To find a local, reputable, tradesperson in your area and get a personalised walk-in wardrobe installation quote use our free search feature.
FAQs
What other alternatives are there to walk-in wardrobes?
Depending on your available space and requirements the following may be good options instead of a walk-in wardrobe:
Hall closets
Reach in wardrobes
Linen closets
Fitted wardrobes
Bespoke closets
What walk-in wardrobe flooring options are there?
Once you have spent time and money to achieve your perfect wardrobe, you may wish to complete the space with one of the following flooring options:
Useful walk-in wardrobe checklist
Walk-in wardrobes give extra storage, great custom organisation options and help to maintain your clothing and accessories.
Storage options include drawers, shelves and hanging spaces.
The cost of walk-in wardrobe installation is affected by many factors, including the wardrobe's size, the layout of the wardrobe, and the addition of extra features.
It may be possible to install a walk-in wardrobe yourself, however, you will likely not achieve a professional finish and if not done correctly, you risk injury to your family and damage to your items.
See the tradespeople we've checked and recommend for your job