Built-in wardrobes combine style and practicality to create effortless bedroom storage. With the huge range of built-in wardrobe ideas to choose from, including readymade and bespoke, it's easy to get overwhelmed.
Fear not, we've simplified the process by picking out a range of awesome built-in wardrobes that we've seen. We've even covered the four considerations you need to make before you embark on your quest for the perfect storage solution.
8 built-in wardrobe ideas – Fitted designs and space-saving trends
Built in wardrobes with a splash of colour
Teal is back in style!
As one of the top 2023 colour trends, why not incorporate this freshwater shade into your fitted wardrobe design?
We love this wooden made-to-measure example. With cottage-style handles, vertical slats and some handy middle shelves, it fits seamlessly with the slanted ceilings of this rustic loft bedroom.
We can really imagine this one being in a lovely country cottage, right at home. And it's even a great built-in wardrobe idea for those of you who either lived in the country previously or love traditional decor vibes with a zing of modern design; it acts as a little reminder and nod to your country/traditional routes and taste.
Fitted wardrobes with sliding doors
Boho meets Scandi with this gorgeous bedroom decor.
The modern sliding doors of this fitted wardrobe complement the room perfectly, with their light and bright aesthetic. Almost invisible to the naked eye, allowing the rest of the Boho and Scandi decor to really stand out.
The slick, clean built-in wardrobe doesn't look out of place against the brick work or duvet. It actually elevates the other interior design.
See the tradespeople we've checked and recommend for your job
Clever built in wardrobe storage ideas
Whether you choose an open or closed design, the layout of your fitted wardrobe is worth some serious consideration. Especially when you're considering built-in wardrobe storage ideas.
Be sure to make enough room for your clothes, accessories, shoes, bags, hats and any other items.
Take out a tape measure and work out some rough dimensions to save you from having to change the design at a later date.
And if you don't trust your own measurements, don't worry, for bespoke wardrobe designs someone will usually come out to survey your room.
Fitted wardrobe ideas for small bedrooms
Simple, slick and flush. This modern fitted wardrobe idea is there for practicality. It doesn't detract from the room at all, it perfectly fits – not only into the space, but the general feel of the decor.
Some of us don't want wild colours, we may be looking at the practicality of a built-in or fitted wardrobe, and that's fine!
Square footage is important when considering what built-in wardrobe works best for you.
For smaller bedrooms, light or mirrored wardrobes work well. We also suggest sliding doors to avoid them opening out into your bedroom and taking up unnecessary room.
See the tradespeople we've checked and recommend for your job
Bright fitted wardrobe design ideas for interesting angles
From simple and sleek to this bright stylish look. Clashing textures for your bespoke wardrobe can really make an impact on your room's look and feel.
This wooden example is perfect because it uses the same materials but switches up the design and textures to create interest.
The light yellow works well with the warm wood, creating a French Country glow. The clashing duck egg duvet cover is a perfect finish, breaking up the warmth with a cooler tone.
Space-saving fitted wardrobe ideas
We love this modern wardrobe example with fitted sliding doors. The mirrored panels open up the bedroom and let the other furniture take centre stage.
This is only suitable for those who don't need much storage space unless there's a secret room behind those doors that becomes a walk-in wardrobe.
A 'small' built-in wardrobe idea doesn't necessarily mean scrimping and scraping on space. Especially in this case – it's a small wardrobe idea but the size of the wardrobe and the mirrored doors make the room look even bigger!
Open wardrobe storage ideas
Open wardrobes are for those who are neat and tidy, or those who don't mind a messy-chic look.
If you fall into the latter, then matching hangers, storage boxes and folding skills are non-negotiable. These little touches go a long way and create a Marie Kondo vibe.
We also recommend you utilise the entire storage space to avoid aesthetic voids.
See the tradespeople we've checked and recommend for your job
Built-in wardrobe ideas for children
When choosing fitted wardrobes for a brightly coloured room, you may be looking to tread carefully when it comes to the material and colour of your wardrobe.
This may not be a children's rooms, but imagine it is with the bright decor – practicality is key. This bright and fun space is full of colourful furniture and accessories, with the fitted wardrobes keeping everything mess-related out of the way.
Built to fit seamlessly into the room, they're almost invisible to the naked eye.
And that's the end of our built-in wardrobe ideas!
Do keep reading for further guidance on planning for your new wardrobe.
The 4 considerations for choosing built-in wardrobes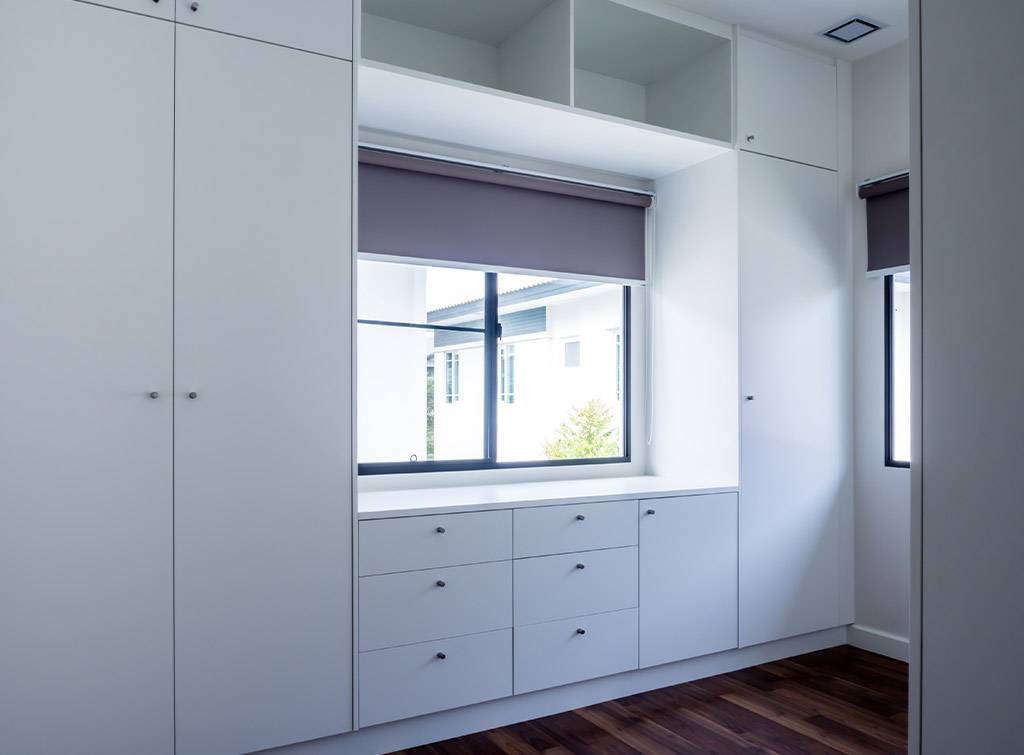 Bespoke or not to bespoke?
For those on a budget, there are many built-in wardrobe designs that aren't bespoke and just require careful measurements and storage choices.
None-bespoke wardrobes still allow you to pick the number of rails, shelves and drawers you need.
However, if you're looking for a made-to-measure solution, a bespoke design is the best way to maximise your space. This is particularly important when considering small built-in wardrobe ideas.
A bespoke wardrobe is most recommended for rooms that are unique in shape. Perfect imperfections like angled walls or slanted ceilings will more than likely need a bespoke built-in wardrobe. An 'off the shelf' type of wardrobe could potentially be played with to fit, but the finish will unlikely be as good as bespoke.
Capacity vs. reality – be realistic and really think about your needs for wardrobe storage
How much room do you really need? If you're not sure, it's probably worth working out how many shoes, clothes and accessories you have. Try to imagine where they're all going to go.
Once you've spent some time thinking about how you're going to store everything and how often you will use your new wardrobe, then work out more specific measurements. Like how long your rail needs to be, how many clothes hangers or drawers are required, and even how deep your fitted wardrobe needs to be.
How high can you go?
When you consider the height and depth of your fitted wardrobe, think about the finished look.
For example, floor to ceiling designs are popular, although not always practical. If you live in a period property or have decorative coving, picture rails or other architectural features, it's more aesthetically pleasing not to cover them.
Design with the decor in mind
Aesthetics matter. That's why your wardrobe design needs to match your decor choices. Installing mirrored hinged doors in a rustic bedroom will look out of place, whereas Japanese sliding doors in a minimalist room will allow the design to complement the decor. Struggling for ideas? Head over to our built-in wardrobe ideas guide for the latest trends and inspiration!
An idea on the cost for a built-in wardrobe
For more information on the price of a built-in wardrobe, check out our fitted wardrobe cost guide.
The ballpark costs for a built-in wardrobe:
Average 3-door standard fitted wardrobe cost: £2,650
Average 3-section sliding door fitted wardrobe cost: £3,200
Average fitted wardrobe carpenter cost (labour only): £225 per day
Note: Do remember that a bespoke wardrobe cost will widely vary. You should speak to and get quotes from at least three wardrobe experts.
It's easier than you think to get three quotes fast – request a quote and we'll do the hard work for you by getting local installers to get in touch with you!
Does a built-in wardrobe add value?
They do, along with other built-in storage spaces. Knowing how much value they add to your house is difficult to pinpoint but it's a real selling point. Everyone needs space and clever storage.
See the tradespeople we've checked and recommend for your job
Tell us what you think
What others think of this article:
Need More Information?
Related posts