Last updated on March 31st, 2022
How much does vinyl fencing cost?
Vinyl fences are a great wooden fence replacement, requiring less care and lasting longer. Here's a guide on the vinyl fence cost.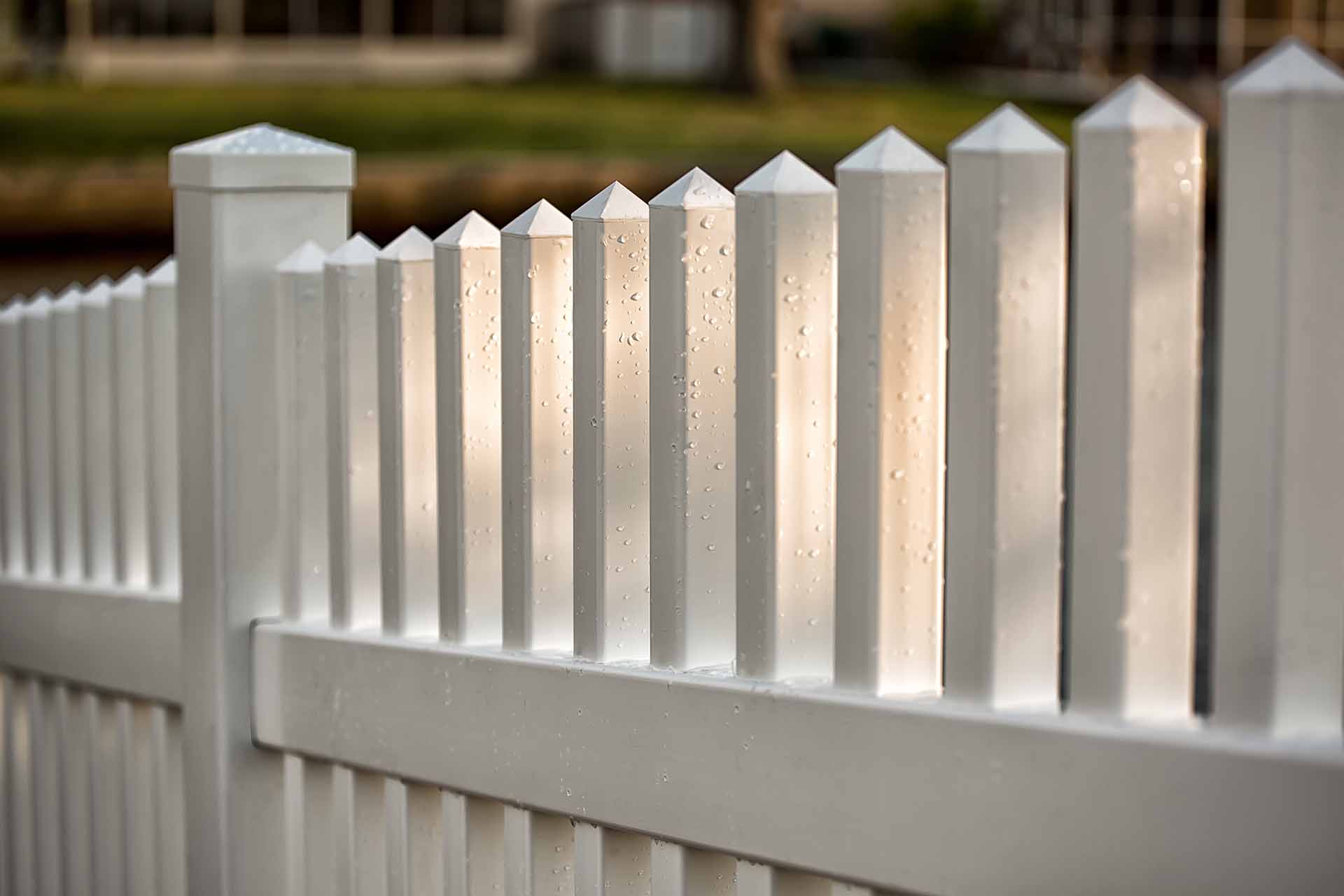 Plastic fencing is a low-maintenance alternative to the traditional wooden fence. While vinyl fence costs can be higher, they usually last much longer than their wood counterpart. Plus, vinyl fences give you a unique choice of colours and styles to choose from that you otherwise wouldn't have with wood fence panels.
So, how much do vinyl fence panels cost and what's the cost to install them?
The estimated price of plastic fence panels
| Cost provided item | Unit | Range - Low | Range - High |
| --- | --- | --- | --- |
| Vinyl fence panels | Per square foot | £15 | £30 |
| New fence posts (if required) | Per post | £20 | £25 |
| Labour cost | For full installation | £600 | £2,500 |
The price you pay for plastic fence panels will rely on the type of fence you choose and the style of it. You can expect to pay anywhere between £30 to £120 for your panels.
If new fence posts are advised or required, then they will also cost around £22.50 per post.
Vinyl fence installation cost
The average labour cost for fence installation is usually around the £1,400 mark. This cost does not include the material cost.
Once again, the fence installation cost will depend on how many panels or posts need to be installed. The size of the project will determine the time needed for a professional fence installer to complete the job, and therefore, the labour cost.
See the tradespeople we've checked and recommend for your job
How are synthetic fence panels fitted?
Your plastic fence panels will slot into a concrete post.
If your fence posts are in a good condition and the only reason you're replacing them is due to your personal preference, or because the old panels rotted/destroyed, then you can slot new plastic fence panels straight into the existing posts.
Chat to a fencing specialist if you need guidance on this.
Are plastic fences worth it?
The upfront plastic fence cost might be higher than wooden fencing, but it's cheaper in the long run.
Here are some of their benefits:
Less maintenance: Unlike wooden fences, vinyl fences don't require annual painting or waterproofing. If they are looking dirty, just wipe or hose them down.
Longer lasting: If you care for your wooden fence diligently, it might last you 15-20 years. Plastic fences on the other hand will last around 30 years.
Fewer threats: Wooden fence panels are affected by moisture, pests, and weather. Plastic fences are of course water-resistant, meaning they cannot rot. The only thing that might affect vinyl fences is extreme weather.
PVC fence installation quotes
Your main expense with PVC fence installation costs is the price of the material and the labour cost to install them.
If you don't need new fence posts then that will save you material and labour costs. Instead, you will be required to pay for your new plastic panels and the labour to install them. The labour will of course be less due to not having to remove and install new fence posts.
Finally, the final factor that determines your vinyl fence cost is the length of fencing you require. The larger the size of your perimeter, the more fencing you'll require, and therefore, a higher cost in total for the number of panels needed and longer labour time.
Always get at least three quotes from reliable fencing professionals. We've made it super easy to do so. Even better, they're recommendations from your neighbours – try out our request a quote feature!
For accurate quotes, giving as much detail and information as possible about the job and what you need is important. Maybe cover whether you'd be supplying the fence panels or not, the height and style of the panels you like, a measurement of the area, and maybe discuss how many fence panels are currently in place that need replacing.
See the tradespeople we've checked and recommend for your job
FAQs
Do I need planning permission to install fencing?
If your fence is lower than two metres in height, you don't need planning permission. If it's higher, you would need planning permission. The exception is if your fence is near a road, in which case it might need to be lower than one metre.
What do I need to do to care for my plastic fence?
Plastic fences need very little care. If they get dirty, you can wipe them down with a wet cloth. Other than that, they don't need much else.
See the tradespeople we've checked and recommend for your job