Last updated on October 5th, 2022
Average cost to install fence panels
Looking to give your outdoor space a makeover with new fencing? Let's help you budget for the job. Our detailed guide on the cost to install fence panels includes fence types and factors affecting the price you pay.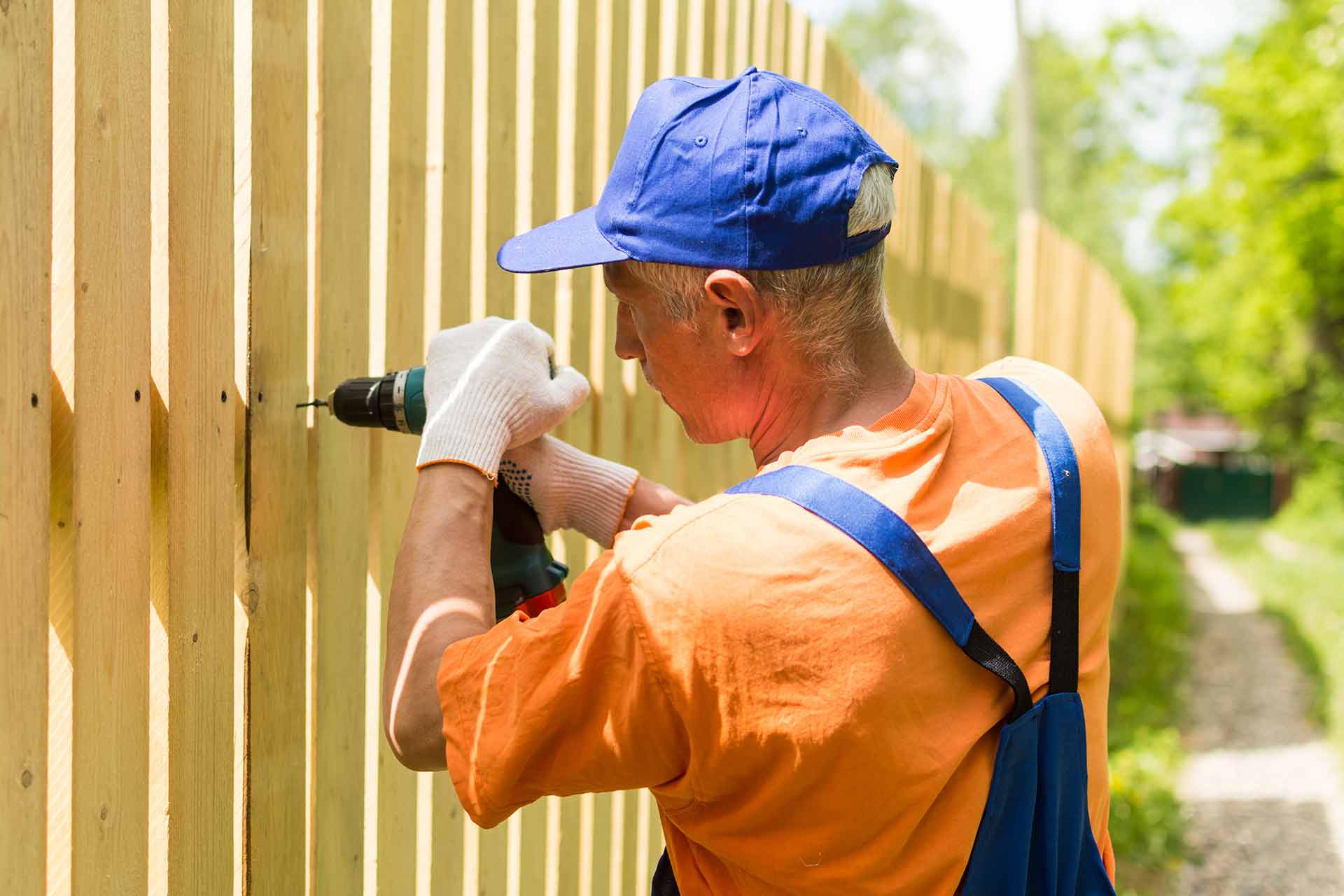 Why install a new fence?
Installing a new fence can have a huge effect on the appearance of any outside space:
Make your garden more private from neighbours
Increase security by making it harder for burglars to gain access to your property
Create separate zones and areas outside your home
Create a fresh new look for summer
Replace an older, broken fence
No matter the reason, installing a fence can completely change your garden style and function, giving you a space to be proud of.
The next question is, what is the average fence installation cost?
What is the average cost to build a fence?
When installing a new fence there are various costs to consider, the most vital of these is the cost to install the fence panels.
There are many types of fence panels; ranging from lap fence boards to weaved fence boards.
The cost of fencing widely varies depending on which type you are using.
The average fence installation cost is: £1,450 (4 ft) - £1,850 (6ft)
The average cost of fencing panels is: £45 per panel
Fence type
Unit
Cost + VAT
(Range low - high)

Average cost
Fencing panels
Per panel
£30 - £60
£45
Featherboard/ close board fencing
Per panel
£50 - £70
£60
Post and rail fencing
Per foot
£5 - £14
£9.50
Chainlink fencing
Per foot
£8 - £12
£10
Concrete/timber fence posts
Per post

£15 - £36
£25.50
Fence installation
4 ft height
£500 (36ft) - £2,200 (200ft)
£1,450
Fence installation
6 ft height
£700 (36ft) - £2,860 (200ft)
£1,850
Common types of fence
If you have already spent time and money creating your perfect outside area, you may wish to match your new fence to a theme. However, if you are just beginning your journey to a fantastic garden you may be more open to all the different types of fence on the market.
Not only is the appearance of fencing important, the function – such as durability or security – is also vital and should therefore be considered before choosing a fence type.
To help you decide we have compiled the most common types of fence with a brief description of each:
Wooden fences: These are probably the most common types of fence and with good reason. They are usually an excellent cost-effective choice, can be easily painted and come in a huge variety of styles such as featherboard or slatted.
Unfortunately, they are also not particularly durable. They need to be regularly treated to protect against the elements and are not designed to last forever.
Metal fence: These are less commonly used in residential areas and more likely to be found surrounding business or industrial sites. They are more expensive than their wooden counterparts and installation is more complex.
On the plus side they are extremely durable, very strong and designed to last.
Plastic fences: Not a common material choice, PVC fences are almost impossible to paint, can be easily stained and are not especially durable.
Despite this they are much easier to maintain than wooden fences (that need yearly treatments) and are usually not difficult to work with.
See the tradespeople we've checked and recommend for your job
Factors affecting the installation cost of fencing
The cost to install fence panels is not something that can be easily estimated due to the sheer volume of factors that can have an impact on the price.
Here are some of the most important factors to bear in mind when calculating the cost of your fencing.
Number of panels needed: The size of your garden and the length of fence you need, will determine the number of fence panels you require. Most panels are usually six foot wide, therefore once you have measured the space where your new fencing will stand you will be able to conclude how many you need.
Height of the new fence: Usually fence panels come in 4 – 6 foot height, however there are other options if you require a higher or lower fence. As a general rule, the higher the fence, the higher the cost of fencing will be.
For example, a 36 foot fence with 4 foot high panels costs on average £1,450 and with 6 foot high panels cost on average £1,850.
Quality of the new fence: Even when looking at the same fence type, you'll find not every supplier provides the same quality materials. It is vital to check the quality of your new fence before purchase as this can widely vary, which will affect the overall fence installation cost.
Type of fence: It is important to take into account that fence installation costs largely depend on the material and style of the fence. For example, a simple post and rail wooden fence will be much cheaper than a custom designed metal fence.
Finish required: If you have basic DIY skills you may choose to treat or paint a wooden fence yourself in order to save money, in which case you will only need to pay for the materials. If on the other hand you are looking for a more professional finish then you will need to budget for the materials (which may be priced differently through a tradesperson) plus any labour costs to build the fence.
Location of fence: If your fence will be located in an area that is difficult to reach, or the surface you are building on is uneven, this will increase the fence installation cost.
How much does garden fencing installation cost?
When working out garden fencing installation costs, it's important to consider two of the main factors: 1) the materials, and 2) the labour.
In order to estimate the cost of the raw materials, you will need to consider:
The cost of the fence panels/materials
The cost of other materials such as fence posts
If we use average garden fence costs then you'll be looking at £45 per panel + £25.50 per post.
If choosing to have the fence panels installed, then the cost will include the price of the panels themselves plus extra materials and labour.
Excluding the cost of materials, the average cost to install fence panels is £1,450 (4ft) - £1,850 (6ft) for labour.
See the tradespeople we've checked and recommend for your job
How much does it cost to replace garden fence panels?
The average cost of replacing fence panels will depend on the size, material and style of the panel you have in your garden.
Weave timber picket and tradition/lap panel/waney edge fence panels are the cheapest options.
The most expensive garden fence panels to replace are solid metal and Venetian/slatted fence panels.
Here are the typical prices you can expect to pay, depending on the materials:
4ft garden fence panel – £15 - £100
5ft garden fence panel – £20 - £120
6ft garden fence panel – £20 - £140
Close board/featherboard fencing cost per metre
One of the most common types of wooden fencing, featherboard or close board fencing is popular due to its versatility and simplicity. To calculate the close board fencing cost per metre let's consider that the cost per panel is on average £50. As standard panels are 6 foot or 1.82 metres wide, this means an approximate cost per metre of £45.
Post and rail fencing cost
This type of fencing is commonly used in fields and countryside settings. It is inexpensive and doesn't obstruct views although it is by no means durable. On average, post and rail fencing costs £4 per foot plus any labour costs if using a professional.
Chainlink fencing installation cost
As one of the most affordable types of fencing, chain link fencing is easy to install and is often found in residential and commercial areas. An average chain link fencing installation cost is £7 per foot added to any labour costs.
Additional fence costs
In some cases, the cost of fencing may include more than just the installation of the fence. There may be other costs involved. Some of these are:
Fence painting cost: You may want to paint the fence to match the colour of your exterior walls, shed, or simply to protect the wooden fence.
Waste removal: You will generate a lot of waste when installing your fence. Unless the waste removal is a part of the service offered by your fence installation experts, you may have to pay a waste removal company to collect it.
Garden maintenance: If your new fence is a part of a new look for your garden, you may also need to spend on garden landscaping or maintenance.
Garden gate installation: Unless you're enclosing an area, you would need a garden gate installed with your fence. Having one can be great for both security, as well as ease of access.
Fence maintenance: Once the fence is installed, you would need to maintain it. You may also need to repair it occasionally.
Garden fence maintenance cost
How much maintenance your fence needs will depend on the material. For example, a plastic fence may need nothing more than a wipe down. A wooden fence, on the other hand, needs regular painting or staining to protect it from the elements. Fence painting could cost you around £170 - £270 each time.
Fence repair cost
Your fence repair cost depends on what kind of repair you have to undertake. Here are some common ones:
Arris rail repair: Arris rails are the horizontal strips on your fence panel that hold the vertical slats in place. If these are broken, you'd need to spend around £2 for the rail bracket, and potentially £7 - £15 in labour charges.
Replacement fence post: Timber fence posts are sturdy but they are susceptible to weather damage. If your post has rotted in parts, it compromises your entire fence. To repair it, you may have to spend around £150.
See the tradespeople we've checked and recommend for your job
Can I install a fence myself?
In certain cases, the answer to this question is yes it is entirely possible to install a fence if you have strong DIY skills.
However, this only applies to very simple, lightweight fencing that does not need to be dug into the ground and is properly anchored against the elements.
For other types of fencing please take the following into consideration:
Risk to yourself: Most types of fence and fence panels are quite heavy and cumbersome to move around, as such installing these fences poses a risk to yourself and anyone assisting.
Difficulty: In order to properly install fencing there will need to be some sort of posts and possibly gravel boards. Usually, posts will need to be dug into the earth with concrete or other methods of support. This is not an easy job so it is recommended to hire a professional.
Finish: If you are planning to install a fence yourself but are looking for a professional finish, this can be hard to achieve without considerable practice.
Quality: Hiring a professional guarantees a certain level of quality to the installation e.g. weather resistance and durability. This means the finished fence will be likely to last years longer than if the job is done by a nonprofessional installer.
With these factors in mind unless you are undertaking a very easy and small installation project we would recommend hiring a professional.
To find a local, reputable, tradesperson in your area and get a personalised cost to install a fence use our free search feature.
Reducing the average cost of fencing
There are a few steps you could take to reduce your average fence installation cost if you want to keep it all within your budget.
To do that, you first need to figure out what the purpose of the fence is. If it's purely for decoration, you can get away with a cheaper fence than if you want it for security.
If you just want to enclose your front garden, a picket fence works just as well and the cost of fencing is much less than a privacy fence, which is what you'd need if you were looking for… you know… privacy.
You could also have a think about the materials you'd want. There may be a cheaper alternative. For example, do you need a metal fence or would a wooden fence work as well? If you're set on a metal fence, an aluminium fence may cost less than a steel fence.
You could also discuss sharing the cost of the fence with your neighbours if you will be sharing a fence. For example, if you live in a semi-detached or terraced house.
You could also install it yourself, eliminating the labour charges from your cost of fencing. Of course, this is something you should only consider if you're confident you'll be able to do it.
FAQs
Are fences shared between neighbours?
While technically fences are not shared property, you may be sharing one with your neighbour if you live in a terraced or semi-detached house. In such a case, it's always a good idea to check with your neighbours before you make any changes to it. You may also want to check if they'd be willing to share the cost of the fence with you.
How high can I have my fence?
You can have fences as high as 2m if you are not applying for planning permission. You'd need permission for fences that are higher. Also, your property is next to a road, it may need to be lower than 1m. We recommend checking with your local council to be sure.
How deep should the fence posts be buried?
Fence posts are nearly always buried to a depth of 600mm, no matter what the height, unless the fence is higher than 2.14m. However, the width of the hole you dig for the post needs to be three times its width.
Key takeaways
When calculating fence installation costs you should consider that:
Fencing comes in many materials and styles, so it is important to research these to correctly pick the perfect fence for you.
Fences come in different lengths and heights, often in 6 foot panels.
Installing a fence yourself is risky and the result may not be professional.
Post and rail, and chain link fencing are very affordable.
The most common type of fencing is featherboard wooden fencing.
See the tradespeople we've checked and recommend for your job