Last updated on July 5th, 2022
Fence painting cost guide
Quickly and affordably achieve the garden of your dreams with our guide to fence painting costs. With useful information about types of fencing and paint.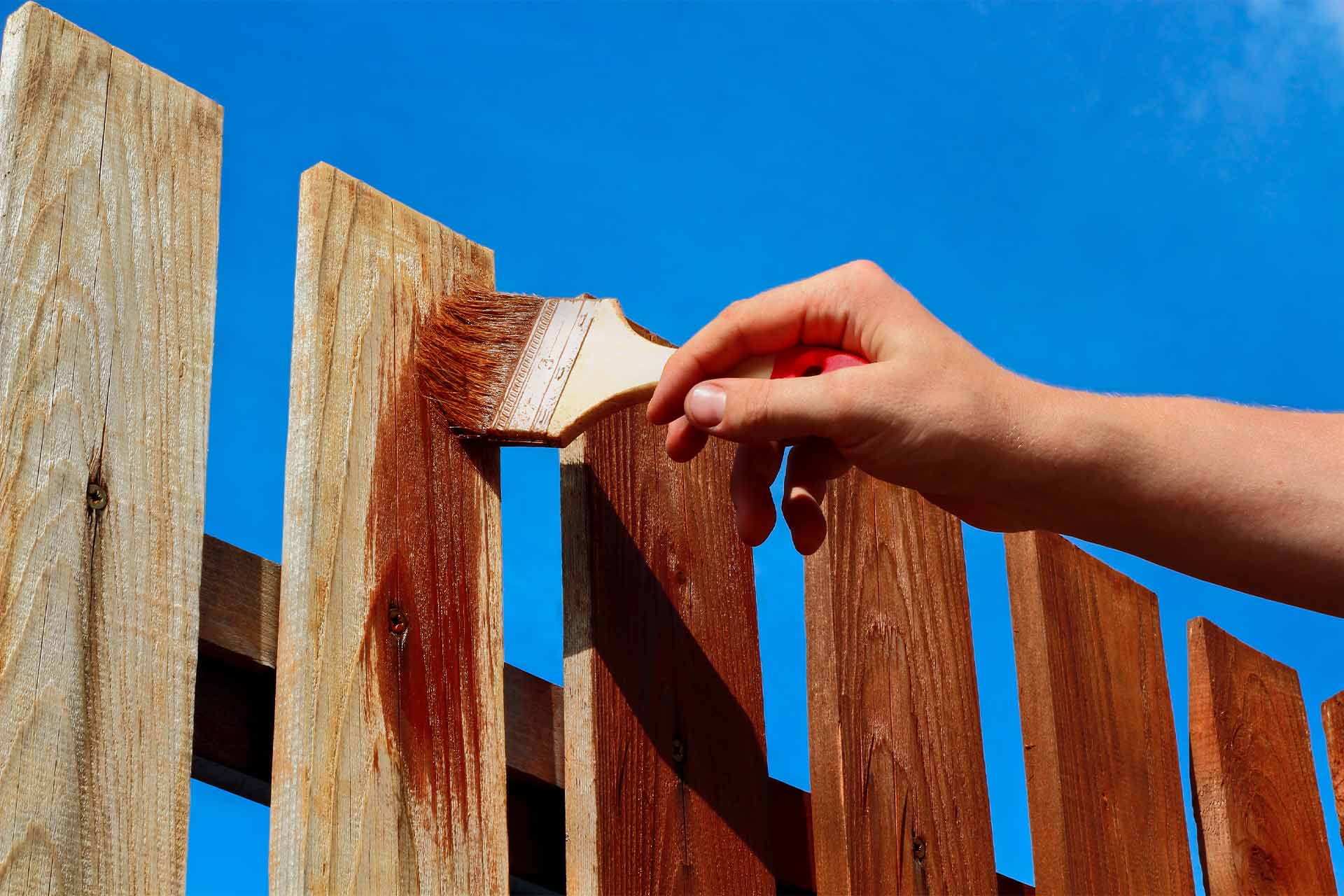 Why paint a fence?
Give your garden an affordable face lift by painting or staining your fence. You may be surprised about the average fence painting cost and the fantastic results this can have on the feel of your outside space. Painting and/or staining can not only improve the aesthetic of a fence but also protect it against the elements and increase its durability.
You may even wish to paint or stain your fence to contribute to the overall image of your neighbourhood. An entire street of beautifully finished fencing boosts the look and feel of the area and may increase house prices.
We have compiled the following guide to ease you through the process of painting or staining your fence, with estimated costs and handy tips.
| Cost provided item | Unit | Price range - Low | Price range - High | Average UK cost |
| --- | --- | --- | --- | --- |
| Paint (materials only) | Per panel | £5 | £7 | £6 |
| Wood stain (materials only) | Per panel | £8 | £12 | £10 |
| Labour | Per day | £150 | £200 | £175 |
| Labour | Per panel | £15 | £25 | £20 |
How much does garden fence painting cost?
The cost of painting a fence will be split into two figures – the cost of the materials and the cost of labour.
The average cost of paint per panel is £6. The average cost of wood stain per panel is £10.
The average cost of labour is £175 a day with a timescale of 0.5 – 2 days.
The cost of painting a wooden fence
The average cost of painting or staining a wooden garden fence, including labour, is in the region of £26 per panel for paint and £30 per panel for wood stain. The total price you pay for garden fence painting will depend on the size of the fence itself, and also the paint / stain materials used.
Here are some average costs you can expect for a full fence:
Small wooden garden fence – £104 – £120
Medium wooden garden fence – £156 – £180
Large wooden garden fence – £208 – £240
How much does it cost to paint your garden shed?
The process of painting a garden shed is similar to painting a fence, with similar costs. Here are the average total costs for materials and labour for staining or painting a garden shed:
Small wooden garden shed – £104 – £120
Medium wooden garden shed – £156 – £180
Large wooden garden shed – £208 – £240
Painting common types of fencing
Every type of fencing reacts differently to painting, with some being much easier to paint than others. We have briefly summarised the most common types of fencing and their effect on painting below:
Wooden fencing: These fences are the easiest to paint and can be stained too. Painting or staining wooden fencing is essential as without this layer of protection these fences are exposed and their life span will be drastically reduced.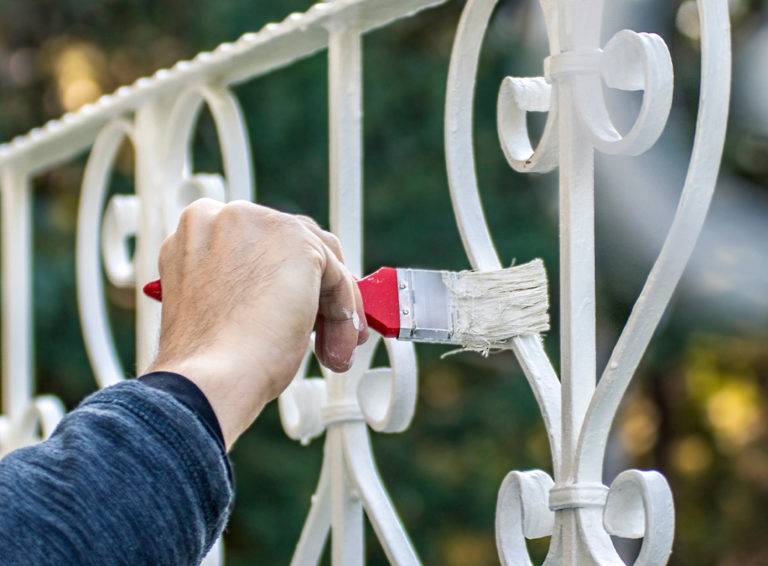 Metal fencing: Staining is not required for metal fences as they are already durable and last longer than wooden fences. It is however possible to paint metal fencing in order to improve the look and will greatly update the style of your garden. You will need to make sure to remove any rust deposits first.
Plastic fencing: While it is possible to paint plastic fences it is not easy. Primer is essential as is using the correct type of paint (ideally epoxy-based paint) and there is still no guarantee this will look professional and will last very long. A better idea would be to purchase plastic fencing in the colour you wish to stick with.
Common types of paint for fencing
There is a multitude of different paint types available today, with their own pros and cons. Below are the most common types of paint for fencing.
Sprayable fence treatments: Easy to use when distributed via a paint sprayer and works on most surfaces no matter the material.
Waterproof: As the name suggests this type of paint is designed to withstand water damage.
One coat: This paint is thicker and replaces the need to apply layer after layer of paint to get an even result, thus saving time and energy.
Stains: Used on wooden surfaces, these stain the wood without covering the texture of the material. Perfect for weatherproofing fencing and increasing the life of any wooden structure.
Factors affecting the cost of painting a fence
In order to accurately estimate the fence painting cost, it is necessary to take into account several factors that will affect the overall total amount.
Size of the fence: The larger/longer the fence, the longer painting will take. As such, more materials and longer labour times are required so the cost will increase.
Material of the fence: Different types of fencing are easier/harder to paint e.g. wooden fences are very quick and easy to paint, and plastic fences are very difficult to paint so will cost substantially more.
Type of paint used: Options like sprayable treatments are very quick to apply so will cost less than others, such as waterproof paint which may need more than one coat.
Weather: This may delay painting and painters could need to stop halfway through a job and return another day. This could increase the cost.
Location: If the fence is located in a difficult to reach area this will increase the overall price.
See the tradespeople we've checked and recommend for your job
Fence staining cost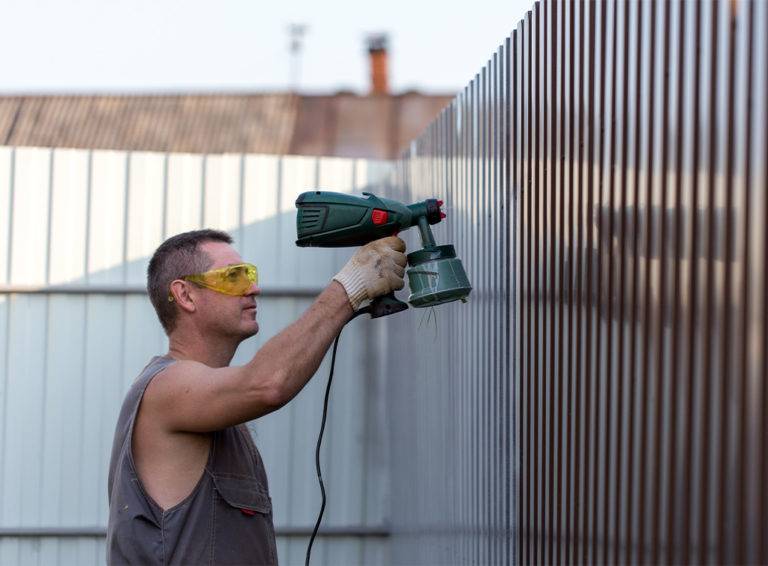 The price of fence stain is usually a little higher than that of paint so the overall cost will be greater.
The average fence staining cost is £10 per panel for the stain and £20 per panel for labour.
Wrought iron fence painting cost
This type of fencing is a little different to paint than wooden fencing. However, unless the fence is very detailed a similar amount of paint will be needed to cover all the intricate twists and turns.
The average wrought iron fence painting cost will be £6 per panel in paint and the labour will probably be at the higher end of the estimated cost range of £15 – £25 per panel.
How long will it take to paint a fence?
Depending on the intricacy of the fence and the other factors we have listed above, the average time to paint a fence will be 0.5 – 2 days.
Can I paint a fence myself?
It's difficult to paint any surface unless you have had training and a lot of experience doing this. Painting a fence is no different. When choosing to paint it yourself, an important issue can be missing small hidden areas of the fence, this will leave them open to weather damage that can affect the integrity of your fence.
Another issue is that your painted fence may not look how you had pictured it, whereas when hiring a painter, they will achieve an even and professional finish.
Finally, painting a fence can be tiring and arduous which may impact the physical health of those less able-bodied DIYers. If you are looking for a professional finish with guaranteed protection for your fence, it is advised to hire a painter to do the work.
To find a local, reputable, tradesperson in your area and get a personalised cost to paint your fence use our free search feature.
Key takeaways for fence painting costs
Fence painting costs are affordable and the end result could transform your garden.
Different types of fencing react differently to paint.
There are many types of paint, so it is essential to choose the right type for your needs.
It will take on average 0.5 – 2 days to complete painting a fence.
Painting your fence yourself may leave your fencing vulnerable to damage.
See the tradespeople we've checked and recommend for your job