How much is a plumber's salary in the UK?
Whether you're starting out as a plumber or you're looking to hire a team of plumbers, this guide is for you. Get all the information you need to hit your goal!
Plumbing is always in high demand with homeowners and commercial places. With renovations, repairs and general maintenance, there are loads of jobs to keep plumbers' diaries full.
If you own a plumbing business, then you may be at a point now to grow your business and hire staff.
In this guide you'll see:
Plumber salary averages in the UK
Hourly rates
How much apprentice plumbers are paid
First, let's jump straight into what plumbers earn – so you can either see what you should pay your new staff or your potential earning.
How much does a plumber make?
How much does a plumber earn? It's a common question people ask when considering a career in the trade.
It's difficult to answer in a short sentence because it depends on several different factors, such as experience, volume of work and where in the country a business is operating.
Newly trained plumbers can earn something in the region of £19,000 – £25,000 a year.
Experienced plumbers with professional training can earn more, usually in the region of £25,000-£30,000
Senior or 'master craft' plumbers can earn double this figure, and sometimes, even more.
Of course, there are always exceptions to the rule, and other things like qualifications to work on gas appliances will also impact the salary.
According to the National Careers Service (NCS), the average starting salary for a new plumber is £15,000 per year. Again, take this with a pinch of salt because some areas may be in short supply and will likely pay more to attract talent.
Bear in mind that employed plumbers may also earn less than a tradesperson who owns their business and naturally takes home more of the profit from each completed job.
The mean annual salary for a plumber employed on a salary basis in the UK is £31,703. For plumbers employed on an hourly wage, the average hourly wage is £13.90.
How much do plumbers make a year?
Again, this depends. So, it's probably more helpful to ask how much does the average plumber make.
The NCS puts the average salary range of a plumber employed by a company between £15,000 – £40,000 a year, rising with experience and seniority.
If you expand this out to include self-employed tradespeople, the figure rises to £60,000. But this is just a ballpark estimation. If you're a plumber or business owner who works on luxury apartments or running lucrative contracts, then you'll earn far more than a senior plumber in a region of the UK with less demand for high-end services.
How much do plumbers make an hour?
Figures will vary according to the factors discussed earlier in this guide. But if you take the mean annual salary of £31,703, that equates to £96.99 a day after tax deductions.
Assuming the working day is 8 hours long, the hourly rate comes out at £12.12 an hour.
How much does a qualified plumber earn?
Newly qualified plumbers can expect to earn at least £15,000 a year. But a plumber's salary rises with experience, hours worked and the type of jobs being carried out.
There are courses available through trade associations that focus on different specialist areas such as solar thermal systems, water recycling, and even learning to install boilers after the completion of advanced training.
Certified specialisms, like the ability to work with heat and gas, will naturally command more money.
Experienced plumbers can make a lot of money. It's hard to pinpoint exactly how much. If you run your own plumbing business for instance, you could earn anything from £50,000 if not much more. Your earning potential could be big!
How much does a self-employed plumber make?
A self-employed plumber could earn a great deal. It depends on the type of plumbing work you carry out and the area you're in. If there's a huge demand for your plumbing expertise and you're based in London for example, you will have a high hourly rate and hopefully regular work coming your way.
Plumbing is an excellent industry for those looking to go self-employed. There's no need to rent property since jobs are done on-site in homes or commercial properties.
Become your own boss with your new plumbing business
You could get your business started in just 7 days with the help of our 'Become the Boss' series.
You'll get 1 email a day with actionable tips. Seven emails in total (and a cheeky bonus email) featuring fellow tradespeople who were once in your position, a free business strategy call, and at the end of it all, you as the Founder of your new business. What's not to love?
To get trade business insider secrets sent to your pocket, put your email address in the form below so we can help you to get started.
Guidance for an apprentice or new plumber
There's still useful information here for you too. If you're interested in a career in plumbing, this guide has some helpful information that you can use to make a more informed decision.
Where to start
First up, you'll need to acquire adequate practical skills. This includes learning the theoretical knowledge in order to carry out the job. And that's a good thing: the more technical your knowledge, the more likely you'll be in high demand.
Granted: it's no secret that it can take years of training to become qualified. But once you have the right credentials, they'll almost certainly help you pave your way towards a successful career in the trade.
New to plumbing? Learn on a plumbing training course
There are many ways to gain a plumbing-based qualification. Finding a good quality training company can be tricky as it is a competitive market.
For comprehensive options and plumbing training that is recognised by the Chartered Institute of Plumbing and Heating Engineers (CIPHE), we recommend you start your journey here with our training partner, Logic4training.
Who are Logic4training?
They run a comprehensive range of domestic water and plumbing courses, which we are confident will give you the very best start at preparing for your new career as a plumber.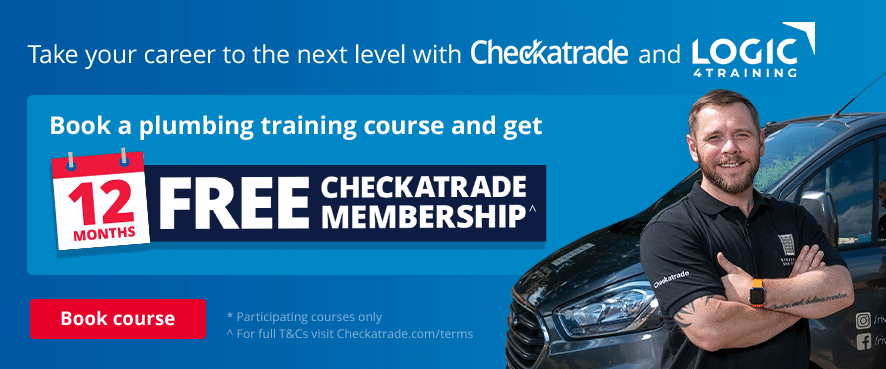 Start a plumbing apprenticeship
This is the most common and widely accepted by the industry.
This can be the perfect route in for a new starter, particularly if you are lucky enough to find a company that will support you with real on the job experience.
Businesses benefit from developing their own talent pipeline, and the apprentices themselves get to earn while they study, so it's a win-win.
Many schemes also receive government backing to help business owners take on younger tradespeople.
What will an apprentice plumber make?
An apprentice plumber will make at least minimum national wage, and that figure will depend on their age.
Examples provided by Gov.uk:
An apprentice aged 21 in the first year of their apprenticeship is entitled to a minimum hourly rate of £4.81.
An apprentice aged 21 who has completed the first year of their apprenticeship is entitled to a minimum hourly rate of £9.18.
Information accurate as of 20th May 2022.
What services will you offer?
Once in the job, you'll have lots of choices. You may want to provide an array of traditional services, for example, or perhaps you'll choose to specialise in a particular area.
Will you focus on the residential or commercial sector only?
Or will you expand your services to include both?
Such specialities include draining, piped water systems for bathrooms and radiators, gas fitting and dealing with boiler repairs and installing central heating systems.
Going from sole trading plumber to business owner
Your earning potential is based on the success of your business.
If you run your own plumbing business, you could earn any amount of money. Let's put it this way, if you do well, you have a team supporting you and you're in an area with a great demand for plumbing expertise, you may earn enough to warrant becoming a VAT registered (earning £85,000+) business.
You need the essentials to get started – a van, tools, insurance, qualifications and experience.
Keep your new staff busy with work
Checkatrade can help you to grow your plumbing business
Find out more
It's not all about money, you need to set yourself up for success
Get training
Professional organisations urge caution and say plumbers should have a Level 3 qualification and at least 3-5 years of experience before attempting to go it alone. But you've got to start somewhere.
If you don't meet these requirements, you'll need to study and train more, which will cost you a further investment.
Once you have finished your course and spent a few years working with experienced professionals, you'll have the expertise needed to start your own business.
That said, there's more than just the technical side to worry about, and you'll need to brush up on the skills necessary to run a successful company. You can read more about how to do that here.
If you do have qualifications and 3+ years experience
Well, then you're good to go.
Starting your plumbing business
You have the technical skill of being a plumber, but now you need to brush up on the skills necessary to run a successful company. You can read more about how to do that here.
Want some tips to grow your business? Check out our free 'Grow your business' guide.
As a business owner, you can set your own going rate, work hours, and the types of clients you take on. And if you market your business effectively, you're likely to take home a tidy sum.
Qualified and experienced self-employed plumbers with a good reputation can earn a lot of money, often in excess of £40,000 per year.
How to increase your profitability
Want some tips to grow your business? Check out our free 'Grow your business' guide.
Building a new business should give you a great amount of pride and satisfaction. If you're not making much profit, you may begin to feel a little disheartened.
But don't stop there!
Thankfully, the following tips should help you learn how to increase your plumbing business' turnover:
Make sure you're charging enough to cover your expenditure (including tools, materials, insurance, marketing, wages, fuel etc.). If not, you may need to raise your prices.
Choose to specialise in areas that are the most profitable. Some plumbing jobs need little expenditure (for tools and materials) to make larger profits.
Consider how large the area you cover should be. Travelling further will eat into your profits due to van and petrol costs so if possible, stick to your local area or charge extra.
Ensure you don't buy cheap tools and materials as this will affect the quality of your work. Poor quality work may not be durable, or might quickly begin to degrade, decreasing customer satisfaction and leading to negative reviews.
Try to pay off any debts as soon as possible. Remember, interest on credit cards or loans can impact your vital profits.
Focus on getting visibility for your business. This can be through advertising, your website, your company brand, customer testimonials, SEO or industry contacts who can send work your way.
Focus on providing the best customer experience. By providing the best customer service your business will grow in no time. It's hard for any business to take on another with an amazing reputation, as reflected in your potentially amazing reviews. Why not also join a trade directory to build your reviews and online reputation?
Are you a business owner looking to hire an apprentice?
If you're a business owner and unsure of your legal obligations when hiring apprentices, check out the government's portal here.
However, if you just want a rough estimate, the average salary for an apprentice plumber is £16,700 per year or £8.58 per hour. Entry-level positions typically start at £13,000 per year.
FAQs
Do plumbers make good money?
In short, yes. Becoming a plumber can be a very lucrative career choice, especially if you're working on high-end projects or with clients willing to pay higher to secure your services.
Remember, customers prefer to know they're getting their money's worth, even if that means paying a little extra. This is an industry that is also seeing wages increase due to high demand. When compared to other trades, plumbing salaries are considerably higher than the national average.
What do plumbers earn in the UK?
With the right training and experience, a career in plumbing offers great earning potential. Newly qualified plumbers can expect to earn at least £15,000 a year, while more experienced professionals can receive around £40,000 and sometimes more.