How to start a scaffolding company
Scaffolding is essential during many construction projects to allow workers to reach higher locations safely. This means good quality scaffolding is always in demand. Find out how you could start your own scaffolding company.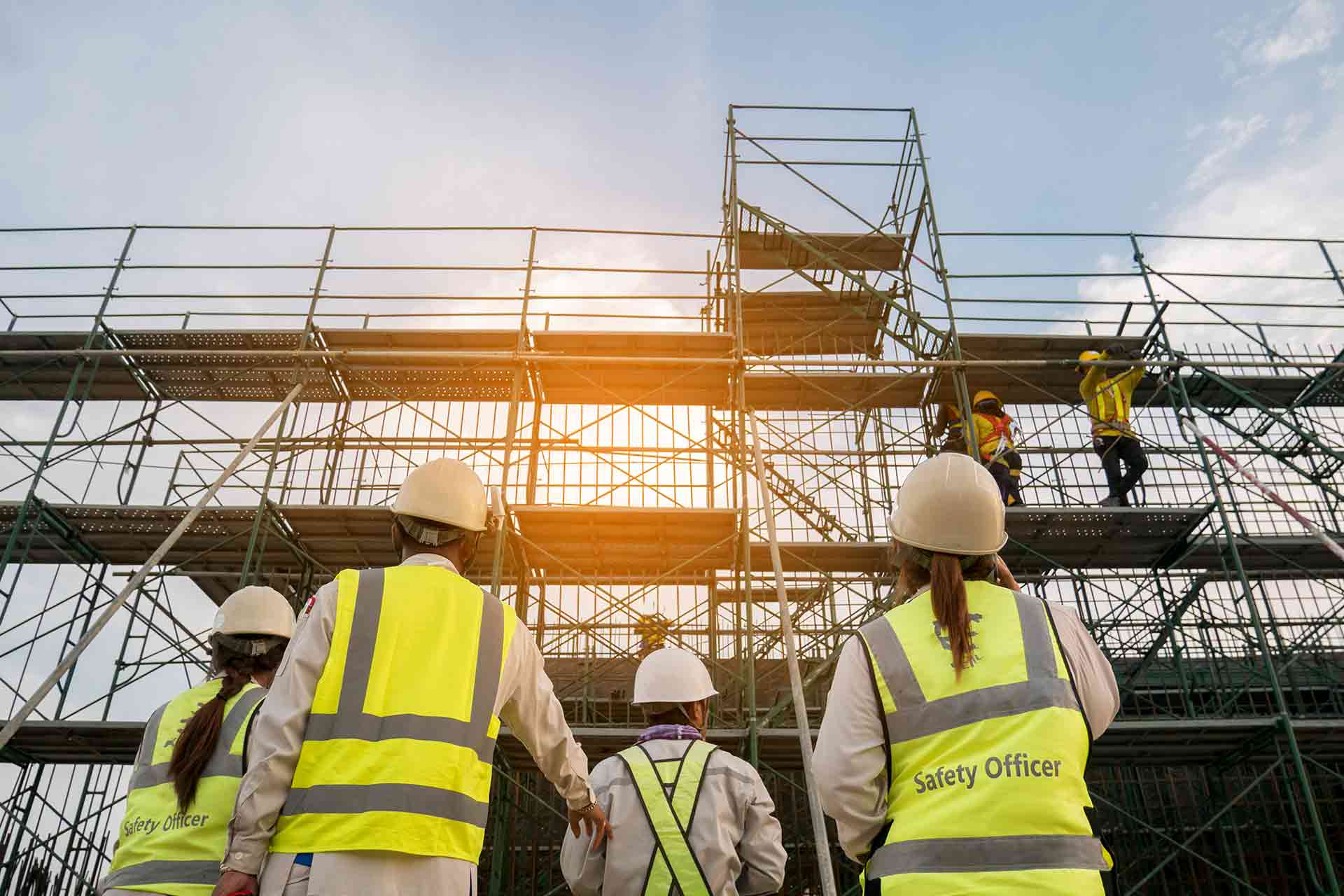 With scaffolding, you could work on lots of different projects, including roofing work, domestic decoration, civil engineering, restoration, building repairs, film sets, industrial work, and cleaning buildings.
The scaffolding market size has risen over the years thanks to construction projects becoming more ambitious. The demand for higher and larger buildings that require the use of scaffolding isn't going away. According to IBISWorld, the UK scaffolding market has been valued at £2.6 billion in 2022.
If you've been working in the industry for some time and want to know what's involved in starting a scaffolding business of your own, this complete guide will cover everything you need to know.
From business structure to insurance, marketing, and licences, keep reading to help ensure the smooth running and success of your new venture.
Too busy to read all this right now?
No worries. Bookmark it and come back when you have more time.
One quick action you can complete now is to sign up for our Become the Boss series for help getting your scaffolding business started in no time.
There are seven emails in total (plus a cheeky bonus email) featuring fellow tradespeople who were once in your position with their top advice. At the end of it all, you could have the knowledge to start a successful business.
Simply add your email below to make the most of this free business advice:
Create a business plan for your scaffolding business
The start of any successful business always begins with creating a bulletproof business plan. It's absolutely essential to give your business the best beginning. But what should be included in a business plan?
Set company goals
These will help to give your scaffolding business a clear road map and can be anything from financial to customer goals. Will you work alone on smaller projects, or will you hire workers to provide larger-scale scaffolding?
Check out your competition
Remember to research your competition and work out how your business will stand out. Look at what hours they work, what services they offer and any promotions they are running.
Research who your customers will be
Think about working with other trade professionals, domestic customers, or industrial customers.
You'll likely find yourself working on a wide range of projects, from building stages to temporary structures, factories, farms, shops, and domestic scaffolding. It's very common to work with other professionals in the construction industry.
Network
You most probably already have some potentially lucrative connections, but remember the importance of speaking to local contractors, builders and engineers about their scaffolding needs, especially in the early days. Make sure your company is fresh in their minds and nurture these relationships for future jobs.
Seasonal demand
The weather can affect your line of work, so make sure you have a plan for dealing with the fluctuations in the weather and how this could impact your business.
Enter your email address below for your free business plan template:
Health and safety regulations
Scaffolding comes with many dangerous risks, and health and safety should be taken very seriously.
As a business owner, you should know the Health and Safety Executive guidance inside out to mitigate risks and keep your team and members of the public safe at all times.
Working at height is dangerous unless you have the proper training. Our working at height guide should help you to learn more.
Your work as a scaffolder could see you working on a construction site. So it's crucial that you have a CSCS card to be allowed to operate in these areas. Without one, you'll miss out on opportunities to work on larger commercial projects.
You must be fully qualified to erect scaffolding, regardless of the job you're carrying out. You must have a valid Construction Industry Record Scheme (CISRS) card to prove you are a competent worker and give your clients peace of mind. If you haven't already obtained one, you can easily apply for a CISRS card here.
Other useful skills and attributes
Experience and industry knowledge are essential before starting your own scaffolding business. But what other skills and attributes might be required in order to be a successful business owner?
Incredible attention to detail and highly organised
Interpersonal skills and great customer service
The ability to lead and manage and have conviction in your decisions
Patience, fairness, integrity, and self-awareness
Enthusiasm and endurance
How to start a scaffolding business – step by step
In this next section, we'll cover the things you need to tick off the list to start a scaffolding business from a practical point of view.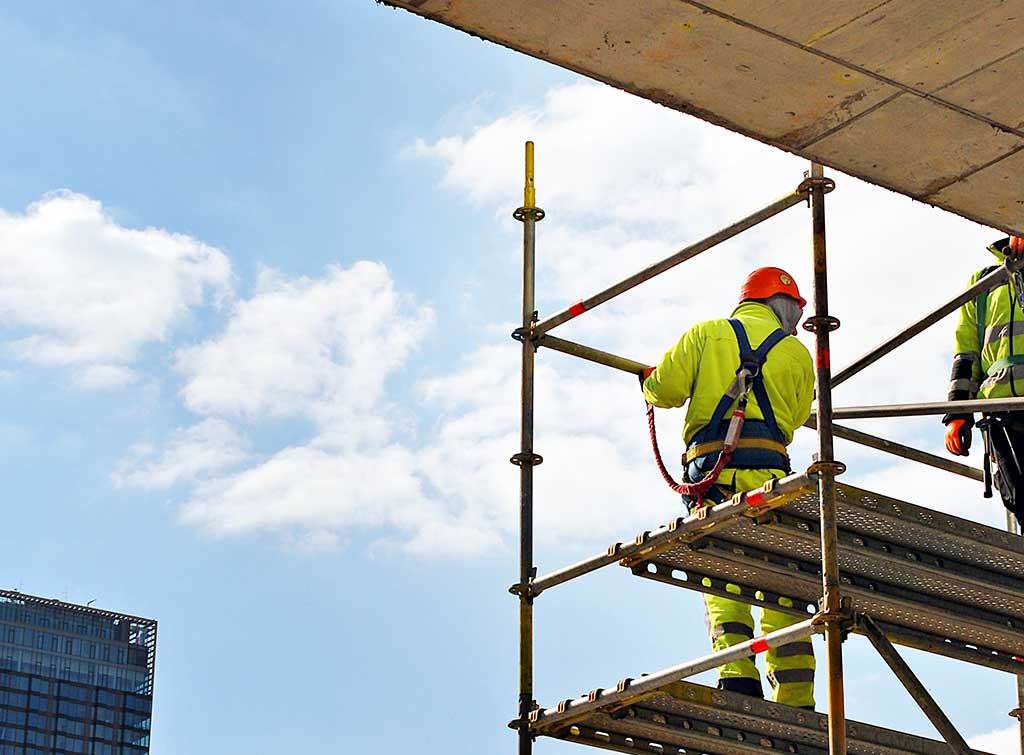 Register your business
First, decide on a name for your new business. It should be unique and catchy but also relevant to your business offering.
Next, you have a few decisions to make about how you'll operate your company. What services will you offer, what hours will you work, and where will your business be based?
Make sure you understand how to pay your taxes, VAT (if relevant), and national insurance. You'll need to register your business with HMRC and complete a self-assessment tax return every year.
We recommend hiring an accountant to help with your finances.
Get business insurance
You'll need insurance to protect your business financially and legally.
Your scaffolder insurance should include public liability insurance (mandatory for Checkatrade members), employer's liability insurance (if you plan to take on employees), and plant and machinery insurance.
Becoming a Checkatrade member is the best way to save on the cost of insurance. Our members receive exclusive discounts on insurance and other business essentials to help reduce your start up costs.
Finances
Take the time to work out your finances before beginning the process of starting a scaffolding business. Work out how much you need for start-up costs and how you'll fund your new business.
You'll need the funds to purchase the scaffolding itself, tools and equipment, and a vehicle to transport everything from job to job.
You'll also need to work out where to get these initial funds. For example, will you use savings or a loan?
You'll need to be organised with your accounting and bookkeeping, keeping records of business expenses and invoices. Checkatrade tradespeople get a cracking deal on the software PoweredNow, it's well worth a look.
Pricing
Decide how much you'll charge. Your prices will need to cover your costs and give you a decent profit. Consider whether you'll offer discounts to the trade and if you'll give fixed quotes to your customers.
Use our cost guide on scaffolding to get an understanding of national averages.
Scaffolding licences and permits
Legally, you'll need certain licences to operate your scaffolding business, these may include public highway licences, local authority licences and goods vehicle operator licences.
Do I need a scaffolding licence?
First, it's important to know when a licence is needed, as it won't always apply to the work you're carrying out.
If you're putting up scaffolding within the boundaries of a property or on a private road, there is no need to have a licence. However, if any part of the scaffolding extends onto the pavement or public road outside of the property, then you'll need to get a highway or pavement licence for scaffolding from the local council. Always keep note of the area you're working in so you can apply to the correct authority.
If you put up unlicensed scaffolding on a road or pavement and it gets reported, a local officer will carry out a site inspection and take action. You'll be asked to dismantle the scaffolding and have to wait for your licence application to be submitted and approved before you can do anything else. If you fail to remove the structure, you'll face legal action and could see heavy fines. Always take care when beginning a new construction project, and make sure to gain a permit if necessary.
How to get a scaffolding licence
Now that you have a good idea of when a scaffolding permit is needed, it's time to look at how you can apply for one. The first step will be to visit the UK government licence finder website and insert the postcode of where you'll be carrying out the work. From here, you'll be able to apply for a permit from the local council in charge of the area.
It's best to complete your application at least 15 working days in advance of the start date for your project to allow time for everything to be processed. Sometimes, a site visit might be required as part of your application, so you'll need to leave time for this to be carried out too.
Scaffolding licence requirements
When applying, there are several requirements to keep in mind. You'll need to:
Provide a site plan
Supply a risk assessment
Give a method statement
Have public liability insurance at a minimum of five million pounds
Your risk assessment should be a detailed overview of:
Potential hazards
Who could be harmed, and how
Evaluated risks and precautions
Your method statement should then go on to cover how you're going to control the health and safety risks you've outlined in your risk assessment.
Most councils usually issue a scaffolding licence for a certain period of time. If you find your project is going to take longer, you'll have to apply for another later down the line.
Are there rules for scaffolding permits?
Once you've obtained your licence, there are a few regulations you should be aware of so you can follow best practice.
Scaffolding should be well-lit during dark hours
If requested by environmental services, you'll need to have a covered footway and handrail put in place for pedestrians
The name of your business and your contact number should be displayed on the scaffolding at all times
When removing scaffolding, make sure all debris and waste materials are cleared away, or you could face cleaning costs from the local council
A copy of your licence must be clearly displayed on the scaffolding
Scaffolding pavement licence cost
Remember that all scaffolding licences require a submission fee that you'll have to pay. The price will vary from council to council and will depend on the length of the scaffolding and the time period. Here's a rough breakdown of the costs:
A one-month licence for scaffolding that's 10 metres or less will cost between £200 – £300
For scaffolding longer than 10 metres, you'll have to pay between £300 – £600
If you have to renew your scaffolding permit, some councils will offer an extension at a lower price, while others will require you to pay full price for a new licence. In some instances, you can join a council's scaffolding register for the year and receive discounted prices on your permits.
Time to become your own boss?
Get more leads and build your reputation
Tell me more
How to grow your scaffolding business
You'll need to work out how you'll find customers and market your new business to keep your diary nice and full.
Once you know who your ideal customers will be, you can consider using advertising to build awareness with new clients. One of the more affordable ways to reach customers in a specific area is by direct mail.
Checkatrade members have the opportunity to feature in our leading trade directory, which is delivered to homeowners around the country.
Another very effective way to promote your new business is through digital marketing. There are different methods, such as:
A company website
Social media. It's free and can help you reach a range of prospective customers
Join a dedicated trade directory such as Checkatrade
Last year, the Checkatrade website received an average of 4,808 searches per month for a scaffolder*.
Save money and time marketing your business
With our digital marketing strategy and strong online presence, becoming a Checkatrade member makes it easier for customers to find you.
As a member, you can display customer reviews, testimonials, and examples of your work on your profile page.
You will also have access to our community, where you can chat with other members.
And with the Checkatrade tick by your name, it makes your marketing just that little bit easier, as 8/10 people would choose a trade endorsed by Checkatrade, compared to one which isn't**.
We'll also help you with free marketing materials.
More than just a directory listing
Receive help, support, advice and a range of money-saving discounts to help make your business a success
Find out more
Become the Boss
You could get your business started with the help of our Become the Boss series.
To get trade business insider secrets sent to your pocket, put your email address in the form below so we can help you to get started.
Time to become your own boss?
Get more leads and build your reputation
Tell me more
*Checkatrade search data 1st January – 31st December 2021
**Deep Blue Thinking 2021 Trade Perception Survey