Why print marketing isn't dead for trade businesses
With people spending so much time online, is it worth investing in traditional print marketing as a way of advertising your business? Yes it is!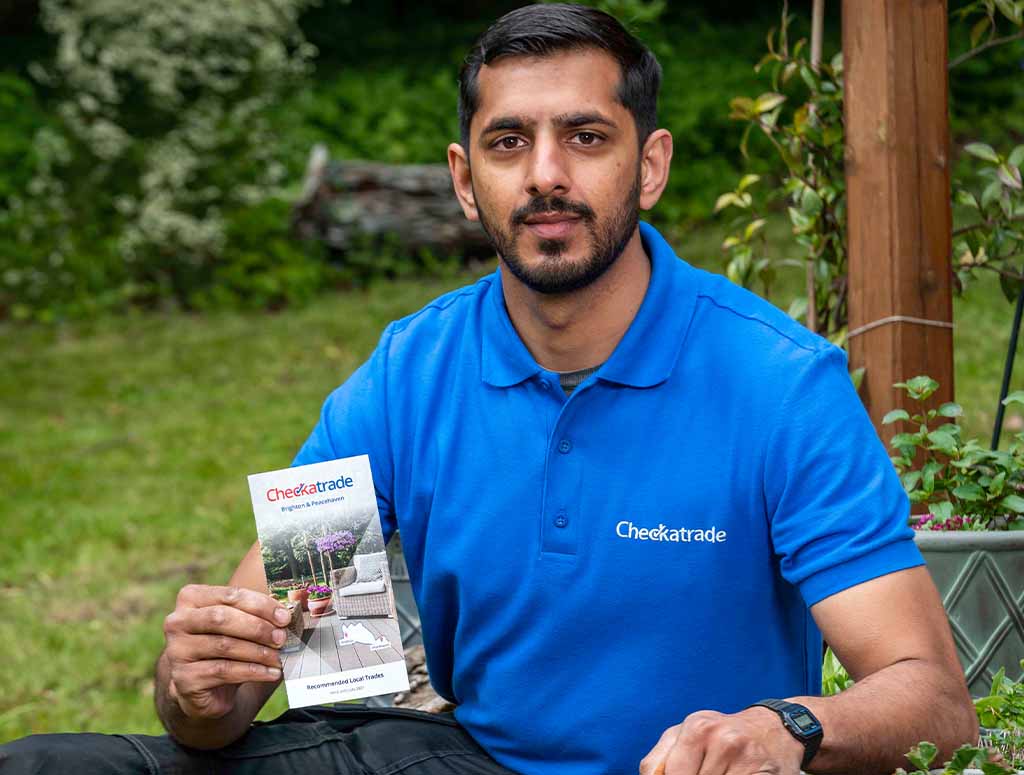 Fast Facts
Print marketing is definitely not dead.
Effective marketing campaigns combine print with online advertising and reach a wider demographic.
It's easier and there's more chance of getting more work by featuring in our directory than attempting to create and send out your own leaflets.
What is print marketing?
Print marketing is a form of advertising that uses printed media.
'Printed media' includes:
Newspapers and magazines
Brochures, directories, and catalogues
Flyers, leaflets, and postcards
Posters and site boards.
Why use print marketing?
Broadly speaking, the idea of marketing is to:
Get the attention of your potential customers
Convert this attention into new leads
Make a sale
Print marketing (sometimes referred to as offline marketing), can be a really effective way of reaching your target audience in order to get more work and grow your business.
Top tip: Checkatrade members have the opportunity to feature in the trade directory that is delivered to homeowners around the country.
Does print marketing still work?
Absolutely. People still thumb through local directories to find local services. It may not be the only method they use, but it definitely still has a place.
Readers of printed media tend to be the most engaged and attentive. Print advertising drives higher levels of web visits, recommendations, and discussions than digital.
Appearing in print gives your business certain credibility. Consumers trust print ads and tend to remember them more than digital ads. This is great for brand awareness.
Printed media has a fantastic reach. Magazines are often passed on to friends, family, or local libraries. Brochures can be found in display racks at public places, so they're seen by even more people.
Where are your customers?
Before you commit to any form of print marketing, make sure you advertise your business in a way that allows your customers to find you.
It's likely your customers will be a wide demographic who use a variety of ways to find tradespeople in their area. This includes print advertising as well as online advertising (websites, online directories, and social media).
Print advertising in newspapers and magazines
Advertising your business in local newspapers and magazines is ideal for getting in front of potential new customers.
It can be extremely well targeted as you can choose which publications to advertise in.
Local publications are great for reaching your local community.
Regional publications will help to throw the net a bit wider, which is perfect if you're looking to expand.
Research the publications in your area and contact the sales rep to find out the print advertising costs.
What affects the cost of print advertising in newspapers and magazines?
Placement. The price tag will vary depending on where your ad is placed (back cover, next to a popular column, or in a certain section), so ask what your budget can get you.
Size. Can you afford a full-page ad, half, quarter, or an eighth of a page?
Frequency. If you want your ad to appear in every issue, check how many issues are published. Some magazines are monthly, others quarterly. Some newspapers are daily, others weekly.
How to get the most out of your print advertising
There are a few tricks you can use to make the most of your marketing budget.
Design. To help secure your ad spend, the sales rep might be willing to have their in-house designer create your ad at no extra cost.
Directory listing. You've probably noticed directory listings in local free magazines. Ask for a business listing if you're paying for ad copy.
Editorial. Advertising is the content you pay for. Editorial refers to the articles that appear in magazines and newspapers on their merit. Suggest to the sales rep that you write a regular editorial column to go alongside your ad. This gives the magazine fresh content, and you get more column inches, which equals greater brand awareness. For example, a local gardener could write a quarterly column on, 'Gardening jobs for this season'.
Online. Many offline magazines have an online presence. Ask whether your advert will also appear on the magazine's website. If so, make sure there's a link to your own website.
Direct marketing
Printed media that is sent directly to consumers is called 'direct marketing'.
One form of direct marketing is direct mail.
Direct mail is mail that is physically posted to your customers, often with a personalised element, e.g. the homeowner's name. This could be as a letter, postcard, brochure or catalogue.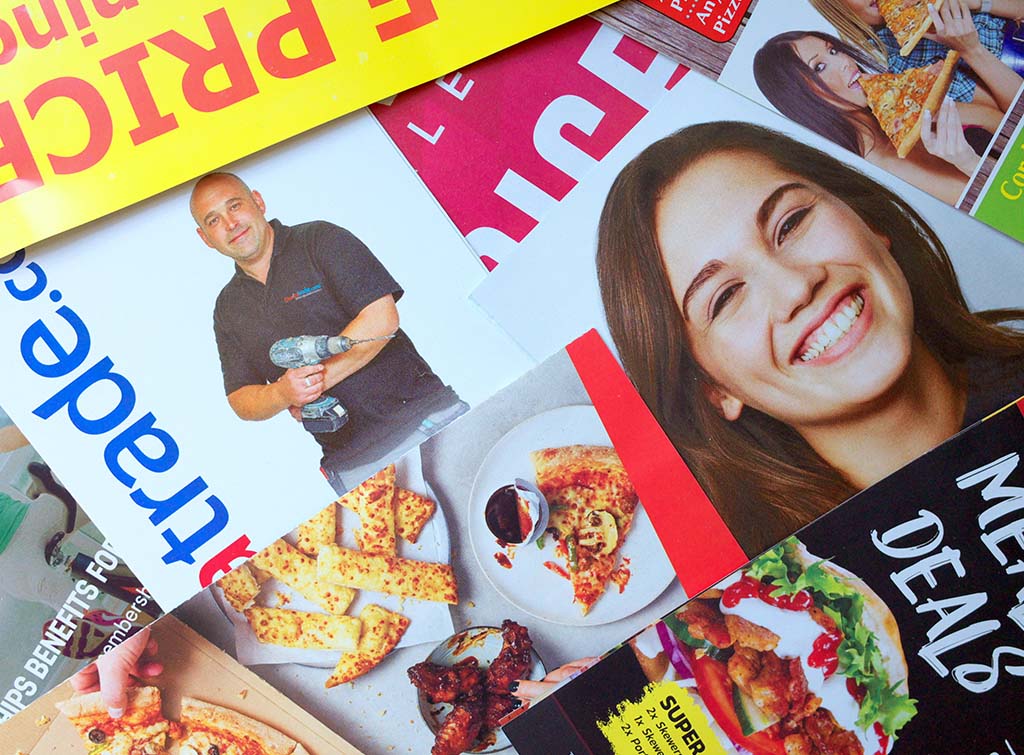 Want to be featured in Checkatrade's direct mail to homeowners?
All Checkatrade members have the opportunity to be featured in our national directories.
Why feature in the directory?
50+ calls, per year, per member
Our directories land on 75 million doormats across the UK
Expand your brand presence
Easier to feature in our directory (and more chance of success!) than attempting to create your own print marketing leaflets
How do tradespeople get featured in the Checkatrade directory?
There's a limited selection of our members per area and so customers know this is our chosen shortlist of tradespeople. It makes their selection much easier.
Even better, you're in control of your feature in our directory. You can pick the type of work you want to push and pick what locations you want to be featured in.
The benefits of featuring in a directory
It doesn't cost much either to feature – it works out around a couple of coffees a week to feature. It's a no brainer!
If you can give up a couple of coffees a week, it's worth checking out!
How much does direct marketing cost?
If you're thinking about running a direct marketing campaign for your business, you'll need to factor in the cost of:
Design and printing. There are many companies that can design and print your direct mail for you. You can use online templates, or do it yourself. If you want a personalised element, e.g. the homeowner's name, contact a direct marketing agency or professional mailing house for a quote.
Mailing list. Figuring out how to reach your target market can be tricky. You may need to buy a mailing list.
Distribution. Don't forget to budget for the cost of postage!
How to get the most out of direct marketing
The best direct marketing campaigns are those that are targeted. People dislike spam and direct mail that has no relevance to them.
Use a targeted list
If you choose to use direct marketing as a way to grow your business, use a targeted list of prospects. This way, your message gets to those who'll be most likely to take you up on your offer.
For example, you could send a piece of direct mail to homeowners in a new housing estate to offer a promotion on a service that you offer, e.g. window cleaning or lawn treatments.
What other types of local business marketing are there?
We've covered print advertising and direct marketing in this post, but don't forget there's another fantastic way of marketing your business locally: site boards.
Site boards are an eye-catching way to advertise your business and promote your services to passers-by.
Once made up, site boards will last for years and can be taken from job to job. You'll normally get a discount for buying in bulk, which is handy if you've got a couple of jobs on the go at once.
You can also use your website as an effective form of marketing, albeit online, as Chapter 3 of Richard Harpin's Accelerate! explains, highlighting the key functions that your business website might perform.
A good website, remember, is your 'shop window', a contact centre, brand vehicle and communication medium, letting you do the following:
explain what you do and how you're better than the rest
provide contact information so people can get in touch easily
accept bookings instantly and without hassle
receive feedback and respond to it
post pictures and videos of work completed
give an idea of your approach and what customers can expect
publish testimonials from happy customers
provide links to social media resources
host DIY tips for small jobs • write a blog about your profession
list your pricing formula for different jobs
Quick summary
Print marketing is definitely not dead.
The most effective marketing campaigns are ones that combine both print marketing methods and online advertising. By running print marketing alongside online advertising, you'll reach a wider demographic.
Print marketing gives your business credibility.
Print marketing takes many shapes and forms. Print advertising in newspapers and magazines is a form of print marketing. As is direct marketing such as direct mail.
Don't forget site boards as an eye-catching method of advertising your business locally.