Last updated on March 25th, 2023
How much does it cost to rewire a house?
Old and faulty wiring can be a major risk in a property, so if you have any wiring issues in your home you'll need to organise rewiring. Find out the average costs you can expect to pay.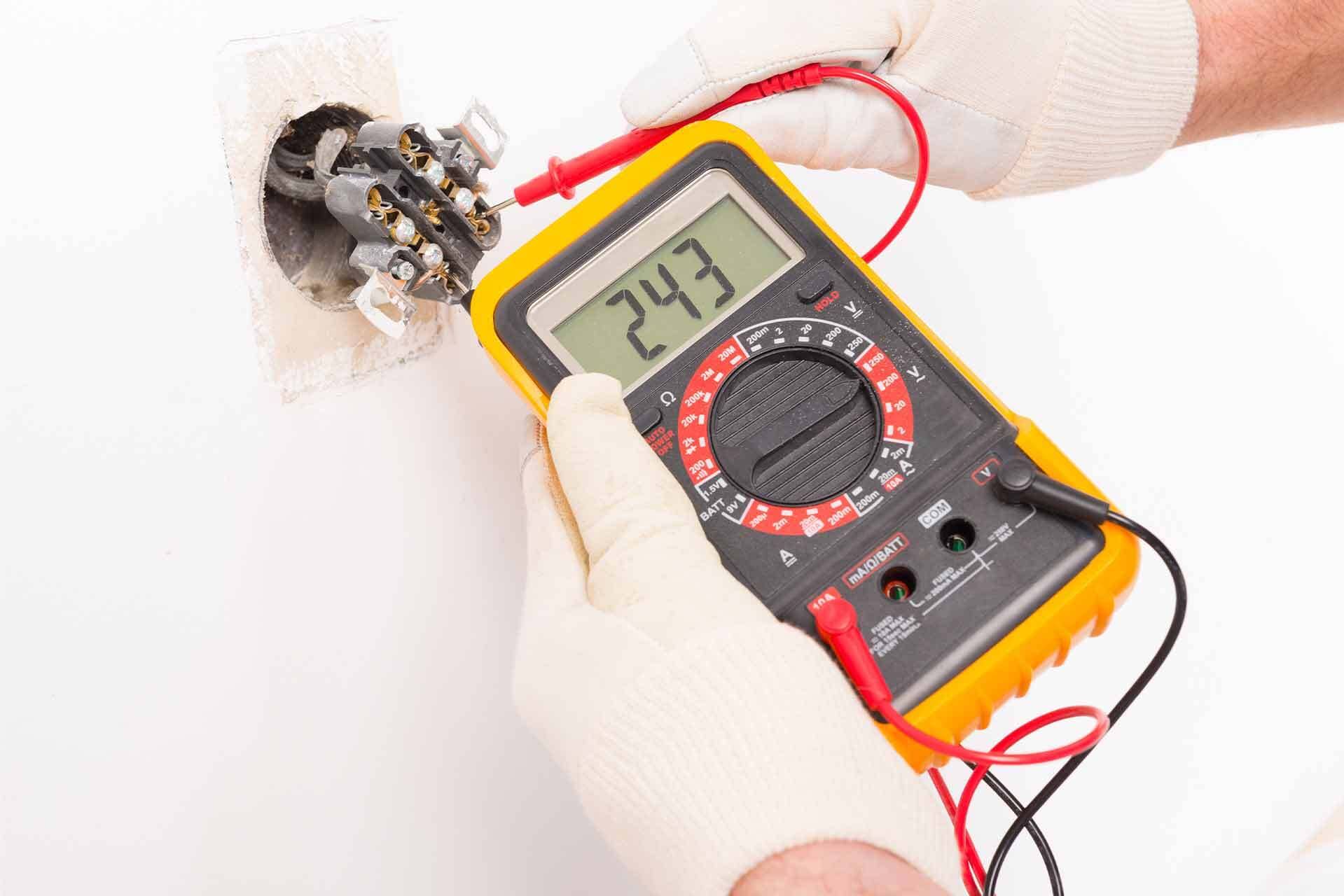 Whether you've recently moved into an older property or you're looking to upgrade the wiring in your existing house, this guide shows you rewiring costs to help you plan your budget
How much does it cost to rewire a house?
The cost of rewiring your home will depend on a number of factors, with size, age of property and location being the most important.
| Size of property | Average UK cost (+VAT) |
| --- | --- |
| 1-bed flat | £3,900 |
| 2-bed flat | £4,800 |
| 3-bed flat | £5,650 |
| 1-bed house | £4,200 |
| 2-bed house | £4,800 |
| 3-bed house | £6,225 |
| 4-bed house | £7,730 |
| 5-bed house | £10,000 |
The estimated house electrical rewiring prices for a one-bedroom flat fall between £3,000 - £4,800, taking around 4-7 days. For a two-bed flat, the cost is on average between £3,800 - £5,800.
The average cost to rewire a 3-bedroom house is in the region of £4,450 - £8,000. Depending on the size and layout of the property, it should take 6-10 days to carry out the rewiring work.
If you're looking to remove and replace wiring, the average cost to rewire a 4-bed house is somewhere between £6,080 - £9,380. On average, it takes 1-2 weeks to complete all the work – though the bigger the house, the longer it will take.
The electrical rewiring cost for a 5-bed house can be between £7,500 - £12,500 and take up to 10-15 days.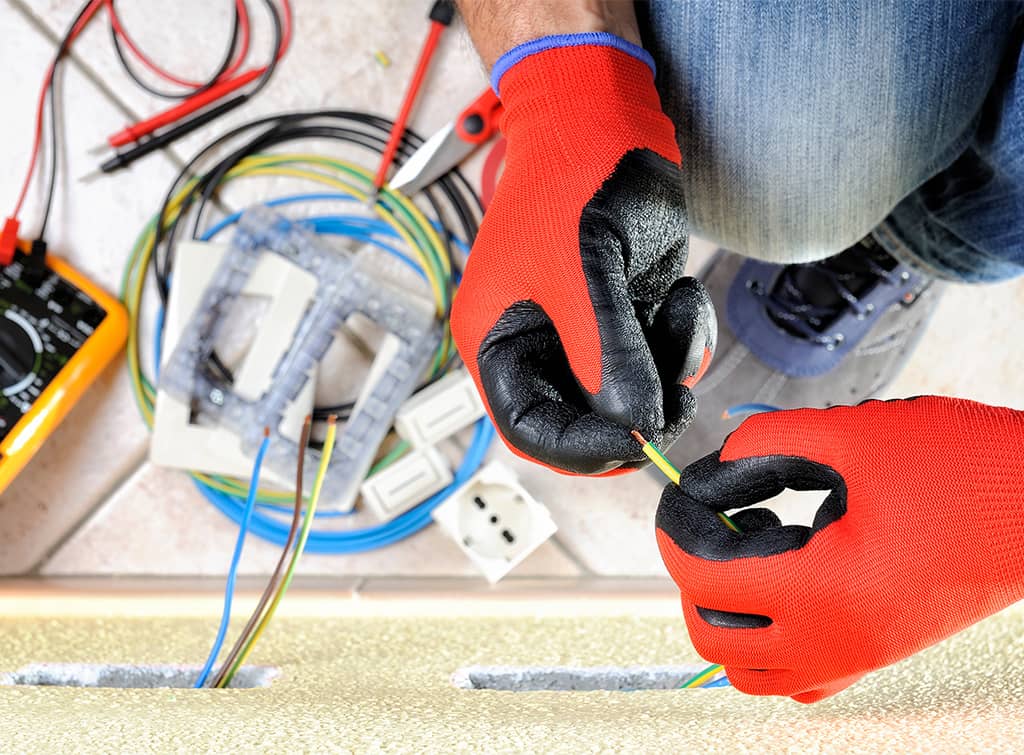 See the tradespeople we've checked and recommend for your job
What does the 'rewiring a house' cost include?
The rewiring process usually takes place in two stages. Firstly, the old wiring is removed and replaced with new wiring. Secondly, the new switches, sockets and other fittings are installed and the system is connected to the power and made live.
In general, the price you're quoted to re-cable your house will include:
Removal of old fittings and wiring
New wiring throughout the property
Standard white finish electrical accessories (e.g. socket outlets and switches)
Installation of a new metal consumer unit
Minor plastering work to fill small holes
Circuit testing and final installation certification to prove all work meets current regulations (don't hire any tradespeople who can't offer certified electrical work)
The price you're quoted for the rewiring generally won't include any major plastering work, decorating or carpet fitting needed – you'll need to get separate quotes for those jobs.
When hiring an electrician, we always recommend asking for a clear description of what is included in the house rewiring prices they are quoting. That way there are no costly surprises later on.
See the tradespeople we've checked and recommend for your job
Rewiring house cost calculator
As with most home improvement projects, there are a number of factors that affect the overall price you'll pay to rewire your house. These include:
Size and layout of the property
Quality of fixtures and fittings
Number of socket outlets
The complexity of the existing wiring system
Whether the home is occupied (electricians work a lot faster in empty properties)
Where you live
How much does an Electrical Installation Condition Report (EICR) cost?
Building regulations in the UK state that your electrical installation should be tested every ten years if you own your home. If you are a landlord or live in a rented property, this check should be done every five years.
The Electrical Installation Condition Report (EICR) will highlight any issues with your home's electrical installation, including faulty connections, poor wiring or short circuit protection.
The report must be carried out by a qualified electrician and will include the following:
Inspection of the consumer unit or fuse board
Inspection of a sample of switches, sockets and other fixtures
Checking the polarity of the installation
Testing any protective devices to ensure they are safe and working properly
| Size of property | Average report cost |
| --- | --- |
| 1-bed flat | £150 |
| 2-bed flat | £175 |
| 3-bed flat | £200 |
| 1-2 bed house | £175 |
| 3-4 bed house | £225 |
| 5+ bed house | £375 |
The average cost for an EICR can range from £150 for a 1-bed flat, up to £375 for a 5-bed house.
Additional costs to rewire a house
If you're hiring an electrician to rewire your house, there may be additional jobs that you might want or need them to do. Replacing a light fitting will cost you around £65. You might want to add a security light with a motion sensor, which will cost about £125.
| Additional job | Average cost |
| --- | --- |
| Replace a light fitting | £65 |
| Install security light with motion sensor | £125 |
| Install CCTV system | £1,375 |
If you're planning to upgrade your home security even further, the cost of installing a CCTV system is in the region of £1,375. For more information on security systems, check out our guide to CCTV installation costs.
Labour costs for rewiring a house
One of the main factors that contribute to the total cost of rewiring a house is labour. It's most likely that you'll need different tradespeople to complete the work.
| Labourer | Average cost (per day) |
| --- | --- |
| Electrician | £320 |
| Carpet fitter | £240 |
| Labourer | £175 |
The average daily rate of an electrician is £320 per day.
If you have carpet that needs taking up, replacing or refitting then you'll need a carpet fitter for a cost of around £240 per day.
And, if you need a general labourer, their standard rate is around £175 per day.
Other costs to consider
Rewiring a house can be a very fiddly and messy job. Ideally, you'll need to remove as much furniture from your home as possible, including taking up any carpets (as the rewiring job will usually need floorboards to be lifted). This means you may need to hire furniture removal and/or storage companies.
A full rewire project may also mean that your property is without power for extended periods of time. If this is the case, you may need to move out temporarily – so you may incur accommodation costs during that time.
Rewiring house quotes
When it comes to getting a rewiring quote, we highly recommend getting at least three quotes from local electricians.
To get three quotes, we recommend filling in our request a quote form with information about your house rewiring. We will then send it to three tradespeople near you.
See the tradespeople we've checked and recommend for your job
Does my house need rewiring?
It's often very difficult to spot electrical issues yourself. The best way to find out if your house needs rewiring is to hire a qualified electrician to carry out an EICR.
That said, there are a number of signs that could indicate there are problems with your home's wiring. These include:
Your consumer unit trips out regularly
You hear a crackling or buzzing noise around any of your electrical sockets or equipment
Fuses or bulbs that keep blowing regularly
Any electrical wires covered in black rubber, lead or fabric
Signs of discolouration or burning on or around any of your electrical fittings
Flickering lights
Also, you may need to upgrade your electrical system if you have an out-of-date fuse box. You can check this by looking at the date on the consumer unit – there's usually a printed label on the inside of the consumer unit door.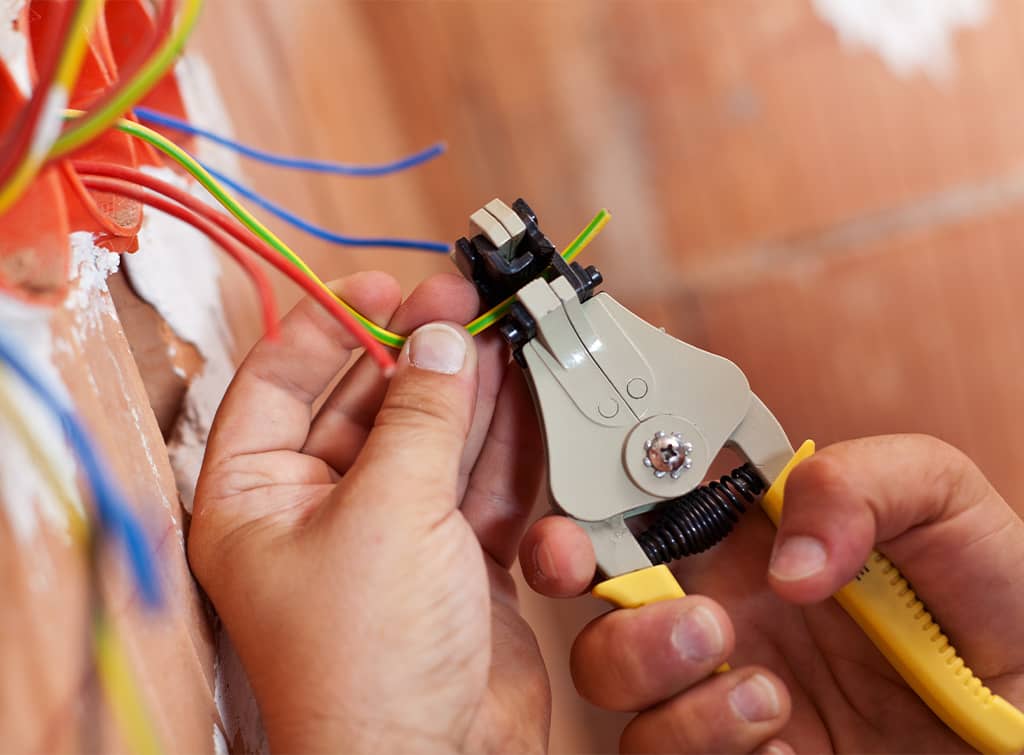 Do I need to rewire my house to sell it?
It's not mandatory to rewire your house before selling, as long as all the electrical installations are safe and working. That said, it could add value to the property if you do rewire – especially if the existing wiring looks noticeably old.
It is worth noting that insurance providers may not provide coverage for properties with outdated wiring as they pose an increased fire risk.
Dodgy wiring can put off buyers so if you notice any of the warning signs we mentioned above, you might want to consider rewiring to help sell your home faster. If in doubt, speak to a qualified electrician for their professional advice.
Useful house rewiring checklist
Identify any specific issues with current electrical, if relevant.
Organise an EICR to establish the condition of your wiring, and always ask for official certification.
Always hire a qualified electrician with the appropriate accreditations to ensure all their work will meet current regulations – such as being registered as a competent person with organisations like NICEIC, ELECSA and NAPIT.
Shop around a number of qualified electricians for fair and competitive prices.
Make sure any electrician you hire shows you their public liability insurance and a warranty policy, in case you need cover should any of their work go wrong.
Always ask for certification after any electrical work has been completed – electricians in England and Wales are legally obliged to comply with Part P of the Building Regulations.