Last updated on April 28th, 2022
How much does home CCTV installation cost?
This CCTV installation cost guide describes the average security camera installation costs and includes the information you need to compare quotes.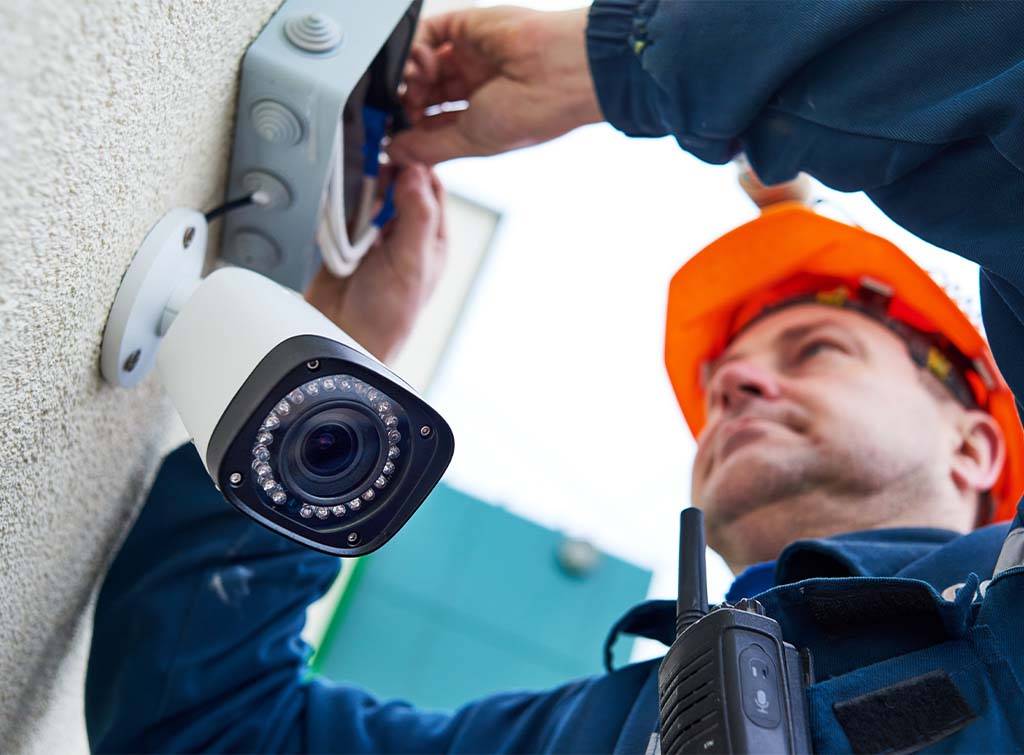 If you're concerned about the safety or security of your property, a CCTV system is a wise investment.
CCTV installation costs depend on several factors; the type of system you choose, the number of cameras you need, the camera's location, and any additional materials required for the job.
Please note: our estimated costs (excluding VAT) are based on trusted and checked professionals supplying the CCTV. We spoke to our very own Checkatrade vetted professional, Luke Evans at L.E Electrical (South) Ltd, 
Average cost of home CCTV installation
Prices start from £800 + VAT to install a basic, four-camera wired CCTV system. We always recommend speaking to a local professional for an accurate quote, as installation complexity, and therefore cost, can vary tremendously for each job.
More advanced CCTV systems with more cameras, cloud storage and remote access can cost considerably more to supply and install. A basic, 8-camera CCTV system costs around £1,000 + VAT including installation.
If you're looking to install a wireless CCTV system, then the average cost will be in the region of £450 – £750 + VAT. It's also sensible to factor in a yearly checkup with annual maintenance costs starting from around £100.
| CCTV type | Job | Average cost (excl. VAT) |
| --- | --- | --- |
| Basic 4-camera wired CCTV system | Supply cost only | £300 |
| Basic 8-camera wired CCTV system | Supply cost only | £500 |
| Wired system cabling & installation | Installation only | £500 |
| Basic 4-camera wireless CCTV system | Supply cost only | £300 |
| Basic 8-camera wireless CCTV system | Supply cost only | £600 |
| Wireless system installation | Installation only | £150 |
| Annual monitoring/maintenance | Suggested every year | £100 |
Factors affecting CCTV installation costs
CCTV camera installation prices will vary according to certain factors, such as:
Location – expect to pay higher CCTV installation costs if you live in a major city.
Cameras – the more cameras you have installed, the higher the price.
Camera locations – installing cameras in hard-to-reach places such as high up on walls or in eaves will add to CCTV installation costs.
Building type – if you live in a listed building, expect to pay higher CCTV installation costs.
Burglar alarm – you may also choose to pair a CCTV system with an alarm for added security. More details can be found in our burglar alarm installation cost guide.
If you are having a basic wired CCTV system installed, you should consider the cost of hiding wires within your property.
Lincolnshire Police have a useful resource for additional considerations, such as recording rates, lens choice, lighting, and cables.
Benefits of a CCTV system
Connected CCTV cameras will record everything that goes on around your property and act as a strong visual deterrent to thieves.
You can have external CCTV cameras and internal ones. They can all be connected to provide complete coverage of your home.
CCTV cameras enable you to monitor what's going on around your home. They will record anything and everything that happens. As well as putting off thieves, a CCTV camera set-up may reduce insurance premiums too.
See the tradespeople we've checked and recommend for your job
Different types of CCTV system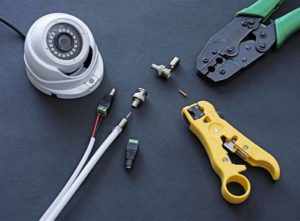 There are three types of CCTV systems that you can choose from. Here's what they are and how they compare.
Basic CCTV system
A basic CCTV will comprise between 4 – 8 internal or external cameras linked together via wires. The wires create a stable connection, but the need to thread wires around your property can limit suitable camera locations.
Wired CCTV systems connect to a hard drive that can store the footage. Modern 1TB hard drives can store around two weeks of footage.
If you choose a basic CCTV system, you may have to trunk or hide wires within your property.
Wireless CCTV system
Wireless CCTV systems connect over a network, which means you are free to position them wherever you choose. This makes installation easier, and set-up and configuration can be quicker too.
Wireless CCTV cameras will store their footage in the cloud, where it can be downloaded and viewed. An online storage plan may be required for longer retention periods. Providers including Nest and Ring offer both free and paid plans.
High-end CCTV system
High-end CCTV systems are entirely wireless and capture video in full 4K or 1080P high-definition. Some high-end systems use night-vision to capture footage of reasonable quality during the hours of darkness, owing to their onboard infrared detectors. Infrared CCTV cameras offer major advantages over basic systems for round-the-clock monitoring.
Premium CCTV systems often come with connected apps, which means you can remotely view footage from anywhere in the world.
Things to consider when choosing a CCTV system
If you're considering investing in a CCTV system, here are a few things you should consider while making your choice:
What do you want to protect? List all of the things your CCTV system needs to protect (home, car, outbuildings or other valuables etc.)
Do you need internal or external cameras? Consider whether you need cameras inside and outside.
Where will the cameras be located? Think about the positions of cameras and consider any potential gaps or blind spots.
Where will you store your footage? Decide whether you want to store your footage on a hard drive or in the cloud.
Do you want to watch your footage on mobile? Some CCTV cameras allow you to view footage remotely.
Do you want high-quality footage? High-end systems can capture incredible quality footage, but decide whether this is worth paying for.
See the tradespeople we've checked and recommend for your job
Home CCTV installation costs
So you've decided on a home security system, here are the average home CCTV installation costs you can expect to pay.
Basic CCTV system installation costs
Prices start from £800 + VAT for supply and installation.
This includes identifying locations for four cameras, securing them in place and setting up the system itself.
Wireless CCTV installation costs
You can expect to pay £450 + VAT for a wireless CCTV camera set-up with four cameras. An 8-camera wireless system will cost around £750 + VAT to supply and install.
High-end CCTV installation costs
At the high-end, you can specify a system exactly to your requirements, but expect to pay for the privilege.
How long does it take to install a CCTV system?
The time it takes to install your CCTV camera system will depend on the number of cameras you are having installed.
It should take a professional between one to two days to install your new CCTV system. This will include setting the system up, configuring it and testing it. For more details on the ins and outs of installing CCTV, read our guide on how to install security cameras.
CCTV installation cost calculator
In order to calculate the cost of CCTV installation, you'll need to start with the number of cameras you plan to have – the more cameras, the higher the cost of installation. That said, if you opt for a wireless CCTV system the installation costs will typically be lower than a wired system, as they're quicker and easier to install.
Other factors to consider are the costs for the cameras, cabling and other materials, as well as the time it takes to install the CCTV system. The more complex the installation, the more it's going to cost.
CCTV installation quote
We always recommend obtaining at least three quotes from our trusted tradespeople. Our request a quote feature is perfect for getting quotes – you post details about the job you want doing and we'll send it out to local tradespeople in your area. Try it out!
Can I install a home CCTV system myself?
Installing a CCTV system can be challenging. Modern wireless systems can be relatively simple to set up and configure. However, you can experience technical problems which can be difficult and frustrating to fix.
Experienced CCTV installers will be able to provide expert advice on camera locations to ensure complete coverage of your property.
They can also safely install cameras inside your property or to external walls, including working safely on ladders.
For the best possible job, we recommend you go with a professional tradesperson.
Key takeaways
A CCTV system is a sensible investment in protecting your property and possessions.
You can choose between basic wired, wireless and high-end CCTV systems.
A basic wired 4-camera CCTV system will cost anything from £800 + VAT to supply and install.
It should take between one and two days to install, configure and test your system.
The total CCTV installation cost will depend on various factors, and you should use the information in this article as a guideline.
See the tradespeople we've checked and recommend for your job