Last updated on March 31st, 2022
Shed roof replacement cost guide
With felt shed roofs only expected to last 5 – 7 years, they are by no means a permanent solution and may need replacing sooner than you think. There are many reasons replacing a shed roof is necessary, such as leaking, water damage, mould, or tears in the material to name a few.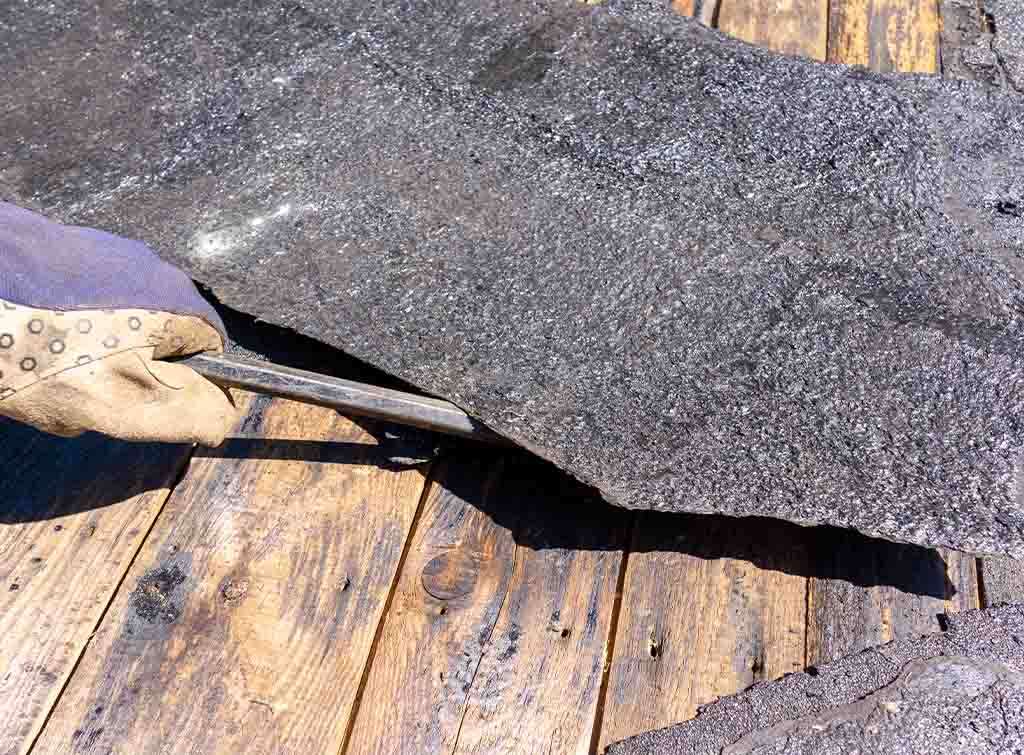 Or, you can replace your shed roof to improve functionality (durability or waterproofing) and even to improve the appearance of the roof to better suit your outdoor aesthetic.
How much does it cost to replace a shed roof?
The cost of replacing a shed roof is made up of three components. The cost to replace a shed roof can be calculated at around £40 per m2.
The breakdown of this whole shed roof replacement cost is:
Timbers: £10/m2
Deck/ply: £8.50/m2
Felt: £24/m2
Totalling a cost of roughly £42 per m2.
See the below table for a quick and handy calculation to work out the cost of replacing your shed roof.
We also have a handy guide on how to replace or build a new shed base.
| Shed roof replacement cost | Unit | Average cost |
| --- | --- | --- |
| Shed felt | Per m2 | £24 |
| EPDM rubber roofing | Per m2 | £28 |
| Sheet metal roofing | Per m2 | £35 |
| Felt tiles or roof shingles | Per m2 | £50 |
| Clay tiles | Per m2 | £98 |
| Fibreglass | Per m2 | £26 |
| Cost to remove whole roof (timber, deck/ply, felt) | Per m2 | £20 |
| Roofer | Per hour | £30 |
| Roof deck and joists | Per m2 | £62 |
The importance of keeping your shed roof well maintained
It is crucial to keep your shed roof well maintained as this can greatly extend the life of your shed, avoiding premature roof replacement as well as future shed repair costs. Depending on the material currently used, there are many ways to keep your shed roof, and the shed itself, well protected and maintained.
Starting with cleaning and working up to repair and replacement, you will need to near the following factors in mind when extending the life of your shed roof:
Bird droppings should be wiped away (soaking first may be necessary).
Debris such as leaves and twigs should be carefully brushed off.
Any holes or tears that appear in the shed roof should be immediately patched up to prevent water from damaging the inside and any items stored in the shed.
Timber shed roofs can be protected using paint or coatings to prevent decay, rot or mould.
Different types of shed roof
There are various materials and types of shed roof, all of these have their own positives and negatives. Below is a brief list of the most common types:
Felt roofs are relatively easy to install and are available in many different colours with optional features. When felt is properly installed a waterproof membrane will be created protecting the roof and shed itself. The felt is simply cut to size and nailed in place.
Difficult to install but with high functionality, rubber roofs are waterproof, weather-resistant, pliable and durable. It is recommended that rubber roofs are installed by professionals due to the complexity of the process.
Roof shingles are a great choice for anyone looking to improve the appearance of their shed. They are inexpensive, come in a wide range of colours and styles plus are not difficult to install.
Easy and quick to install, plastic roof tiles are sold in sheets and available in several colour options. They are lightweight, reducing the load on your shed, and when installed correctly they overlap to achieve a waterproof finish.
Designed to thrive in all weather conditions, sheet metal roofs are very durable and can last 40 – 70 years if properly maintained. Also available in various colours and types of metal.
Find a shed builder near you
Factors affecting the cost of shed roof repair and replacement
There are so many important factors that influence the cost of repairing or replacing a shed roof, including:
The type of damage: For instance, water damage may have spread past the roof to affect the timber underneath and as such this will need to be replaced, increasing the cost. Other types of damage are mould, tears and holes.
The size of the shed: Large sheds will have larger roofs to repair or replace. This will mean an increase in time and materials which will raise the overall cost.
The type of roof: The material used for the current shed roof and the new one will affect the cost of the repair or replacement. For example, rubber roofs require a more intensive installation, adding to the time and increasing the price, whereas the cost to repair a felt roof is significantly lower.
The finish: Finally, once your shed roof has been repaired or replaced, you may wish to paint or coat the timber areas to prevent future damage or issues. This will also increase the cost.
Shed roof repair cost
After taking into account the damage to your current roof, there are two main costs to consider which will vary due to the size of the repair. Firstly, the type of new material required to repair the damaged section, for example with clay-tiled roofs the new tiles will cost around £98 per m2 but for sheet metal roofs the new sheet metal will cost around £35 per m2.
The other cost of repairing a shed roof to consider is the price charged by a professional roofer which will be roughly between £18 - £25 per hour. If your take on the labour yourself this will largely reduce the costs but increases the risk of mistakes.
Shed felt repair cost
Luckily, shed roofs made of felt are inexpensive and simple to repair. Extra pieces of felt can be used to patch any tears or holes in the current roof, which cost as little as £3 per m2. If a professional is required, the average cost to repair shed felt per hour will be £21.50.
Find a shed builder near you
Shed roof replacement cost
Replacing the existing roof on your shed is a difficult job due to the weight and accuracy required, so it's recommended this only be tackled by a professional roofer. On the plus side, the job is not too time-consuming, on average it will take less than a day with labour costing around £18 - £25 per hour. The costs after labour will involve the removal of the current roof (£80 per m2) plus the type and amount of material required (from approximately £3 - £98 per m2).
Shed roof replacement cost calculator
To calculate the cost of your shed roof replacement project you'll need to consider the size and shape of the shed roof, as well as the materials to be used. The larger and more complex the structure, the more it will cost to replace your shed roof. On top of the cost of materials for the shed roof, you will also need to add on the labour cost of the roofer to carry out the work.
Shed roof replacement hourly rates
The average hourly rate for a roofer is around £21.50 per hour. The exact price you pay will depend on the individual roofer, their experience and the details of the work you need them to do. To get accurate prices in your area, we recommend speaking to local roofers and asking for a breakdown of their costs.
Shed roof replacement quotes
We always recommend obtaining at least three quotes from our trusted tradespeople. Our request a quote feature is perfect for getting quotes – you post details about the job you want doing and we'll send it out to local tradespeople in your area. Try it out!
Can I replace my shed roof myself?
When replacing a shed roof, there are many issues and dangers to be considered as such it is always recommended to hire a professional.
One of the main things to consider is the weight of the current roof. If you are planning to remove this yourself this can lead to an accident or injury, so it is always necessary to have assistance. Another factor to consider is that unless the roof is finished properly this can lead to future water or mould damage to your shed itself and the contents inside. Finally, the end result is unlikely to look as good or neat as it would if you hired a professional which may mean the job will need to be redone.
Key takeaways for replacing a shed roof
Any damage to the inside or the shed itself should be corrected before fixing or replacing the roof.
Consider if the current damage can be repaired without the need to completely replace your shed roof.
Carefully choose the material used to replace your shed roof as when properly finished this should last many years.
Thorough maintenance of your shed roof is essential to prolong its life. This may include cleaning, removing debris and applying preventative coatings.
Your safety is the most important consideration. It is strongly advised against attempting to work with heavy and potentially dangerous materials without proper assistance and protection.
Find a shed builder near you
Good jobs, guaranteed
Get covered when you book with Checkatrade.