Last updated on March 31st, 2022
Cost of refelting a roof
Roof felt acts as a protective barrier for your property, protecting it from the wind, rain and snow (as well as pests, such as insects, bats and birds). We've put together this guide about the cost of refelting a roof to help you budget for your project.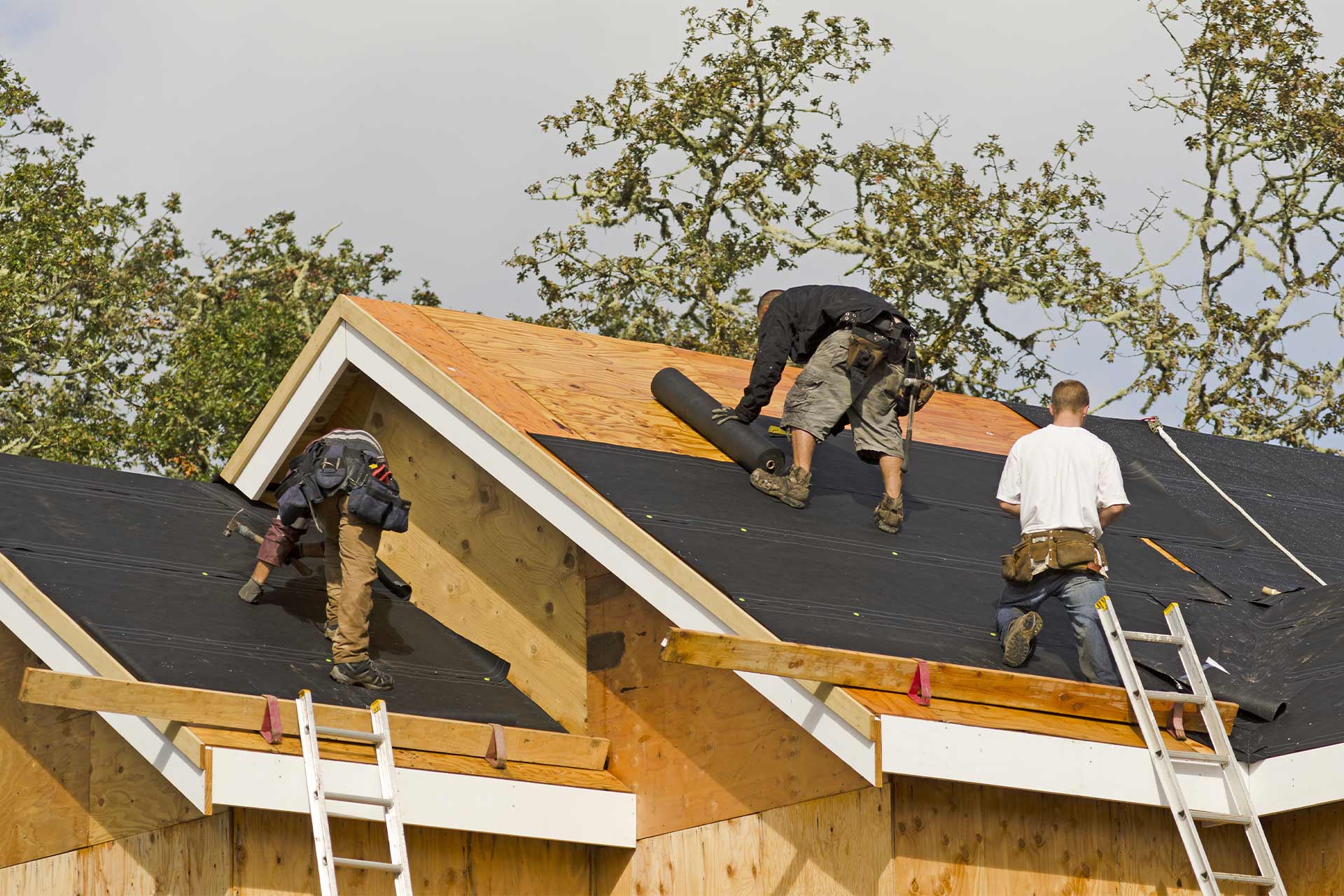 Whether you have just bought a new property and the roof felt needs replacing, or you've noticed damage or condensation in your existing roof, this guide will help understand the cost of felt roof replacement.
Keeping your roof felt in good condition is important to ensure you minimise any repair costs and further damage to the roof structure or other parts of the building.
What is the cost of refelting a roof?
| Item | Range - low | Range - high | Average cost |
| --- | --- | --- | --- |
| Felt cost (per m²) | - | - | £50 |
| Medium-sized shed (£30 - £45 per m²) | £250 | £450 | £350 |
| Average flat roof garage | £1,000 | £2,000 | £1,500 |
| Full roof under tiles | £2,300 | £7,300 | £4,800 |
| Replacement roof (including felt, ply deck and joists) | - | - | £200 per m² |
| Replacement roof (including felt, ply deck, joists, fascias and guttering) | - | - | £300 per m² |
| Labour (per day) | £150 | £250 | £200 |
The total cost of your roof refelting project can vary greatly, depending on how much roof needs felting and what state it's in.
The average cost of felt roofing per square metre is about £30 - £45. The roof felt cost for a medium-sized shed is around £250 - £450.
Part of the cost of refelting a roof is the price of labour, which will cost around £200 per day.
There are a number of factors that will directly affect the final cost of your roof refelting project. The most influential factors include:
Size of the roof
Age and condition of the roof and existing felt
The quality of materials used
Accessibility of the roof (e.g. height, ability to access, need for scaffolding)
Time of the year
Where you live
Any structural repairs that might be needed (e.g. joists, the roof ply deck)
If gutterings and fascias need replacing

How much does it cost to replace roof felt under tiles?
If you need to replace roofing felt under tiles on your roof, it's worth finding out how much of your existing felt needs to be replaced.
Replacing a small patch of felt can cost from as little as £200 (the equivalent of 4m²). However, if you have extensive damage and need to replace the felt for the whole roof that will cost you a lot more.
The average cost of refelting a whole roof under tiles is around £4,800. This can vary a lot depending on the size of the roof, the type of tiles and other factors we mentioned above.
How much does it cost to replace a flat felt roof?
For an average flat roof garage, the cost of felt roof replacement is in the region of £1,500.
See the tradespeople we've checked and recommend for your job
What does roof felt do?
The original purpose for using roofing felt was as a temporary waterproof layer used during the construction process, while the permanent roof was being constructed.
Nowadays many homeowners have roof felt under roof tiles or a flat roof covering for sheds and garages, protecting them from the elements.
Benefits of replacing roof felt
Your roof is one of the most important parts of a building, protecting it from the elements. Therefore, keeping your roof in good condition is important for a number of reasons.
Here are some of the great benefits of roof felt:
It acts as a moisture barrier, being completely waterproof.
It prevents damage to the underlying roof structure (especially wooden roofs) and the building itself.
For temporary roofing, it protects the building whilst builders create the permanent roof.
Felt under roof tiles adds a valuable layer of protection to the roof structure.
What does roof felt replacement involve?
In order to replace roofing felt from a section of roof with tiles, the roof tiles will first need to be removed before replacing the felt between two joists.
Many roof structures perform perfectly well without roof felt, so for minor damage or tears you don't necessarily need to replace the felt.
However, if the damage is more considerable or you notice adverse effects, such as water leaking through the roof, then the felt needs to be replaced.
Additional costs of felt roof replacement
If you are refelting your roof, there are some additional costs that you might need to be aware of before you start:
Structural damage to the roof itself will need to be dealt with, at an additional cost.
Additional time that any tradespeople spend refelting will be charged at an hourly rate.
Scaffolding is sometimes needed to access certain roofs and comes at an extra cost.
Why do I need to replace roof felt?
Damage to your roofing felt can lead to leaks and other problems, such as damp patches appearing on ceilings in your home. Old felt can become brittle and start to deteriorate over time.
Patch repairs will work for small-scale damage to roofing felt, however, over time you may need to replace the roof felt for the whole roof.
Many period buildings, particularly Victorian houses, were built without using any roof felt at all – and still don't have any. Adding or replacing roof felt helps reduce the impact of elements on roof slate or tiles.
Well-maintained roof felt can also provide a helpful layer of added insulation to help keep heat from escaping through the room of your home.
Useful roof felting checklist
Check your existing roof to see the extent and location of any damage (you might need a professional tradesperson to come and inspect the roof).
Decide whether you need a patch of roof refelting, or the whole roof.
Speak to local roofing experts for professional advice and accurate roof felt prices.
Shop around for fair and competitive costs.
Always hire a tradesperson with relevant experience and appropriate qualifications/accreditations.
See the tradespeople we've checked and recommend for your job