Maximising productivity: How to build a home office
Knowing how to build a home office wasn't a skill many of us needed in the 'before times.' However, with the arrival of COVID-19 and the resulting pandemic, many of us found ourselves working from home. earning how to build a home office is essential. Read on for a step-by-step guide into carving out a holistic home working experience.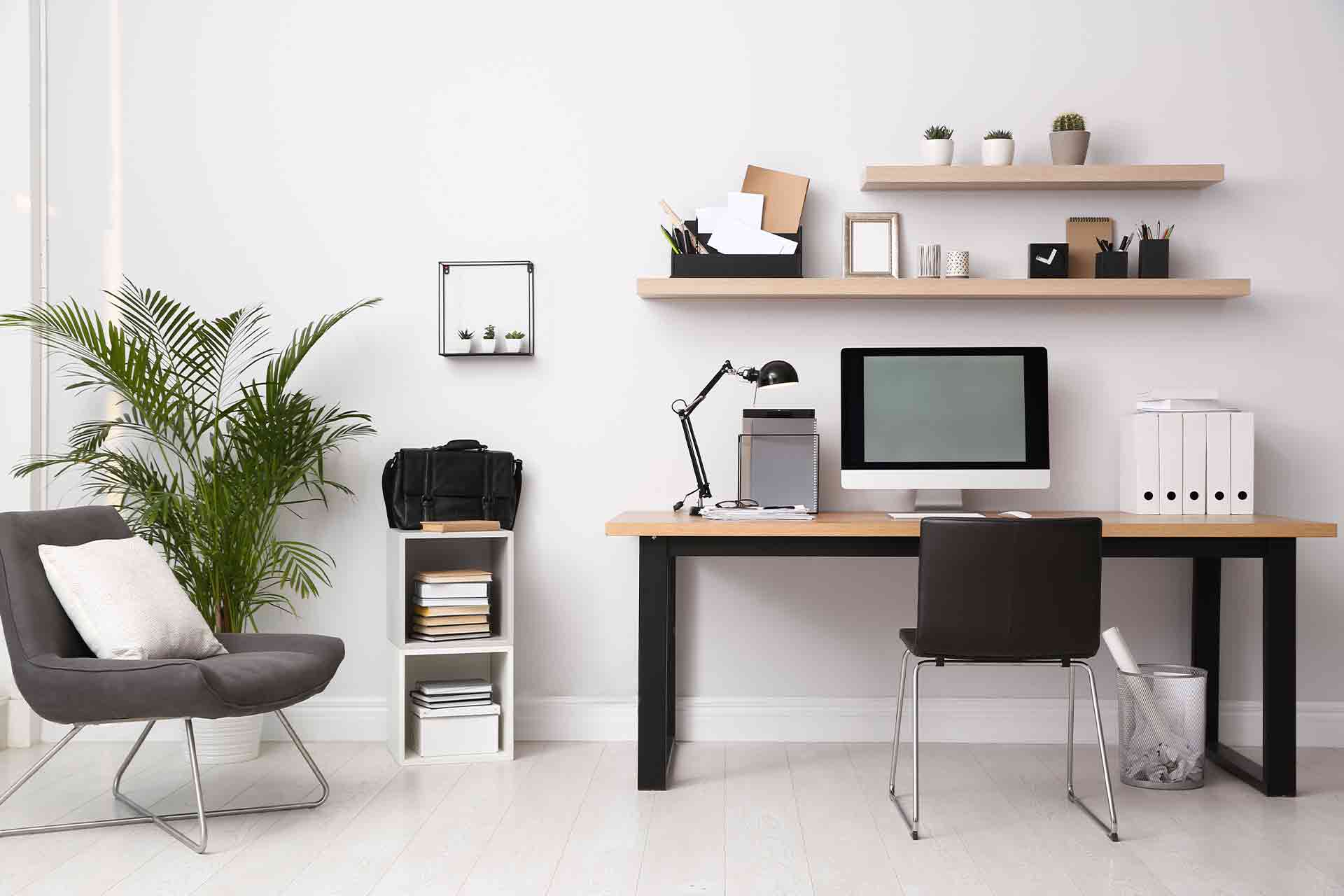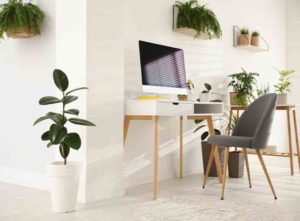 Knowing how to build a home office wasn't a skill many of us needed in the 'before times.' However, with the arrival of COVID-19 and the resulting pandemic, many of us found ourselves working from home.
This presented unique challenges – for some, a shortage in Netflix's binge-worthy content; for others, a lack of viable space or the right equipment to do our jobs.
In a panic, we furiously googled terms like, 'How to make a desk' or, 'How to build a garden office space because my partner keeps tripping over me.'
To make matters worse, shops quickly sold out of equipment, whilst delivery dates extended to undisclosed epochs in time. Productivity took a nosedive. Relationships suffered, ROIs plummeted, homes shrank overnight, and all those empty commercial offices laughed in our squashed little faces.
Bereft, we were forced to make the best out of what we had at home, and it was no coincidence that humanity saw an increase in displays of territorial dominance. Desks made out of boxes and sellotape became commonplace; refreshing office equipment pages on Amazon gave us RSI, and a new appreciation for meetings-that-could-be-emails grew in our hearts.
All this and more is why learning how to build a home office is essential. Not only does it benefit you and the people around you, but it also increases your productivity, wellbeing and money-making potential.
Read on for a step-by-step guide into carving out a holistic home working experience.
Step one: Choose and measure your space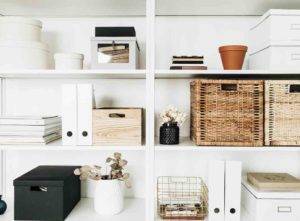 Whether you're creating a small home office in your humble abode or clearing out a spare room, there are a few things worth considering before you start marking your territory.
Light and bright
Firstly, check where your light sources are coming from. Studies show that working in natural light is better for your wellbeing and eye health. Staring at a wall or making like Harry Potter and squeezing under the stairs isn't going to do you any favours. A nice view of the outside world will maintain your circadian rhythm and keep you grounded – emotionally speaking. (You can go outside if you want).
Quiet and tranquil
The second thing to consider when learning how to build a home office is the potential for noise disturbance. Is your office in a quiet part of the house or are you creating a small home office in the corner of your maisonette lounge? Do you live alone or with housemates, a partner, children or pets? If yes, are they the disruptive sort? If yes again, you have two choices: find a spot with minimal people-traffic or buy high-end noise-cancelling headphones.
Feng and shui
Lastly, the layout of your room matters. Plonking any old desk anywhere is, at best, a questionable interior design choice. However, choosing a desk that matches your decor turns 'home working' into 'home working it!' For those with limited space, creating a small home office is now easier than ever. Options include corner, foldaway or freestanding desks. (The engineering industry never ceases to amaze us). Just be sure to measure your space so you don't buy over or undersized furniture.
Top tip: Place your desk near a power source. If this isn't possible, hire a professional tradesperson to install an extra plug socket for you.
Step two: Invest in the right equipment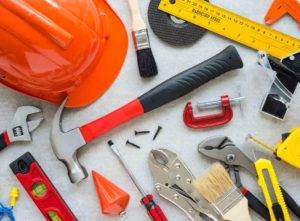 There are thousands of home office options to choose from. (Frankly, the market is saturated). However, it does mean you get to flex your creative muscles when it comes to choosing storage, shelves, pictures, pedestals, accessories and more. Above all, home office shelving is worth serious consideration. As we tend to struggle for floor space as it is, utilising walls to store and tidy things away is an excellent solution to storage shortages.
Item checklist
We like to be helpful at Checkatrade, which is why we've put together this handy shopping list for you to tick off as required.
Desk: Be sure to measure your space and choose the right size.
Chair: We recommend an ergonomic design that supports you both physically and emotionally.
Monitor: Choose a height-adaptable model with a Bluelight filter to protect your eyes.
Cables and cable tidy:  Make sure you have any and all cables or adapters for your computer, monitor and accessories. Then keep them tidy in a cable organiser.
Lighting: A desk light is an excellent way to avoid eye strain when you work long hours.
Shelving: As mentioned, we love a shelf. Install them yourself with sheer grit and will, or hire a professional.
Phone/Internet port: Depending on your role and need for conference calls, this is worth looking into. Always opt for high-speed connections. There's nothing worse than patchy internet when you're trying to meet a deadline or catch-up with your boss.
Step three: Learn how to build a home office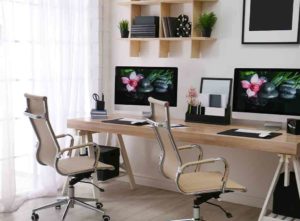 This is where things get interesting. Put your DIY skills to test (or pay someone to do it), and transform that redundant space into something useful. Think of yourself as a practical fairy godmother, except, instead of bridging the gap between a Prince and a slipper, you're bridging the gaps in your productivity.
How to build a home office
In order to build a home office – and depending on the equipment you've chosen – there are several key steps you need to take.
Hang shelves
Hanging shelves isn't as straightforward as it sounds. Unless you're a DIY connoisseur or grossly overconfident, then hiring a handyman might be your best bet. However, if you do want to try it yourself, there are numerous tutorials available online (like this one).
Our top tips include:
Measure your desk height and wall space before marking out the shelving area.
Utilise the right equipment, e.g., hammer-action drill, screws, wall plugs, spirit measure, brackets, pencil etc.
Use an electric stud-finder unless you have bat-level hearing.
Choose and space your brackets according to the strength of your material (on a scale of 'chipboard' to 'toughened glass').
Stay calm. Stay steady. You've got this.
Check out our shelving cost guide for some money-saving insights.
Build your desk
"Builders, assemble!"
Okay, putting together a desk might not be that dramatic, but things can quickly escalate. Most desks either come pre-built or with difficult and convoluted instructions that test your already-limited patience. Either way, we advise that you follow the steps and keep your cool with Captain-Chamomile or Hulk-Green tea.
Once your desk is assembled, ignore the random spare parts (they're not important) before placing your office foundation in position.
Congratulations. You just learned how to build an office.
Plugin electronics
Now you've got your bases covered, it's time to plug everything in and make sure it works. We're not going to tell you how to hook up your monitor and laptop/computer because we're not the patronising sort. However, we are going to advise that you run your cables along your back wall as neatly as possible to avoid a cluttered look.
Cable tidies, clips and ties are excellent options for keeping things neat and classy.
See the tradespeople we've checked and recommend for your job
Step four: Add the finishing touches to your office space
You've got your desk, chair, shelves, monitor and computer all set up. You're ready to get to work. However, there's just a couple of things missing: a few personal touches that will take your office from 'meh' to 'yeah!'
Top tips for that office yes factor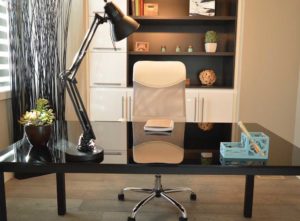 Hang pictures: Liven up your space with beloved art or photographs. Choose collections that inspire (or ironically uninspire) you, and let them brighten up your working space.
(Check out our picture hanging service cost to avoid a bodge job).
Position your equipment correctly: An ergonomic set up is important for your physical health and wellbeing. Maintaining good posture stops workplace injuries like back pain, repetitive strain injury, eye fatigue, headaches, rounded shoulders, spine injuries, and bent knees when standing. So, be sure to undertake a workplace assessment and take regular breaks.
Stay organised: The key to productivity is organisation. Whether you invest in a pegboard, storage boxes, drawer organisers or paper racks, maintaining desk order will maximise your output by reducing the time you spend searching for things you need.
Maintain an ambient temperature: Staying warm and comfortable improves focus. Being too hot or too cold is distracting and makes you restless. That's why maintaining an ambient temperature helps you focus on the task at hand.
(Check out our air conditioner installation cost guide for price insights).
Invest in good lighting: There's a reason they call it 'mood lighting.' The amount of natural or ambient light we get alters our mood and general wellbeing. That's why where you place your desk and what lamp or wall light you choose to illuminate your office space makes a difference. Choose wisely.
Decorate your desk with plants: Not only are plants great for air quality, but they also work wonders for our creativity and attention space. By absorbing all those nasty pollutants, they're great for your skin, lower your stress levels, and help stave off coughs and colds. Ficus and snake plants are particularly popular options. Or, buy a mixture of each to reap those glorious botanical benefits.
Like what you see? There's plenty more where this came from. Discover more ideas, inspiration, tips and how-tos via Checkatrade's blog.