Last updated on August 25th, 2022
Cost to remove an old shed
Once the structural integrity of a shed is compromised, the only option may be to remove or replace it. Read on to learn more about removing garden sheds plus tips, tricks and FAQs.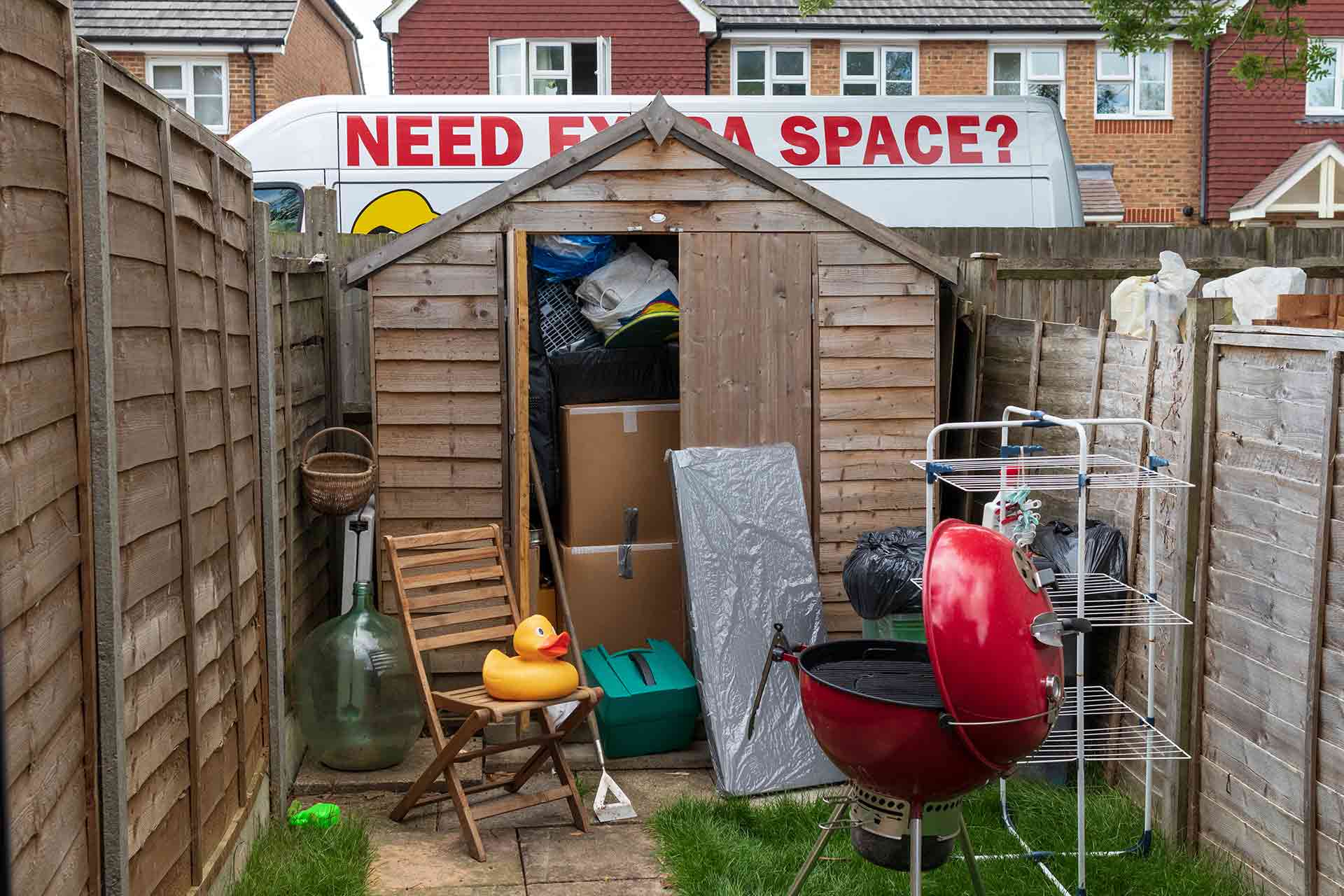 Garden sheds are very common and can be an excellent choice to store any outside items, such as lawnmowers and garden tools. Despite this, many of us regularly overlook our garden sheds and they quickly fall into disrepair.
Why remove an old shed?
If a damaged garden shed is left for too long, it can become a breeding ground for rot, mould and rust. Older shed roofs may even be full of asbestos, a dangerous material that can cause significant disease when inhaled.
Up to 5,000 tradespeople each year die from asbestos exposure! As such, if your shed does contain this, hiring a professional with experience in asbestos removal is the best way to ensure your and their safety.
You may also wish to use the space your garden shed occupies for another purpose, such as a new outside building, or to simply increase the available space in your garden.
For example, lock boxes are a secure, great alternative to garden sheds. Although they may not have the same amount of storage, they are durable and take up less space.
Finally, for homes with limited outside space, removing a garden shed can open up a whole host of possibilities. The cost to remove old shed fixtures is not too expensive and if you are able to do some of the work yourself you will save even more money.
How much does it cost to remove an old shed?
| Project type | Average UK cost |
| --- | --- |
| Shed removal cost | £350 |
| Summerhouse removal cost | £1,400 |
| Shed roof replacement -materials (per m2) | £100 |
| Shed roof replacement - labour (per hour) | £30 |
| New shed cost | £850 |
| Asbestos shed removal cost | £600 |
| Asbestos removal cost (per m2) | £50 |
The total price you can expect to pay for shed removal can be impacted by a number of factors (more on this next) so it can be difficult to give an exact figure. Even different companies will charge different amounts for the same job.
On average the cost to remove an old shed will be £350.
Summerhouses are more expensive to remove as they have foundations and tend to be larger than sheds. The average cost to remove a summerhouse is £1,400.
Should I remove or repair my shed?
You may be unsure whether to try to repair your shed or to completely remove it. Generally, this will depend on the condition of your shed and how useful it is.
It is possible to replace just a shed roof if the rest of the shed is in good condition. If you are considering this, please see our shed roof replacement cost guide. The average shed roof replacement cost is £100 per m2 for materials plus £30 per hour for labour.
For sheds that aren't used and are in poor condition, it is a wise choice to remove the old fixtures to free up the space for another structure or extra space. Once your shed has been removed, you may wish to install a new shed. The average cost of a new garden shed is £850.
See the tradespeople we've checked and recommend for your job
Factors affecting shed removal costs
As we mentioned above, it can be difficult to budget for an estimated shed removal cost without considering a number of factors, as follows:
Type of shed: Whether your shed is a basic shed, or a permanent structure like a summer house, will affect the overall price of removal. If concrete was used as a base and the shed was attached, this will be more expensive to break down and take longer to do.
Type of construction: The materials used – such as wood, reclaimed wood or brick – will impact the shed removal cost. The harder the materials are to deconstruct and break down, the higher the total removal amount will be.
Condition of the shed: Sheds that are old, damaged and collapsing are easier and less expensive to remove than sturdy newer structures.
Size of the shed: Larger sheds are more costly to remove than smaller sheds.
Ease of access: Depending on the location of your shed, you may need to pay higher labour costs if it is difficult to access.
Contents: You can expect to pay more for disposal if your shed is not empty and its contents need to be removed. You could even consider skip hire.
Reseeding the lawn: After your shed has been removed, you will likely need to reseed the lawn, unless you are replacing the shed with another structure. This will incur an extra charge.
Asbestos shed removal cost
Asbestos is extremely dangerous if inhaled and it can cause serious diseases such as cancer, lung scaring and other types of lung damage. This occurs when asbestos is tampered with and tiny fibres are released into the air.
Because of this, hiring an expert to tackle your shed removal is the safest option. It can be more expensive to remove an asbestos covered shed due to the danger and precautions involved.
The average asbestos shed removal cost is £600, with an average per m2 cost of £50.
Can I remove a shed myself?
It is possible to remove a garden shed yourself, but it is definitely not easy. Shed materials can be large and heavy, so would be difficult to work with for anyone who is not physically strong. Add into this the potential for asbestos and removing a garden shed as a DIY job becomes highly dangerous.
Even if you do manage to dismantle your old shed, you are left with a large pile of materials which can be expensive to dispose of. An experienced tradesperson would not only have the means to remove any left-over materials but could do so in a safe and environmentally friendly way.
You may be able to remove a shed yourself, but we would recommend hiring a professional. To find a local, reputable, tradesperson in your area and get a personalised shed removal quote use our free search feature.
FAQs
What does it take to dismantle and demolish a shed?
The following are helpful tips for when you are dismantling your shed: –
Take a photo, or a drawing if you want to re-assemble it again in a new location.
Ensure there is no asbestos – Very important and you should check with a professional if in doubt.
Start with the roof and work gradually down.
Mark each piece in case you plan to rebuild it later.
Carefully dispose of any old unwanted materials.
Can I sell my old shed?
Yes, if your garden shed is in good condition and you no longer use it.
How long does it take to remove a shed?
Usually it will only take a few hours, unless it's a fixed structure like a summer house.
Useful shed removal checklist
Garden sheds can become damaged and rotten over time and removing an old shed can be the best option. Particularly if the shed is no longer used.
The average cost to remove old shed materials can be affected by the size, type and condition of the garden shed.
If your shed is in relatively good condition it may be possible to repair small areas of damage.
Old sheds may contain asbestos, a deadly substance that is dangerous to inhale.
Removing a garden shed yourself can be difficult, time consuming and dangerous.
See the tradespeople we've checked and recommend for your job