From bold colours to wallpaper, and TV mounts to funky panels, the feature wall world is your oyster!
We've explored the market and put together a range of feature wall ideas below. Time for you to get your thinking cap on.
Featuring some beautiful feature wall ideas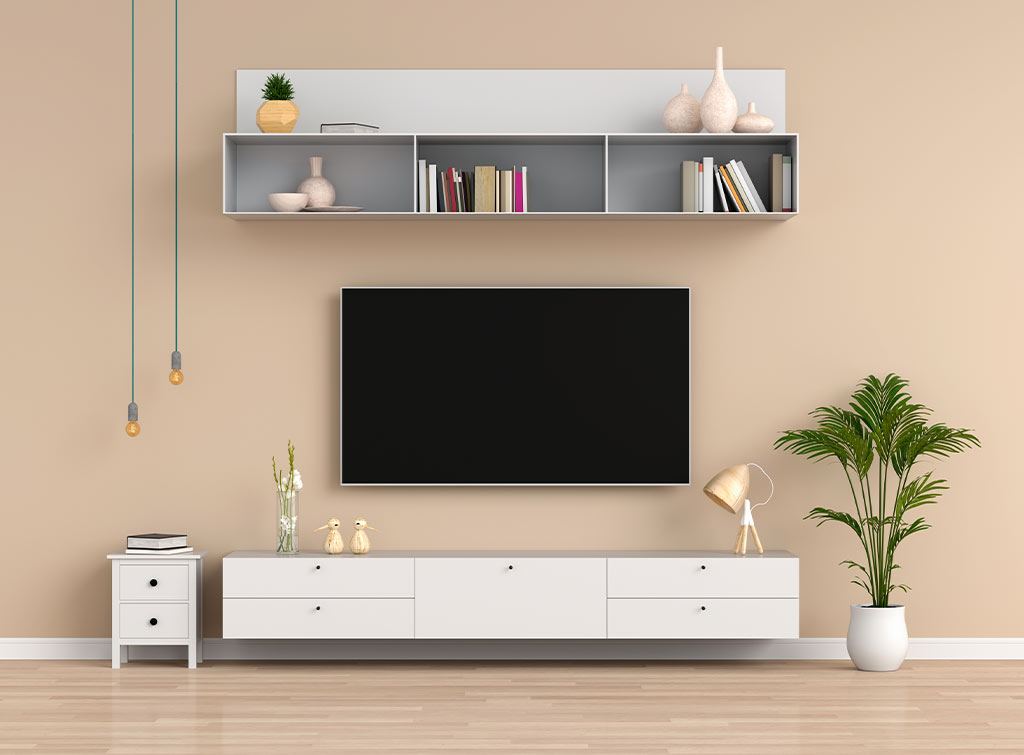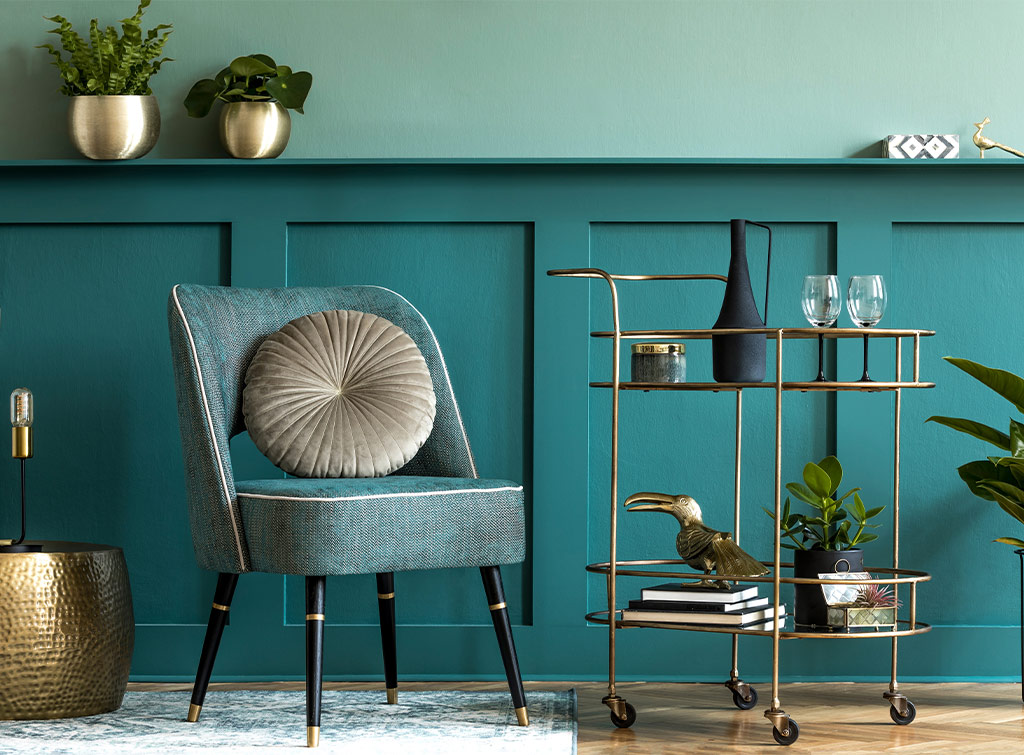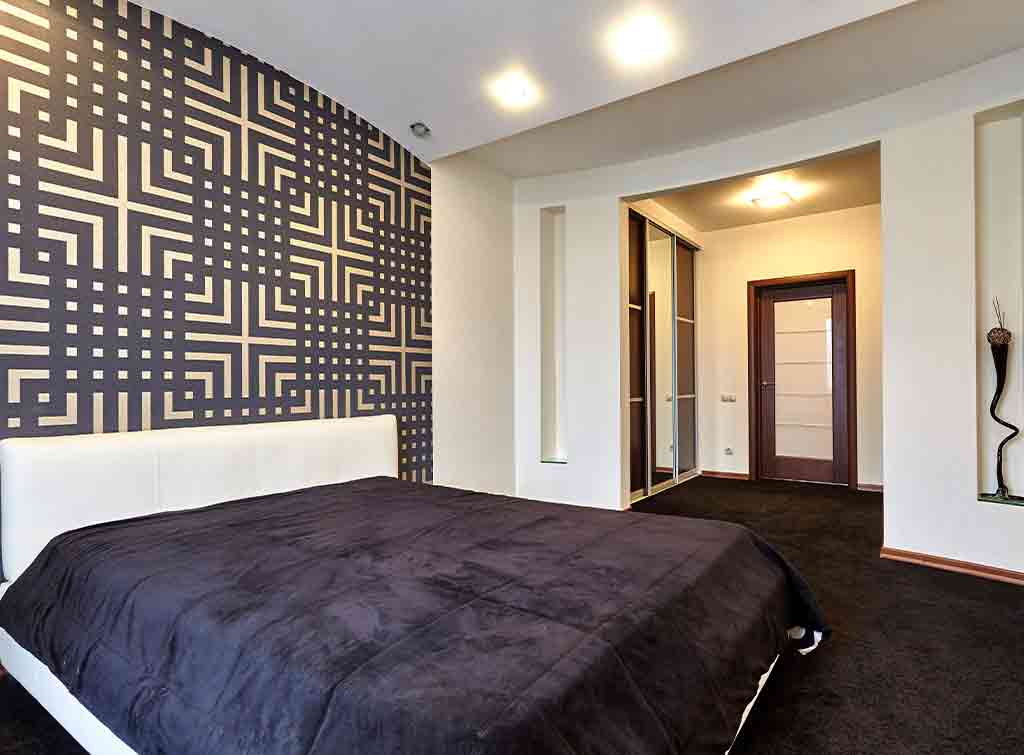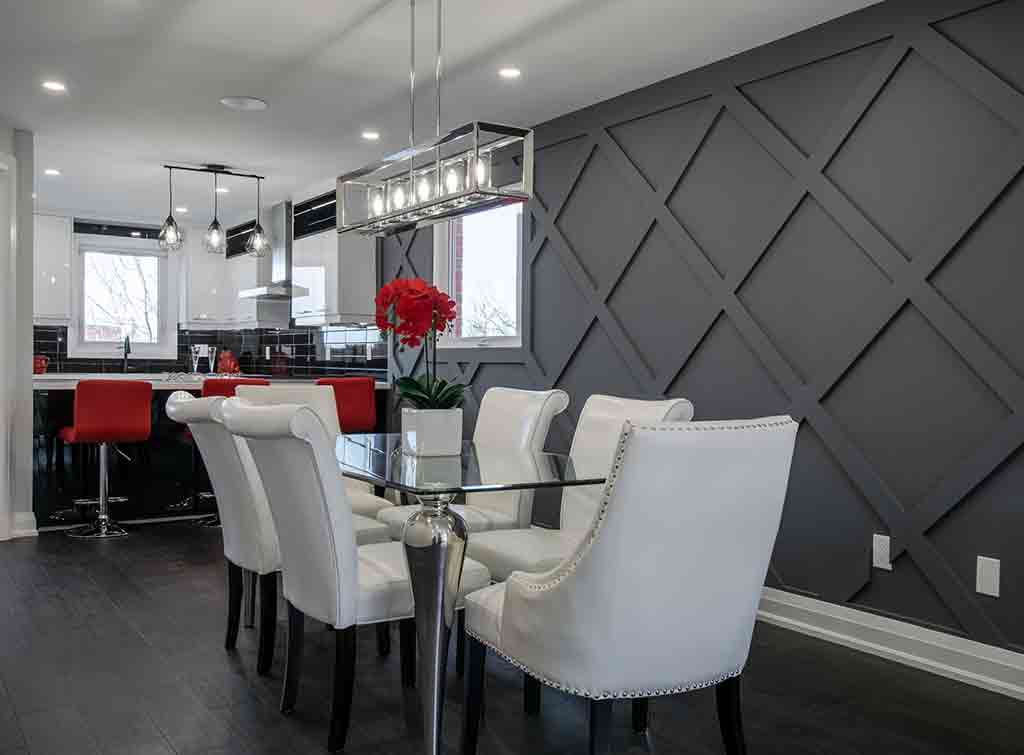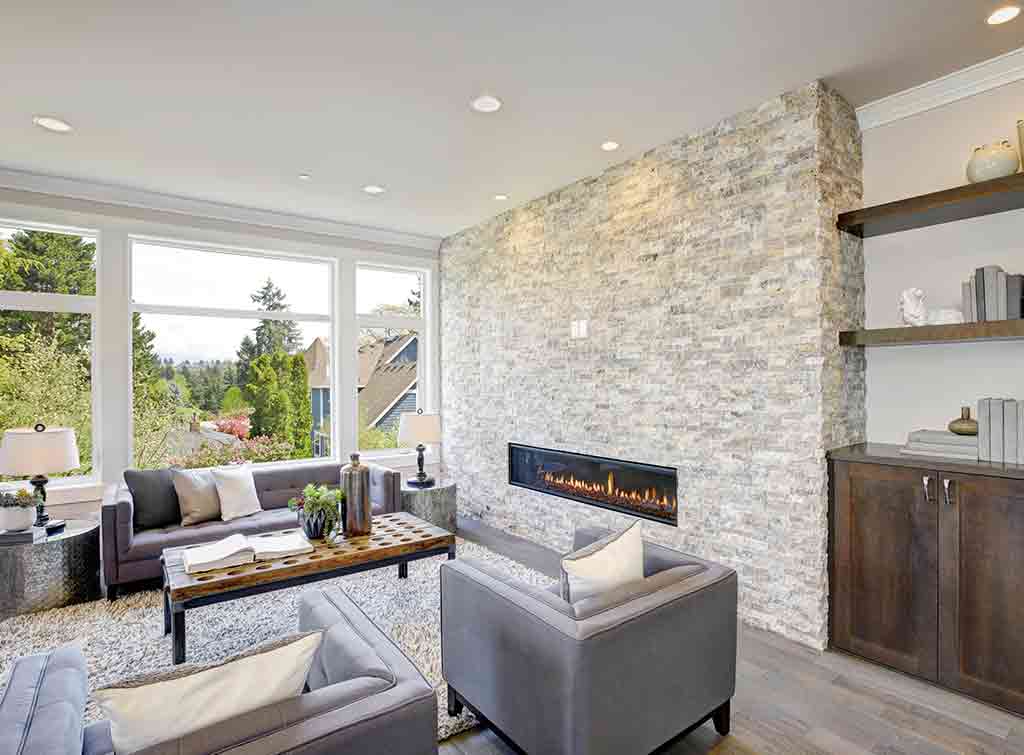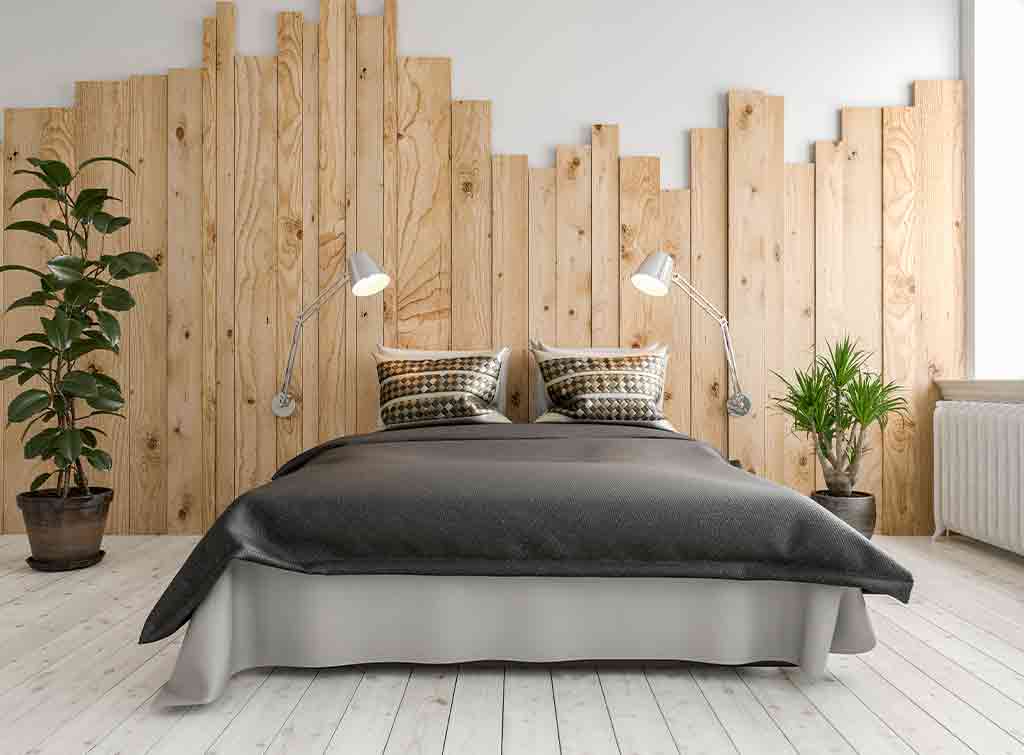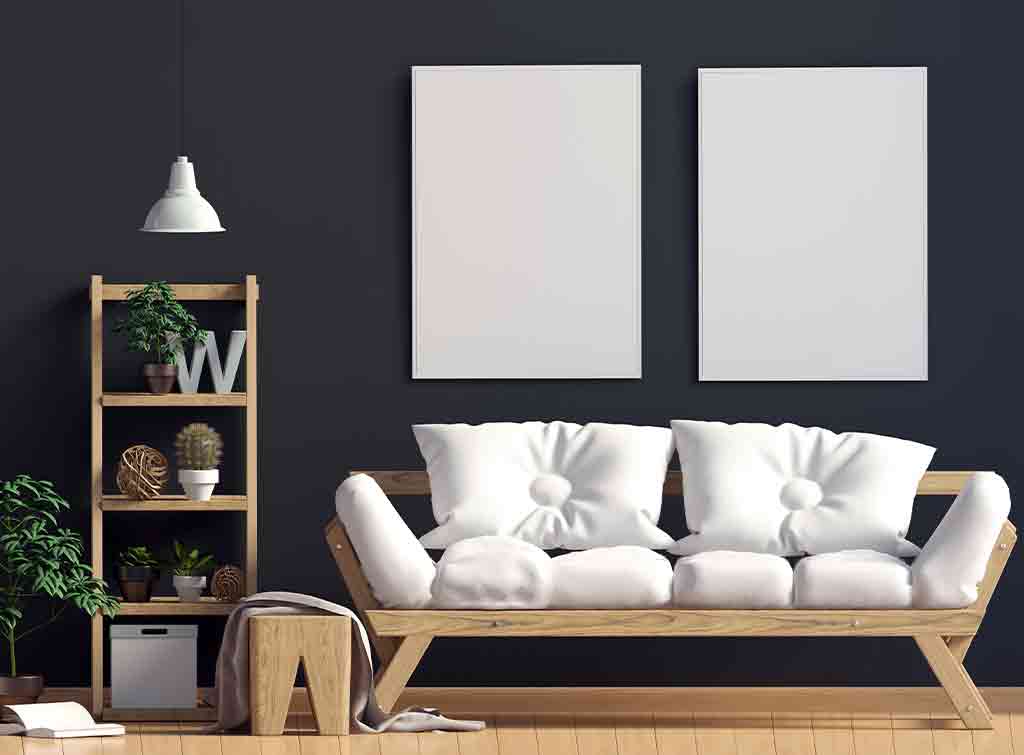 Living room feature wall ideas
Let's ignore the television for now on this idea, but do focus on the pastel colour. Clean, soothing and relaxing. Smart storage above; nice colour coordination of the vases. This is a nice, clean example.
A space for entertaining and unwinding, the living room is where your guests will likely spend the most time. Therefore, living room feature wall ideas need to tie together and elevate the aesthetics in this area.
Your feature wall doesn't need to be flat. In fact, using panelling, wood, shelving or brick can create a truly unique finish.
Panel your living room feature wall
Smaller living rooms will look incredible with a single feature wall painted in a bold colour. But why stop there? Panel it too. In this front room, they've panelled half way up the wall, but you could go full height and width with squares or diamonds.
Why not add warmth to your living room with a gallery feature wall, including pictures of your family or from holidays?
Bedroom feature wall ideas - check out that pattern!
This bedroom is smart, classy and modern. It's a mesmerising patterned feature wall which brings edge to the room. Although embracing dark colours, it's anything but. The pattern of the feature with the light furnishings pair up effortlessly.
Most bedroom feature wall ideas will focus on making this space feel calm and soothing, but that doesn't mean sacrificing on design.
Using neutral tones will help to make your bedroom a tranquil place whilst adding a feature wall in pastel or muted colours can help to upgrade the space.
For an eye-catching feature wall, consider adding an elegant mural.
Kitchen painted feature wall ideas - with some panelling too
Check out this kitchen feature wall idea. The panelling is a really nice touch, but is a little more challenging if you were to attempt this yourself than say a wallpapered feature. Let's focus on the paint for now.
Dark colours are perfect to add drama to an otherwise plain home. Using bright colours can help you feel energised, especially when combined with soft furnishings in the same or similar shades.
If you prefer your home to be peaceful, and for bedrooms in particular, neutral colours are soothing and relaxing. Why not paint three walls white, and your feature wall grey or dusky pink?
If you're interested in the paneling, do check out our panelling cost guide on how to get this done.
Wallpaper feature wall ideas
With wallpaper feature wall ideas, including different colours and designs, you will be surprised just how easy it is to change the feel of your room.
Try using a bold pattern of wallpaper on one wall for depth and the wow factor. Or use vertical stripes for a touch of elegance. Finally, using floral wallpaper can help to create a pretty, feminine space.
Family room feature wall ideas
A space for the whole family to socialise and relax, this living room is beautifully finished in greys and neutral colours. This creates a calm space with comfortable seating.
The feature wall here is made from stone and really has the wow factor. From floor to ceiling, this feature wall even has a low fire for warmth.
Minimalist bedroom feature wall ideas
Minimalism is a trend that's here to stay. This bedroom is a fantastic example of how minimalism can help to make a chilled-out space.
The feature wall in this picture is made from wooden planks and white paint. It is incredibly unique and helps complement the wooden flooring. The grey of the bedding also blends with the natural wooden wall.
TV feature wall ideas
Here the homeowners have used beautiful, authentic wooden features with yellow walls and a black TV to create an eye catching, modern living space.
TVs are an excellent way of drawing attention to a feature wall (and vice versa). After all, most living rooms are set up with the TV being the focal point of the space.
To make your TV really stand out, and enhance your viewing experience, consider adding a feature wall behind it. If you are in need of TV feature wall ideas, consider using a geometric pattern surrounding the TV for a modern effect.
Mounting your TV on the wall will mean extra floor space and greatly enhance your feature wall as well. You can also try muted or pale coloured walls to further highlight the TV.
Chimney breast feature wall ideas - it looks red hot!
Not every feature wall needs to be bold and dazzling. In this home, neutral whites and creams are used throughout the living room to make the space feel clean and airy. Add into this the roaring fireplace, giving the room extra warmth and comfort.
This feature wall is also functional too. It's fitted with built in shelving and gorgeous crown moulding.
Adding a chimney breast to your home can elevate your living space. Imagine crackling fires on chilly evenings. Use the following chimney breast feature wall ideas to create your dream home:
Use natural textures like brick, wood or tiles to create a rustic, natural space.
Combine your chimney breast and fireplace with light walls and a traditional surround to highlight this stunning, warm feature.
Build a mantelpiece over your fireplace to upgrade its aesthetics and add extra space for displaying ornaments.
Monochromatic painted feature wall ideas
Another example of a feature wall not being brightly coloured or patterned is in this image. Black paint has been used to create a dramatic, elegant effect.
The key word here is context, black walls may look dark and depressing on their own, but paired with bright, white furniture and light wood it creates a sophisticated contrast.
Get a decorator for your feature wall
Tell us what you think
What others think of this cost guide:
Need More Information?
Related posts