Last updated on March 31st, 2022
Wall panelling cost guide
Wall panelling is a trend that's here to stay. Find out how much to budget for your feature wall.
Why install wall panelling?
Wall panelling gives you the chance to bring colour and style into your home. It has grown massively in popularity and there are so many styles to choose from.
Although wall panelling can still be used to disguise unsightly walls, wiring and other eyesores, it should not be used to hide damp walls as this will make the situation worse.
For kitchens and hospitals, stainless steel wall panelling is a great option as it is durable and easy to clean. Read on to learn about wall panelling costs, benefits and the important things to be aware of when investing in panelling.
How much does wall panelling cost?
Wall panelling costs by type
Cost + VAT
(Range low - high)

Average cost
Wall panelling cost
£25 - £400 per m²
£212.50
Oak wall panelling cost
£300 - £400 per m²
£350 per m²
Bespoke wall panelling
-
£295 per m²
Wainscoting
£120 - 260 per m²
£190 per m²
Carpenter hourly rate
£25 - £35
£30 per hour
Decorating (primer, undercoat & gloss)
£25 - £28
£26.50
The average cost of wall panelling varies widely due to a number of important factors, which we will go further into later.
In fact, the amount you pay per m² can vary from £25 - £400.
As such, the average wall panelling price is £212.50 per m². There may also be additional costs for decorating, including the application of primer, undercoat and gloss paint, which will cost £26.50 per hour on average.
Common wall panelling materials
Depending on your preference, each material has its own costs and benefits, from durability to style. Therefore, the price you pay will vary accordingly.
Composite: Composite panels take on the benefits of their materials including insulation or weather protection. They are mostly sold in sheets and can be beautiful if installed correctly.
Wood: These panels have excellent aesthetics due to the natural variation in the wood. They also provide strong sound and thermal insulation. Keep in mind wood panels need to be maintained to retain their natural beauty.
Metal: Most often found in restaurants, hospitals and other places where hygiene is essential. Metal panels are easily wiped down and provide a sterile surface.
Tile: Usually attached to a board, tile wall panels are mostly found in bathrooms and certain kitchens.
Fabric over wood: Offering extra insulation, fabric panels come in stunning colours and patterns. Remember to check the fire safety of any fabric you choose.
See the tradespeople we've checked and recommend for your job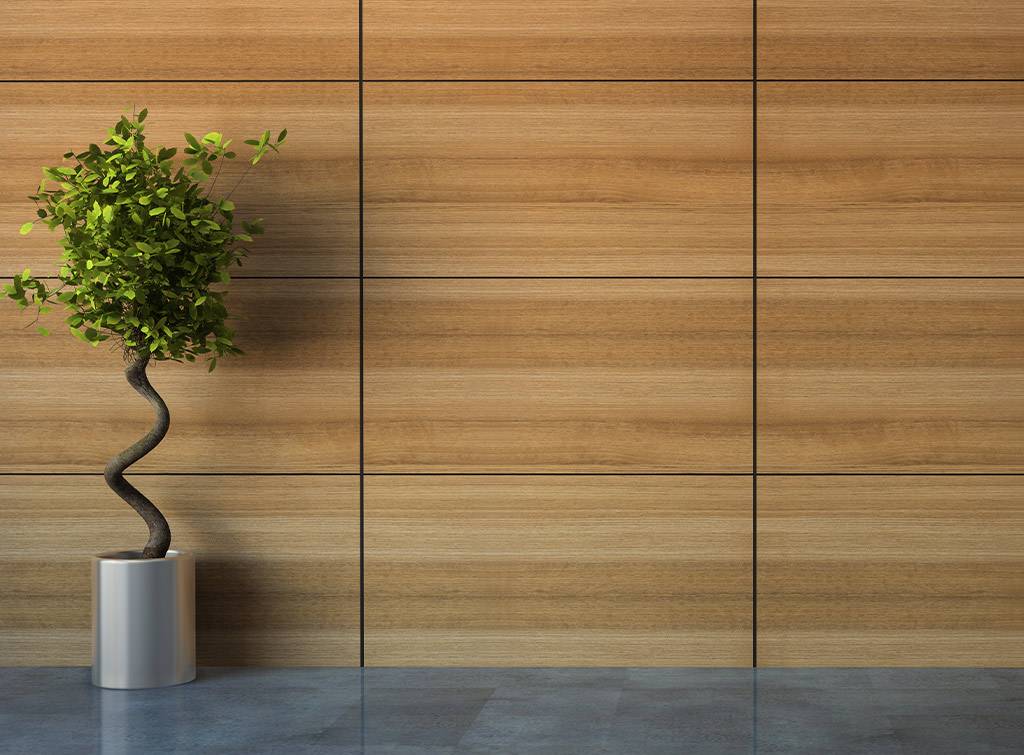 Benefits of wall panelling
Depending on the material you choose for your wall panels, you will see a host of benefits including:
Insulation
Concealing pipes and cables
A stylish home
The choice of colours, patterns and textures
The option of waterproof, heatproof and weatherproof panels
Factors affecting the cost of wall panelling
When choosing to install wall panels, it is essential you consider the following crucial points before budgeting for your job:
Materials: Every material will be priced differently, for example, oak wall panels are very expensive.
Size of panels: Larger panels will have a higher price point than smaller options, plus the labour cost will likely increase due to the more difficult, time-consuming installation.
Size of area to be covered: More materials and extra labour times mean greater overall costs.
Decorative touches: Once your panels have been installed, you will need to pay extra for any finishing touches.
Covering up: It may be more expensive to cover wires or pipes as quite often the difficulty of the job will be higher.
Location: As with any professional job, your location affects the price you will pay due to varying living costs.
Types of wall panelling
Oak wall panelling cost
Although oak wall panels look incredible and come with a range of benefits, they can be costly. At the higher end of the scale, the average oak wall panelling cost is £350 per m².
Reproduction wall panelling costs
If you have a very specific look in mind, it is possible to reproduce other styles of wall panelling. You will usually need to pay for bespoke wall panels to replicate a specific aesthetic and these panels do not come cheap.
Another way to achieve your perfect wood panelling is to hire a carpenter to create your vision. Average carpenter rates are £22.50 per hour. On average, reproduction wall panelling costs £295 per m².
Cost to install wainscoting
Wainscoting is a type of decorative panelling that is typically only applied to the lower half of a wall, whereas other panelling types usually cover the wall's surface floor to ceiling.
Although wainscoting is more decorative it does also have practical benefits. In older properties, wainscoting often serves the purpose of providing much-needed insulation. By adding a panel over the plaster, not only does the wainscoting reinforce the plaster but it also helps to keep the room at a more stable temperature.
As well as offering protection against extremes of temperature, wainscoting also protects the wall from bumps and scrapes from furniture.
There are three main types of wainscoting; flat panel, beaded panel and raised panel, and all are used to add a sense of style to a room. Beaded and raised panelling is often used in period properties, or in rooms to lend a more formal feeling.
The cost to install wainscoting can vary from £120 - £260 per m², giving an average wainscoting cost of £190 per m².
Can I install wall panelling myself?
While it can be tempting to save money and complete any labour yourself, firstly you should consider your ability and experience. Wall panelling can be complex and tricky to get right so it's important not to rush straight in.
Your wall panelling will also need to be strong enough to hold up radiators, shelves and even door frames. If not installed correctly, this opens you up to accidents, injuries and damaged items.
Without the skill and expertise of a professional, it's unlikely you will achieve the same high quality, flawless result as you would if hiring a contractor.
As such, we would recommend hiring a professional. To find a local, reputable, tradesperson in your area and get a personalised wall panelling quote use our free search feature.
What can be concealed with wall panels?
You would be surprised by the vast number of unsightly items, damage and utilities that wall panels can cover up. They are also easy to clean, and it is unlikely you will find a better alternative. Below are some of the things wall panels can disguise:
Old fireplaces
Pipes
Wires
Old doors
Waterproof membranes
Insulation
Damaged plaster
Stains
Useful wall panelling checklist
Wall panels can cover a multitude of sins, brighten up any room and add extra insulation.
The wall panelling price varies widely due to a number of factors.
Common materials for wall panelling are metal, wood, composite and fabric.
Oak and bespoke panelling can be very costly.
See the tradespeople we've checked and recommend for your job