The cost to paint the exterior of your house
Giving your house a fresh coat of paint can transform it from looking tired and dated to modern and magnificent. The total cost to paint a house varies on its size, the condition of the current paintwork and any repairs that need to be completed before decorating can begin.
Whether you're actively searching for quotes or simply want an idea of the cost to paint the outside of your house, you'll find all the information you need in this useful guide.
The costs in the table below are to be used as a basic guide. They are an estimate of the costs taken to paint the average UK house. The cost you pay may vary depending on the size of your house and your choice of paint.
| House painting costs | Cost + VAT (low range) | Cost + VAT (high range) |
| --- | --- | --- |
| Exterior paint project | £425 | £1,500 |
| Stabiliser | £25 | - |
| Paint | £100 | - |
| Accessories, brushes, tape, sand/cement etc. (per project) | £40 | - |
| Scaffolding hire (per project) | £360 | - |
| Labour (per project) | £625 | - |
| Painter hourly rate | £20 | £25 |
| Painter day rate | £180 | £200 |
House painting hourly rates
For house painting, the hourly rates of a painter and decorator can vary considerably – depending on the individual tradespeople you hire and where you live in the country.
As a guide, the average cost of a painter and decorator is around £20 to £25 per hour. Though often they'll quote a day rate, which is in the region of £180 to £200 per day.  To find out more, check out our guide to painter and decorator prices.
House painting cost calculator
To plan your budget for your house painting cost, you'll need to combine a number of costs and factors to reach your total project cost.
Firstly, you'll need to measure the size of your house to work out the volume of paint needed. On top of material costs you'll also need to include the labour costs (either quoted per square metre or per hour/day).
Finally, the cost of scaffolding (if not included with the labour costs) needs to be added on. With all of those costs together you should be able to work out the price you'll pay for your house painting job.
House painting quote
If trying to work out the total cost of the house painting project is making your head hurt, don't worry there's an easier way – speak to your local house painting experts. They'll be able to provide you with accurate costs for house painting in your area. We always recommend speaking to a number of different tradespeople to ensure you're being quoted fair and competitive house painting costs.
It's also a good idea to ask for a detailed breakdown of all the individual costs, such as paint, other materials, labour, and scaffolding, so that you can easily compare different quotes. For example, some quotes will include scaffolding as part of the price, others will need you to organise the scaffolding yourself.
Find a house painter near you
Can I paint my house?
If your house is currently painted, then it could benefit from a new coat of paint. Painting a house can transform its exterior, making it a more pleasant place to live and improving its kerb appeal, which is particularly important if you are planning to sell your home in the future.
Types of houses that may benefit from being painted include:
Houses with recently rendered walls
Houses with rendered walls that were previously painted
Houses with bricked walls
If you live in a listed property or one in a conservation area, you may need to get permission to repaint your home. You may also need to use special materials and employ approved tradespeople to complete the job.
This cost guide is only relevant to those people who live in modern, non-listed homes constructed from modern materials (including brick and mortar). The guide covers painting both the front and rear of your property in one colour of paint.
If you're interested in getting creative and really maximising your kerb appeal, then take a look at our mural painting cost guide.
Cost breakdown
The total cost to paint the outside of a house depends on several factors. As well as the size of your property that needs to be painted and the volume of paint required, you should also consider the amount of preparation needed and any specialist equipment, including scaffolding.
Find a house painter near you
What is involved in painting a house?
Achieving a high-quality finish that will last involves the preparation of the exterior of your home before painting. This includes removing damaged or flaky paint and patching up any cracks or missing pieces of stone or mortar that may affect the smooth finish or adherence of the paint.
The preparation and painting of a house is a specialist job that often involves two people working together over three or four days. Once the surface is repaired, your tradespeople can get to work, applying two or three coats of specialist paint. Be sure to factor this in when calculating or reviewing the cost to paint the exterior of your house.
A typical work schedule is as follows:
Erect access equipment
Remove any existing flaky paint
Brush off loose dirt from walls
Remove stubborn dirt with water and a brush
Clean any mould, moss or algae with either a bleach/water solution or a fungicide treatment
Make good of any repairs to walls with sand/cement mixture
Allow the walls to fully dry
Treat the wall with a stabilising solution and allowing to dry
Apply one coat of specialist masonry paint
Allow walls to dry
Apply a second coat of specialist masonry paint
Apply a third coat of paint if the wall is being painted for the first time
Find a house painter near you
Factors affecting house painting cost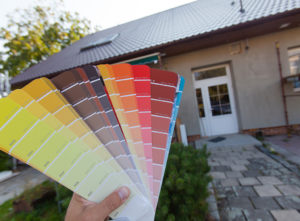 Every house and painting preference is different, which means every painting project will differ. Here are some of the factors that will affect your total exterior house painting cost:
The number of walls to be painted
A terraced house may have just two walls that need to be painted; a semi-detached home may have three, and a detached property as many as four. Many tradespeople will provide an exterior painting cost per square metre, so having the dimensions of your house could help this process.
You must also include the cost to paint any additions to the property, including conservatories, extensions and porches.
Size of your property
The bigger your property, the more it will cost to paint it. The exact cost to paint a house will depend on the number of days it takes to paint, the amount of paint that you need and the number of decorators that will be needed on-site to complete the work.
The amount of preparation needed
Preparation is the key to a great, long-lasting finish, so it's crucial that you invest the time at this stage. Cleaning or removing the current paintwork (if required) is a time consuming and messy job. Any damage will need to be repaired with a sand/cement mixture before painting, which can take some time to complete properly.
Choice of paint
There is a wide range of masonry paint available in a variety of shades and colours. The amount of paint you need, and therefore the total paint costs, depends on the size of your house, the number of coats to apply and the method of painting your decorator is using. You should also ensure that you have a spare supply of colour-matched paint for any touch-ups that may be required.
Scaffolding costs
Your decorator should use scaffolding while painting your property, a cost which you will need to include in your calculations. The cost of scaffolding depends on the amount of scaffolding you have and the length of time you need it for. Most companies rent it by the week. There are regional variations in scaffolding costs, with scaffolding costing more in London, for example than other areas of the country.
While it may be tempting to ask your tradesperson to use a ladder and avoid the cost of scaffolding, working for long periods up a ladder is unsafe and illegal. Current health and safety laws require anyone working at height for more than 30 minutes at a time to ditch the ladder and use a platform tower or scaffold instead.
Get a quote from a local exterior painter
If you are searching for the lowest cost to paint a house or are searching for several exterior house painting costs for comparison, you'll find the UK's biggest database of trusted tradespeople here at Checkatrade.
For reference, take a look at our guide to the average prices of painters and decorators.
Find a house painter near you
Key takeaways when painting your property
The average cost to paint a house is between £425 – £1,500.
The total cost depends on the size of your property, the amount of paint needed, scaffolding costs and the condition of your current paintwork or brickwork.
Preparation is crucial to achieving a long-lasting and high-quality exterior finish.
Your tradesperson will need to use scaffolding while painting your home.
Some tradespeople will provide an exterior painting cost per square metre, whereas others will provide a total cost for the job.
Exterior house painting prices may vary considerably across the UK.
Find a house painter near you
Tell us what you think
What others think of this article:
Need More Information?
Related posts