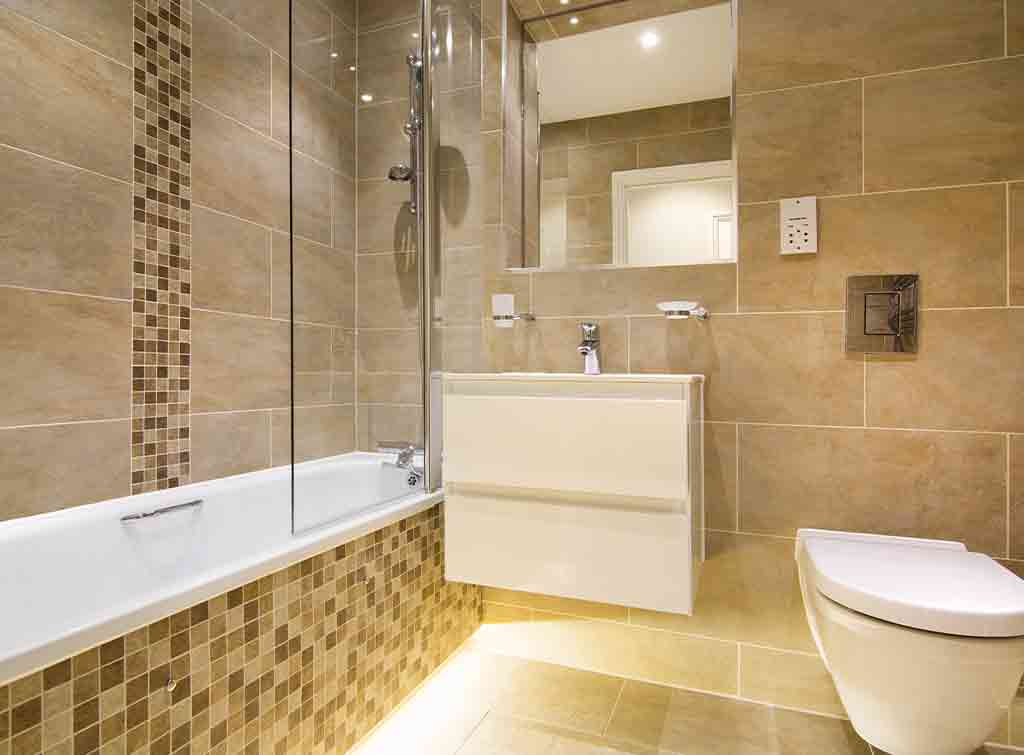 Struggling for bathroom tile ideas? This guide is bursting with inspiration.
While choosing tiles may not seem like the most exciting decision, this is simply not true. Tiles are the backdrop of your bathroom décor, transforming the space into a place of tranquillity and functionality. These clever squares keep your bathroom watertight while enhancing the aesthetics and setting the mood.
For pricing information view our guides on the cost of tiling and bathroom fitting costs.
Bathroom tile ideas
Tiles come in all shapes, sizes, colours and designs so choosing the right bathroom tile idea for your home can be confusing. To create a beautiful unique space consider converting your bathroom into a wet room by covering the floor and walls with tiles.
Love the appearance of wood but don't want to risk water damage? Try combining wood flooring with coloured tiles for a stylish finish. Alternatively, you can highlight different zones in your bathroom using different tiles for your shower area, or around your sink.
---

Small bathroom tile ideas
Even if your bathroom is small, there are many ways of getting the best out of the space. One small bathroom idea is to use mirrors to create the illusion of space thanks to their endless depths. You can also use light coloured tiles from floor to ceiling, this looks fantastic even in tiny bathrooms.
Furthermore, if you are lacking in storage space, why not create tiled niches for perfectly coordinated shelves.
---
Bathroom tile ideas (grey)
Grey is a fantastic shade that creates a backdrop for many colour schemes. Combining grey with white and black shades perfectly emulates a modern finish. You can even add silver for a beautiful effect.
A brilliant grey bathroom tile idea is to create depth in a bathroom by using different shades of grey. A pop of colour would also help to brighten up any bathroom. Or, why not use grey tiles with white marble bathroom features for an elegant aesthetic?
---

Grey and white bathroom tile ideas
As we have discussed, grey works well with white for a space that feels neat and clean. A good grey and white bathroom tile idea is to use a lighter grey to give your bathroom a light airy feel, perfect for smaller spaces. For a more dramatic, intense finish, consider using darker grey tiles, offset by white.
White tiled walls will open up any bathroom but can feel a little sterile. Combined with mock wood grey flooring however, this will create a more inviting space.
Bathroom tile ideas (black and white)
Wondering what the best black and white tile ideas are? Try designing a modern or minimalist bathroom, working with black and white tiles. Not only will your bathroom appear clean and tidy but combining black and white fixtures creates a dramatic finish. For added warmth, you could also consider using wooden effect flooring.
You can also brighten up a monochrome black and white bathroom with pops of colour. This will still give your space a modern feel, while adding coloured finishing touches like toilet seats or shower curtains will elevate the style of the room.
---
Modern bathroom tile ideas
While we have covered a few modern bathroom tile ideas, these are just the tip of the iceberg. If you want to achieve a stunning, modern space you will need to truly embrace minimalism. Clutter is the enemy of a modern bathroom, so use sleek storage options to keep everything in its place.
Finally, use neutral tones like white, cream and silver for your modern space. These can also be combined with tiny, coloured features like towels or a bathmat.
See the tradespeople we've checked and recommend for your job

Inspirational bathroom tile examples
Sleek and modern tiles
This is a perfect example of how monochromatic tiles can be used to achieve a modern finish.
With white walls and silver fittings, this bathroom appears clean and fresh.
Using different shades of grey for floor tiles gives an effect of depth.
Plus, the large unframed mirrors give the room a simplistic finish.
---

Monochromatic black and white tiled bathroom
Here the homeowners have designed a stunning, airy bathroom using predominately black and white tiles.
The black flooring is dramatic and perfectly contrasts with the large expanses of white throughout the room.
A marble effect has been used on the white tiled walls to create an elegant effect.
Plus, the black and white accessories are a great finishing touch.
---

Light tiles for small bathrooms
Even small bathrooms can look incredible using a few clever tricks to maximise the space available.
This compact room uses unique, patterned tiles in a light shade to enhance the space.
Plus, a light up mirror will also help to open up the room.
A smaller bathtub and toilet have also been used to create a functional bathroom in a tiny space.
---

Grey tiles combined with wooden features
Grey is a versatile shade that can help to enhance many different design schemes thanks to its neutral feel.
This bathroom uses textured grey tiles covering the walls, floor and bathtub.
As a light grey has been used, this small room feels light and open.
In a beautiful contrast, dark wood lifts the neutral grey bathroom, adding a dramatic finish.
---

White marble tiles with a pop of colour
White tiles are a bright, fresh way of lightening up any dark bathroom.
A marble effect has been used to bring elegance and sophistication to this space.
Completely transforming the room, a teal green feature wall has been added to cleverly elevate the aesthetics in this home.
With black marble flooring, this space is bold and luxurious.
See the tradespeople we've checked and recommend for your job
Tell us what you think
What others think of this article:
Need More Information?
Related posts