How to start an insulation business
With the UK government's target of reaching net zero greenhouse gas emissions by 2050, and energy prices soaring, insulation is a hot topic as a tool to make property more energy efficient. Could this be the perfect time to start an insulation business?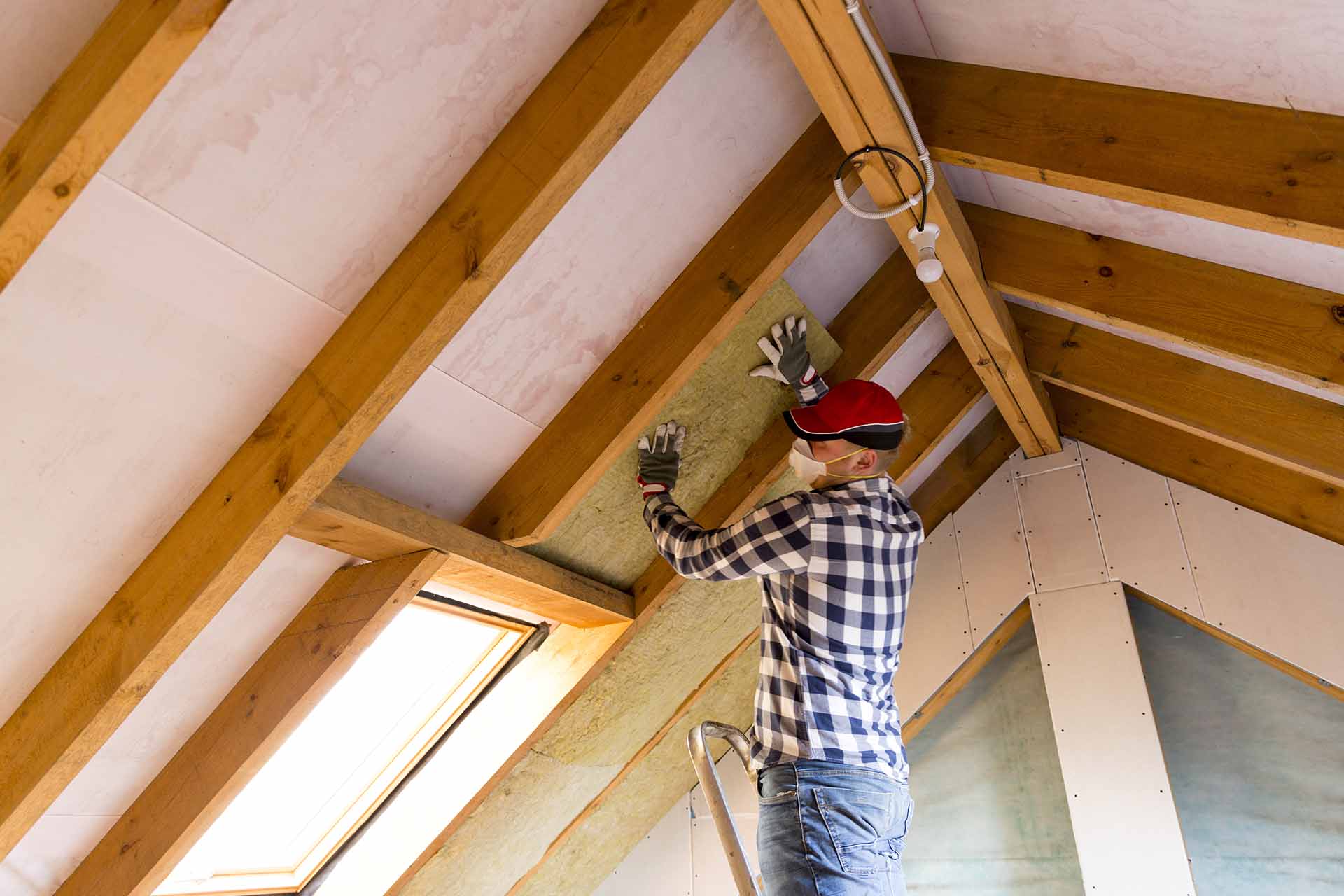 ECO4 is a four-year UK government scheme running from 1 April 2022 to 31 March 2026, aimed at improving the least energy-efficient properties occupied by low-income and vulnerable households.
This sharp focus on energy efficiency makes it a potentially great time to launch an insulation business.
On the Checkatrade website alone, we received an average of 18,500 searches per month for insulation specialists last year*. And this year so far, we've seen a 38% increase in searches for insulation professionals compared to last year.*
On top of the demand for insulation professionals, the average salary for an insulation specialist sitting around £30,000. And there's potential for more if you own your own insulation business.
Whether you've been in the business a while, or are interested in taking your career in a new direction, we'll tell you everything you need to know about how to start an insulation business.
This guide is designed to guide you through how to start an insulation business. It includes everything from training and qualifications to financing, marketing, tools and equipment, insurance, and more.
Want to jump straight in?
Sign up to our 'Become the Boss' series for help getting your insulation business started in no time.
You'll receive one email a day with actionable tips. There are seven emails in total (plus a cheeky bonus email) featuring fellow tradespeople who were once in your position with their top advice. At the end of it all, you could be the founder of your new business.
Simply add your email below to make the most of this free business advice.
Create a business plan for your insulation business
Before you get carried away, it's important you take the time to write a business plan. This is the cornerstone of any successful business.
It will outline your goals and how you intend to achieve them. It'll also help you to stay focused, with your specialism and target audience clearly outlined, and make informed decisions.
As an insulation business owner, you may want to tailor your work to different sectors, such as corporate properties, and develop a broader set of objectives. Or you may choose to focus on a niche line of work based on your expertise to set you apart from your competition.
Make sure you've got a clear idea before investing in any equipment or training.
If you need financing to start your insulation business, you'll need to produce a business plan.
Enter your email address below for your free business plan template:
Training and qualifications
As you'll be aware, there are various qualifications you can work towards in this sector.
If you haven't already got your qualifications, it's worth checking out our partner's thermal insulation NVQ level 2 and other courses over at North West Skills Academy.
Qualifications will demonstrate competency and increase your credibility to potential clients.
Some of the most common credentials and routes for developing your knowledge and showing your ability as an insulator:
Level 2 and 3 NVQ Certificate in Insulation and Building Treatment
Apprenticeships with a placement programme
Applying directly and gaining experience by working with an established installer
CITB (Construction Industry Training Board) offer courses to further your skills and understanding of the sector
City & Guilds offers courses for the installation of external and internal wall insulation. Additional training providers also offer insulation training, such as Goldtrowel UK Ltd and AbleSkills.
Usually, these run for around five to six days and will cost between £500 – £2,000.
Booking onto either course will put you well on your way to becoming SVQ/NVQ Level 2 qualified in Insulation and Building treatments.
Construction Skills Certificate Scheme (CSCS)
Your work as an insulation specialist could see you working on a construction site. So it's crucial that you have a CSCS card to be allowed to operate in these areas. Without one, you'll miss out on opportunities to work on larger commercial projects.
Other useful skills and attributes
On top of the qualifications and experience required to start your own insulation business, there are further skills that you'll need to build a positive reputation and provide a top-quality service:
Attention to detail – Customers want a clean finish with no cut corners
People management and interpersonal skills – You will need to be working with other professionals, which means you will need leadership skills
Problem-solving – Will you be able to overcome planning and installation challenges?
Health and safety awareness – Insulation often involves working at height in poorly ventilated spaces
Salesmanship – You'll need to secure a healthy flow of work
High-quality customer service – It's important to maintain a friendly and professional manner with customers
Enthusiasm, integrity, and self-awareness
How to set up your insulation business – step by step
You may be wondering about how to set up an insulation business from a practical point of view. Things such as how to run a business, how to get the right insurance, how to get new customers, and get the best deals on equipment and tools. Let's take a look.
Register your business
1. Decide on a name for your new business. Make it catchy but relevant.
2. Decide on the structure of your business. Sole trader or limited company?
3. Register your business with HMRC and complete a self-assessment tax return every year.
For help and advice, we recommend hiring an accountant.
Get business insurance
Insurance for your insulation business is crucial.
You are your business, so it's important to insure your business properly so that your income is protected if you're unable to work. You should also consider insurance for your work vehicle, tools and equipment, and any stock you wish to cover.
Public Liability Insurance (PLI) is a must to cover your liabilities toward your customers, members of the public, and third-party property. All Checkatrade members are required to have PLI to become a member.
And employers' liability insurance is a legal obligation if you employ anyone else as part of your business.
Finances
Organised finances are key for running a successful business.
Monitoring your income and expenditure closely is especially important as the business is starting up. Costs to consider include the hiring and purchasing of equipment, marketing, tax and VAT.
Checkatrade members receive exclusive member discounts on tools, vans, fuel, insurance, and more.
More than just a directory listing
Get start up advice and a range of money-saving discounts to help get your business off the ground
Find out more
Business loans can help with initial overheads but be aware of interest rates and whether they're affordable. As the business begins to expand, an accountant may be of benefit to keep your finances in order.
It's also important to consider how to price your services so you can attract and retain customers. You'll want to make a decent profit without overcharging customers. For some example prices, visit our external wall insulation and Icynene insulation cost guides.
What tools and equipment do I need to start an insulation business?
To guarantee the best possible finish with every job, invest in the best quality tools and materials you can afford.
Although the equipment you use will differ slightly depending on scale and type of project, here are the essentials you'll always need:
Foam machine
PPE
Power tools
Step ladders
Sealant
Insulation
Cleaning equipment
Bear in mind that due to the amount of equipment required, you'll need a valid driving licence and a van for transporting tools and materials between jobs.
Check out this post for help finding the best van lease deals.
More than just a directory listing
Get start up advice and a range of money-saving discounts to help get your business off the ground
Find out more
How to grow an insulation business
You now have your own successful insulation business with a flow of regular customers. Now it's time to take your insulation business to the next level.
To successfully grow your business, you need a detailed plan. Before you hire more staff and pay for advertising, you need to set yourself some business goals.
In this section, we'll show you how to grow your insulation business with a structured approach. By setting realistic targets and focusing on key areas, you'll soon see your business thrive.
What is business growth?
Business growth involves maximising your company's potential. It involves increasing sales and boosting your profit margin but is often more than this.
When you're creating a business growth plan, firstly you need to decide what areas to focus on. Alongside increasing sales and workflow, business growth can also include:
Developing a bigger team
Expanding the services you offer
Increasing your customer base
Once you've decided which areas of business growth you want to focus on, you can set some growth targets for your insulation business.
Setting growth targets for your insulation business
As we mentioned above, there are several ways to grow your business. As part of your growth plan, here are some growth targets to incorporate into your business strategy:
Find more work
Increase your profits
Employ more people
Offer more services
There are many ways to grow an insulation company. Make sure you do plenty of research to find out what type of insulation services are in most demand and are most profitable in your area.
How to achieve your growth goals
Once you've got a set of growth targets, it's time to concentrate on achieving these goals. A comprehensive business plan will help you to do just this.
At Checkatrade, we have a free business development strategy template to help you to achieve your growth targets.
Download the template today and read our companion article to make sure that you make the most of this useful product.
How to create a business development strategy – Free template included
Marketing for your insulation business
As energy prices reach their highest on record, everyone is trying to make their home as thermally efficient as possible. With this in mind, you need to make your insulation business readily accessible for all your potential customers.
To do this, you'll want to create an effective marketing strategy. There are numerous ways to market your insulation business. These are usually separated into two distinct areas: traditional and digital marketing.
1. Traditional marketing techniques
While you may rely on word of mouth, it's important to boost your reach through local flyers and advertising, known as print marketing too.
Checkatrade members have the opportunity to feature in our leading trade directory, which is delivered to homeowners around the country.
Today, online marketing is hugely important for acquiring clients and developing new business leads too.
2. Digital marketing
Digital marketing is a very effective way to increase your online presence and reach new customers. It is an umbrella term for the many different ways you can build awareness of your business online, including:
Creating a company website
Using social media. It's free and can help you reach a range of prospective customers
Save money and time marketing your business
Checkatrade can open your business up to over three million site users monthly. With our digital marketing strategy and strong online presence, becoming a Checkatrade member makes it easier for customers to find you.
As a member, you can display customer reviews, testimonials, and examples of your work on your profile page. Not to mention you'll get discounts on other business essentials.
And with the Checkatrade tick by your name, it makes your marketing just that little bit easier, as 8/10 people would choose a trade endorsed by Checkatrade, compared to one which isn't**.
We'll also help you with free marketing materials and help to increase your business's visibility on Google.
To help plan your marketing strategy, use our free marketing planning guide and checklist.
Boosting sales
If your number one priority is boosting sales, there are numerous ways for you to do this.
Firstly, have a read of some of our articles to help your insulation business to thrive:
Hiring a team
While it could be possible to run an insulation business on your own, most choose to work as part of a team.
As your business grows and you become established, you will need to hire highly qualified individuals to help expand your operation. Be sure to draft up employee contracts and fair wages based on industry averages.
If you just need an extra pair of hands, you could also hire an apprentice and pass on your valuable expertise.
Expanding your team
Knowing when to increase the size of your team is an essential part of growing your insulation business. If your business feels inefficient or you are overwhelmed with work, it's time to hire more staff.
When expanding your team, always carry out thorough interviews and checks on all potential employees. Ensure that they all have the necessary qualifications and will be a good fit with your business' work ethic.
Once you have a team of great new people working for you, you'll want to ensure that you retain all that talent. Creating a great working environment is a good place to start. Have a read of our article on How to retain an amazing team to find out more.
Increasing your business' scope
Growing your business by increasing your scope can be done in several ways. With an insulation business, do your research to find out what services are in most demand. They may include:
Loft insulation
Boiler and heating system insulation
Cavity wall insulation
Rigid insulating panels
Foam insulation
Blanket and foil insulation
Key considerations for business growth
When planning to grow your insulation business, your growth targets should always be S.M.A.R.T.
Specific – focused on a certain area or goal
Measurable – quantifiable with numbers
Achievable – possible within your business constraints
Realistic – possible within your current responsibilities
Time-bound – achievable by a certain date
This system will help you to check business growth and understand when you've reached your growth targets.
Winning more work as a Checkatrade registered insulation specialist
At Checkatrade, we have one of the UK's largest databases of reliable tradespeople and companies. As a Checkatrade member, you'll be part of this and gain instant exposure to thousands of potential new customers.
The benefits of being a Checkatrade member don't end there. Sign up today to truly unlock your business' potential and start growing your insulation business.
Want to make sure your new business gets off to the right start?
With a listing on the #1 trade directory, you'll get all the leads you need
Join Checkatrade now
Become your own boss in 7 days
You could get your business started in just 7 days with the help of our 'Become the Boss' series.
To get trade business insider secrets sent to your pocket, put your email address in the form below so we can help you to get started.
FAQs
Is insulation a good business to start?
Insulation in homes is in high demand. The right insulation can help customers to make their property more energy efficient, in turn saving money on their energy bills.
This bodes well for those wanting to set up an insulation business. Subsidised schemes are also rolled out by the government, giving you easy access to another revenue stream.
How much does it cost to start an insulation business?
It costs roughly £18,000 to start an insulation business. But, as with all trades, the start-up cost will be dependent on your circumstances.
If you're an experienced insulator and already have a lot of the necessary equipment listed above, your costs will be considerably lower than someone new to the industry.
How much can an insulation company make?
The earning potential is too broad to estimate. It all depends on the success of your business and the demand for what you offer.
If you find a niche gap in the market that attracts a large client base, you'll find that your insulation company has the chance to make higher returns than your competitors.
There are a variety of insulation types that you can choose from when starting your business that would all have a different impact on your earnings.
Here's more information about the types of insulation you can provide.
What insulation measures can be installed under the government's ECO scheme?
Those working on existing homes will be glad to hear that loft insulation, cavity wall insulation, and internal wall insulation (IWI) systems can be installed under ECO. Almost all forms of insulation are covered under the ECO scheme:
Cavity Wall Insulation
Gas Boiler Replacement
Loft Insulation
Solid Wall Insulation
Other heating
Want to make sure your new business gets off to the right start?
With a listing on the #1 trade directory, you'll get all the leads you need
Join Checkatrade now
*Checkatrade search data 1st January – 31st December 2021
**Deep Blue Thinking 2021 Trade Perception Survey