Last updated on March 31st, 2022
Ceiling water damage repair cost guide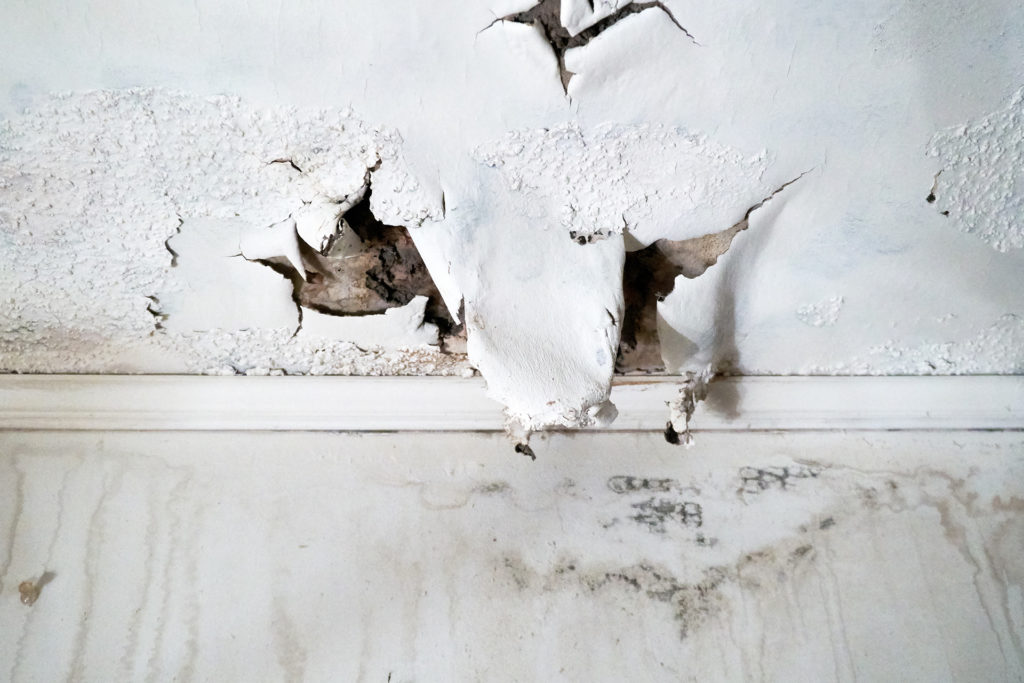 While you may not spend much time looking at your ceilings, they are quietly performing a number of functions. Ceilings not only separate floors in a house, but they also hide wiring, pipes, insulation and ventilation. They even provide a barrier to prevent fires from spreading from one floor to another.
Unfortunately, when your ceiling is damaged, you may not notice this straight away. And, the longer water damage is left untreated, the worse it will become. If not dealt with quickly the structural integrity of your ceiling can be compromised or mould and dry rot could begin to form.
This is why it's important to tackle any evidence of leaks and water damage as soon as possible. Not only will this stop the damage in its tracks, but water damage can cause unsightly stains, which are not a good look!
Furthermore, if water is collecting in your ceiling from leaks or burst pipes, it can affect the electrics in your home. This can have drastic consequences.
If alternatively, you are renovating, this is the perfect opportunity to remove small patches of water damage at the same time. Or you may be looking to sell your home. Water damage is not attractive to potential buyers so it may be a good time to remedy this.
Finally, if you are replacing your whole ceiling, dealing with any areas of water damage is essential to prevent future issues. In this article, we will be looking into the average ceiling water damage repair cost, as well as factors to consider and answering some of your FAQs.
How much does ceiling water damage repair cost?
Type of repair
Cost + VAT
(Range low - high)

Average cost
Ceiling water damage repair cost
£1,400 - £1,700
£1,550
Ceiling replacement cost
£400 - £1,000
£700
Small patch and repair work
£150 - £200
£175
To get straight to the point, repairing ceiling water damage is not cheap. The price you pay will depend on the severity of the damage plus a range of other factors (more on this later) so you may end up paying substantially less. The price you are quoted will cover all aspects of the repair, including an electrician.
The average cost to repair ceiling water damage is £1,550 (including electrician attending, moving light and fixing new plasterboard).
Types of ceiling
There are a few different types of ceiling, so it's important to know which type you have before commencing with repairs.
Plasterboard: Affordable and common, most homes today will have plasterboard ceilings. The plasterboard is attached to ceiling joists then plastered over.
Lath and plaster: Older homes will often have this type of ceiling that is constructed using thin lines of wood. They are covered in a plaster mixture of water, sand, lime and even horsehair.
Suspended: Often found in offices and other businesses, suspended ceilings are a second ceiling below the main one that is covered in tiles. This is to hide various pipes and shafts for things like ventilation and electricity.
Find a vetted ceiling repair specialist near you
Factors affecting the cost of ceiling repairs from water damage
As we briefly mentioned above, the actual amount your ceiling repair will cost depends on a range of variables. These include:
Size of the ceiling: Larger rooms have larger ceilings which depending on the extent of the damage may be more expensive to repair.
Level and size of damage: Wide areas of extensive damage will be more costly to deal with. If the water damage only covers a small area, it may be possible to do a cheap patch repair.
Type of ceiling: Each type of ceiling will have a different repair cost.
Condition of the current ceiling: Ceilings that are in poor condition will likely take longer and cost more to repair. In fact, if your ceiling is in too bad a condition you may need to replace the whole thing.
If your home is a listed building: It could be more expensive to repair a water damaged ceiling in a listed building. This is due to the need to replicate the original ceiling which may require costly materials and techniques.
Experience of tradesperson: All professionals will have different levels of experience and skill. The more experience your tradesperson has, the more you will pay, but the better the job quality will be.
Extra costs to repair ceiling water damage
Aside from ceiling water damage repair costs, you will need to budget for extras to ensure your ceiling looks and functions at its best. These include:
Finishes: Such as plastering and painting.
Features: You will need to pay extra to restore any delicate features.
Repairs: It may be necessary to make extra repairs following water damage. For example, burst pipes and electrical connections will need to be fixed.
Asbestos: If this is found it will need to be properly disposed of at an extra cost. Please see our asbestos removal cost guide.
Disposal: If you are replacing large parts of your old ceiling, you will need to pay to dispose of the old materials, unless your tradesperson is willing to do this for you.
Other ceiling repair and replacement costs
Ceiling replacement cost
If your ceiling is old or has fallen into a state of disrepair, you may be required to replace the whole thing. This is especially true if your ceiling also has water damage.
The average ceiling replacement cost is £700.
Cost of ceiling repairs from water damage (patch repair)
While repairing a ceiling that has been damaged by water can be highly expensive if the issue is very small and minor, it may be possible to do a patch repair. This will not work if you have a large leak or damage to internal electrics.
The average ceiling water damage repair cost for a small patch is £175.
Find a vetted ceiling repair specialist near you
Can I repair a water damaged ceiling myself?
The answer to this question will usually depend on the size and extent of the damage. If you have a good level of skill in DIY, you may be able to complete small patch repairs yourself. However, larger more complex repairs should be dealt with by a professional.
Always bear in mind that plastering is not an easy skill to master. This means any works you take on yourself will likely not look as good as it would if it was done by a professional with years of experience.
Repairing a ceiling can be arduous and time-consuming, plus you risk damaging any original features if you don't know what you are doing. To reduce the risks involved, we would recommend hiring a professional. To find a local, reputable, tradesperson in your area and get personalised water damaged ceiling repair quotes, use our free search feature.
FAQs
How long does it take to repair a ceiling?
It will usually take less than a day, but this really depends on the severity and size of the damage.
How can I save money on my ceiling repair?
If you are replacing large parts or all of your ceiling, you could consider taking it down yourself.
Once the ceiling has been plastered you could tackle any painting and decorating.
Ceiling kits are available for those wishing to deal with any repairs themselves. Please note you may not achieve professional results using a kit and these should not be used for extensive damages.
You could move your furniture and lay down protective sheeting yourself to reduce labour costs.
Other types of ceiling damage
There are many ways a ceiling could be damaged including:
Hairline cracks
Foundation movement cracks
Damaged or peeling paint
Broken or chipped features
Useful ceiling water damage repair checklist
Dealing with ceiling water damage as soon as possible is essential. This will prevent further damage, eliminate unsightly stains and stop the growth of mould or dry rot.
The cost to repair ceiling water damage can be high, but the sooner the issue is resolved, the less expensive it will be.
It's possible to patch repair small areas of water damage.
The size and severity of damage plus the materials your ceiling is made from will impact the average cost of ceiling repairs from water damage.
Unless the problem is small and minor, it's not a good idea to attempt to repair your ceiling yourself.
Find a vetted ceiling repair specialist near you
Good jobs, guaranteed
Get covered when you book with Checkatrade.