Last updated on February 22nd, 2023
How much does it cost to repair a leaking water pipe?
Burst and broken pipes can not only cause a significant amount of damage, but they can also be costly. To minimise damage and your water supply pipe repair cost, it's important to deal with the issue properly at the first sign of a problem.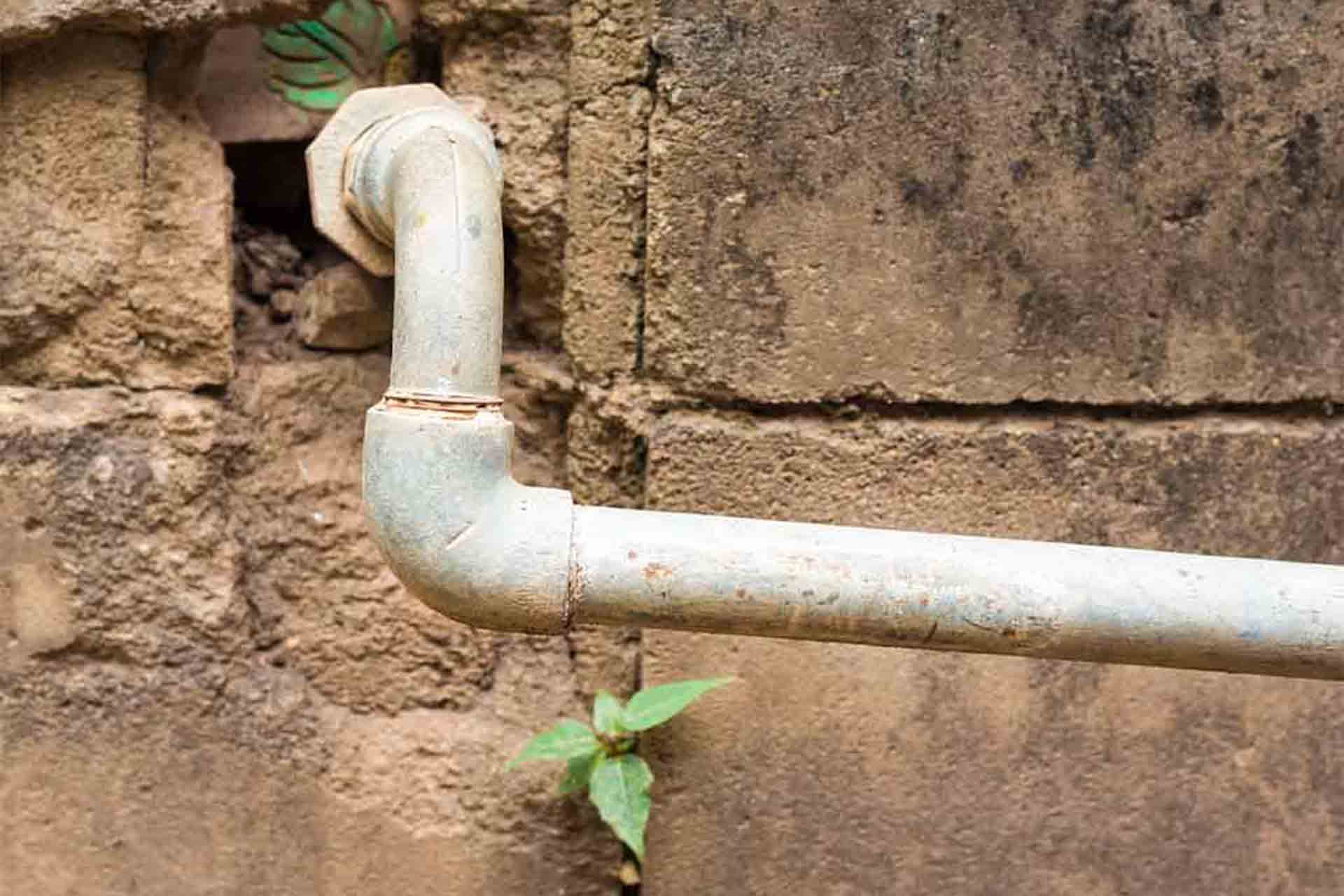 Whether you have a burst pipe that's causing flooding in your home, a leaking pipe or a leak in your bathroom, here's an overview of how to establish what your water supply repair cost might be.
What causes water supply pipe damage?
Water pipe leaks are usually caused by small fractures or tiny holes that are a result of age. On the other hand, burst pipes tend to be caused by low temperatures that result in the water within the pipes freezing and expanding.
How do I know if I have a burst or damaged water pipe?
Signs that could suggest you have a leaking water pipe include:
Loss of water pressure
Loss of boiler pressure
Damp patches appearing on the walls or ceilings
A burst water pipe will usually be more immediately obvious, with large amounts of water pouring out and flooding your home. If you can't see water in any of your rooms, try safely looking in the crawl space of your property if you have one, found under the ground floor floorboards and usually accessible via under the stairs cupboard.
What should I do if I have a water pipe leak?
The first thing you should do if you discover a burst or leaking water pipe is to shut off the water supply. This will prevent flooding and minimise the amount of damage caused.
Next, you'll need to call a plumber to assess the damage and provide a cost for repair. If the leak is under control and the repair isn't urgent, make sure you compare costs from a few different plumbers to ensure you're getting the best price and quality of work.
See the tradespeople we've checked and recommend for your job
Water supply pipe repair cost
| Cost provided item | Unit | Price range - Low | Price range - High | Average UK cost |
| --- | --- | --- | --- | --- |
| Repair of leaking pipe | Ea | £220 | £440 | £330 |
| Plumbing (emergency call out) | Per hour | £75 | £150 | £112.50 |
| Plumber | Per day | £320 | £480 | £400 |
| Repair of leaking tap | Ea | £95 | £170 | £132.50 |
| Repair of leaking radiator | Ea | £140 | £450 | £295 |
The cost to repair your water supply pipe will vary depending on factors such as the size and scope of the problem, the level of damage and the extent of repairs required.
Your location will also have an impact, as well as how easy the pipe is to access, and the time of your call. Weekends, bank holidays and evening call outs will usually cost more.
The average rate for a plumber is £50 per hour or £347.50 per day.
Underground water pipe leak repair cost
If the pipe that needs fixing is underground, rather than in your walls, under your floorboards or within your property, you will need to consider the costs involved in accessing the pipe and restoring the area once the repair has been made.
Because underground leaks are hidden, they can cause major problems over time, including subsidence – which is what happens when the ground underneath your home sinks. The majority of underground pipes belong to your water board, so it will be their responsibility to cover the cost of repairs. If you're unsure who is responsible for the repairs, it's always worth giving them a call to check.
Water main leak repair cost
If your water main pipe is leaking, it will need to be repaired urgently. If the leak is in the pipe that brings water into your home, it may be the responsibility of the local waterboard to repair it. Contact them in the first instance to find out.
If the repair is your responsibility, you will need to speak to a professional plumber. Water main leak repair costs usually come in at an average of £330, although they can vary significantly depending on the extent of damage and the level of repair needed.
Burst pipe repair cost
The cost to repair pipes depends on the size of the job, the severity of the damage and if any sections of pipe need to be replaced, rather than repaired.
As a rough guide, you can expect to pay on average £330 to have a leaking pipe repaired. If the repair work is an emergency call out, the cost will usually be higher, especially if it's out of hours.
See the tradespeople we've checked and recommend for your job
Water supply pipe repair cost calculator
The best way to calculate the cost of your water supply pipe repair is to start by confirming the location of the pipe and what kind of damage it's suffering from. If you're unable to confirm either of those, we recommend speaking to a plumber and you may need to organise a call-out for them to come and inspect the pipework.
Water supply pipe repair quote
We always recommend obtaining at least three quotes from our trusted tradespeople. Our request a quote feature is perfect for getting quotes – you post details about the job you want doing and we'll send it out to local tradespeople in your area. Try it out!
Water supply pipe repair hourly rates
On average, you can expect to pay £112.50 per hour for a plumber to carry out an emergency repair, depending on the individual plumber, the type of work involved and where you live in the country. To find out more, check out our plumber cost guide.
How long does it take to repair a burst water pipe?
Repairing a burst water pipe is usually a relatively straightforward job, which will take a couple of hours.
However, if the leak is difficult to access or the job is particularly complex, it may take longer and as a result, cost more.
Bathroom leak repair cost
There are lots of potential leaks in the bathroom, from small, seemingly insignificant drips and trickles, through to burst pipes and leaking toilets. Even small leaks can cause damage to your floors, walls and ceilings, as well as wasting a significant amount of water.
Fixing a leaking tap will typically cost on average £132.50, while fixing a leaking radiator will usually cost around £295.
Cost to repair a leaking pipe in the ceiling
If you have a leak in a pipe in the ceiling, this will generally cost more to repair due to the potential difficulties in accessing the leak and the pipework.
You will then also have to consider the cost of repairing the surrounding area and returning the ceiling to its former state. This may include structural work, plastering and decorating.
Can I repair my water pipes myself?
Plumbing and pipe repair isn't an easy job for a non-professional. And getting it wrong can result in a significant amount of damage, so you should hire a professional plumber to help fix your water supply pipe or burst pipes.
A plumber will know how to navigate your pipe system, identify the source of the leak and take the most effective approach to repairs.
See the tradespeople we've checked and recommend for your job