Roofs inevitably need repair and occasionally replacement. It's an essential part of our home, taking all the impact from the elements, birds and more, so it shouldn't be ignored.
They may be a pain to get to but when things go wrong, you pay a heavy price for taking your roof for granted.
We've calculated ballpark prices for different types of roof repair jobs and top tips from professional roofers. Along the way, we'll bust common roofer jargon, and show you how best to approach managing and repairing your roof.
Please note: The cost range(s) in our guides are estimated average costs based on current market research and input from our expert tradespeople.
Common roof problems
The first you'll know about a problem with your roof is when you find a leak.
A leak will most likely appear as brown staining on your ceiling. If left unattended it will eventually create a bubble in the ceiling plasterboard. This visible evidence of damage is not always directly under the failed roof tile itself. A hole will generally be found in the felt or membrane found fitted on the roof structure below the battens and tiles.
Roofing membranes degrade over the years. The most common roof failure is a cracked tile, letting in penetrating rain. This water then finds its way under the tile and finally drips onto your ceiling. If you've boarded the floor in the loft space, it's this boarding that will absorb the water. This often leads to delays in actually identifying that there's a problem in the first place.
There are other symptoms of common roof problems. The lead flashing, which is used to cover the joins between vertical walls and roofs, can be secured poorly. It can be prone to slippage over time and water can then find its way through the gaps. The rainwater management system that controls rain coming off your roof might fail. This causes gutters to get blocked and plastic downpipes pop out of their connections. Fascias and soffits covering the junctions of roofs and walls may also erode over time. If they are made of timber, they can deteriorate with harsh weather and once weakened will need immediate repair.
All of these issues are very much repairable. The problem is that they are all challenging for DIYers. Roofs are, quite obviously, incredibly dangerous places to be working on and with all of the above, an experienced roofer, with the correct health & safety training, is essential.
| Type of Roof (Replace) | Total roof area (m²) | Area to be replace (m²) | Total roof area (m²) | Repair Cost |
| --- | --- | --- | --- | --- |
| Flat | 1 | 1 | 1 | £100 |
| Pitched (Clay) | 1 | 1 | 10 | £180 |
| Pitched (Clay) +Felt | 1 | 1 | 10 | £1,465 |
| Pitched (Concrete) | 1 | 1 | 10 | £140 |
| Pitched (Concrete) + Felt | 1 | 1 | 10 | £1,245 |
| Pitched (Slate) | 1 | 1 | 10 | £170 |
| Pitched (Slate) + Felt | 1 | 1 | 10 | £1,395 |
How much does roof repair cost in the UK?
Every roof repair project will differ in cost. We recommend that you consult a vetted and qualified roofer to gain an accurate quote for the work, and most importantly, identify the issue and how to resolve it.
Here are the estimated costs for a roof repair in the UK to help you budget.
Cost to repair a roof valley
The roof valley is where two sloping roofs meet. Not only does it join up the roof, but it's built to channel rainwater down towards the gutter. The roof valley, as you would expect, deals with a huge amount of water, and is prone to leaking over time.
If you were only replacing the cement or re-using existing valley flashing, then costs will start at £375. To repair one roof valley, it will take half a day and cost around £350. If you had two valleys to repair, then it could take 1 day and cost around £450.
Flat roof repair cost
The repair cost of a flat roof is £100 per 1m2 area.
The quality of flat roof construction has improved enormously over the past couple of decades, which is both good and bad news. It means that your old (pre-1990s) flat roof is likely to be at risk – the good news is that you'll end up replacing it with something far superior that should last you for the foreseeable lifetime of the house itself.
Older flat roofs are more prone to suffering from leaks than pitched roofs. The reason is that rainwater has no natural place to escape too and the felt-and-gravel style roof seen on many a suburban extension is likely to be totally flat – while modern flat roofs are always built up with firrings, giving a 2-3˚ slope to allow water run-off. Couple that with the damage that burning sun, mosses and general wear and tear can inflict on a bit of usually stuck-down old felt – and you can see why they have a bad reputation.
Tile replacement cost
If you have a missing or loose tile which is letting in water, this is something you need to get fixed as soon as possible.
Costs for a roof tile repair/replacement starts at £200.
Flashing repair cost
Lead flashing helps to protect the edge of your roof where the tiles meet brickwork. It's a similar problem to missing or broken roof tiles – it allows rain into your home, damaging your interior.
Again, the cost of roof flashing repair is similar to a tile replacement. To repair a metre or so of flashing will usually cost around £250.
Leak repair cost
Leaks will generally appear if there's an issue with your roof tiles or flashing. The pricing will depend on the severity of the leak, but you can expect to pay around:
£200 for new roof tiles
£250 for new flashing (around a metre)
Sagging roof repair cost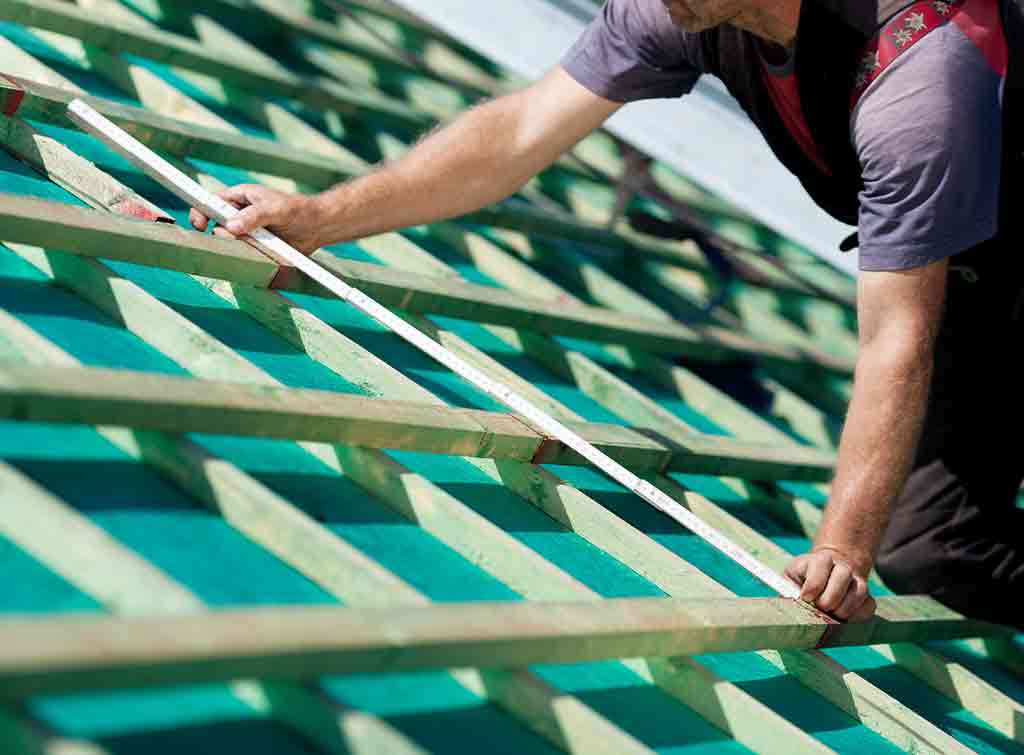 Sagging roof repair costs vary. It ultimately depends on what caused the issue of your roof sagging.
If the issue is around the weight of the roof material weighing down on the timber frame, then additional joists may be required. This can cost anything between £1,000 and £2,000, depending on how many you need.
If your roof's sag problem is to do with the internal structure becoming waterlogged, then this can set you back anything from £5,000 to £12,000, depending on the size of the property.
When should I replace my roof altogether?
If you have a severe underlying issue with your roof, a patch repair to stop the odd leak will not suffice. The relatively high costs of continually repairing problems may mean that a comprehensive re-roofing is required.
Re-roofing can take one of two forms, a project where the existing rafters are found to be dry, stable, not rotting, and structurally sound. In this scenario, the felt, battens and tiles are replaced. The other re-roofing solution is a much more invasive full rebuild of the roof structure.
In most cases, the latter is only really an issue on properties many decades old and is often visible to the naked eye through bows and curves in the shape of the ridge or pitch.
Read our Roof replacement cost guide for a more in-depth look at replacing the whole roof, and what you can expect to pay for it.
Find a vetted roofer near you in seconds by entering your postcode below.
Find a roof repair expert near you
What to look for when hiring a roofer near you
Roofing is not recommended for a DIY project. Working at height brings inherent dangers, and without the proper safety equipment, scaffolding and procedures, you could seriously hurt yourself and others. We always recommend getting a professional roofer in to either make repairs to your roof or to replace it entirely.
Our expert roofer Mike Fildes, the owner of Fildes Roofing Ltd, offers his insights to getting your roof project underway.
Select a local Checkatrade vetted roofing company
Choose a roofing company local to your area. This means if you need any further assistance at a later date they will be easy to get hold of.
Avoid roofers that come cold calling at your door, as they may just be passing through, and may vanish once the job is done.
You can find vetted roofers near you easily with Checkatrade (put your postcode in below).
Find a roof repair expert near you
Choose roofing specialists
Look for roofing contractors that specialise in the type of work you require. A business should choose an experienced commercial roofer. If you want a flat roof, find a contractor specialising in flat roofs.
For specific work, such as a heritage roof or repairing of leaks, find out what credentials the roofing company has in these areas before making your decision.
Ensure you check the quality and date of feedback from customers
Many good roofing contractors get lots of their work through word of mouth, so go on Checkatrade to search for a vetted and checked local roofer with high average feedback scores.
Ask to see examples of work and roofing projects already undertaken. Find out what accreditation's the roofing company has. These are all examples that demonstrate high-quality standards.
High standard of professionalism
A quality roofer will provide you with a free consultation and quote, so you should never be charged for these. A good roofing company will also talk through all the different options with you for your roof, without putting you under any pressure to make a decision.
Importantly, if the roofer turns up on time, answers and returns your calls, and does what they say they're going to do, this is a positive indication of reliability and trustworthiness.
Don't go for the cheapest quote
Getting value for money from any roofing company is essential, but a cheap quote alone shouldn't be the determining factor. The important thing is the quality of workmanship and materials used because a cheap job poorly done using shoddy materials will prove a false economy in the long run.
FAQs
Will I need planning permission for a roof repair?
You can repair or replace your roof under permitted development rights assuming there is no evidence of protected species being present. Any alterations project must be no more than 150mm from the original plane. If you are repairing or replacing less than 25% of your existing roof, building regulations approval will not be necessary. If, however, your project is more significant, you will require building control approval.
Who should repair or replace my roof?
Given the danger of working at heights and the skill required to do a job that lasts, it is essential to employ an experienced roofing contractor. Use Checkatrade to find someone in your area to give you professional advice.
What roof jargon should I be aware of?
The humble roof has a language all of its own – so when you're talking to roofing specialists about repair and/or replacement, it's good to have an idea of the key terms.
Ridge
The highest part of the roof where two different slopes meet on a flat plane is called the ridge. Special tiles called ridge tiles provide a form of capping – curved or angled – to stop rain entering.
Hips
A hip is the same as a ridge, but on a lower, sloping part of the roof. Again, special hip tiles provide a capping between the two angled tiles.
Valley
We mentioned this earlier, but a valley is the V-shape at the bottom of where two roof slopes meet.
Pitch
The pitch is the angle of the roof slope. The taller the roof, the bigger the pitch. Most roofs tend to have a pitch between 30-45˚ – even modern 'flat' roofs tend to have a pitch of around 3˚. The steeper the pitch, the quicker the rain falls off – and in snow-bound countries, shallower pitches require more support because of the heavier loading accumulated snow brings.
Flashing
The (usually) lead cover that overlaps the junction of a vertical wall, chimney or dormer with the roof itself, preventing water from getting in the gap.
Gable
The solid bit of wall that is on the same level as the pitched roof is called the gable, or gable end.
Verges
A verge describes the edge of a sloping roof as it means a gable end.
Eaves
The eaves are the underhanging element of where the roof meets the walls.
Soffits
Soffits bridge the gap between the top of the wall and the underside of the roof.
Fascias
Otherwise known as a bargeboard, fascias provide a decorative solution in covering the point at which the wall and roof intersects – they also have a practical function in carrying the guttering.
Tell us what you think
What others think of this article:
Need More Information?
Related posts